Dutch Boy Paints emailed me about a month and a half ago and offered to send me four gallons of paint to try and review on my blog.
Do *I* want four gallons of FREE paint? Sign me up!
They sent me a color deck so I could select my colors.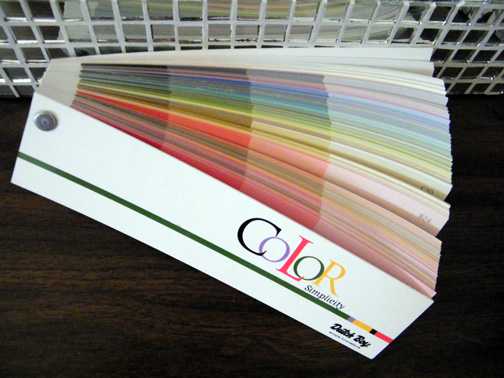 (Image borrowed from A Design Story)
Oh my oh my. I don't think I've ever been SO INDECISIVE in my entire life! What room should I paint? What color should I pick? Should I get a few different colors? I hemmed and hawed for at least a week or more. I'm sure Dutch Boy was wondering what on earth they'd gotten themselves into!
I went to the Dutch Boy Paints website and selected their Inspiration Gallery where I saw this picture:
They had me at Foyer and Honey Bear.
I'm usually so "safe" when it comes to paint, but I thought I'd go out on a limb and try out yellow for my entry way. The official color is "Honey Bear" and I ordered it in Satin finish.
I was like a kid in a candy store the day they arrived!
First off, these paint cans are off the hook. I mean, seriously look at them! They have a pour handle on the side of the container, a handle on the top to carry, and they are plastic!
And then I opened one of them up to check out my new color when I discovered a POUR SPOUT inside the lid.
Srsly? Why oh why aren't ALL paint brands packaged this way? Dutch Boy had my heart just with the paint container alone.
Here's my foyer/entry way that I was going to test out my new paint on:
Basic builder beige. And you can't really tell here but these walls are dirty and disgusting! I'll show you a picture at the end of this post with a close-up of these disgusting filthy walls.
So I started to paint…
This paint goes on great. It's smooth and thick and coats really well. And the best part? IT DOESN'T STINK! It's got this Arm & Hammer action going on which eliminates that horrible migraine-induced-high-on-fumes headache I usually sport when I'm painting.
Here's a close-up after only ONE coat of paint. ONE COAT people!
I did paint two coats though just to be "safe".
And "after" both my coats of paint:
I'm sure this is solely because of the color choice, but I LOVE THIS COLOR. During the afternoon it looks bright yellow, in the morning it looks pale buttery yellow, and at night I swear it looks beige. It is such a beautiful color and will look even better when I get those other two rooms you see painted a light gray.
One reason I chose yellow is because I'm planning on painting the majority of my house a gray color with yellow accents, so I figured a yellow entry way would really work well with the rest of my color scheme. (You can see my indecisiveness about the gray on this post.)
I'm still not completely finished. I have to rehang all my decor and I have to paint that gawd-awful purple room (I mention it in this post under Dining Room) and the other room a gray shade. This yellow already looks so fabulous, I can hardly wait to see it up against the gray!
Oh, and one more teensy-tiny detail I forgot to mention… I still need to actually finish painting my entry way!
I couldn't reach because it's a two story foyer, and I'm TERRIFIED of heights, so I have to wait until my husband will climb up there and paint for me, or until I cave and hire a painter guy to come finish it for me (probably the latter).
And now for the much anticipated side-by-side Before & After comparison.
This is one photo. I took a picture of the corner wall where the staircase starts. Now I REALLY need to paint the stairway. It is so grotesque!
Yikes. Yup, that "before" section is how the entire foyer looked before I painted it. Gross!
So, to sum up, I LOVE this Dutch Boy paint. While researching about Dutch Boy for this post I realized they are owned by Sherwin Williams. No wonder the paint is such top notch quality. Sherwin Williams and me are tight, but I might have to start having an affair on Sherwin with the cute little Dutch Boy.