Do you ever walk in the door and just feel a little stressed out? Declutting your house is a great way to feel more calm in your space. Another great way is to create your own Zen candle garden!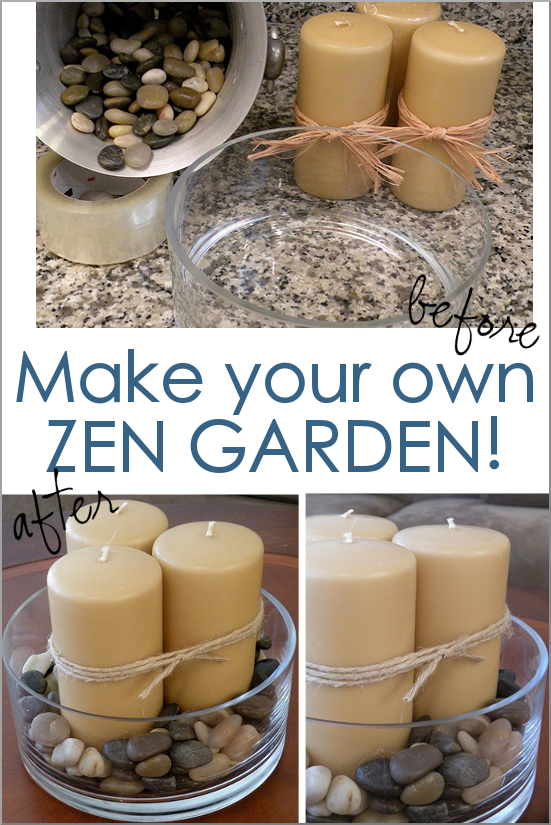 Who doesn't want to be more Zen? Just RELAX!
While at Goodwill I found this glass dish.
I see these glass bowls everywhere. IKEA. Michael's. Hobby Lobby. Wal-mart. Just shop around. Eventually you'll find one on the cheap.
Then went to the 99 Cent Only Store and bought two bags of rocks.
Yes, I actually paid for rocks. But these are purdy polished rocks. And they were only two bucks – a small price to pay for tranquility.
I also bought one more matching candle from Michael's. The other two I had from my Wooden Candle Sticks post.
Make sure your candles fit inside the glass dish.
I am not using the apples pictured above in my Zen Garden. I've saved them for another day.
Next, get some jute.
Did you know that jute is crazy-cheaper at True Value than at Michael's? When you buy jute get it at a hardware store. I think this bundle was about two bucks.
I wrapped the jute around the candles three times and then tied a small square-knot.
After that I scattered the rocks all around the candles.
I love having this on my coffee table. It actually really does have a calming affect when I look at it.
Doesn't it make you want to bust our your Yoga mat?
Are you relaxed now?
~*~*~*~
While I'm thinking about it, let me give you a quick run-down on knot tying.
Granny knots = BAD. Square knots = GOOD.
Granny knot:

Ick.
Square knot:

Niiiiice.
Granny knots drive me batty. Seriously. Like nails on a chalkboard batty. They are not tidy looking.

Image stolen borrowed from here.
For the sake of fashion and all things neat and orderly looking, I beg you to please learn how to tie square knots. Please.
Ugly granny – Right over, then right over.
Purdy square – Right over, then left over. Got it? If not, Google it.
Ommmmmm.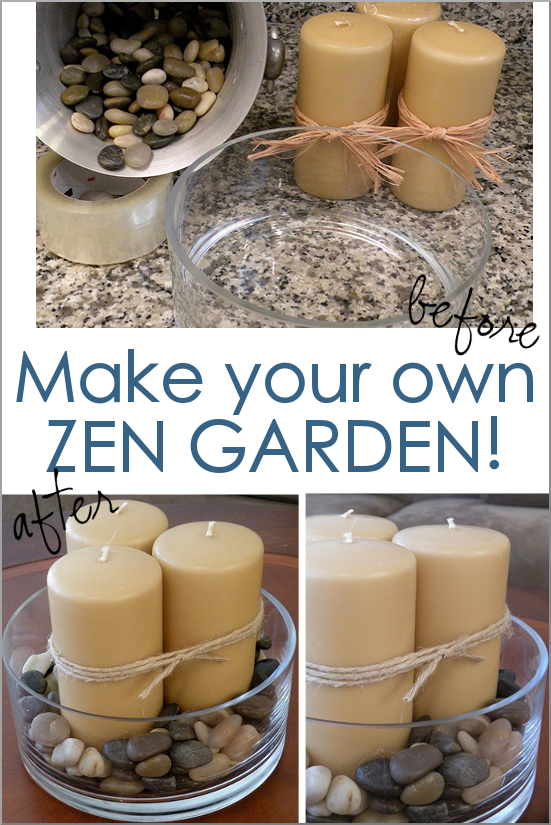 Instagram || Facebook || Pinterest || Youtube
Thanks for reading! Have a wonderful week!