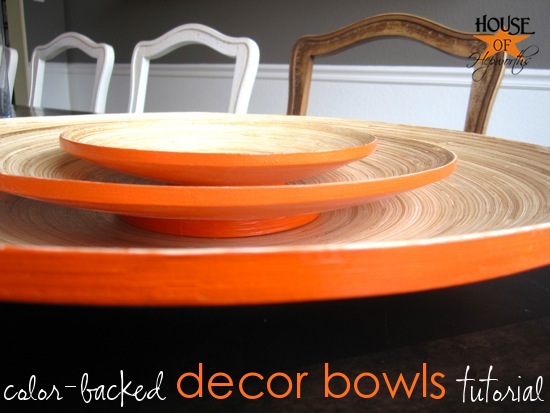 The dining room is getting tinkered with again. What I really want to do is finish those chairs (!!!) but that requires W-O-R-K which is kind of a turn-off for me. Ten chairs = very overwhelming.
(Can you tell I've been painting them though? hint hint)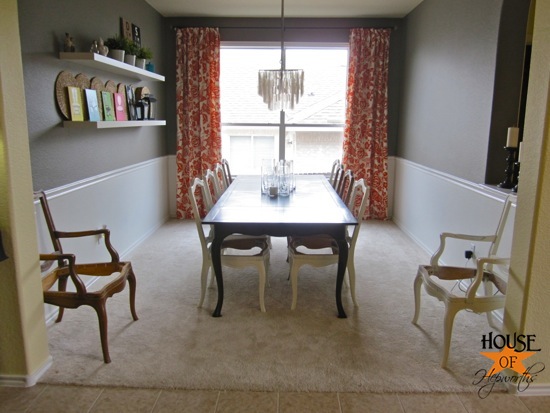 I still want this room finished though, and I've got this big ol' blank wall staring me down mocking me.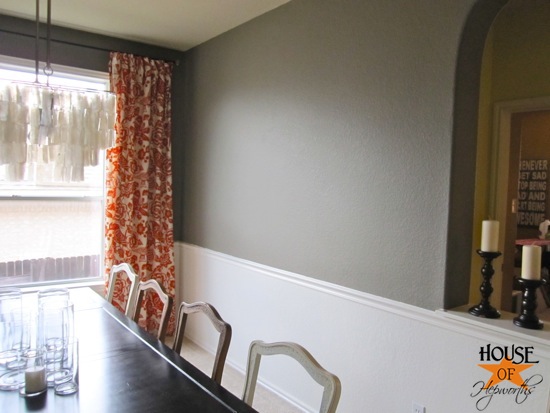 I've been trying to figure out what to put here, but all my ideas seem to compete with the curtains, which I want to be the star of the room. I don't want anything on this wall that will distract from the curtains. Instead I want something that will enhance them.
I bought these shallow decor bowls from ikea at least a year ago. I was going to put them up on the shelves in the dining room but I never liked how they looked up there.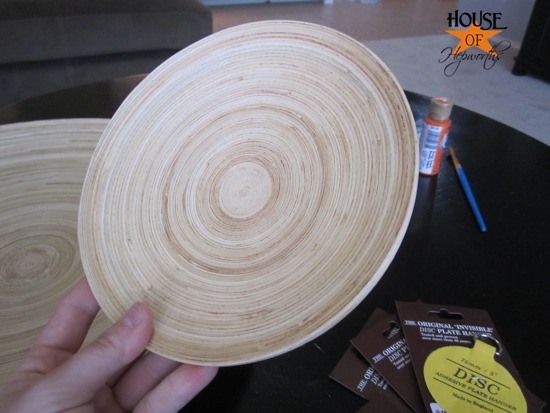 Ikea had three different sizes to choose from so I bought one of each. Once I ix-neyed (pig-latin for nixed) the idea of putting them up on the shelf they've been stuck in my decor closet just begging for a home.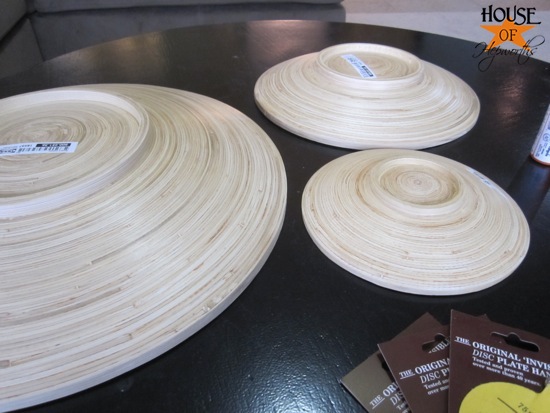 Then one day an idea smacked me right in the face. What if I took those three bowls and hung them on the wall? It would fill the wall, and the bamboo is subtle enough to not take away from the show-stopping curtains.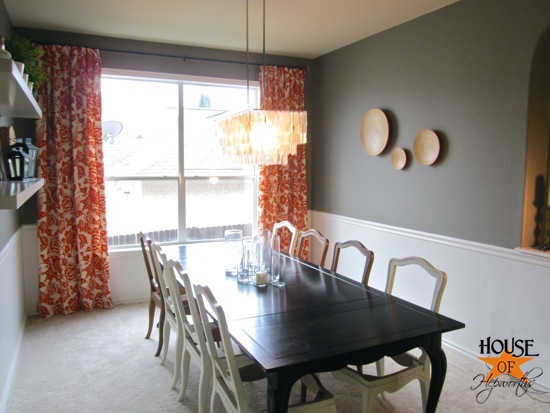 They needed something though. Something that would make them less blah that would help enhance the orange curtains without overpowering them.
So I painted the edge and back side of the bowls bright orange.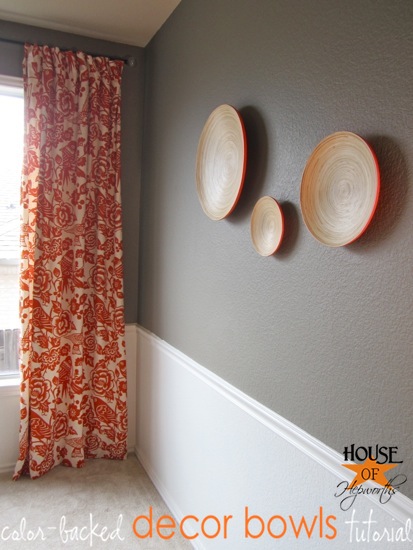 It's very subtle, but as you walk by the room your eye catches the edges of the bowls just enough that it really ties them together with the curtains.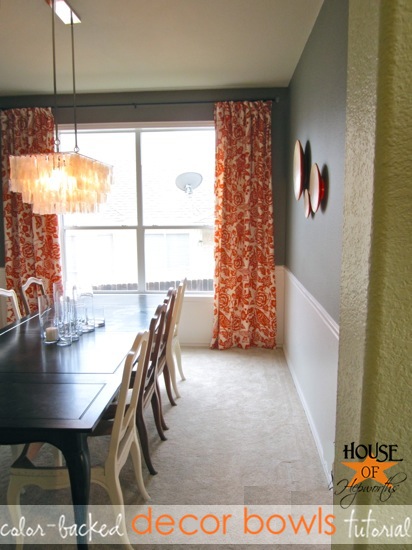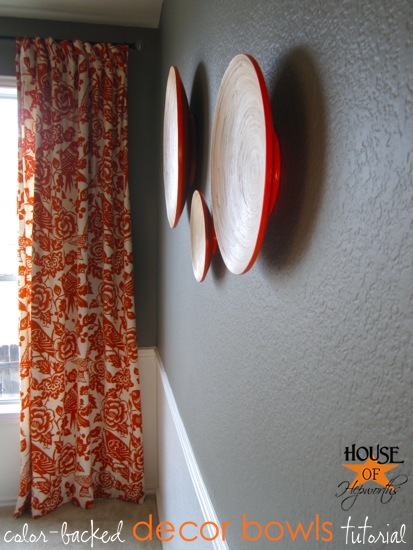 Painting these shallow decor bowls was so easy, but I did learn a few tips along the way that I want to pass on to you.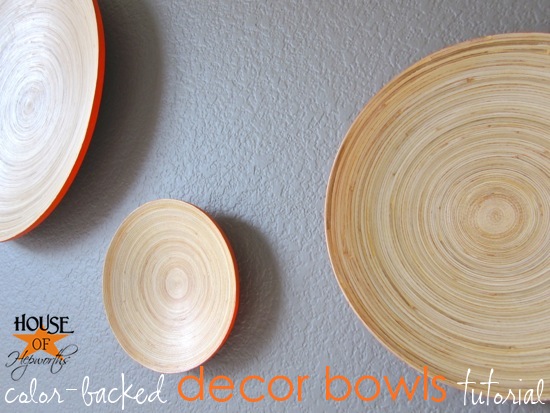 Gather your supplies:
* ikea hultet bamboo bowls
* tangelo orange Americana craft paint
* primer
* clear gloss spray top coat
* paint brush
The first thing you want to do is PRIME the area you are going to paint (unless you are going to use spray paint).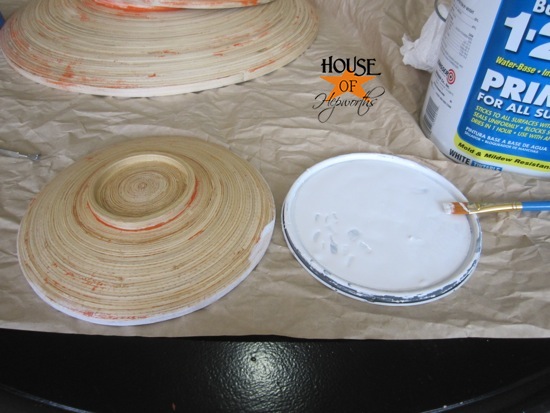 Tip #1: I didn't prime the first time I painted the bowl and the paint scratched right off. The bowls are coated with some type of clear finish and the craft paint will not stick to it. You must prime first!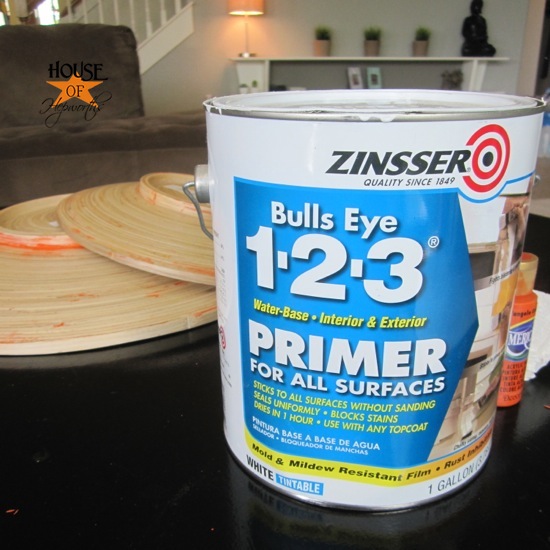 I literally had to wash and scrub the bowls to get all the orange off. Learn from my mistake. When in doubt, prime.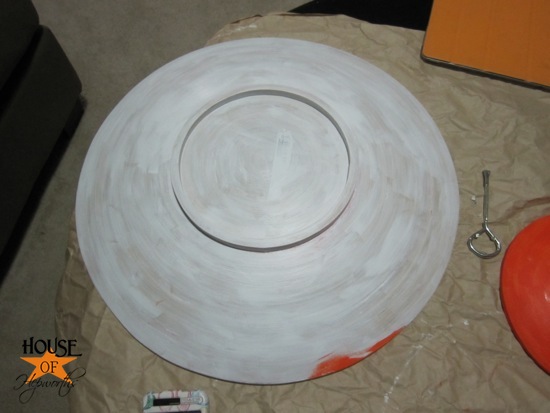 Once the primer is dry you can begin painting. I used tangelo orange by Americana craft paint.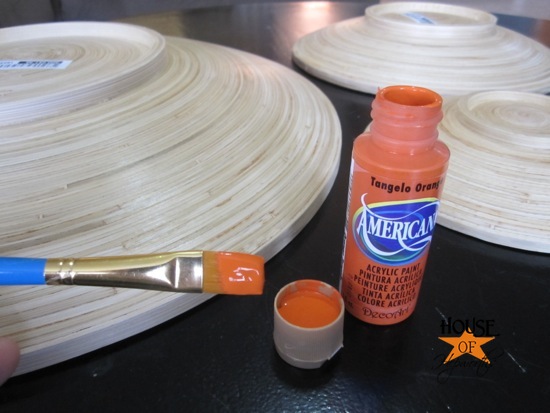 Tip #2: It's easier to just paint the edge than to tape it all off first. If you have a steady hand, these ikea bowls have a pretty crisp edge that is very easy to follow. Just make sure you use a flat paint brush that edges well.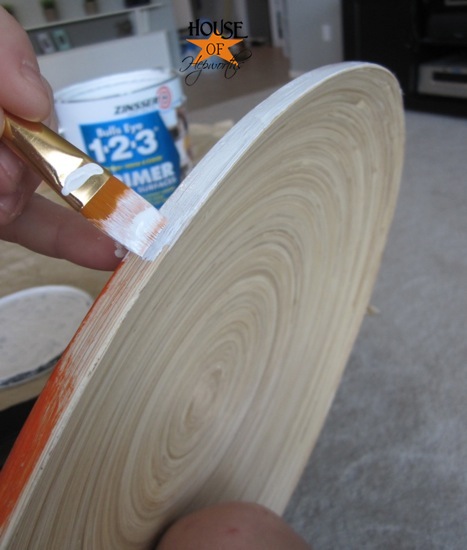 It took me three coats of paint to get this deep orange color that wasn't streaky. Be patient and apply several coats.
I chose craft paint instead of spray paint for three reasons. 1) I already had it in my stash, 2) I didn't have to tape off the bowls before painting, and the most important one, 3) I could do it in my living room while watching TV. 😉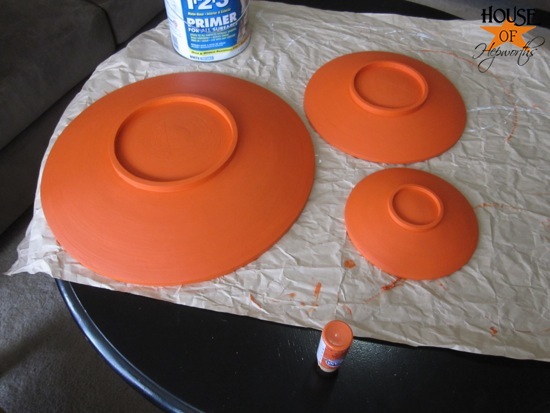 Once the bowls were dry the paint was very FLAT. And it didn't feel soft and creamy. And it wasn't shiny at all. Welcome to the world of craft paints, Allison. Dur.
So I gave them a few coats of super glossy clear top coat. I LOVE Rustoleum 2x spray paint (comes in paint, primer, and top coats).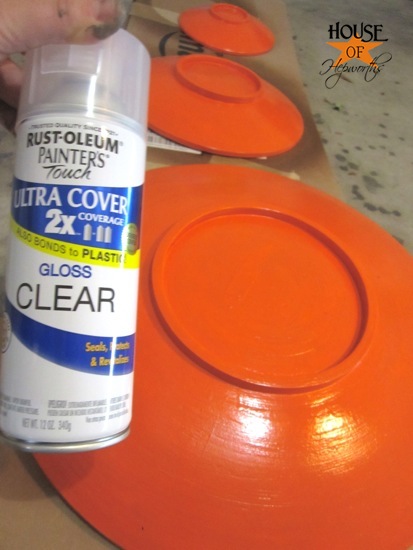 The finished result were three shallow bowls with just a subtle hint of orange. Not overpowering, but enough to make these somewhat boring dishes really POP.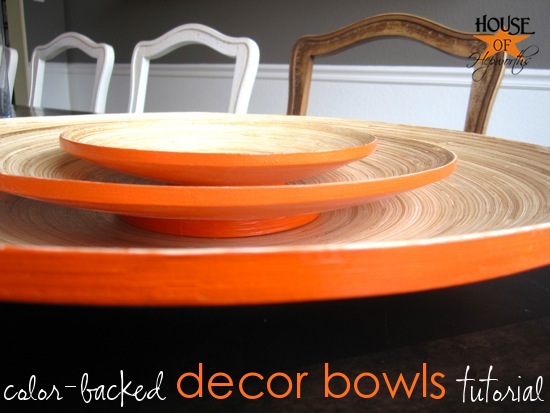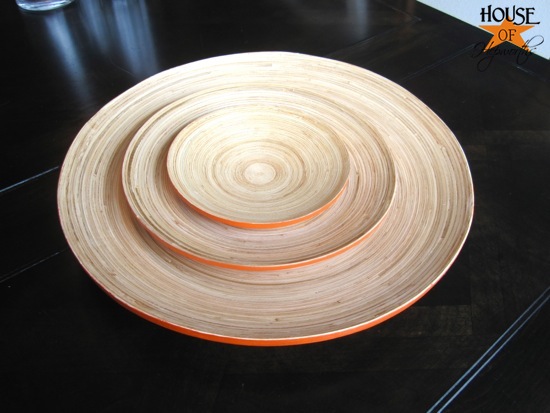 The room before the dishes: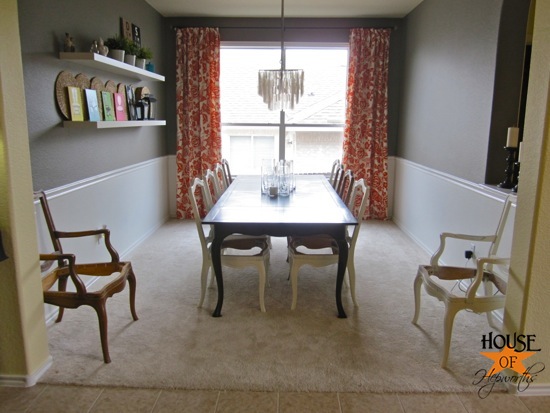 Aaaaaand after: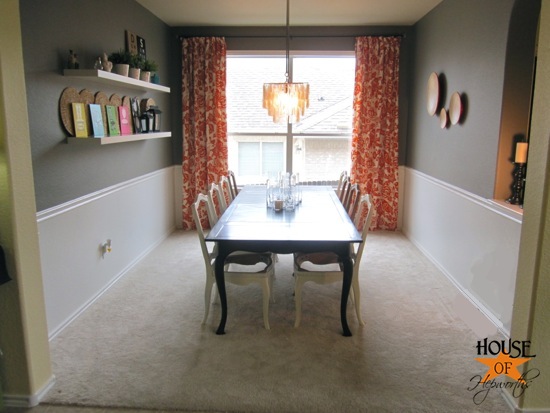 My favorite thing about this project is that it gives a very earthy vibe to the room, but is still fun and bright. Sometimes bamboo bowls and the like are too boring, but the orange edge gives it just the oomph it needs.
I also love that it's such a subtle accent that you just catch a glimpse as you walk by. It's one of those details that you notice but don't realize you notice. Know what I mean?
Sometimes the most subtle details that don't jump out at you end up making the room.
Now if I can just force myself to finish those chairs already…
Source list: Chandelier, shelves, 4-piece chair art, curtains, curtain rod, table, candlesticks, paint, moulding