Oh man, I have had Olympic Fever like cray-zeeee this past week. I absolutely LOVE love love watching Women's Gymnastics! I've also been enjoying swimming as well. Fun Allison fact: I joined the swim team my senior year of high school. Because I was a senior they had to put me on Varsity. Oh man I sucked. Hahaha! I had never done swim team in my life – not even as a kid! It sure was fun though.
In addition to watching the Olympics, vacationing, and all around enjoying the kids home from school this summer, we've also been sweating it up like fat pigs!
We already discovered we are incompetent home owners and had too many air filters in the a/c unit. Now we've done yet another project on our quest for cold air.
If I have't mentioned it like twenty billion times, I live in Austin, Texas. And if you are remotely familier with Texas you'll know it's freaking HOT here. And we're having a mild summer this year! Last year I didn't leave the air conditioning for 3 solid months. 😉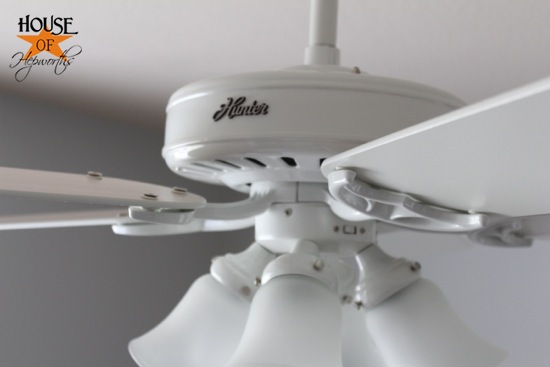 Ben and I have been making a few small updates to the upstairs of the house because of the heat (heat rises so it's hotter upstairs).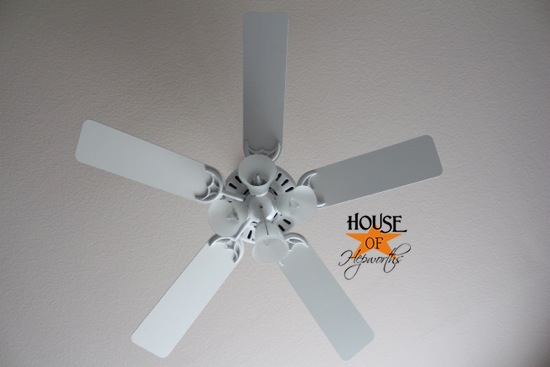 If you guessed "installing ceiling fans" then come on down! We just had to get the air circulating in the bedrooms so ceiling fans are a must.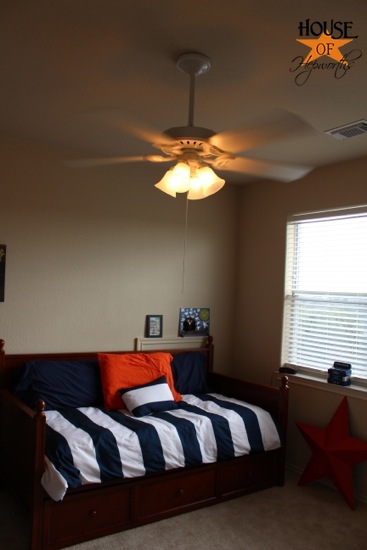 Obviously a big fancy chandelier or light fixture would be ah-mazing, but in Texas? Not an option. It's just too damn hot here. Boo.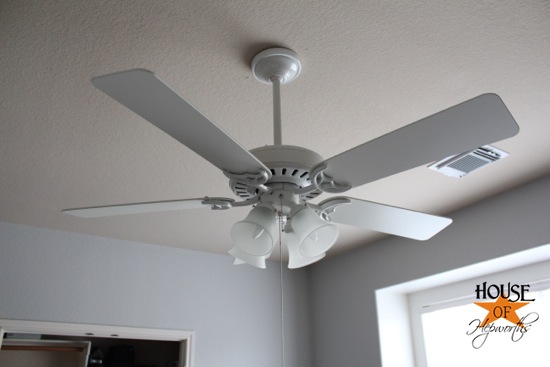 We ended up going with the Hunter 52″ Studio Series white Ceiling Fan from amazon. We bought 3; one for each kids' room and the third for Ben's office.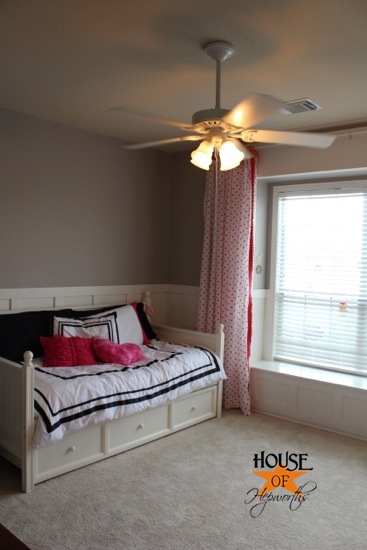 We chose the Hunter Studio Series for a few reasons. I wanted white fans so they blended into the ceiling. I prefer white ceiling fans in bedrooms and then fancier pretty ones in living spaces. Totally a personal preference though.
I also wanted one with 3 or 4 separate lights and frosted light covers as opposed to the traditional "boob light". Again, personal preference. Oh, and cost: since we needed 3 fans, we went with a basic but good quality 3-speed fan that cost only $115.38 each.
I was ready to just buy one off the shelf at the hardware store, but my husband is the Consumer Reports nazi (is it un-PC to say he's a "nazi"? I'm guessing so if I have to ask…) So anyway, Ben's really into Consumer Reports and doing tons of research (I cringe at the word!).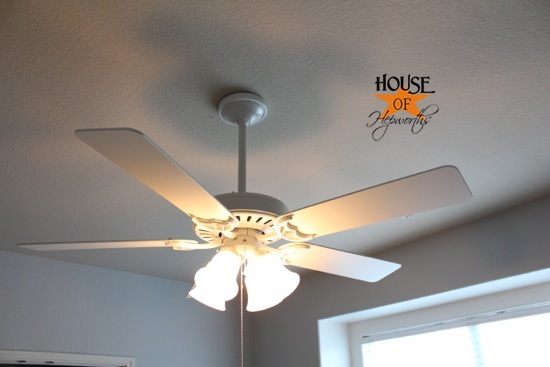 Well, for whatever reason (okay, for these reasons: it's quiet and has a good motor) we went with Hunter brand. In fact, the past 3 homes we've bought fans for we've only bought Hunter. (It's safe to say we are partial to Hunter brand, and NO, I'm not getting paid to say that.)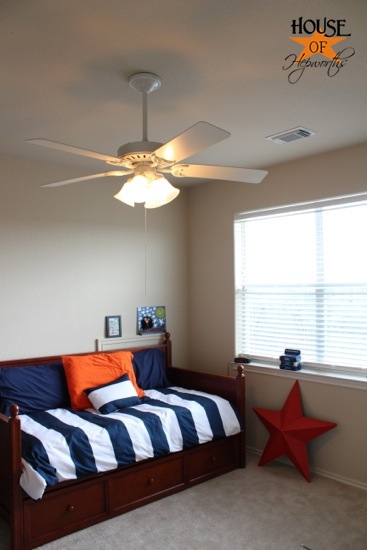 So anyway, we bought 3 Hunter fans and we've had them for a month or so. They are so quiet I don't hear them at all! Installation was a breeze (haha, get it? a breeze… I kill myself sometimes, I swear) and we had all three up and running in about an hour each.
Like I said, nothing designer-worthy or anything; I'm sure Genevieve Gorder would be taking them down seconds after stepping into the room; but they get the job done. And for the cost, they are incredibly solid and good quality.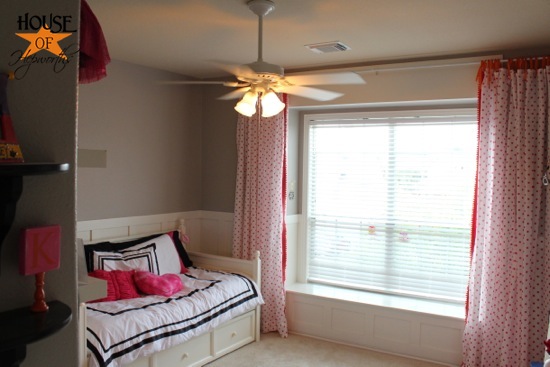 Ben's office also got a new fan but based on the condition of his office I am hesitant to share this little gem of a photo with you.
Ah, hell, here ya go: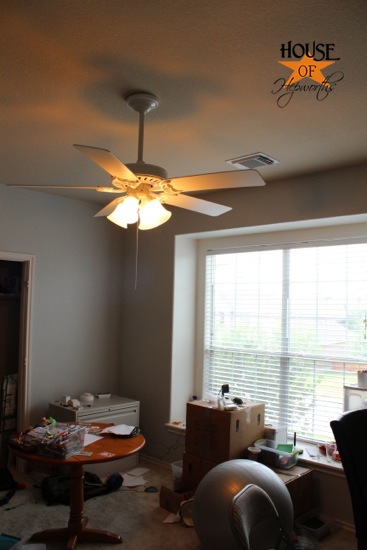 Is this real life? Unfortunately, yes, this mess is my real life. Thank goodness I don't share an office with him anymore. At least I can close the door to that eyesore whenever I walk by.
So anyway, what I just said in no less than 550 words I could have said in 7:
We installed ceiling fans in three rooms.
And the rooms are bearable to go in again. Three cheers for cool air.
Here's the link again if you just have to have one. Or three. Hunter 52″ Studio Series white Ceiling Fan from Amazon.
Oh, and before I totally forget, if you are wanting a ceiling fan installation tutorial, google it. 😉 Or, do what we did – read the very well written, easy to follow instructions that come with the ceiling fan. There's something to say about instructions: They work.