Gooooooood morning! I hope you are off to a fine start this beautiful Wednesday morning.
Have you been following along so far on our Organizing 101: Back to Basics series?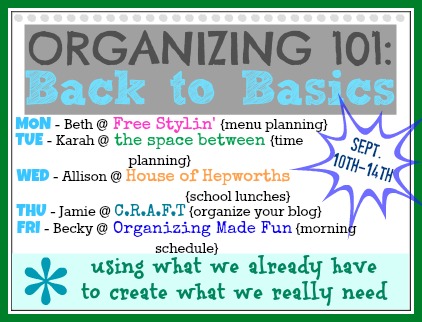 I hope so because it's been a lot of fun and a whole lotta great organizing tips!
Today is my day to share how to organize that chaos each morning that is making the children's school lunches (and yours and the misters for that matter!).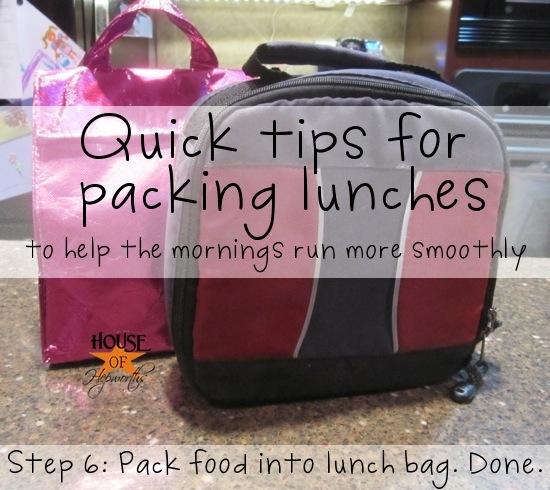 I am by no means a professional organizer or lunch maker. I am however, a mom who's been making school lunches each and every morning for more than 5 years. 🙂 Before I bare all and show you my food and pantry, I just want to state the obvious. This system works well for ME, but that doesn't mean it will work well for everyone. If you have any better tips or ideas, PLEASE share them with us at the end of the post.
I'll start by just showing you how I keep all the food and snacks organized. Then I'll go into detail about how I get the food from the shelf into the bag (it's more of a process than you'd think!).
Please be aware: this is probably not the most thrifty post you'll read from me. I choose my battles with finances, and for me, it's worth it to pay a little more and get most lunch snacks pre-packaged in single-serving portions. I love the idea of buying in bulk and sorting them all into little ziploc bags, but in reality, I suck at that and never do it.
I reserve a shelf in the door of the fridge just for school drinks. These two types are pretty much all I ever buy. The kids can have water or a 100% juice Capri-Sun. Surprisingly, my son much prefers water over any other drink.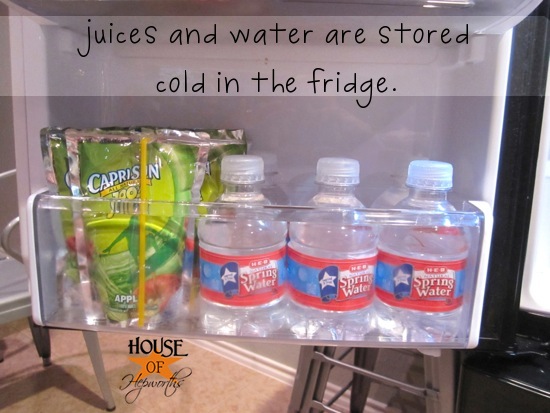 In the large drawer I keep all the meats and cheeses. I put the cheese slices and lunch meat next to each other so I can grab them quickly each morning to make sandwiches. I also added a dollar store plastic bin to hold all the string cheese.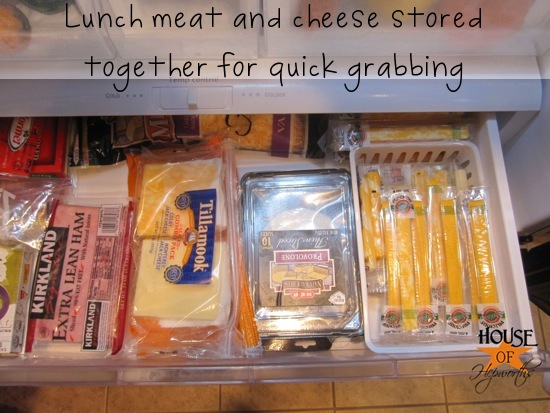 I have a mini drawer that I keep individual bags of carrots and single-serving Ranch dip. Keeping them together makes it easy to grab the pair each morning.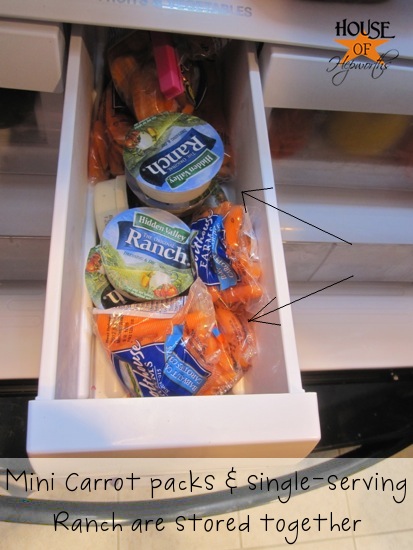 I also bought a very inexpensive clear plastic container that I keep on the bottom shelf filled with the remainder of snacks that need to be refrigerated. For now it's full of only fruit foods, but I'll including pudding and the like when I buy it.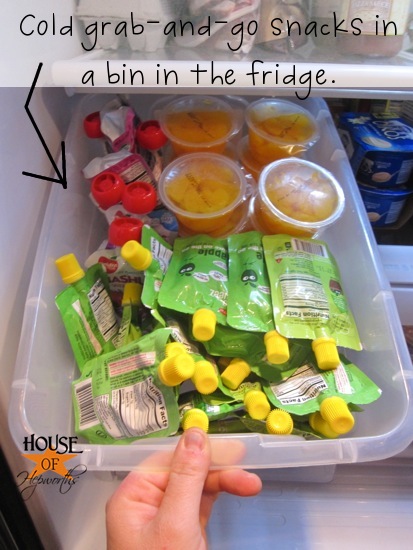 Now for the rest of the food in the pantry. I recently purchased several chicken-wire baskets from Marshall's. They came with burlap liners but I pulled them all out. These baskets are great because they keep the food contained but still very easy to see.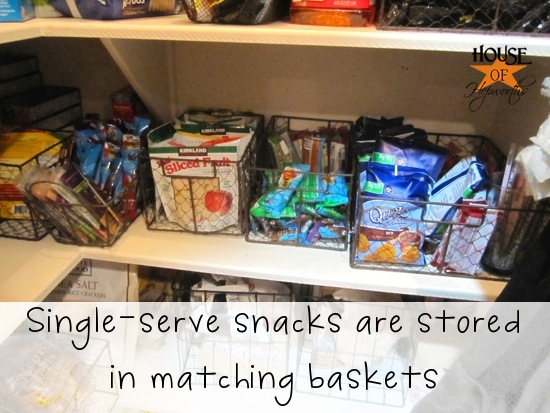 I have one big basket full of snacks that I actually buy in bulk and sort out into bags. It's a rarity, but I will sort out Pirate's Booty and Snapea Crisps. I might sort cookies, but I don't buy those very often.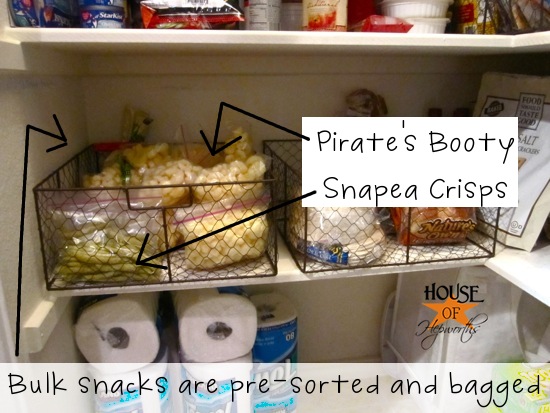 I want to take a minute to go over the type of food I buy for the kids. Ben, our son, and myself all eat gluten-free. Our daughter is the only gluten eater around here. (Gluten-Free means you don't eat food with gluten in it. The majority of gluten comes from WHEAT but there are a few other grains that have it as well.)
Because we just recently went gluten-free (the beginning of the summer) I was very nervous about what I would send for Travis each day. Fortunately there are lots of yummy foods that don't contain gluten. (Many gluten-free foods do contain junk carbs though so if you are trying to lose weight you probably want to avoid those as well). Our son is too skinny, so I really don't mind feeding him carbs, just not gluten.
Here are the main non-refrigerated snacks that I buy. Because we are all gluten-free I just pack our daughter the same food as our son, but I will give her a sandwich with wheat bread.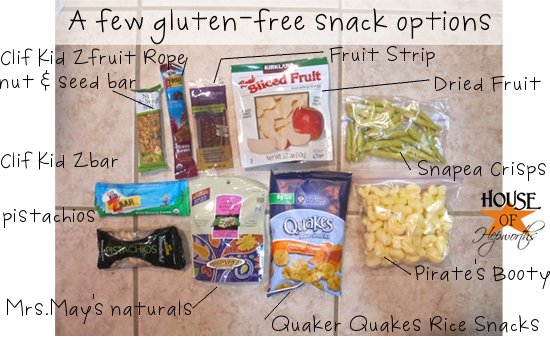 Of course, this is just a small sampling of gluten-free foods available. I also send the kids with applesauce (organic), whole fruit or a fruit cup, cheese, etc.
One last gluten-free tidbit. It was hard to find bread that my son would eat. After some trial and error I found this Tapioca Loaf bread at Natural Grocer. It tastes almost like real bread but the consistency is more like a Pound Cake.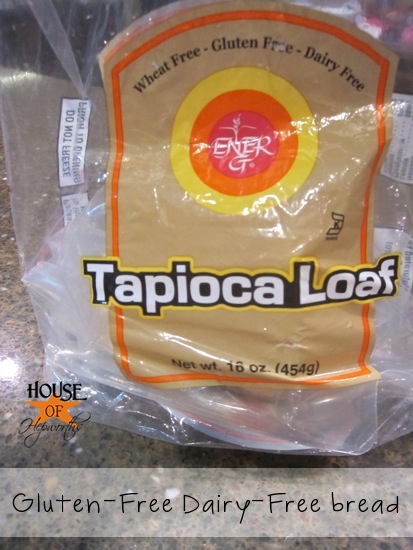 When packing lunches it helps to have good supplies. One of my favorite purchases are these Sandwich Savers: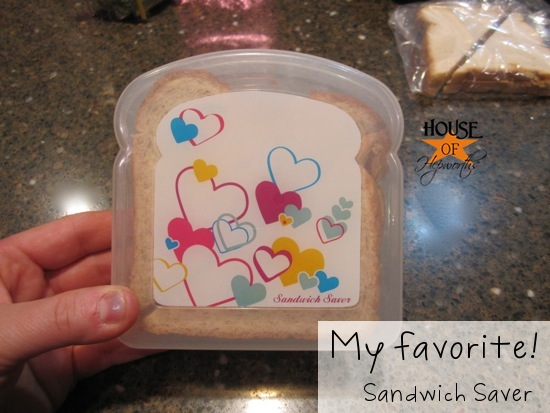 I like them much better than any other type of sandwich container that I've tried. The lid flips open but it's not a separate piece, so they are easy to toss in the dishwasher and I never lose the lid! Unfortunately, I can't find this type anywhere anymore! I found some similar Tupperware ones, but they are much more expensive.
Okay, so now that you know why our food is all "weird", I'll show you how I quickly and efficiently pack the lunches each morning. It helps to have all the food organized in advance in the fridge and pantry, like I showed above.
Step 1: Set out all your lunch bags and drinks on the counter. I keep them spaced away from each other and create a pile of food for each kid before I stuff it all in the bag. Hopefully it won't take long to hunt down the lunch sacks. Some mornings it takes me longer to find the bags than to pack the whole lunch. lol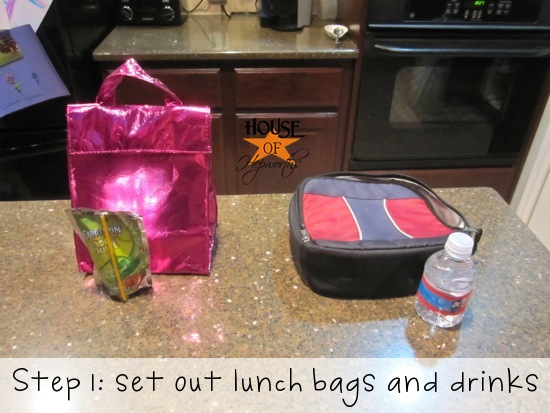 Step 2: Get out sandwich stuff and make sandwiches. Both my kids get the same type of sandwich (ie: peanut butter or ham). I will not make a PB&J for one and a ham&cheese for the other. Too much of a pain!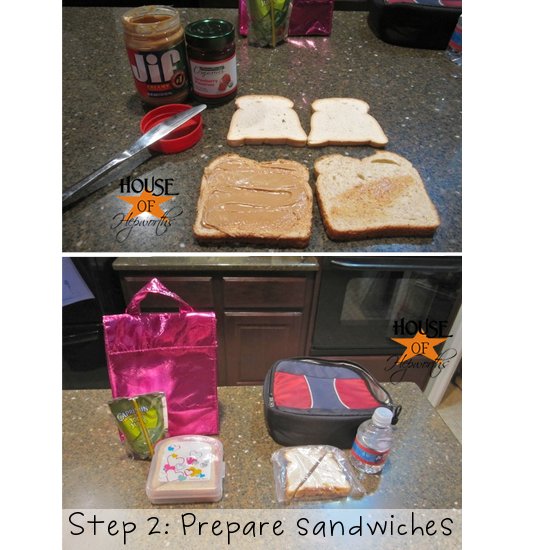 Step 3: While you are putting away your sandwich-making stuff (jam, mustard, cheese, etc), grab all the cold items for the day. I try to grab about 2 cold items, usually a fruit (applesauce) and a veggie (carrots and Ranch). Some days I'll throw in a string cheese but the kids are hit-or-miss with eating them. They say the cheese gets too warm so they won't eat it.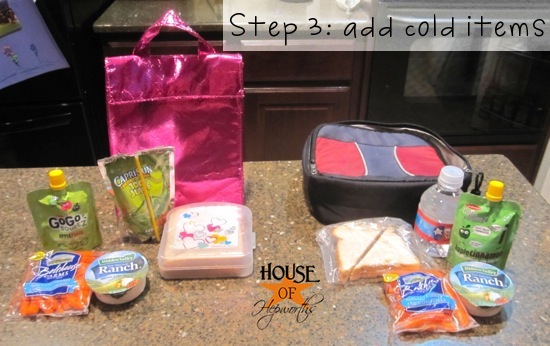 Step 4: Grab all your pantry items for the day. I always give them extra food because they have a snack time before lunch and they like to raid their leftovers after school while walking out to the car.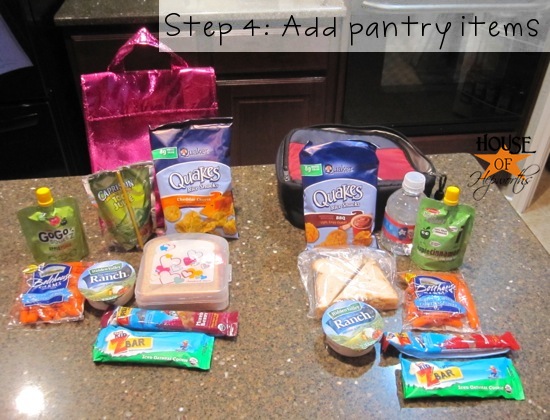 Step 5: Add a napkin and any utensils they may need. For this lunch they don't need any but usually they will get a spoon for the fruit cup.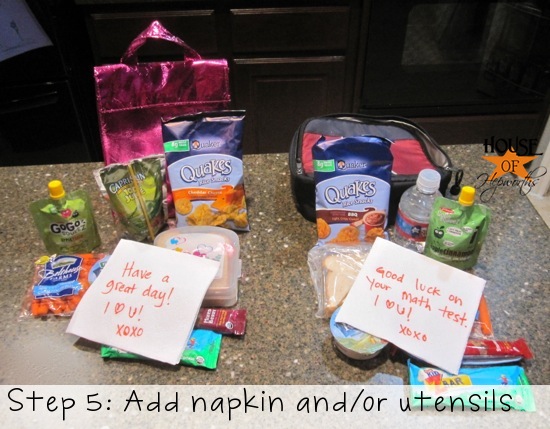 If you want to be a really fun mom grab a pen or sharpie and write cute notes on their napkin.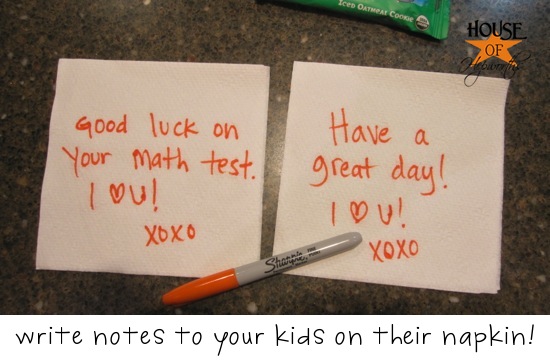 Step 6: Stuff all the food into the bag, with heaviest items on the bottom. Done!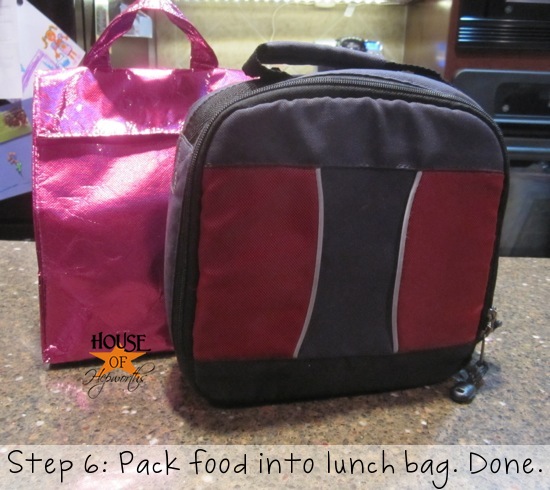 From there I usually will hand the lunches directly to the children and make them go put them in their backpacks right away. I've learned my lesson after being called on the phone countless times with them saying, "Mom, I forgot my lunch. Can you bring it to me?" Like I have anything better to do, right?
There's one more thing I keep in my pantry that I wanted to show you. I bought a picnic caddy from Costco and it fits perfectly on the pantry shelf making it very easy to grab napkins, spoons, etc for lunches. I usually keep paper goods in it as well, but I am currently out. Having all that stuff in one location together makes it very easy to find.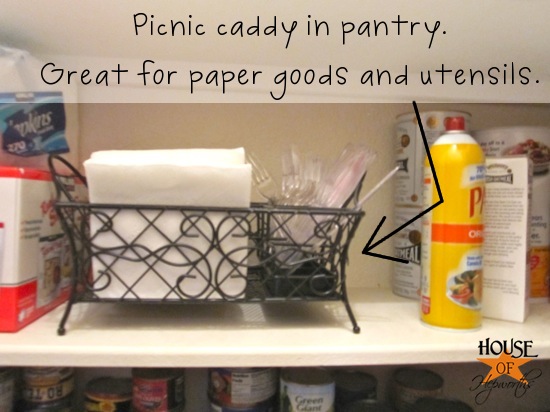 And there you have it. Too many tips and tricks for packing a lunch. Probably more than you ever wanted to know about my life. Ha! I hope you have gained some new tips that will help make your mornings run more smoothly. If you have any better ideas, please tell us! I am always trying to improve my morning routine.
*I purchase most of our snacks in bulk at Costco. I also shop at our local grocery store and at the "healthy" food store called Natural Grocer. If you have any questions about anything you've seen in this post, please ask away!