Once again, Christmas is almost here, and I have done a terrible job creating that magical environment that my children will look back on fondly. Oh well. I guess I'll never have that picture-perfect Pinterest house and Pinterest family.
As a blogger who thoroughly enjoys keeping it as real as possible (in an attempt to prove that not all bloggers have a perfect life), here are a few Christmas confessions.
Confession #1:
I used double-sided tape to hang all our holiday cards… on the side of a kitchen cabinet and the wall.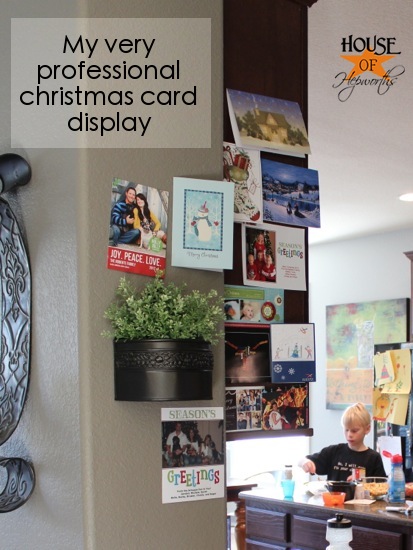 I used my mini nutcrackers as Christmas Tree ornaments instead of card holders, and I'm too lazy/don't care enough to make some adorbs card holder display. So the cabinet it is!

And Confession #1.1: I never even attempted to make or mail out cards this year. There's always 2013.
Confession #2:
As of December 21st, we have yet to open or decorate the Gingerbread House.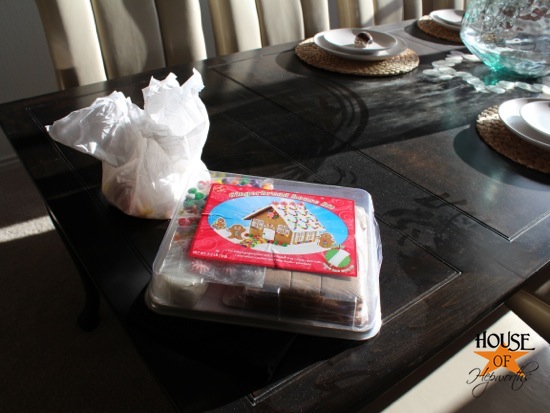 At least we have it. That counts for something, right?

And holy crap, sweet mother of..(Oh wait, that phrase is probably even less appropriate at Christmas time than usual). The dust sure settles fast around here. I swear I just dusted that table like 4 months ago. 😉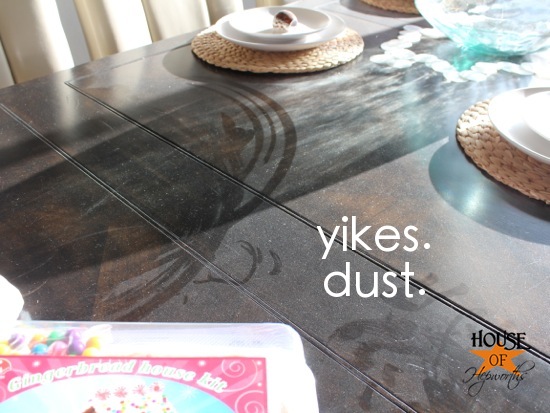 Confession #3:
The extent of the piano room decorations are only there because they didn't quite make it upstairs.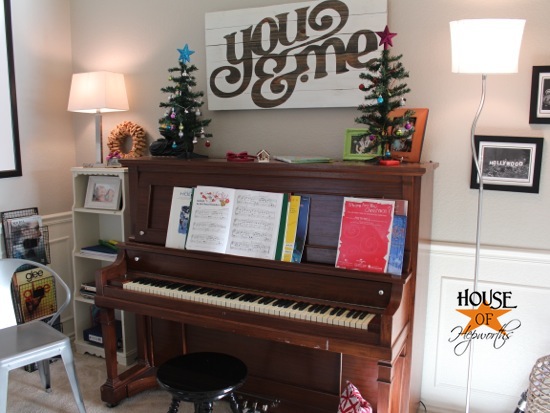 Those mini trees? They are the kids' trees. They ended up on top of the piano as a temporary drop off zone on the way upstairs. They do look cute on the piano though.

And speaking of piano room decor, check out the other awesome decor on top of the piano.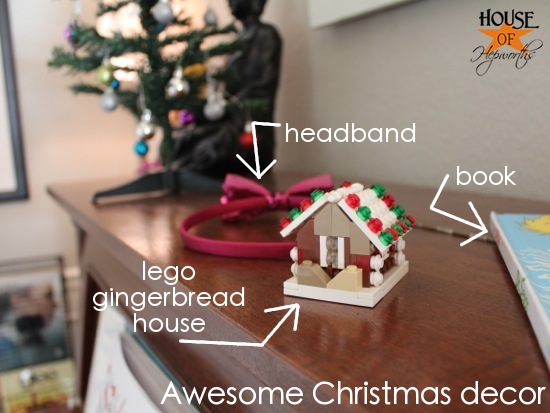 The headband really completes the holiday ensemble.
Confession #4:
I stuck the majority of the decor on our sofa table.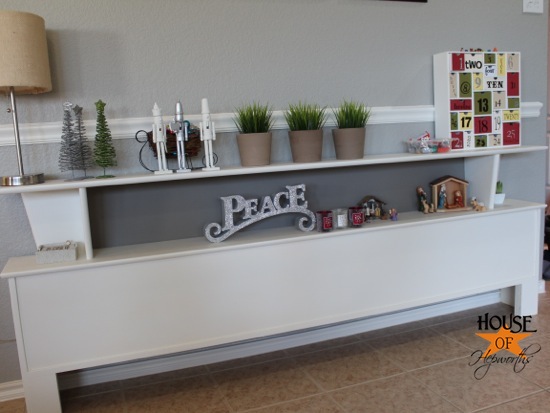 Worst staged photo ever.
Confession #5:
The remainder of the decor never made it out of the plastic bin. I had good intentions, I swear.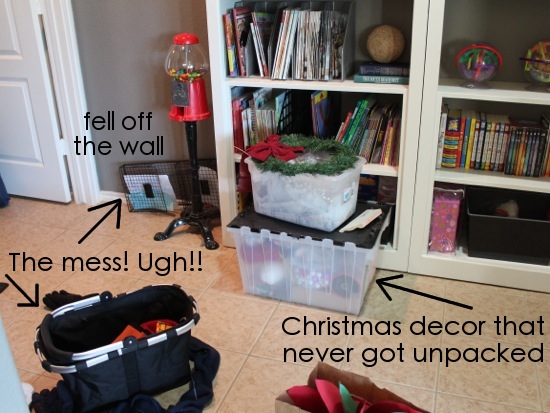 And my house, holy cow this place is a wreck. If I can just have one solid, uninterrupted day, maybe I can get this place picked up.
Confession #6:
Oh, you know, just piles of gifts sitting on the entertainment center for the world to see.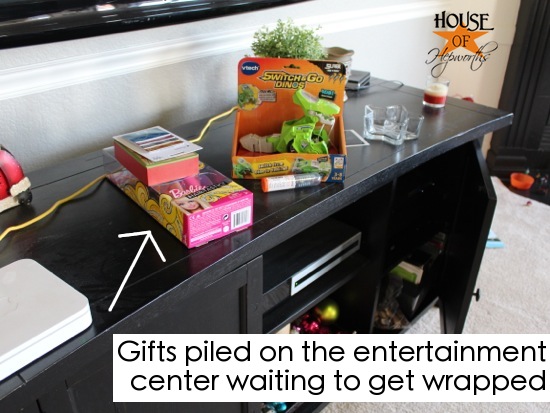 At least they aren't for my kids. I hope my nieces and nephews don't read my blog.

I did manage to decorate inside the entertainment center. One tray, a few candles, and a bag of plastic ornaments = cute holiday display.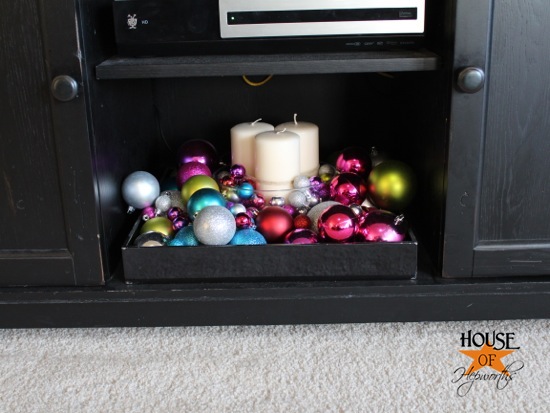 Confession #7:
There is an entire section of lights out on our tree.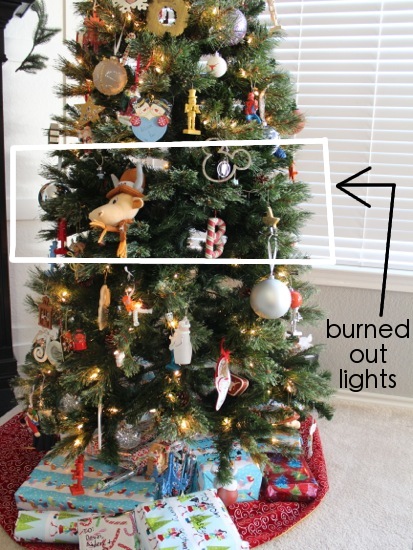 And it's been like that since we pulled the tree out of the box and set it up a month ago. I just don't have the patience to try to figure out which burnt out bulb is the culprit. But when I do, trust me, I'm giving him a stern talking to. Naughty bulb.
Confession #8:
Our fireplace hearth is decorated with Legos and advent calendars.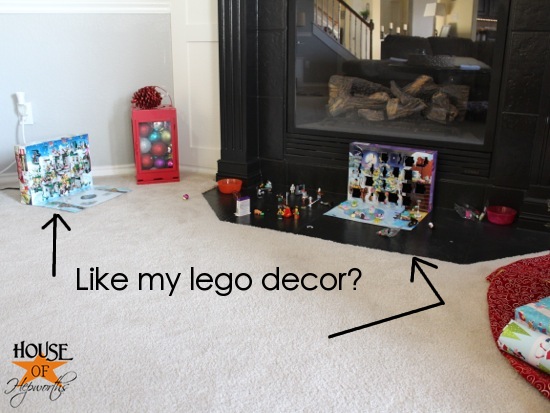 Legos are great holiday decor!… Said NO ONE. EVER.
Confession #9:
Pillows are the bane of my existence.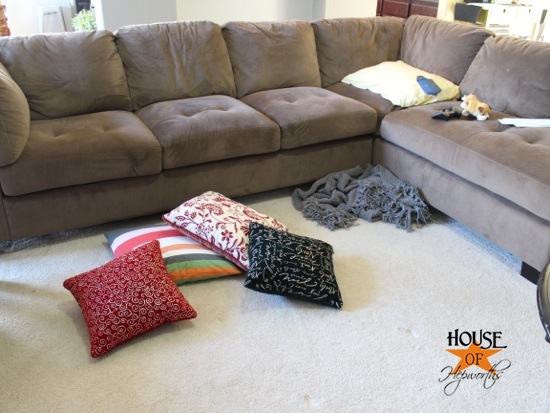 My kids and I play this game: They throw all the pillows on the floor. I come pick them up and put them back on the couch. Repeat about 25 times a day. Today? I'm just leaving them there. What's the point anymore?
Confession #10:
I labeled the gifts with a sharpie.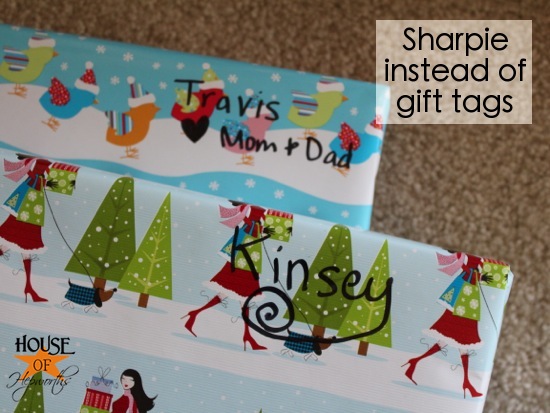 I swore two years ago I would stop using sharpies to label gifts. Yet here we are.
Confession #11:
The new tree ornaments, well, they speak for themselves.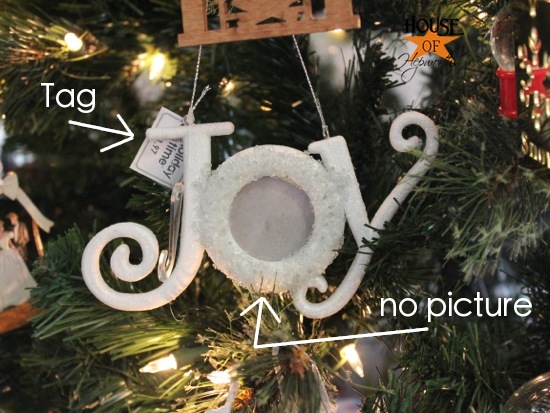 Every year the kids each pick out a new ornament. Our son's never got a picture put into the "O" and the tag is still on it.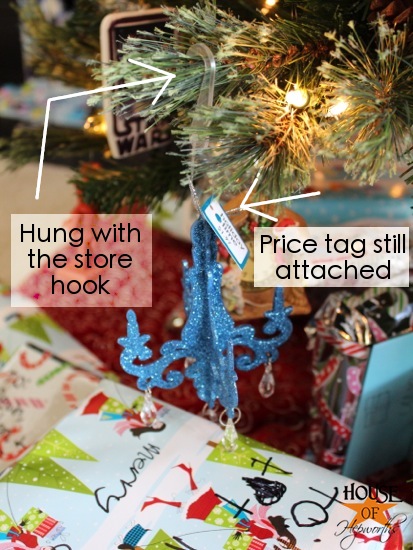 I can't even speak of my daughter's ornament. I let out an audible laugh when I saw it on the tree. Not only is the price tag still on it, SHE USED THE STORE DISPLAY HOOK TO HANG IT.
Confession #12:
My kids will be getting a visit to the dentist for their birthday.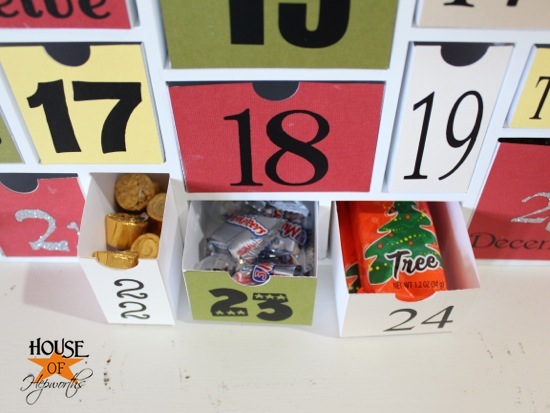 Advent calendars are freaking expensive to fill, especially if you get little toys. So they get candy. 25 days worth of sugary candy.
Confession #13:
I have lovely friends who gave me Poinsettias.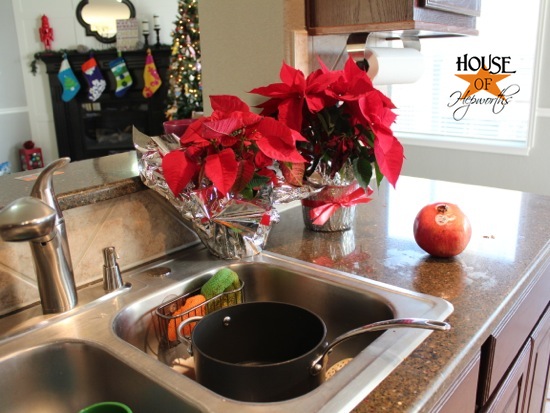 They have sat on/next to the kitchen sink since I got them. Easier to water that way. From the look of my house so far, you'd think I haven't even tried this year. (Probably because I haven't really.)
Confession #14:
We have no Christmas lights on our house.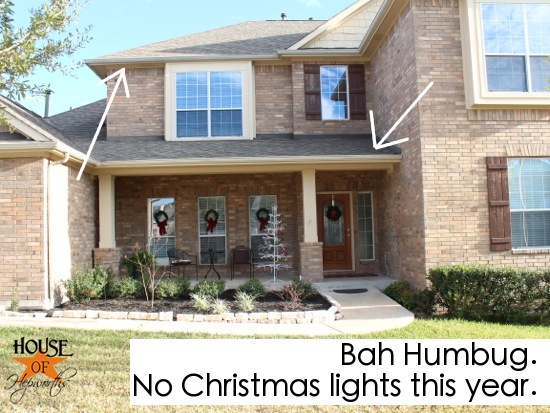 We fundamentally disagree with hanging lights on the house… because it takes too long, it's too cold outside, and we are too cheap to go buy any (thanks Dave Ramsey, you stink. But at least we are getting out of debt.)

But I did decorate the porch, that counts for something. Right?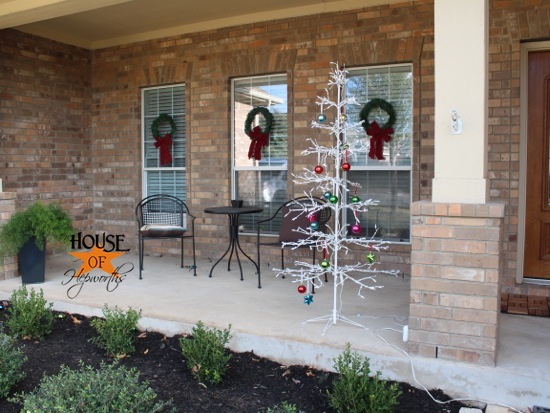 And I even put out this bright blinking LED tree that looks pretty at night. And I took it a step further and hung some plastic ornaments on it…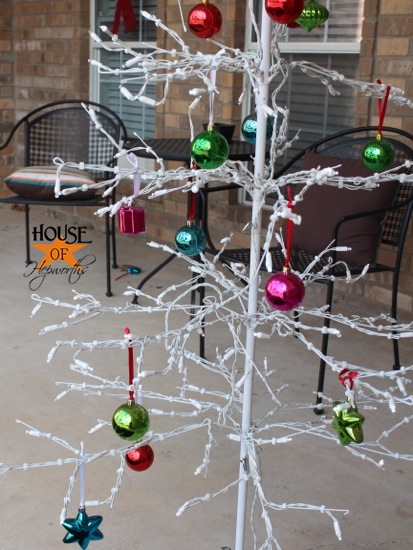 …which brings me to…
Confession #15:
The tree fell over the other night during a strong wind storm. I made a conscious decision to not pick up the remaining ornaments that fell off, because I just didn't feel like it. I am that lazy this year. What has gotten into me?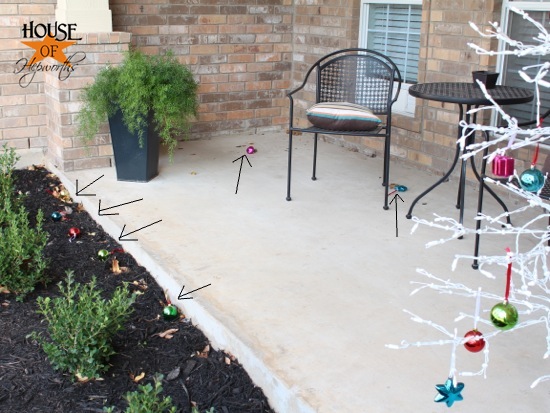 Confession #16:
I've lived with wrapping paper chaos for a week.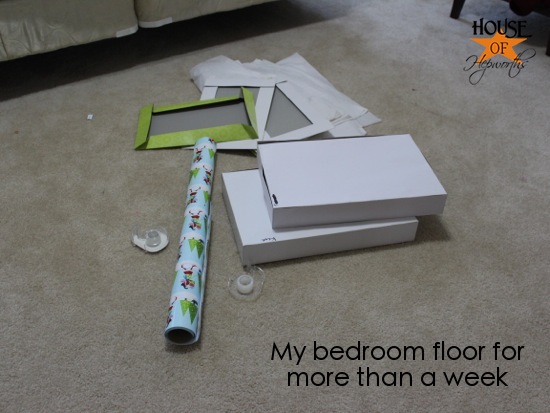 I need to finish wrapping stuff. But I ran out of tape. And even though I've been to the grocery store or Target no less than 5 times since then, I still can't remember to buy more tape.

The kids trashed the game room last week when they wrapped gifts. I have been ignoring the room since then. I'll make them pick it up eventually. After I have a nap.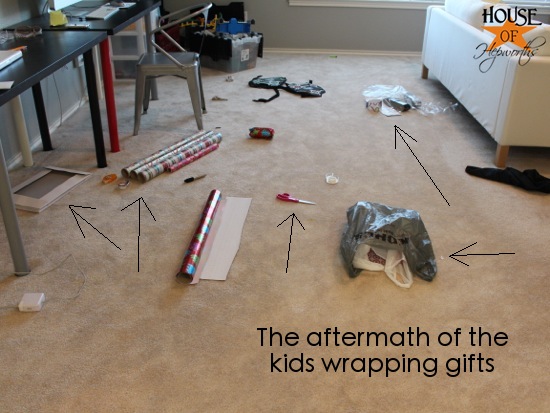 There you have it. 16 reasons why I am a terrible holiday-er. Lots of bloggers totally have their sh** together and have lovely decorated homes and cookies in the oven. I am not one of those people. There's always next year. Of course, that's what I said last year. And the year before that.
If I haven't done it by now, it isn't getting done. And I'm perfectly okay with that.
Have a very merry christmas. Peace out.