Hi friends! I have been on a mad cleaning and decluttering spree lately. I don't know what's gotten into me, but I LOVE IT. In addition to working on the kids' bath, I cleaned and organized both their rooms (and threw away/donated a ton of crap), I totally organized my office/guest room today, and I even tackled the game room yesterday. I guess I'm ready for Spring so I thought I'd do a little cleaning. Anyone else been bitten by the cleaning and decluttering bug?
** So, are you new here? I throw the Hookin' Up with HoH Party every week to give all of you a chance to find other awesome blogs to read. Below you will find several hundred mini links to other people's blog posts. Have fun browsing through the links in search of new ideas. Also, if you are a blogger, please feel free to add your own links to the list!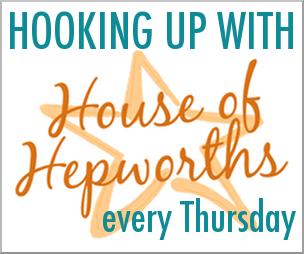 * Please refrain from posting links to shops and stores.
Please note: RECIPES/FOOD is a separate link. Please make sure you are linking in the appropriate section.

Here are a few of my favorites from last week's link party.
These little gift bags from The Crafted Sparrow were stamped with a homemade stamp. Fun idea and super cute.



I'm so adding this to my to-do list. I need this cute little organizer in my office for all my little doo-dads. Feathering My Nest shares how she made it.



Phaedra's Adventures made these adorable little candles with a stamp and tissue paper. Check out how she set the image into the wax. Brilliant idea.



I'll admit, I have never jumped on the Washi Tape bandwagon. I never could really think of a good reason to use it… until today. Shaken Together wrapped her iPhone chargers and I am smitten. Now I must buy some of that fun tape.



Life. Love. Larson. shares how to make a very simple no-sew window valance. I'm definitely bookmarking this!



Adorbs kid toy alert! How fun is this little fishing game? Max & Me shares how to DIY your own game.



I am totally smitten by these up-cycled can candle holders. Northshore Days has the deets.



Home Made Modern proves that you don't have to buy a new door to get the look you want. Add some moulding for some faux panels.



These little felt fortune cookies from Love, Pomegranate House are so fun. Not only are they cute, but tehy are functional and actually open and close – no sewing either!



Totally diggin' this argyle hearth wreath from b. furby. Such a fun idea!



Have a bunch of CDs you never use anymore thanks to everything going digital? Turn them into coasters using Taste of August's tutorial.



Organizing Made Fun is an organizing genius! Use her easy tutorial to make your own scooter storage. We so need this at our house.



To see the InLinkz party you will need to click through!
To view the remainder of this post please
If you've been featured you are AWESOME so grab a button and tell everyone!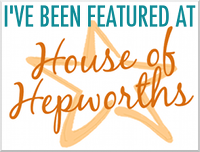 Post about anything you've worked on recently.
*Please link back to my blog pretty please! Buttons can be found HERE.
A few things to remember:
Link directly to your specific post.
I pin all the weekly features. Check out the pinterest board here. I may not pin immediately, but they will eventually get pinned.
By posting to this party you are giving House of Hepworths the right to feature one of your photos.
Please do not pin from House of Hepworths, click through to the actual tutorial and pin from there.
A few DON'TS:
* Don't link up your SHOP, STORE, OR ETSY to my party.
* Don't link up your GIVEAWAY to my party.

Ready. Set. Post!