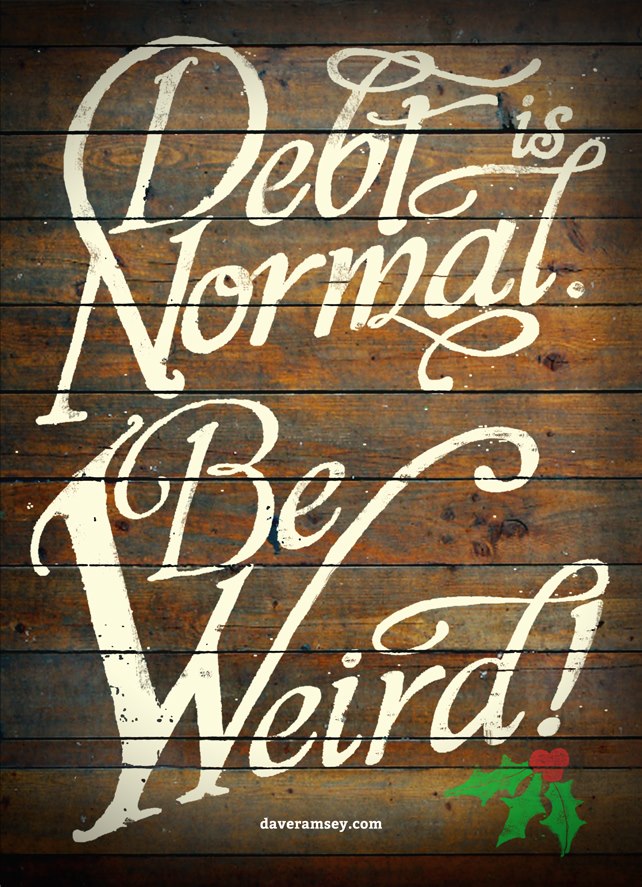 At the beginning of January I did a little 2012 recap and shared some goals for 2013. I wouldn't go as far as to say I created resolutions, but I did touch upon a few big changes we made in 2012 that we want to continue to work on in 2013. One of these big changes is to follow the Dave Ramsey Total Money Makeover.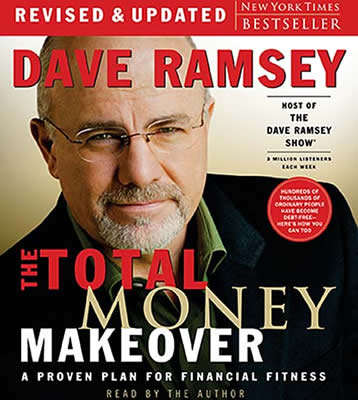 I've been meaning to expand on all of the points I made in that post (including going Gluten-Free), so for today I'm going to start with our Total Money Makeover experience: where we were, where we are now, and where we are headed in the future.
(If you are reading this post anywhere other than HouseofHepworths.com, then it is stolen content. Pardon this interruption but a blog has been stealing my posts, so I have to put this memo imbedded into my post.)
Before we began the Dave Ramsey program we were giving the impression that we were doing well, but in reality we were drowning in over $35,000 in credit card debt and had a total of about $55,000 in car debt (two cars with loans of approximately $15,000 and $40,000). We paid off our student loan debts several years earlier. When we sat down and added up all our credit cards and car debts, I'm pretty sure I might have cried. I didn't realize it was that bad.
Something had to give. We just couldn't go on like this anymore. We were putting everything towards the credit cards each month, but because we continued to use them and because we felt like we made enough money to warrant not following any type of budget at all, no matter how much we sent to the cards, the balances continued to grow.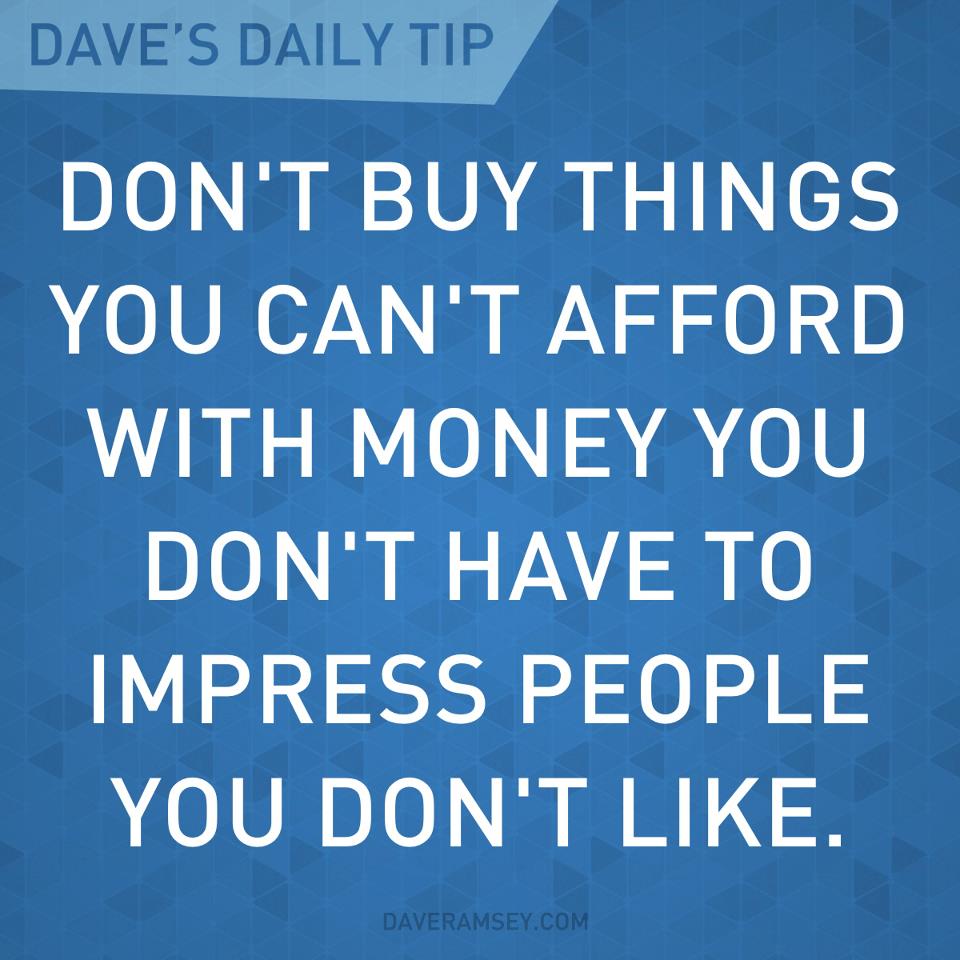 In walks Sarah's post about her journey to paying off $125,000 in debt by following the Dave Ramsey financial plan. Her post was so inspiring that I immediately bought the book and began reading. Pretty soon Ben was on board and the journey began.
We stopped using our credit cards cold-turkey and started using a real cash budget. It was painful. It was hard. But it was WORTH IT.
Ben plays the guitar and a few years ago for Christmas I got him a fun hole punch that punches guitar picks out of credit cards (pretty sure I paid for it with the credit card). Each time we paid off a card, we punched that card into several guitar picks. Now we have a jar full that make me smile every time I see them. It's a good visual reminder of where we were and where we are headed.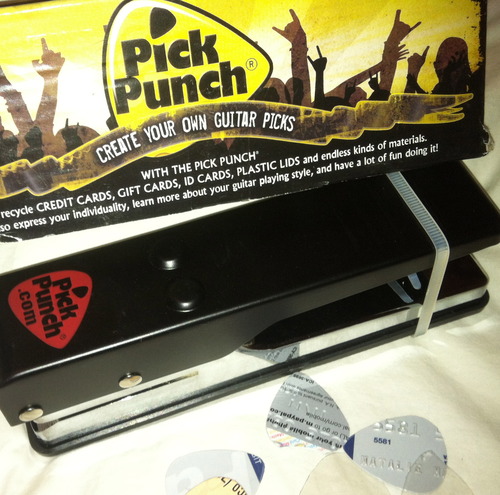 We quickly knocked out our smallest credit card bill (a few hundred dollars) and it felt so good and really jump started our journey.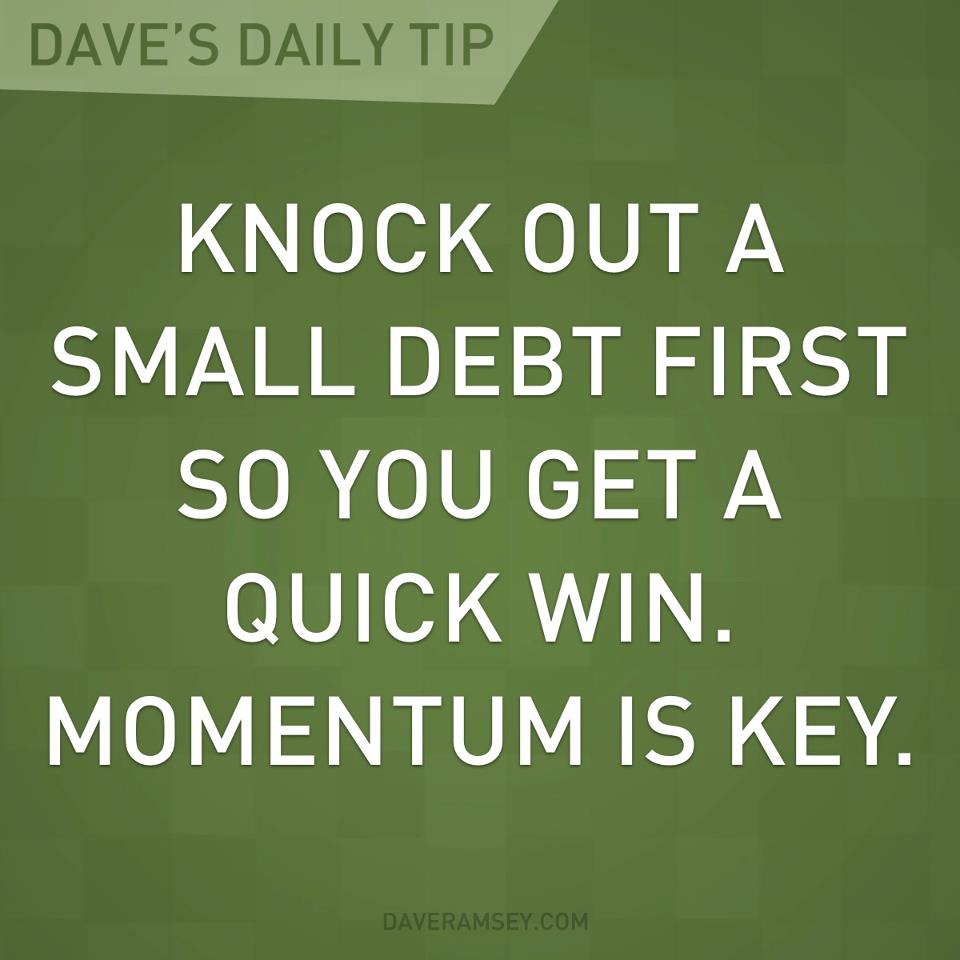 This isn't a final "DEBT FREE SCREAM", but it's a significant update of our journey. As of two weeks ago we paid off our very last credit card!!! We paid off all $35,000 in credit card debt! It feels so so so good to say that.
Dave constantly talks about having a "Jaguar Moment". He bought a Jaguar when he was younger before he could afford it. When he went bankrupt he still tried to keep his precious car. He hit an all time low when he was begging friends to help him make his car payment while he was practically homeless. He said that until he accepted and came to terms with the fact that he needed to sell his car, he would never be able to fully commit to digging his way out of debt and becoming financially free.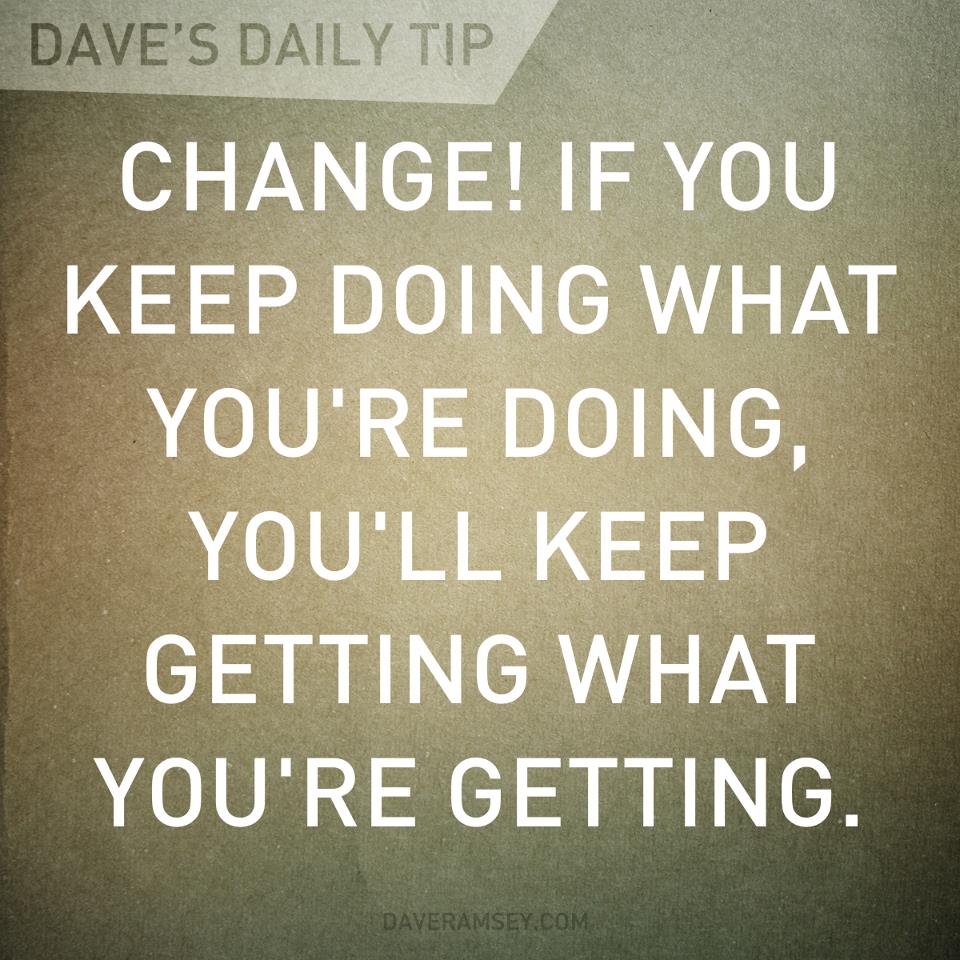 Everyone has to have a "Jaguar Moment". Everyone has something in their life that they don't want to let go of. Until you can part with that item, you will never be fully committed to changing your life. Our "Jaguar" was also a car. Actually, a minivan. We purchased a very nice, very expensive, very upgraded Honda Odyssey Touring Elite. It had leather seats, sat 8 people, and was fully loaded including a GPS system, a DVD player, and a wide-screen that would show two movies at once. We took out a 6-year loan to afford it, and even then our payment was more than $600 a month. After following the Dave Ramsey plan for months and months, we knew we needed to do what we had been putting off; we needed to sell the van. It was the one item that we were unhealthily attached to. It was painful and took us several months to admit, but the van needed to go.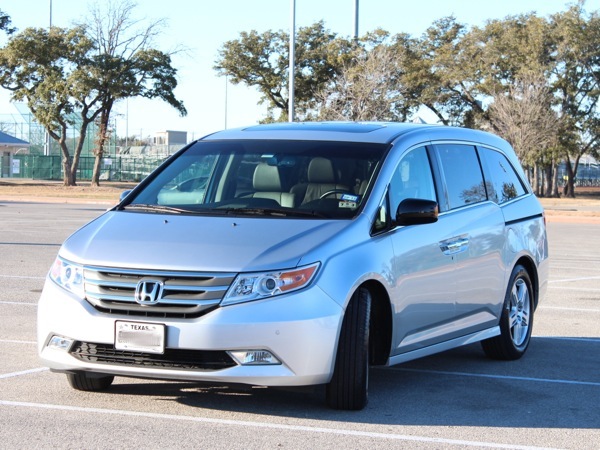 Our real internal change finally happened when we dropped the Odyssey off, sold it back to the dealer, and drove away in Ben's little Civic. I thought I'd be devastated. I thought I'd sob on the way home. Instead, my reaction shocked me – I was FREE. I was free from that huge $40,000 burden. And it felt amazing.
Currently we still only have one car. We have $9,000 left on it. We are in a unique situation that Ben works from home, so for now, we have one car. And we will continue to have only one car until this one is paid off and we have enough cash to purchase another one. I complain daily about not having my own car, but I know if we wait until we can pay cash for another car, not only will we own it outright and not be in debt, more importantly (in my opinion) we will be so proud of ourselves that we were able to save up and buy it in cash.
I will let you guys know, but in fair warning, we are on a Dave Ramsey tangent and will do almost anything to pay off every last stitch of debt possible. Dave says that you should sell so much stuff (our garage sale!) and make such drastic changes that the kids start to worry that you will sell them!
Speaking of the kids, they have watched us buckle down and pay off the debt. They have heard us tell them "no" over and over when they ask to go out to eat, or get a treat, or go on vacation. We have been very open about the Dave Ramsey debt plan with them every step of the way. We paid off our last credit card with them, and then we all went out for fro-yo afterward to celebrate together. It has truly been a family affair.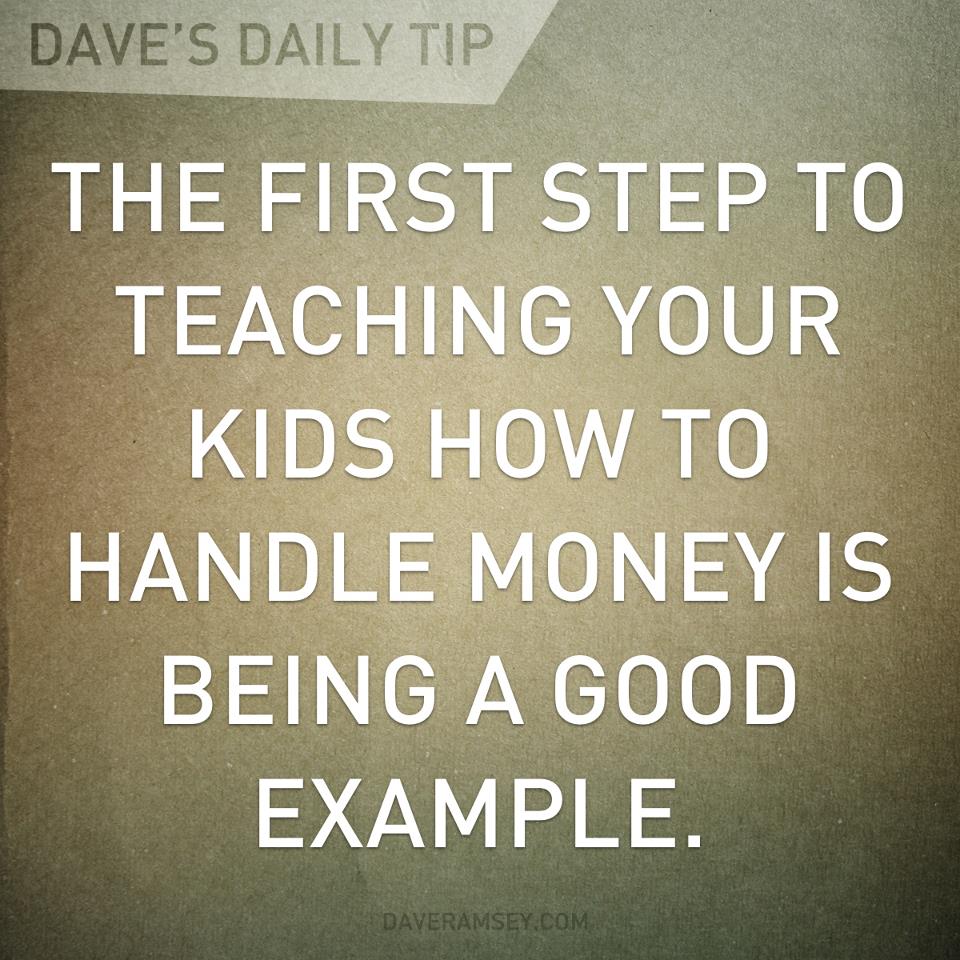 Last Christmas we took it one step further and bought them each Financial Peace Junior. They have taken to this program 100% and have become quite knowledgeable about finances. Paying off our debt hasn't just affected Ben and I, it has truly changed our entire family.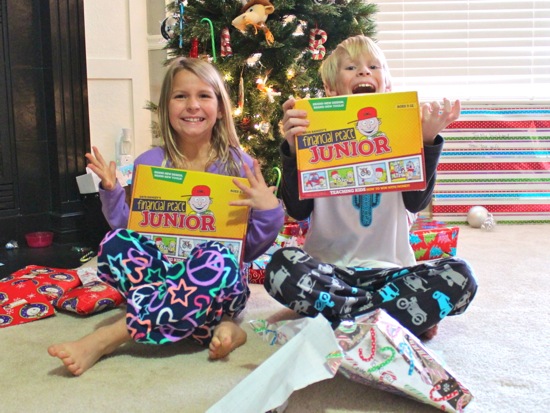 Our son got so into the program that he actually read the whole book and did a little report on it at school! (He's in 5th grade). We thought it was so cute/funny that we scanned it in: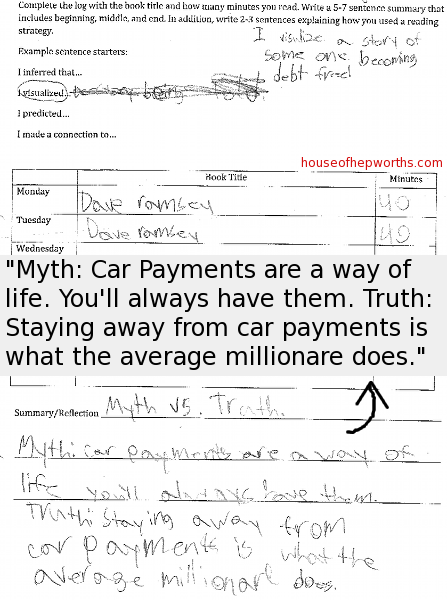 I'll admit, this was a proud-mommy-moment for me.
We bought a 10-pack of Total Money Makeover books before Christmas and gave every person in our family a copy. Several of our family members are now also doing the program and tackling their debt head on.
This is a marathon, not a sprint. We will continue to "live like no one else so later we can live like no one else". I'll update periodically about where we are at on our journey. Next up is to pay off Ben's car, buy me a car, and possibly downsize to save hundreds of dollars a month on our monthly mortgage payment. After that? Start saving even more for retirement and college funds, save up for a much-needed family vacation, and pay down the house.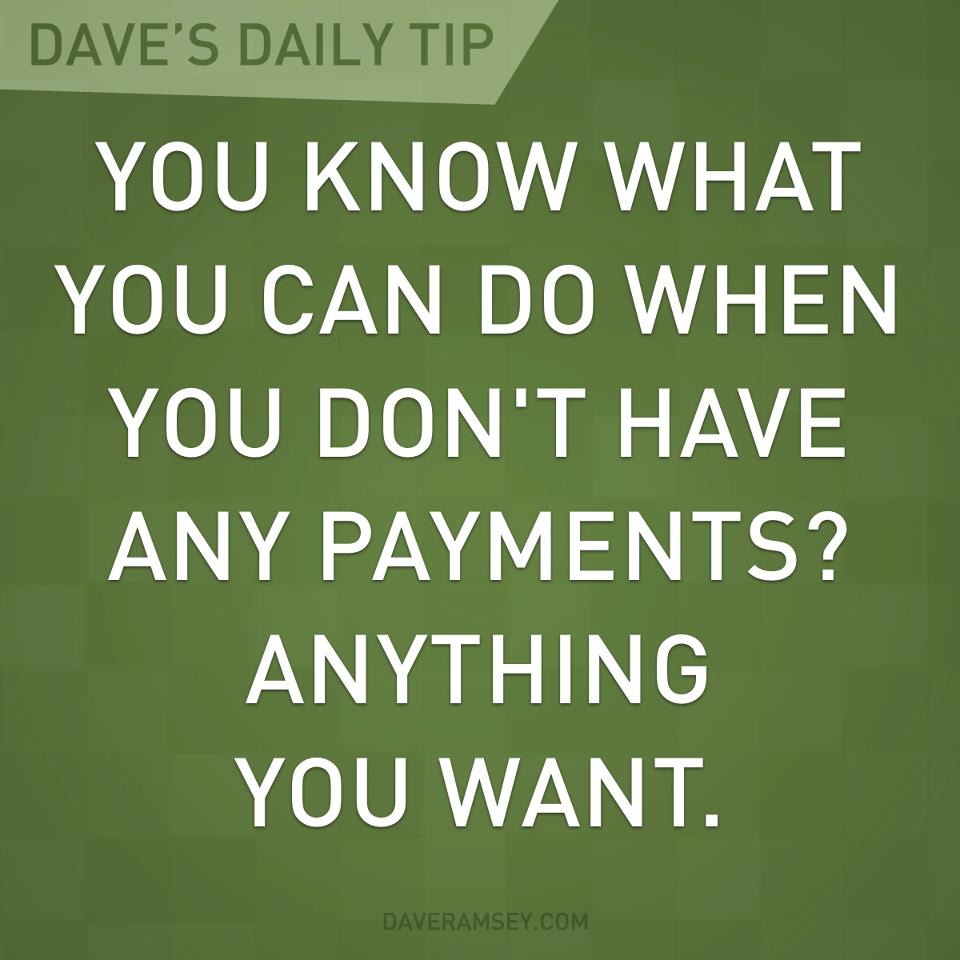 A random side-note: My blog brings in a litte money on the side. Not a lot, nothing to sing home about, but enough to give me some money to decorate my house with (which I then turn around and blog about. Full circle moment here). We decided right away, a long time ago, to not use the blog money as part of our debt payoff program. So when you see me buying something and then blogging about it, don't judge! Don't worry, we aren't falling off the Dave Ramsey financial plan wagon. We have purposely set up our budget so that any money I make from ads on my blog I get to keep to help fund future projects that I blog about. 🙂
As Dave would say, "We are doing better than we deserve."
*This post contains affiliate links to amazon.com.