I am excited to be a part of the True Value Blog Squad again this year! You guys know I'm nutso about DIY, so partnering with True Value Hardware is a no-brainer for this hardware store junkie.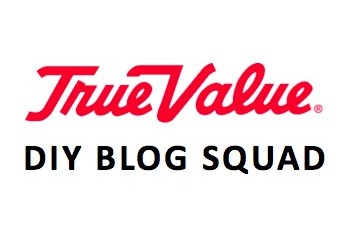 I am one of the bloggers selected by True Value to work on the DIY Blog Squad. I have been compensated for my time commitment to the program as well as my writing about my experience. I have also been compensated for the materials needed for my DIY project. However, my opinions are entirely my own and I have not been paid to publish positive comments.
I have been busy DIYing my son's bedroom the past few weeks. It started out bright purple and pretty dirty. So far I've painted the baseboards, walls and ceiling, and replaced all the carpet and blinds. Another thing that just had to go were all the light switches and plug outlets. After 13 years, these were dingy, dirty, and had random colors of paint on them.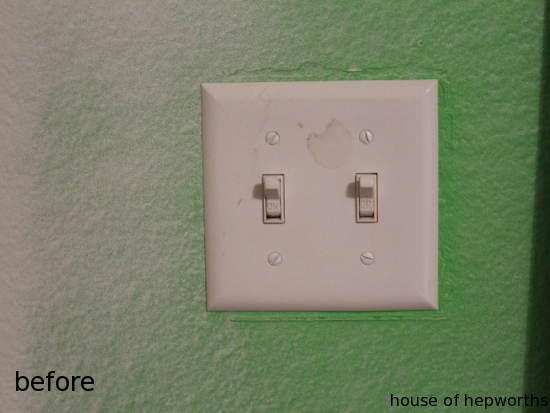 One of the cheapest and fastest ways to spruce up an old tired home is to swap out all the plug outlets and switches. Whether you are wanting to change from the old almond color to white, or wanting to just freshen up really dirty outlets, having fresh, white, clean outlets and covers will instantly make the room feel brand new.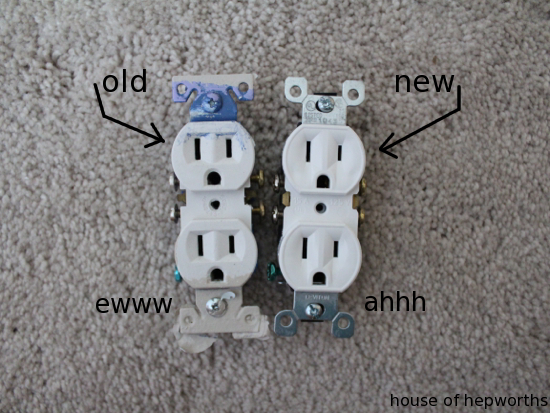 Before painting I removed all the covers. I didn't worry about keeping paint off the switches because I knew I would be swapping them out anyway.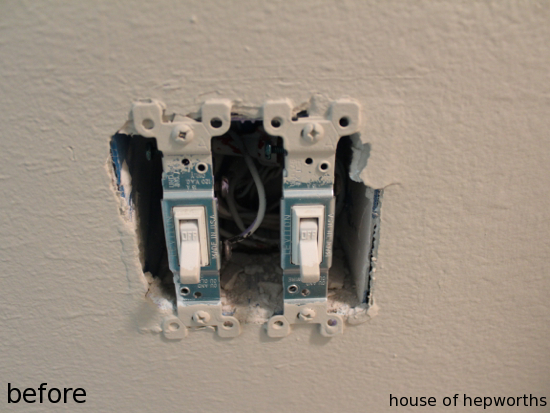 I gathered my supplies and tools. True Value has toggle switches and plug outlet 10-packs for less than $6 for the entire box!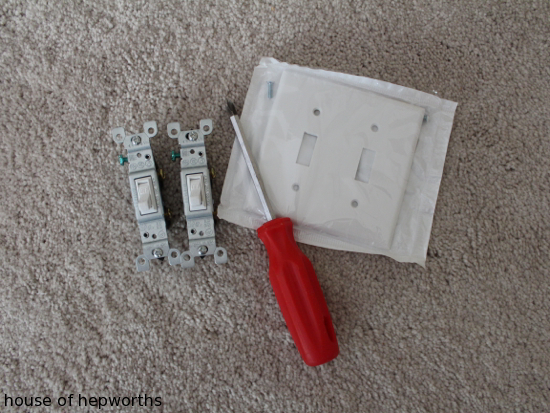 You don't need much to swap out switches and outlets. The only other tool I might recommend are needle nose pliers in case you need to bend the wires.
Before you do any electrical work at all, make sure you flip the breakers for all the power into that room. Often the plugs and switches will be on different breakers so you may have to flip more than one. And, as always, if you feel uncomfortable or unsure, please consult an electrician.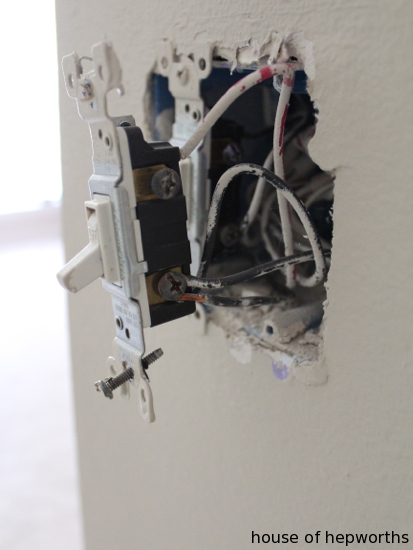 After turning off all power into the room, I started by unscrewing the switch. I like to do one switch or outlet at a time. I'll admit, I cheat when I swap these out. I just do one wire at a time, removing it from the old outlet and inserting it into the new outlet in the exact same spot that I removed it from. This way there is no chance of me swapping two wires and hooking it up wrong. I do all plug outlets the same way.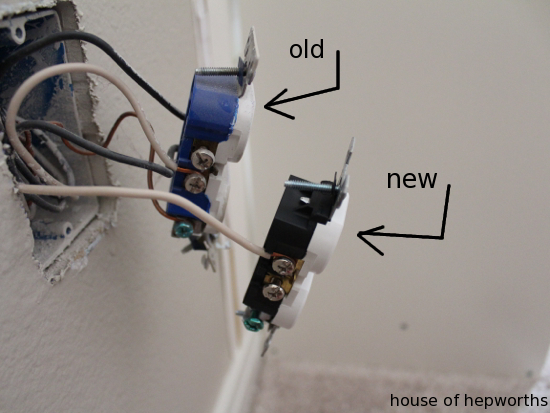 Once both switches were swapped out I popped on a new cover and was good to go! This room looks practically brand new now!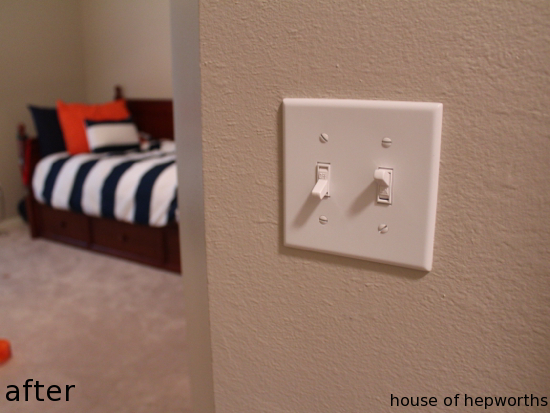 Even the plug outlets are pretty. It makes me want to use them more. Haha.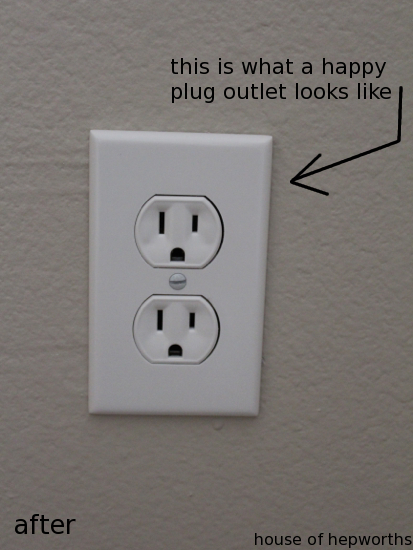 I was able to swap out all the plug outlets and light switches in the room plus add all new cover plates for less than $10. For the entire room! This is probably one of the least expensive ways you can quickly turn an old looking room into a new one. So fresh and clean and such an easy solution.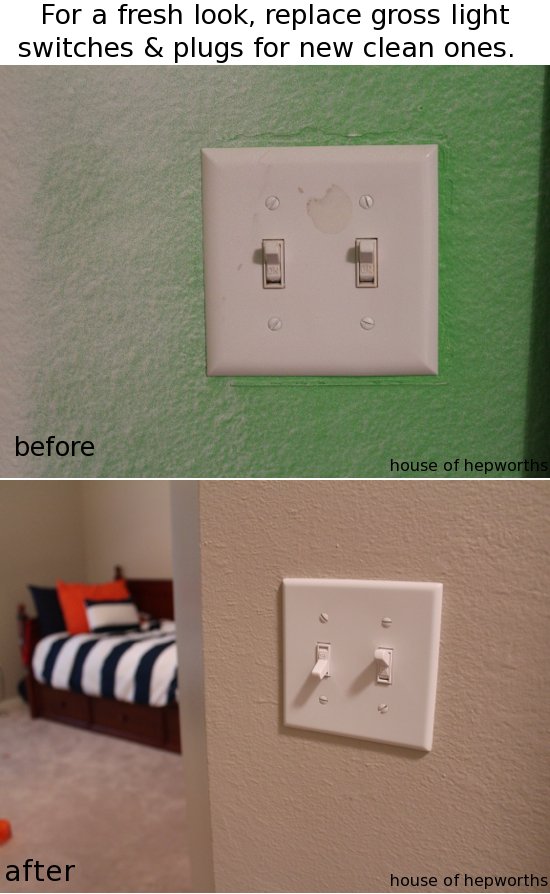 If only all DIYing were this easy!
*****
I want to share with you a fun contest True Value is running this week! If you participate you will have the opportunity to win a $100 gift card to True Value. Woot! Here are the deets: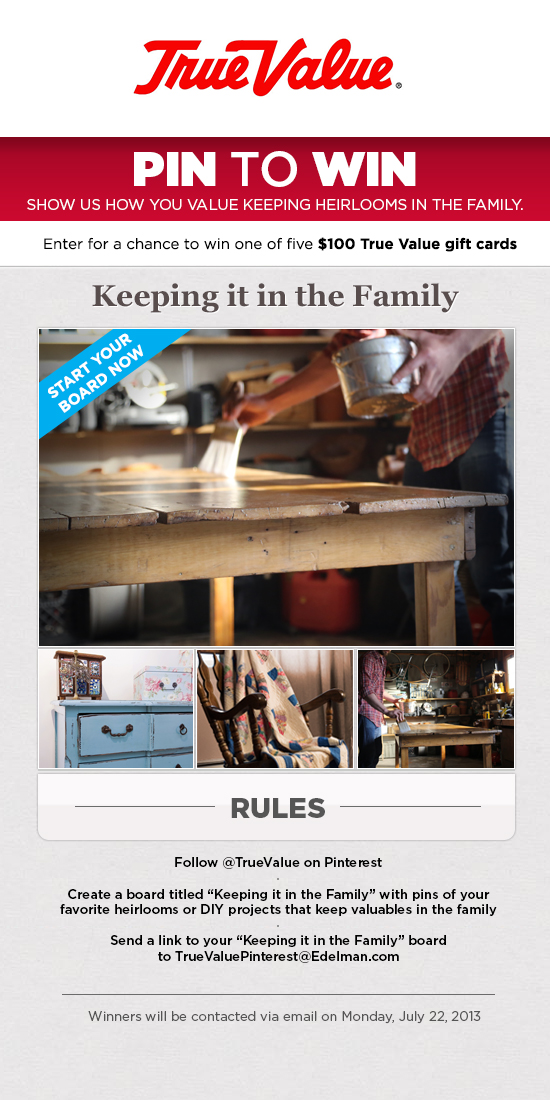 True Value Pin to Win
From July 15 – 19, you will have the opportunity to showcase how you keep family heirlooms in the family by creating a Pinterest board on which you will pin images showing family heirlooms and family-related DIY projects. Check out True Value's example. Here's how the contest will work:
PIN-TO-WIN SWEEPSTAKES RULES
· Follow TrueValue on Pinterest
· Create a board titled "Keeping it in the Family" to show family heirlooms with pins of your favorite heirlooms or DIY projects that keep valuables in the family
· Email a link of your "Keeping it in the Family" board to TrueValuePinterest@Edelman.com
· Winners will be contacted via email on Monday, July 22, 2013
PIN-TO-WIN SWEEPSTAKES PRIZES
· Five lucky winners will receive a $100 True Value gift card, which can be redeemed at their local participating True Value store or online at TrueValue.com