Hey guys! I realized I haven't updated you on the family room – where we spend the majority of our time – since we moved in.
Here's what it looked like when we moved in: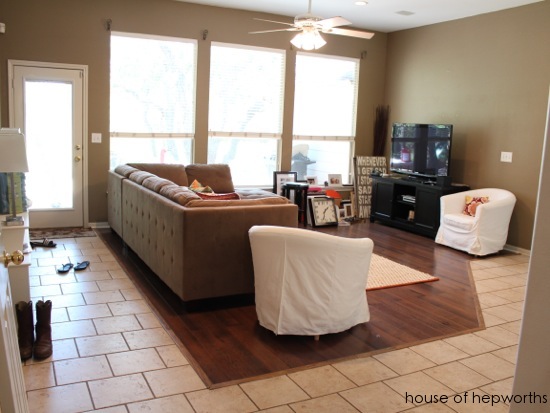 I have spent 4 months moving chairs around and decrapifying all the piles of decor and frames that got dumped in there. Coming up with a chair configuration was making me a little insane. You can see from all the before pictures that I kept moving chairs in, then out, then swapping them, then changing their angle, etc.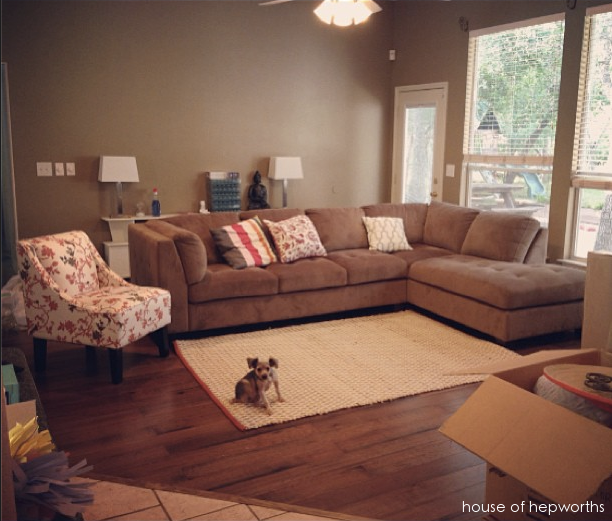 In this photo from the house tour everything has been moved around again. It's always so hard to get your furniture to fit properly in a new house. Sometimes it takes me several tries. (I have moved my office and craft stuff 5x times already.)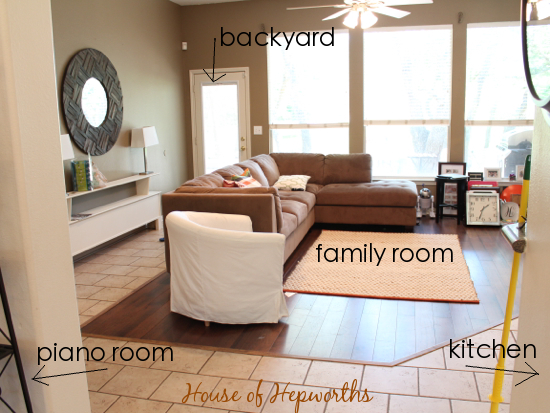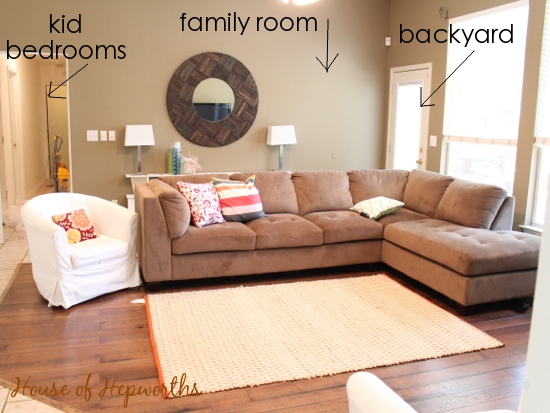 About a month ago I pulled down all the blinds in the family room. We left them up for a few months just to see if I would ever want to close them, but we realized we love the huge windows and all the light pouring in, so I took them down. Here's a picture before removal.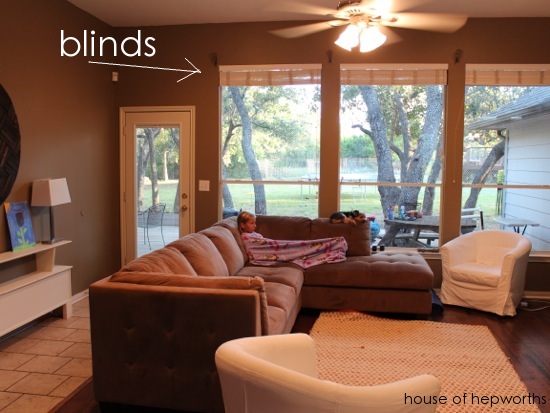 My little DIYer-in-training helped take them down. He is almost 12 now and is quickly becoming a great little side-kick when I tackle projects. If it involves a screwdriver, or climbing a ladder, or using a power-tool, or better yet, doing anything that he thinks is out of the ordinary, he is all over it. His favorite? Any reason to get on the roof. Eek.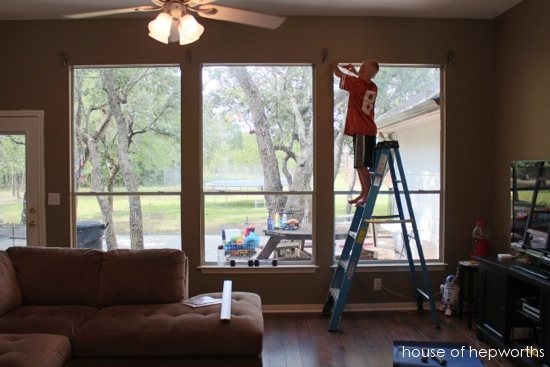 Removing the blinds made a huge difference. The windows now have cleaner lines, and even though it was only about 6-inches-tall worth of blinds, the light just seems to pour in so much more now.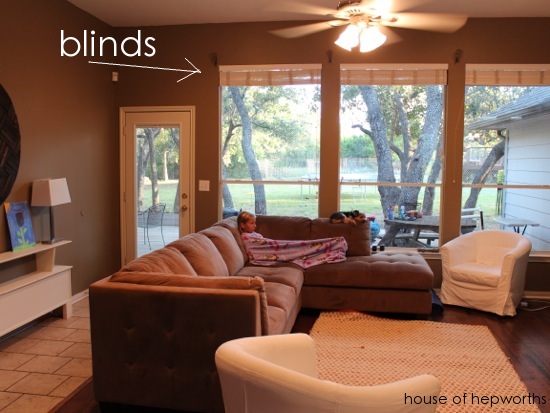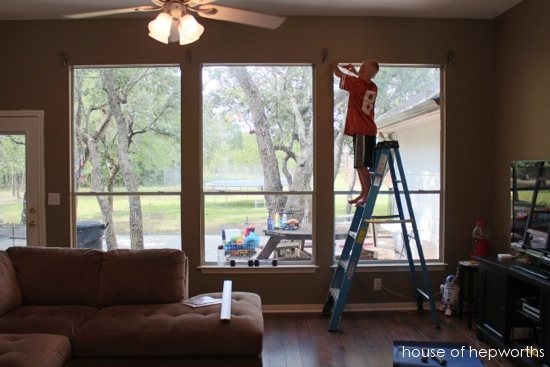 Here is how the room currently looks: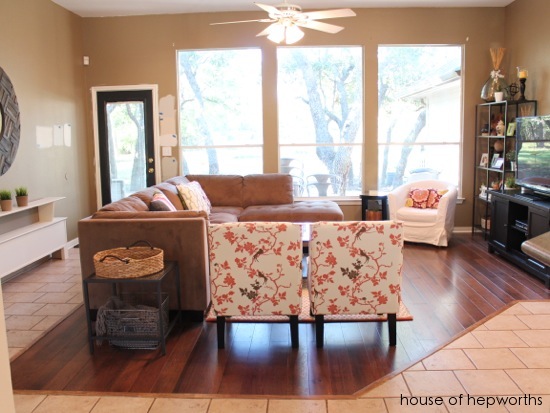 I added a few new pieces of furniture, and then raided my accessories stash. I think just adding a coffee table, some decor, and a few pillows really takes a room from boring and unfinished looking to polished. And ps, yes, I realize the rug is ridiculously too small for the space. I'm workin' on it!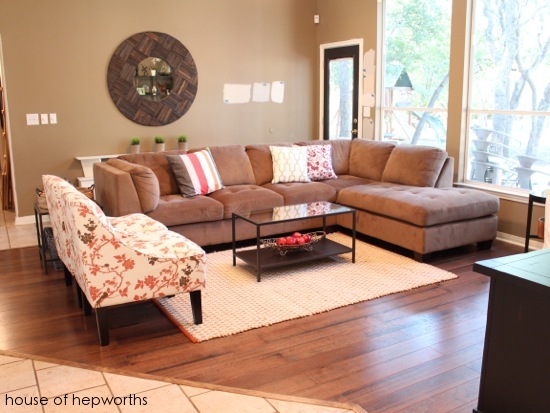 Granted, I have loads of work to still do in here. As you have probably noticed by now, I am trying to pick a paint color for in here. Because of all the natural light, the colors look very different throughout the day. A color I thought I would love looks great at 10am but I hate it at 3pm. This is a tricky room! I am pretty sure I have chosen a color though, so now I need to start painting.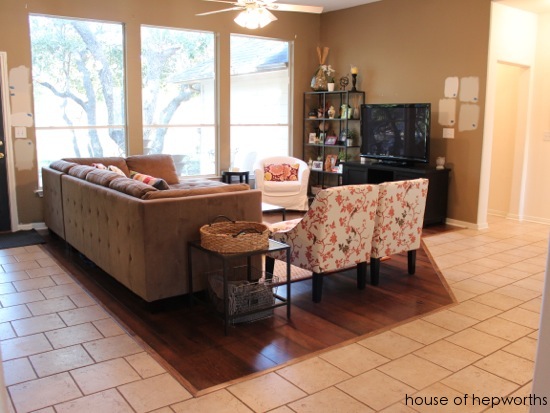 In addition to needing to paint the walls, I painted the back door black and the trim around the door a new coat of white. The black still needs a second coat so don't look too closely. This picture was taken while standing in our piano room (it's suppose to be a dining room but we are using it as a piano room).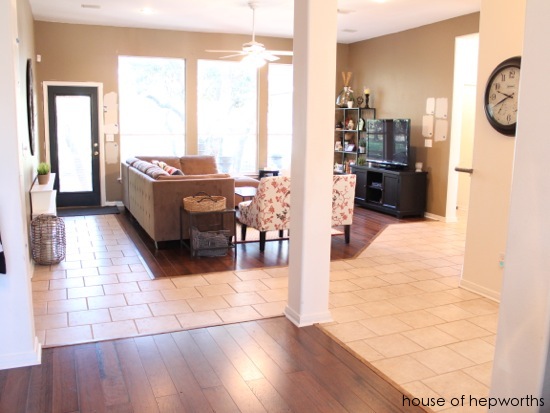 Like I said, I purchased a few new pieces of furniture to give the room a more finished look (it still has a long way to go, but you know what I mean). I bought the bookshelf next to the tv, and the coffee table and side table from ikea. I quickly stuffed a bunch of chachkies and decor on the shelf, but it is in no way finished being "styled".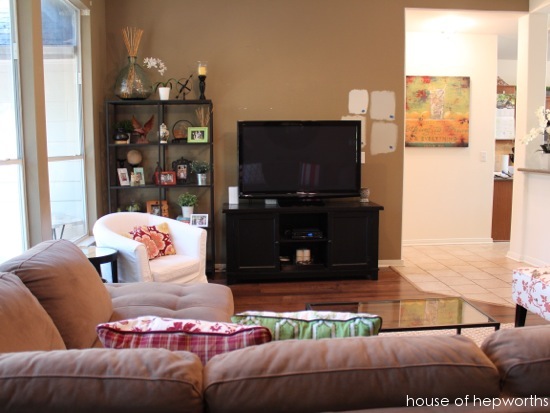 And here's one more of the family room, but from the opposite angle looking towards the front door and piano room. Do you spy my orange curtains? I temporarily tacked them up yesterday to see if I will like them in there (I do!) so once that room gets a fresh paint job I will permanently hang those curtains again. Did you think I would leave them at the old house? Heck no!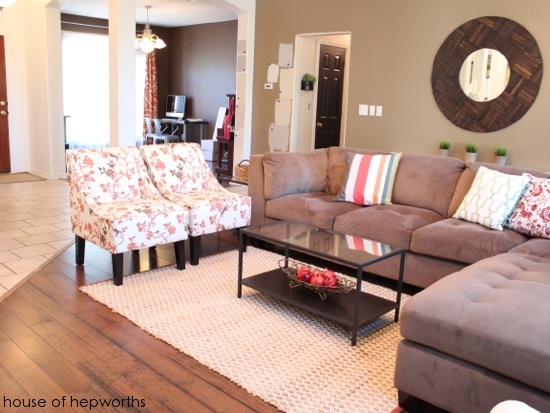 And just for fun, here are the official MLS photos of the family room. Isn't it so crazy how two people can make a room look so different? I obviously have very different (and less formal) taste than the previous owners.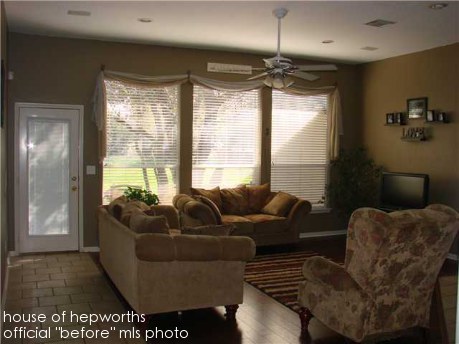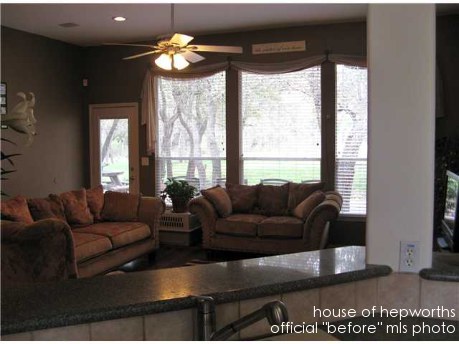 I love seeing the befores and afters next to each other so I don't have to keep scrolling up and down, so here you go!
previous owner & currently: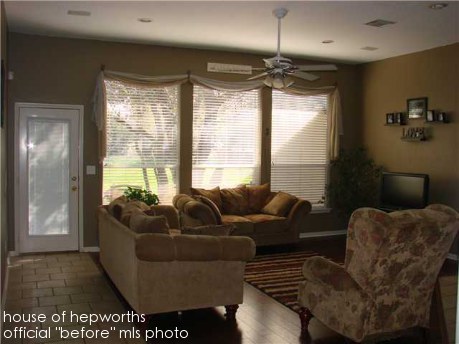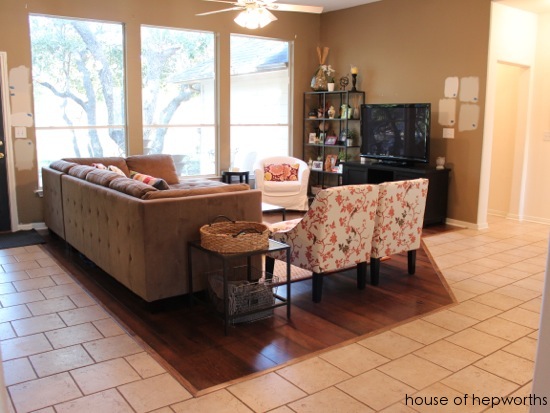 before & after: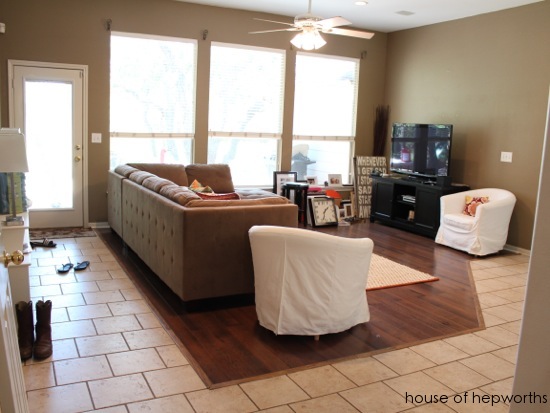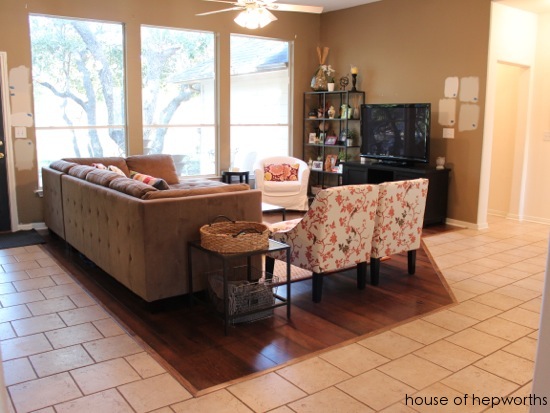 before & after: