Hello there! We are finally feeling some warmish weather again here in Austin. It was below freezing for several days (you Northerners don't laugh! It never gets below freezing here.) but we are now enjoying temps in the low 60s (don't be jealous though, we pay for it each summer when temps get into the high 90s!).
Anyway, because of the nicer weather Ben and I hit up Costco this weekend for an exciting purchase to finish off (errr, start?) a project we've been wanting to do for some time now. This project is one of those "if you give a mouse a cookie" type projects, so who knows when we will actually be able to say DONE. Let's call this phase 1 of probably 10 phases. Welcome to my laundry room slash mud room slash pantry: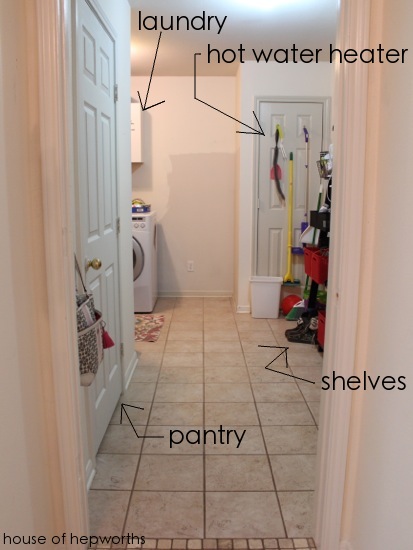 See that big ol' hole straight ahead? That is designed for a 2nd refrigerator.
Long story short, we acquired a used one from a sibling of mine, had the refrigerator for a couple months, and had to unexpectedly give the fridge back. (And I took exactly zero pictures of my laundry room with said fridge in it.) Well, having the full-sized fridge for a couple months gave us time to think about what we really want for this big awesome and under-utilized laundry/mud room.
What we realized we DON'T want is a big fridge next to the dryer. I want some cabinets and a counter for folding laundry, and I want some awesome built-ins with a bench. In time we will have all those things. I will probably do something similar to my previous laundry room built-ins that I still dream about at night: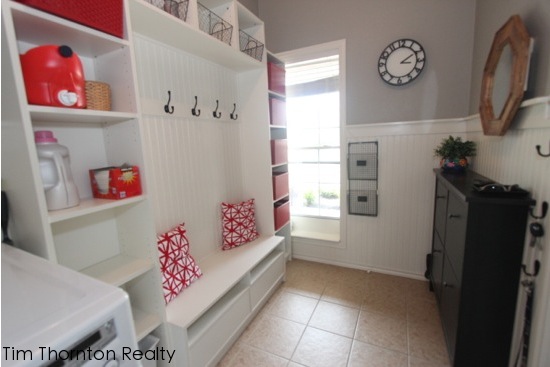 (Previous house laundry room built-ins)
Currently we have some shelves propped up until I do the bench and built-ins.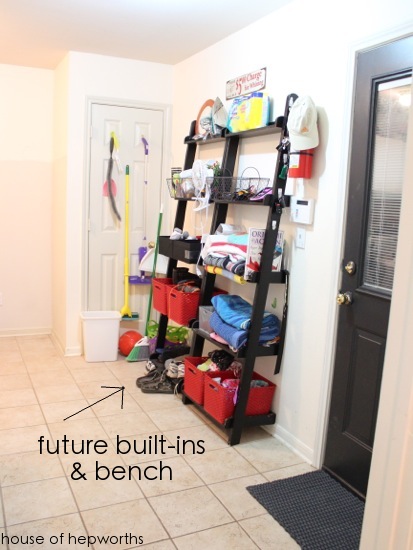 Okay, so anyway, we LOVED having a fridge for all our beverages, but now that we are short a fridge again I did not want to purchase another full-sized one to go in the same space. After much brainstorming we came up with the best idea! Mini-fridges in the pantry!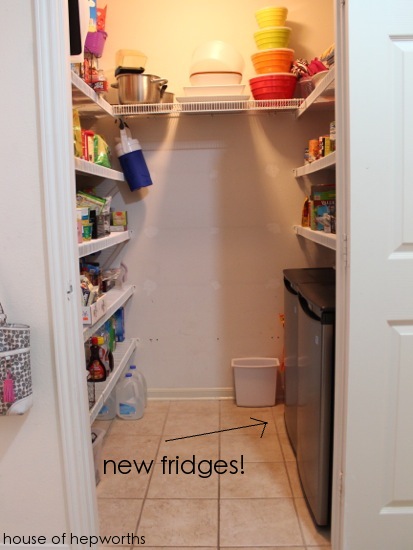 We purchased two mini-fridges from Costco. They were $150 each. We went with them because they were the right depth and width, and I like the look of them. We opted for two because we want to keep the sodas and water separate from the adult beverages. Plus, one fridge wasn't big enough to stock at least 4 different types of soda, bottled water, capri-suns for school lunches, and probably 10 different types of beer and cider.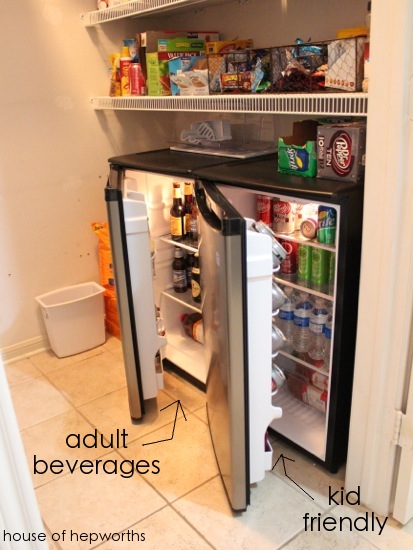 Ben and I are not big drinkers. In fact, we rarely drink alcohol except maybe in an occasional social setting. However, our friends do drink. We have friends over frequently and we love to have parties, so we always have chilled beverages on hand for anyone who shows up. Each friend has their own favorite, so we like to keep a variety stocked. Basically, we bribe our friends with booze to drive out to our house and hang out with us. 😉
The fridges fit perfectly and we are both thrilled with how this little project is coming together.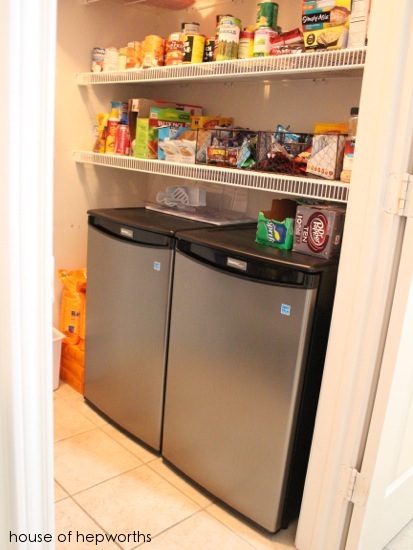 The pantry use to look like this: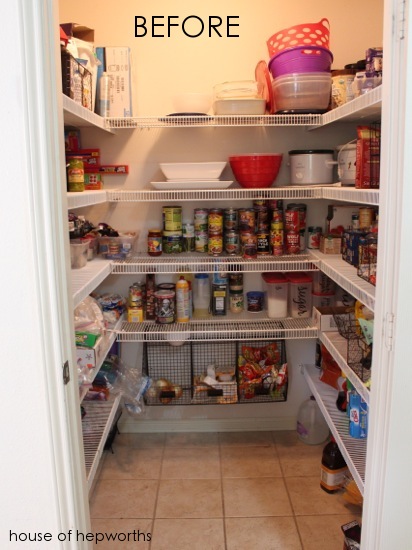 I removed several of the wire shelves a few months ago, and then this morning I removed two additional shelves to make way for the fridges.
Eventually I plan on removing all the wire shelving, painting all the walls, and adding some nicer wooden pantry shelving that I custom design for the space. But for now, these wire shelves are doing a decent job and I am just happy my fridges fit in here so I can now add my cabinet and countertop next to the dryer.
Here's a before and after of the pantry progress: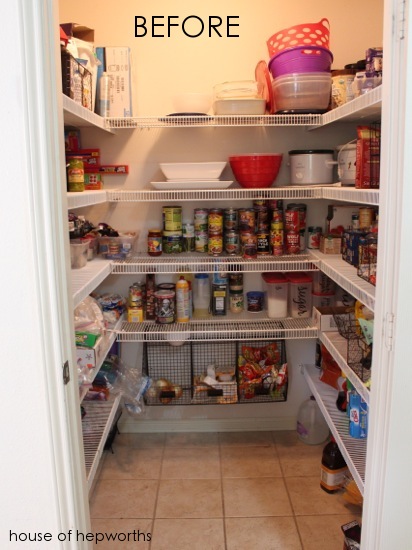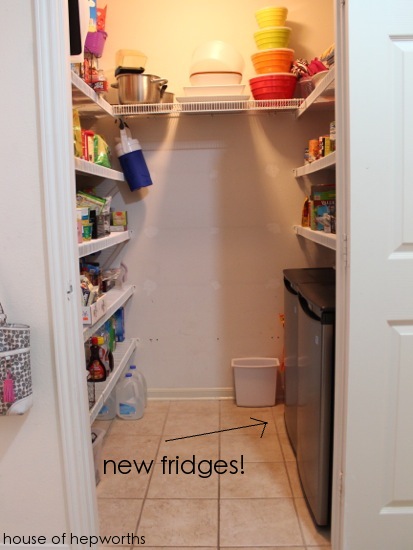 And just because I've never shown you a picture of the laundry/mud room from this angle, here is what you see when you are standing next to the dryer looking towards the kitchen. Don't mind the mess. I can only get one room clean at a time, and you saw how clean the mud room is! Also, if you noticed the folding chairs instead of my industrial ones I bought a year and a half ago, our new breakfast area is much smaller than the previous home. My chairs don't fit in our new kitchen (the arms don't allow them to tuck under the table, so they physically will not fit in the smaller space). We are using folding chairs until we do our kitchen renovation.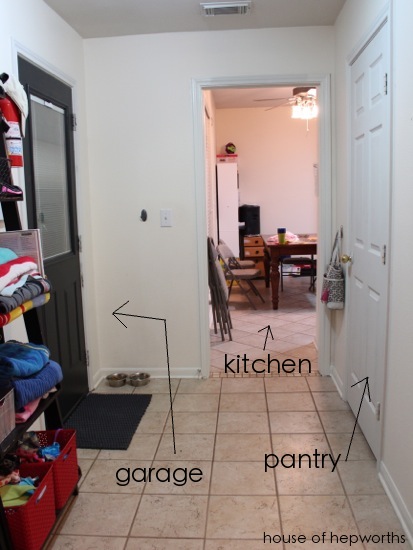 So that's what I worked on this weekend and today. I have so many projects up in the air right now, and I am just living in limbo. It seems like every project hinges on another project, and it's making me crazy!
Do you have a 2nd fridge for drinks? Do you keep your extra fridge in the garage, mud room, pantry, or somewhere else entirely?