One constant love I've had over the past 5 years has been decorating with wheatgrass. I just love the stuff! When decorating with fake wheatgrass, I think it just looks crisp and classic. One of the very first projects I ever blogged about was taking some gross old tins from goodwill, refreshing them with spray paint and vinyl, and adding wheatgrass to them.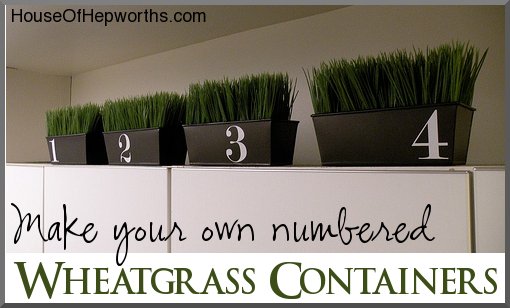 Wheatgrass Containers
In our previous home I had some leftover fake wheatgrass and added it to a simple flower pot found at the dollar store.
Easy dollar store wheatgrass tin
I went totally bizerk over this wheatgrass plant my daughter brought home from school in kindergarten. Seriously, cutest present ever.
Wheatgrass Silly Face
I also have a thing for faux moss rocks and wood tones. After seeing an adorable decor display at a model home, I found this wooden bowl at Target and grabbed a bag of moss rocks from the dollar store (boo, they don't sell them anymore, but you can get them at Target), and created my own "Model Home Decor".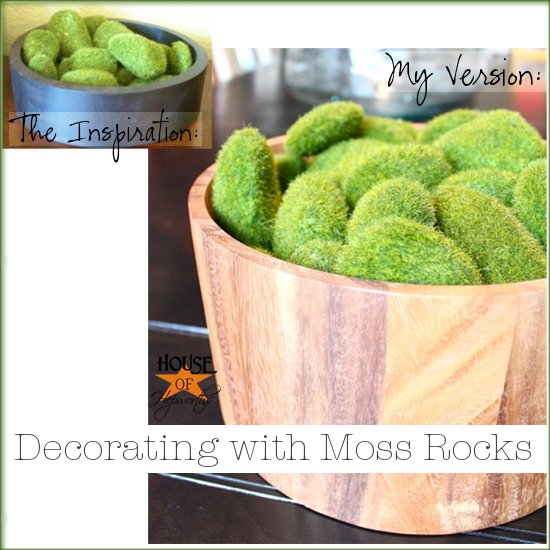 Moss Rocks Decor
Well, after many years of loving my Wheatgrass Numbered Tins and my Moss Rocks Decor, I was ready for something new and fresh around here. I repurposed the two into one new display.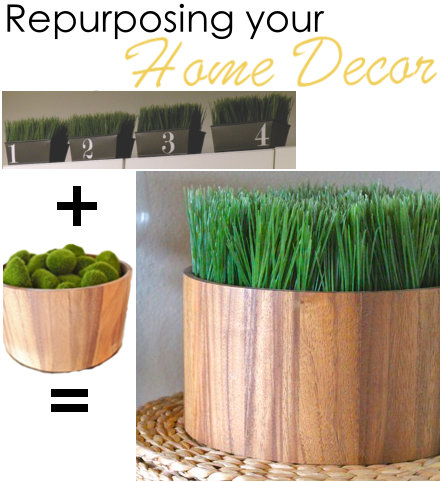 I reused the wheatgrass and floral foam and the wooden bowl to create this new fresh piece of decor.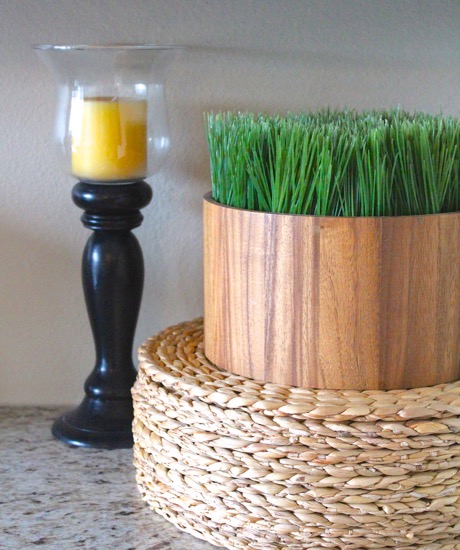 The green wheatgrass and the wooden bowl play off each other nicely and look crisp together.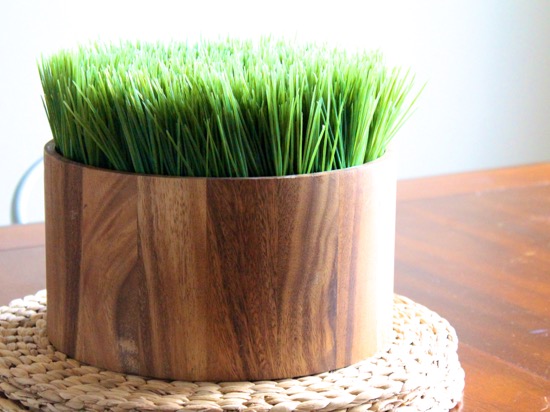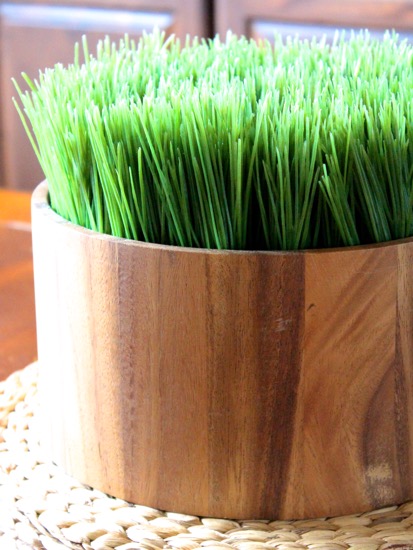 I've been keeping the display on our dining room table, but when the table is in use, the wooden wheatgrass bowl looks great on our new Butler's Pantry.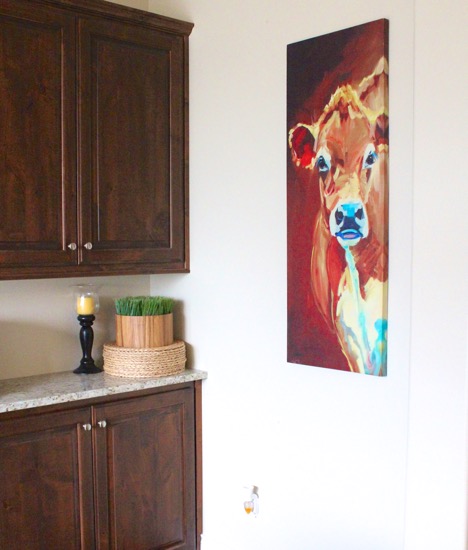 I have been trying to incorporate more natural and wood elements into my decor lately. After much pondering and Pinterest-browsing I've finally been able to put a label on my decorating style: Transitional Country (Rustic Transitional works also).
Transitional style is a marriage of traditional and contemporary furniture, finishes, materials and fabrics equating to a classic, timeless design. Furniture lines are simple yet sophisticated, featuring either straight lines or rounded profiles.
I added the "Country" to the end because I love LOVE the Transitional style with a hint of rustic charm – metal finishes, a hint of shabby chic (but NOT too much, I can only take that distressed look in very small doses), and my love for random items like my cow painting. Living out in the country is allowing me to bring in some of that rustic style that I love, but didn't necessarily work in our last home.
I can't wait to start incorporating even more of those elements into our home!
Anyway, back on topic! I've been trying to come up with new ways to love my old decor that isn't necessarily working for me anymore. This is one way I've been able to do that.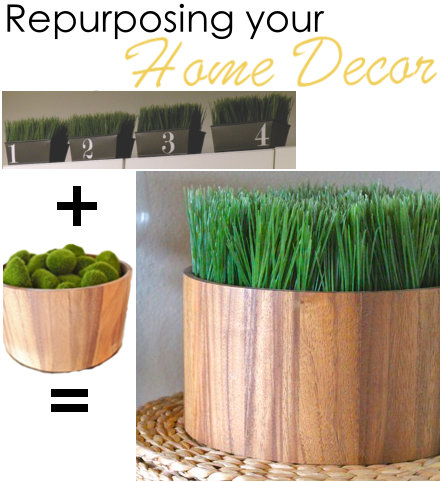 Have a great (and warm!) day! I will see you all again on Thursday. 🙂