I finally did it. I finally took the plunge and painted the fireplace! I've been putting it off for a year and a half because, well, it's just so permanent. What if I hated it? Once you paint brick, it is really hard to un-paint it. It's a scary plunge! But I finally just dove in head first and did it. I mean, how can I hate the brick any more than I already do? Peach brick is really not my thing, and I just couldn't stare at that huge peach wall for one more day. Check out the before and after pics, and get all the deets about painting brick…
Here's where we started: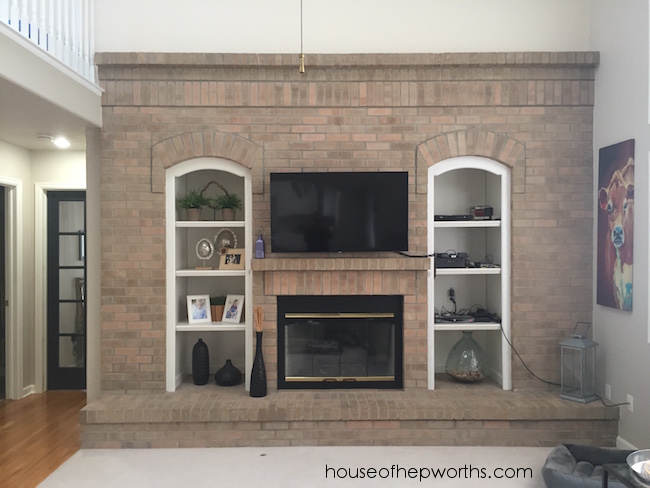 We have a nice big wall of brick in our living room. Some day I'd love to tear it all out and totally pimp this space, but like Shawty, it's very low low low low on our priority list.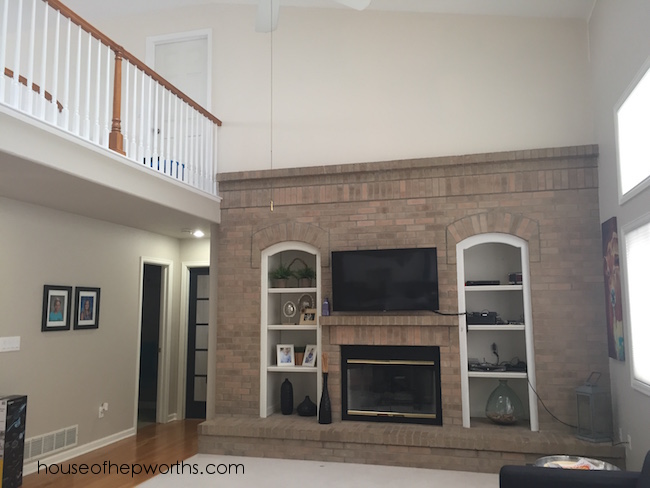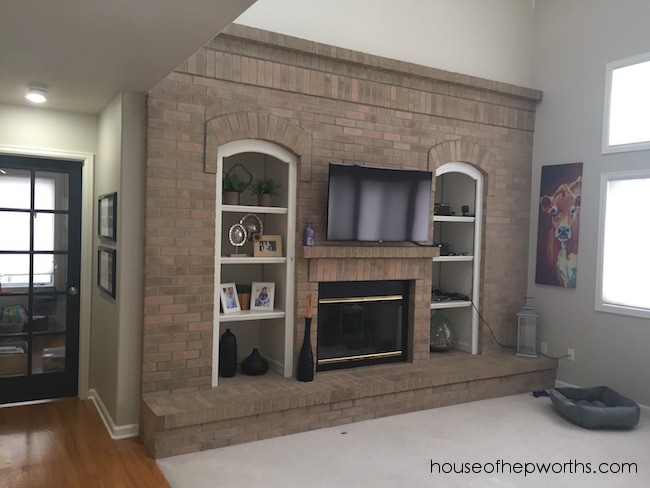 Deep breath. Here goes nothing!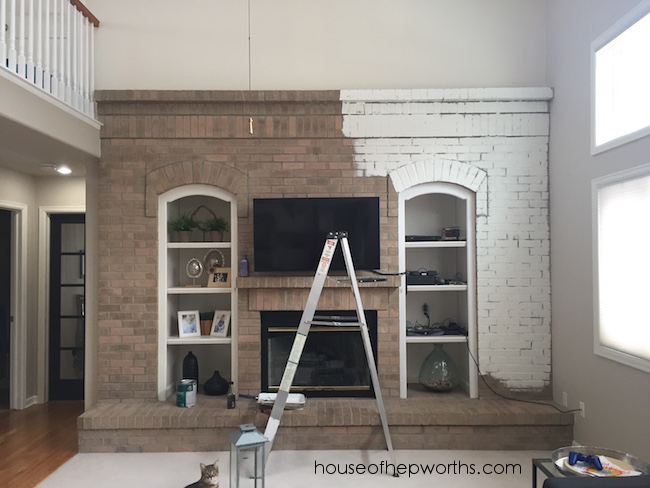 This will obviously need more than one coat.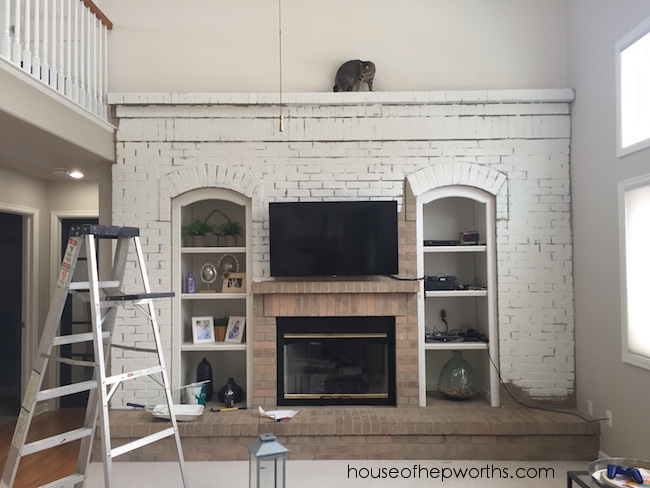 Second coat is looking a lot more fly.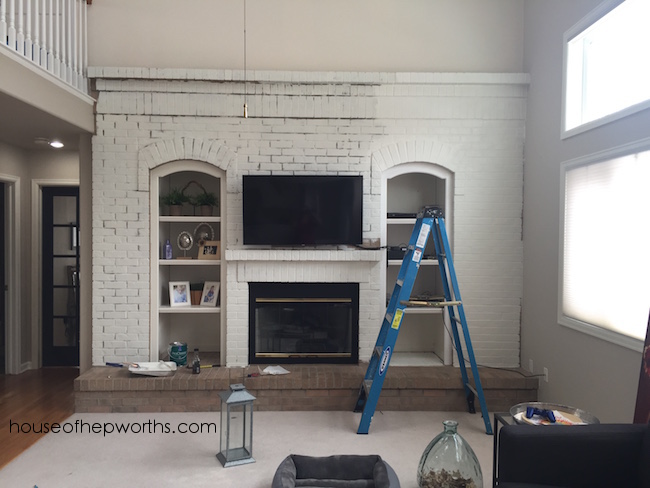 Only the hearth left! I am already digging it so much. Whew!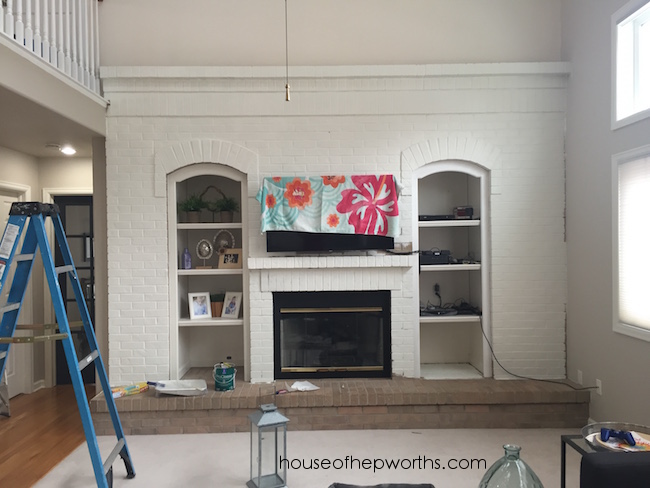 Aaaaand the afters! Oh my word, what a huge difference!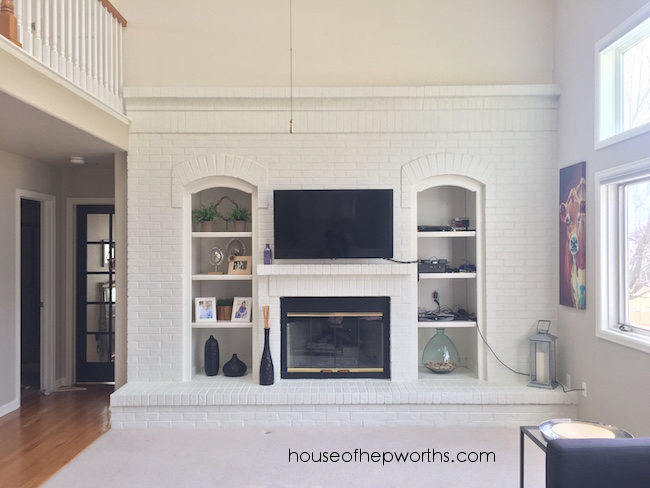 It's just so clean and fresh looking!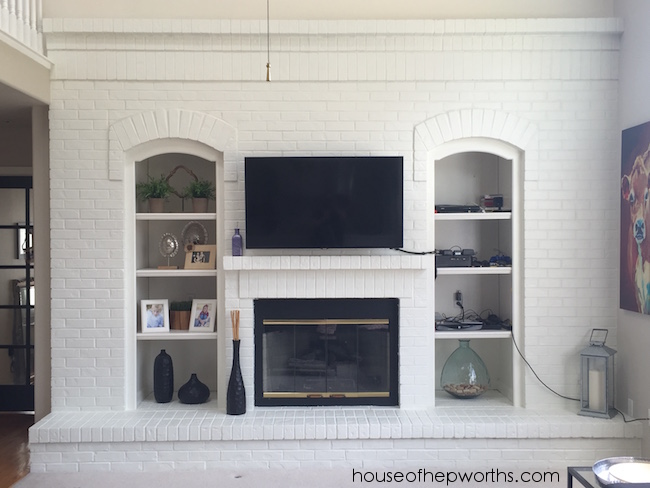 Okay, so how did I do it? Honestly, I've never painted brick before. I read a bunch of tutorials online and so many of them made it seem like a lot of hard work with unnecessary steps.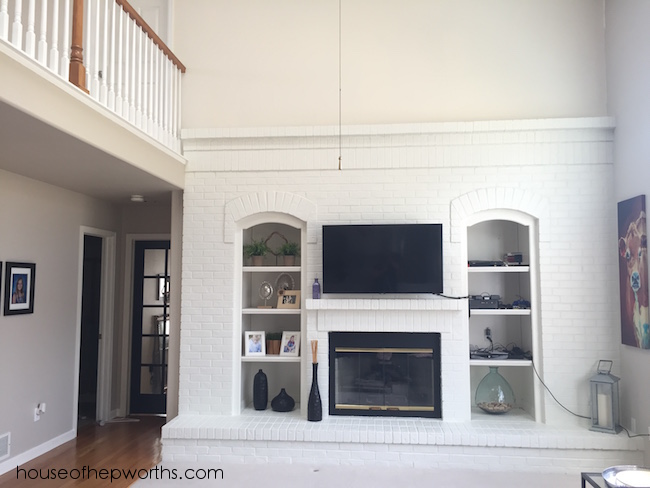 I purchased some ProClassic trim & door paint from Sherwin Williams. I got a satin finish because I didn't want my fireplace shiny and glowing at me. The color I used is my staple trim color – Alabaster.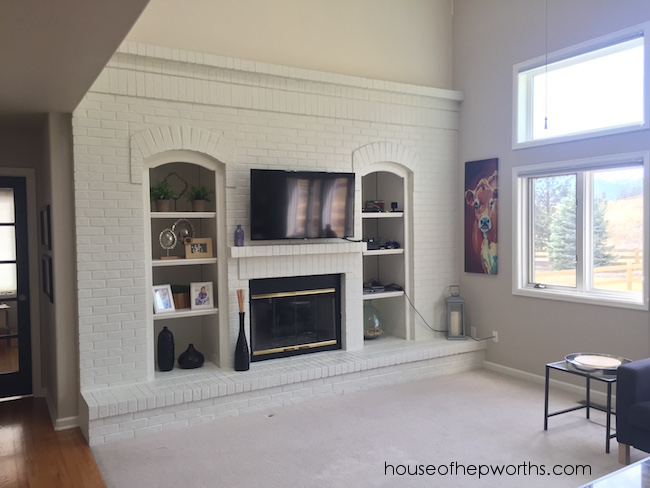 I used a roller for 98% of the fireplace. I purchased this Purdy Roller Frame and these Purdy Mini Rollers. I chose not to use a big roller you'd use on your wall because I thought it might splatter more. (affiliate links)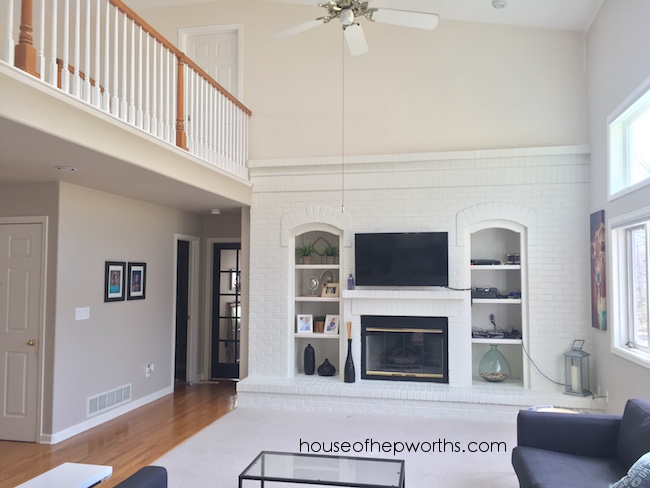 Some tutorials said to prime the brick first, some said to wash the brick, some said to paint all the brick with a brush, and some even said to use basic wall paint. I didn't do any of that!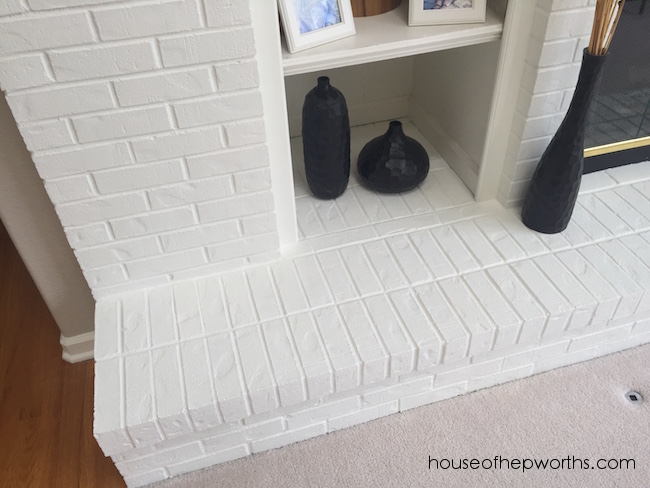 I dusted off some dust, used the ProClassic Trim paint, and the mini roller and just started painting. When I was done rolling two to three coats of paint, there were some areas of grout that needed additional paint. For those smaller areas I went back with my favorite paint brush, the Angular Trim Purdy Paint Brush. If I ever paint with a paint brush, 99.9% of the time I use this angled brush. (affiliate link)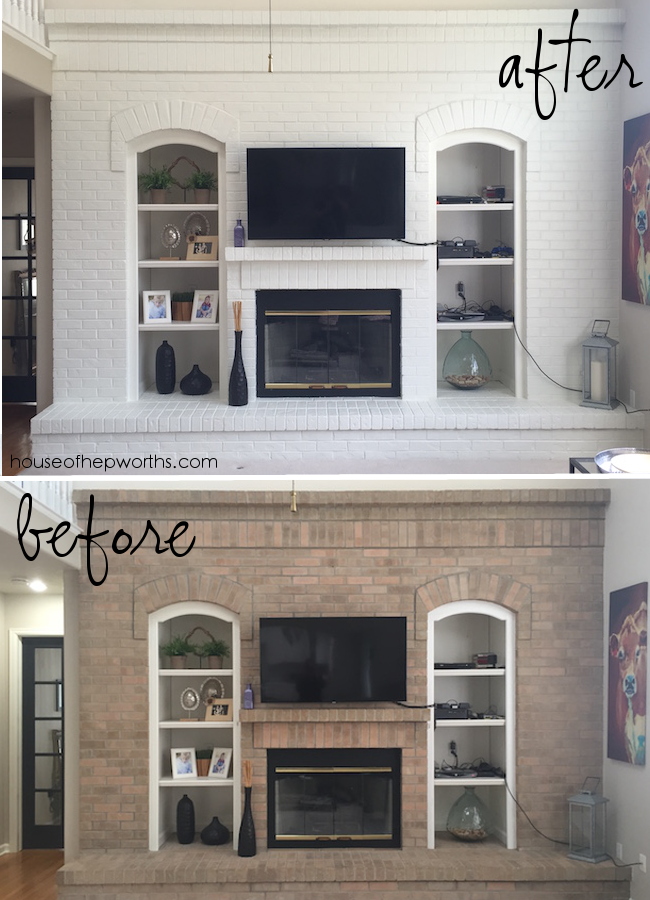 And that's it! It was so easy. Painting brick seemed so intimidating, but in the end it was almost just as easy as painting your basic textured walls in your home.
You guys know by now I am just such a huge sucker for before and after comparisons: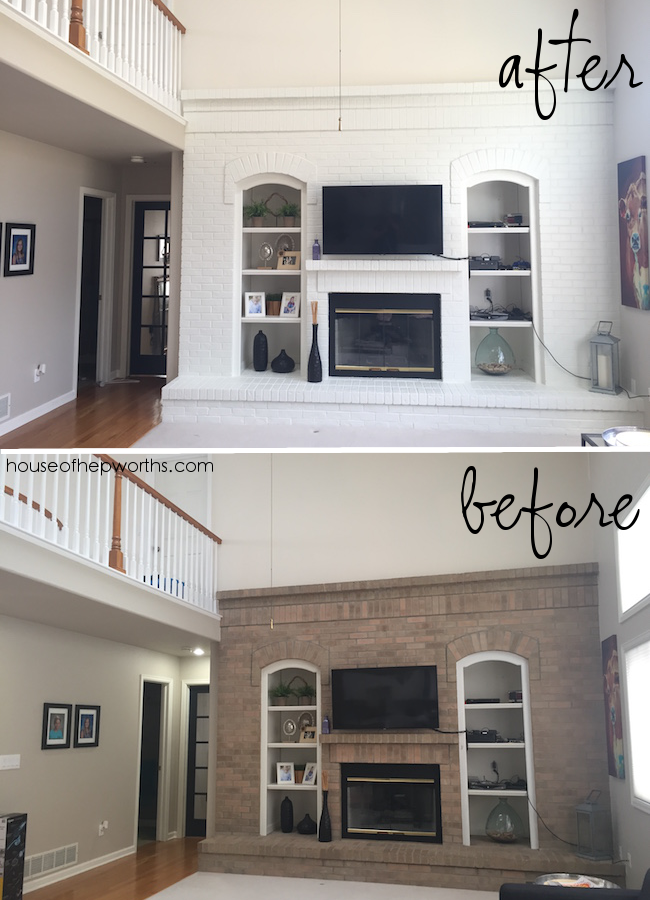 Can you believe this transformation? I am blown away.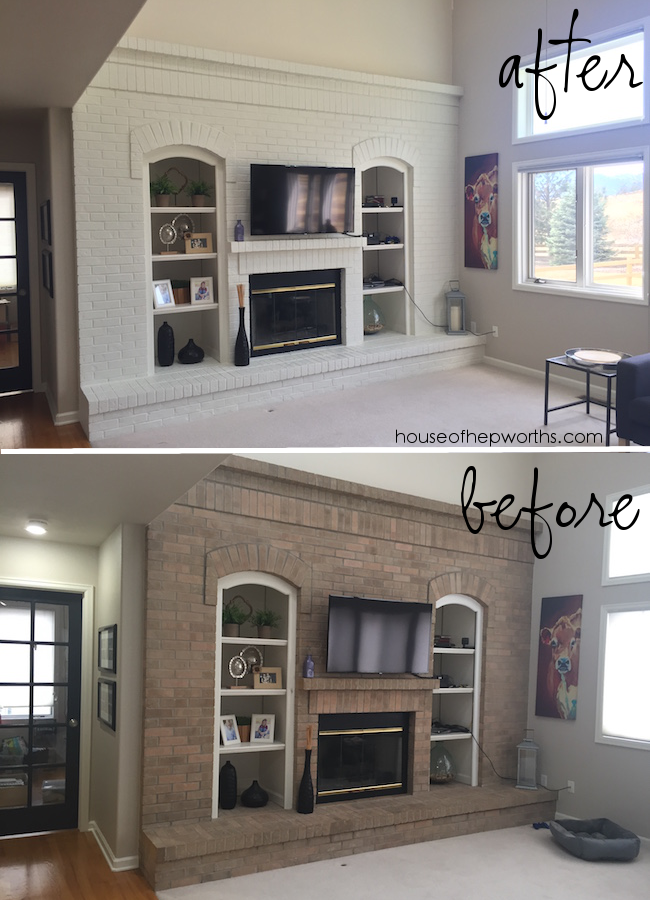 Products used for this project:
If you like this post, please share it with your friends!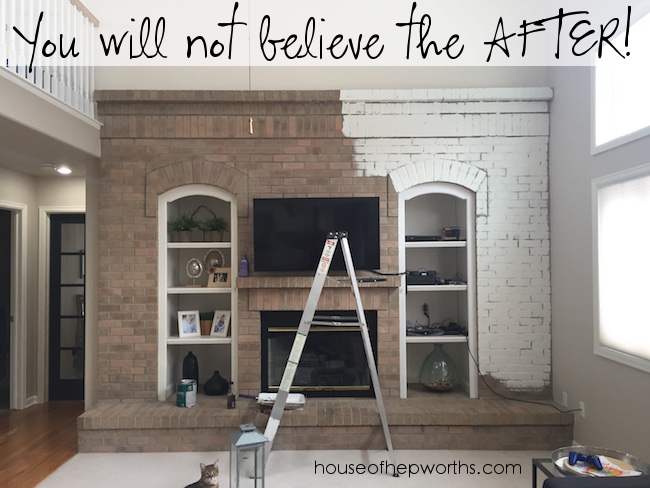 Have a great day!