Did you know you can FROST GLASS with contact paper? Today I'm sharing a simple tutorial for frosting glass with contact paper that will change your life. Seriously. It's that good. Would you like more privacy in your home without sacrificing the light streaming in? Just frost your glass!
It's so easy, inexpensive, and is totally removable. Yup, unlike sprays and other frost glass techniques, this one allows you to undo your frost if you ever change your mind. Mind blown, I know.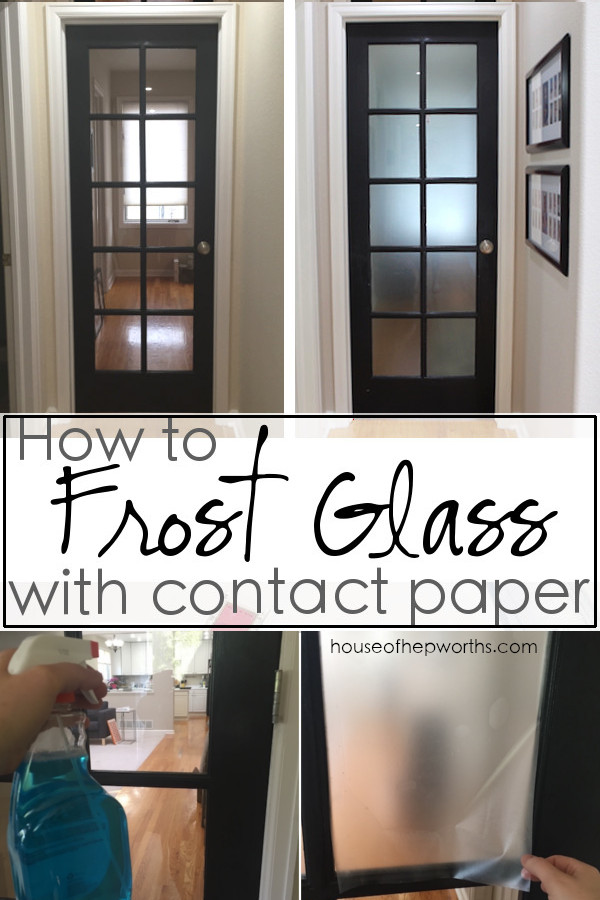 For this tutorial you will need:
I started out with a 10-panel glass door painted white. Last year I painted it black. I LOVE black doors!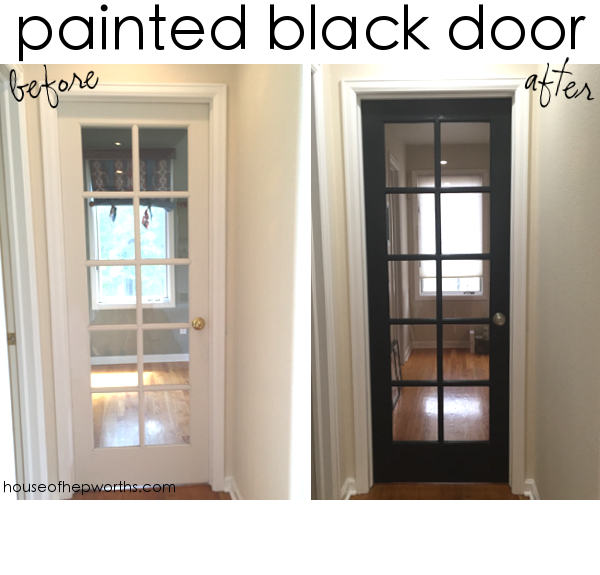 As much as I love this 10-panel glass door, especially now that it's black, we need some privacy without having to replace the entire door. Enter Contact Paper. This stuff is amazing and awesome and sooooo cheap! I purchased clear Contact Paper. You can find it here if you want to order some. Yes, all you need is clear contact paper to frost glass!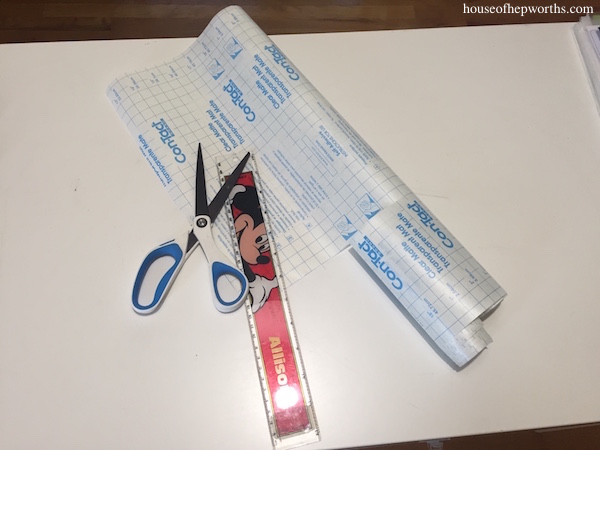 Step 1:
Measure your window and cut your contact paper about 1/2″ wider than your window. This will allow some wiggle room and a perfect tight fit.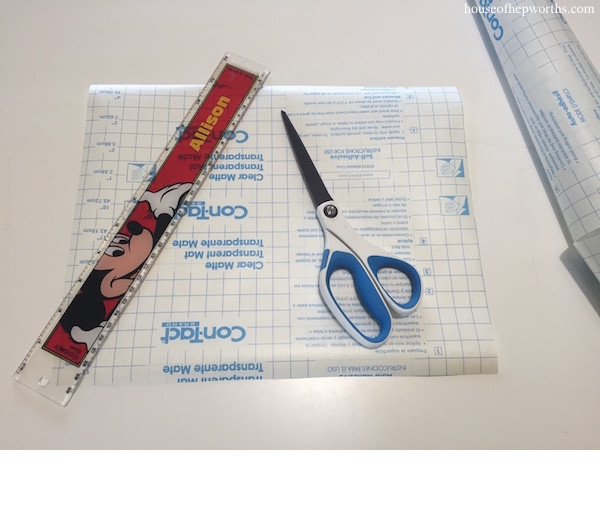 I cut a bunch of my panels at the same time.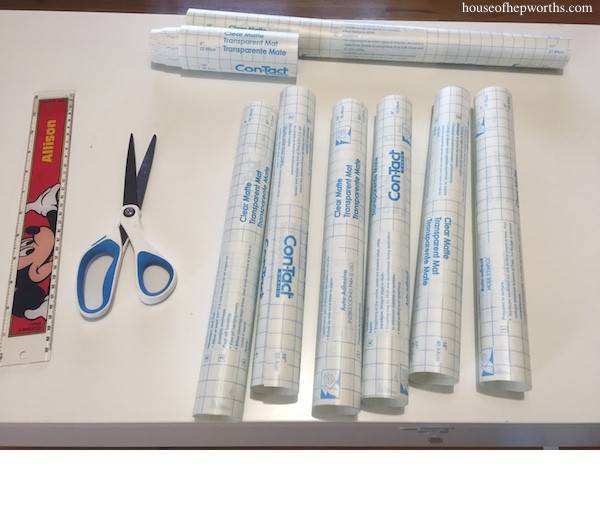 Step 2:
Once you have your panel cut, you want to spray your glass panel with windex. Make sure the entire surface is covered. This allows you to place the contact paper on and slide it around to get it where you want it. Trust me on this. The windex will dry and you will be left with a perfect panel of frosted glass.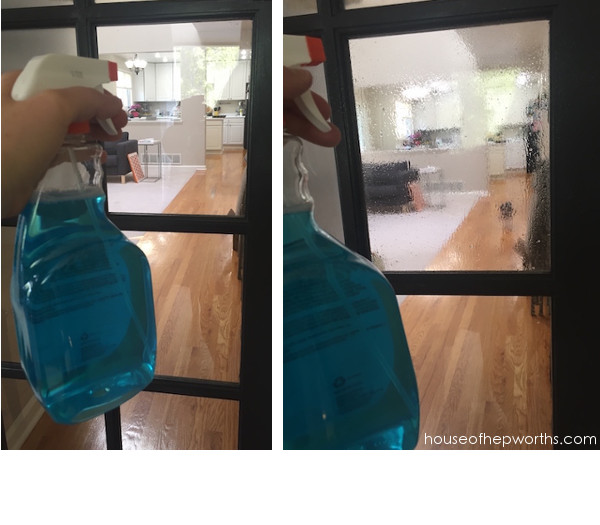 Carefully remove the back paper from your contact sheet you just cut to size. If you are not careful you will leave a permanent crease on your contact paper that you will see on the frosted glass.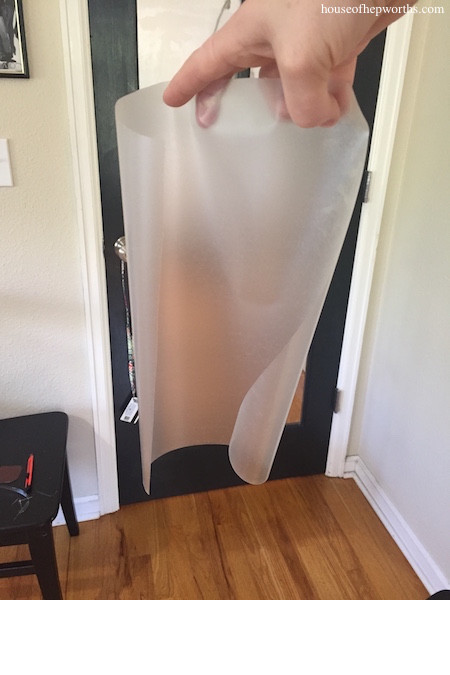 Step 3:
Take your contact sheet and stick it to your panel with the windex on it. It will feel slippery. This is good. You want to be able to position it exactly where you want it.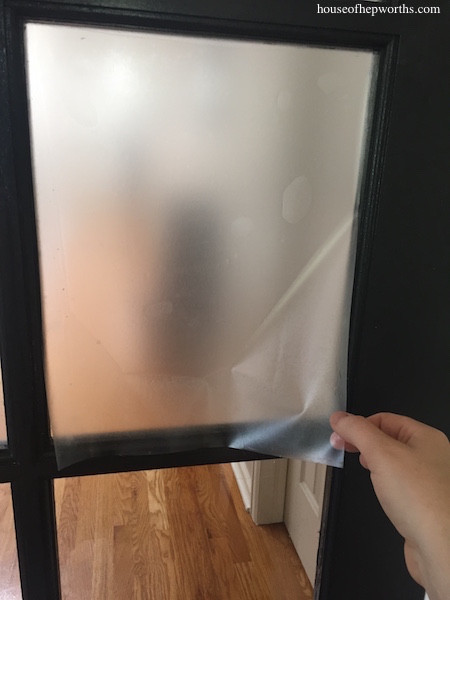 Step 4:
Now, take a credit card or a scraper (not metal or it will puncture your contact paper) and start pushing all the bubbles and windex towards the edges of your window.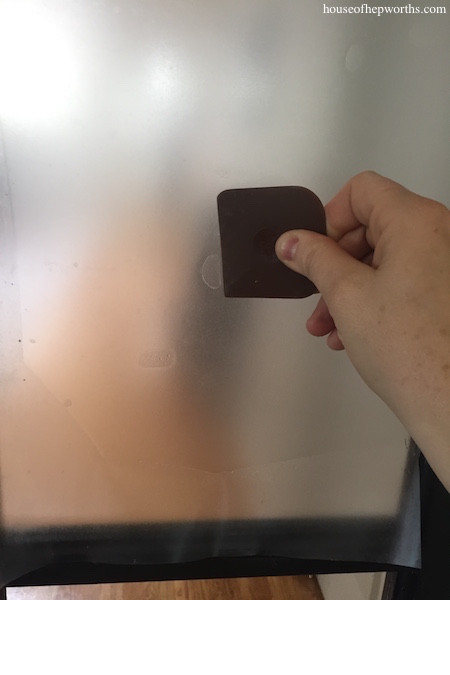 Step 5:
Once you have pushed all the bubbles out, take a utility knife and carefully cut the excess contact paper away. I've found if you use it in conjunction with the plastic scraper, you will get a perfect cut.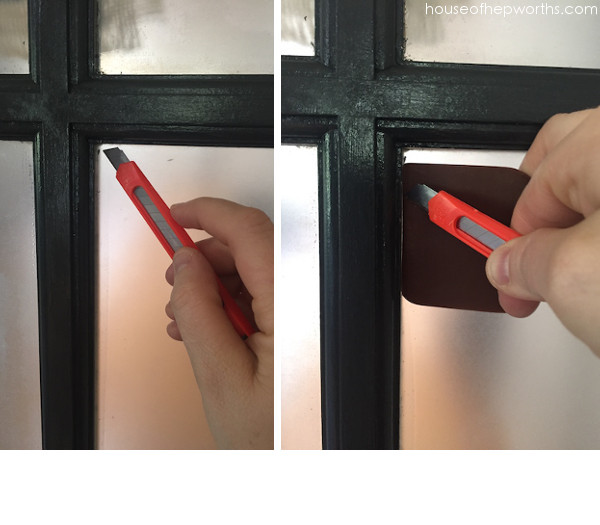 You can see here how I cut the excess contact paper and peeled it away from my window: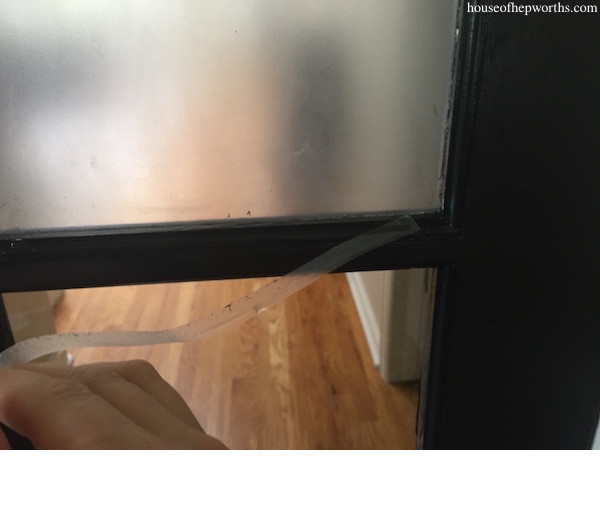 Once you've trimmed all the excess off, take a rag and wipe all the windex off.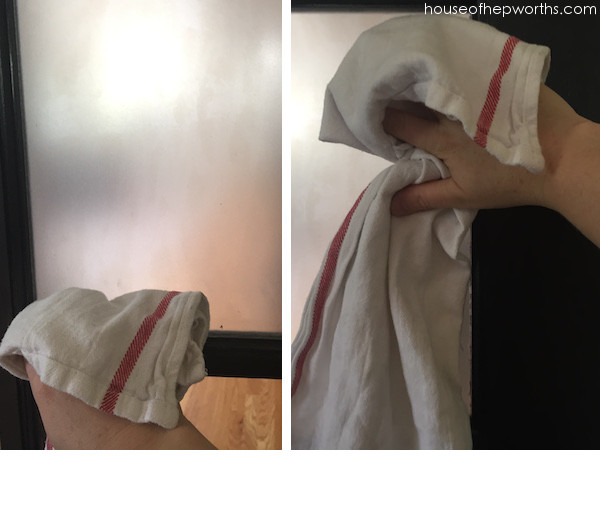 Here I am, half done with the door. Ben's saying hi. 🙂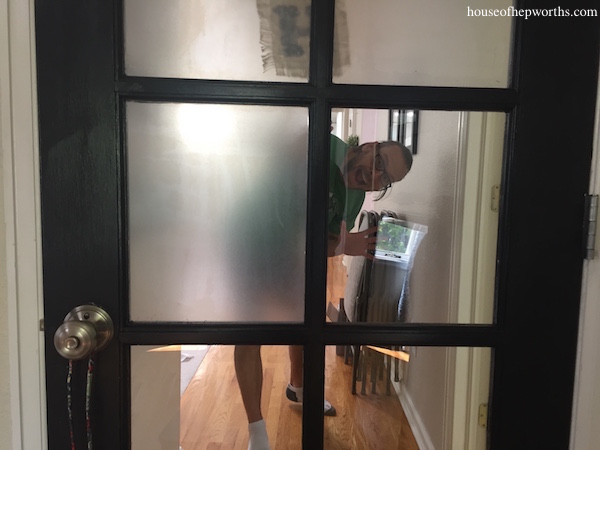 Your door will now look like this: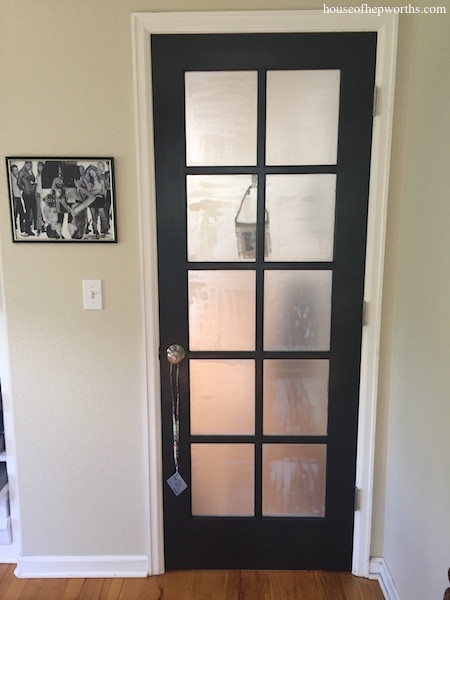 Don't be alarmed! It is supposed to look streaky and wet. Remember, there is windex behind your contact paper.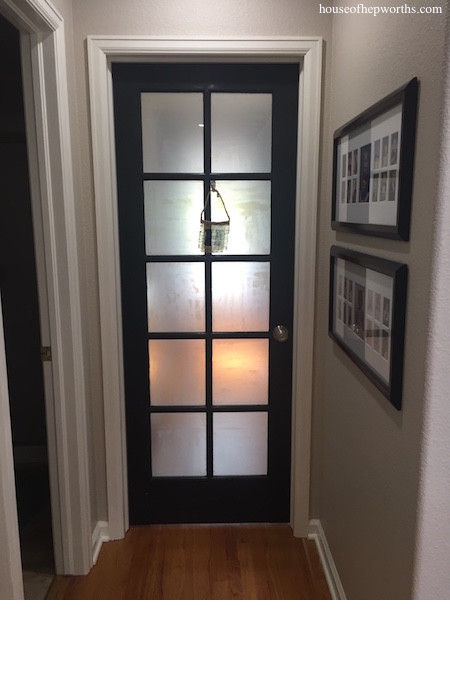 Your windex needs time to dry. This will take a few days. Check out how much better the frost looks after a week: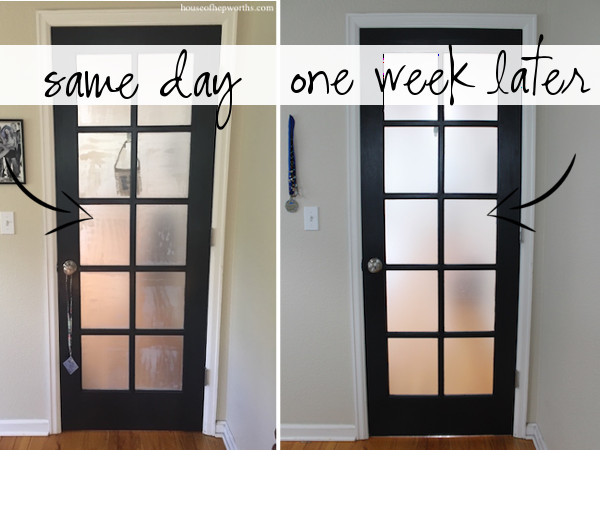 It goes from looking amateur to looking like a professional frost glass job. They look so good you would have thought I hired a company to come out and frost these windows!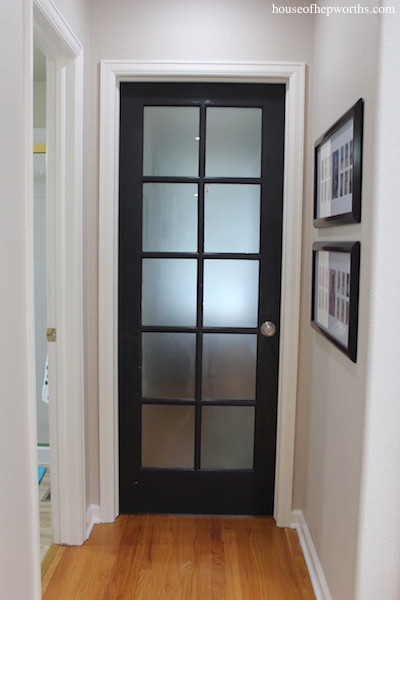 A close-up. The frost is on the opposite side of this door, so you are looking at the back of the frost glass job.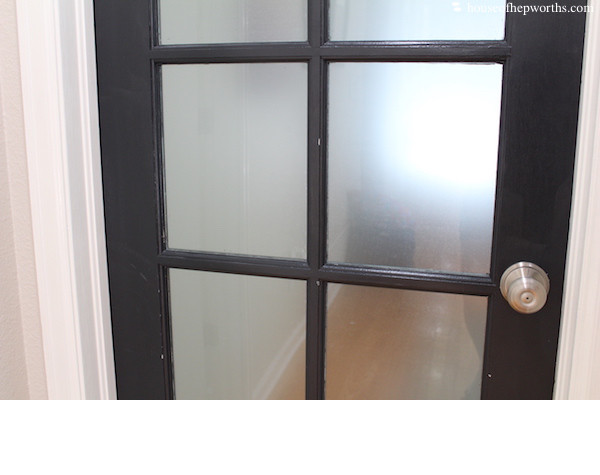 Here's the frosted glass door on the side I frosted.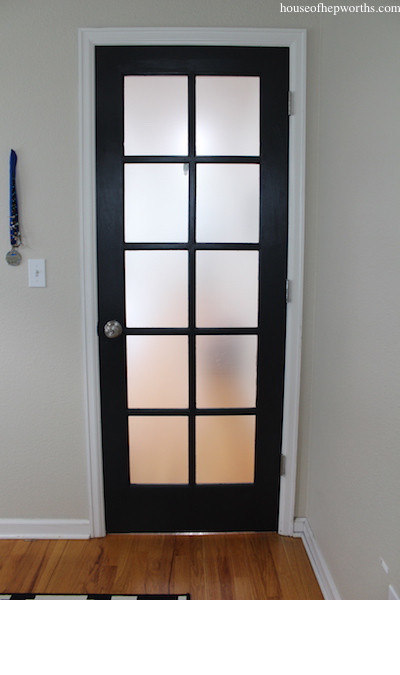 And a close-up: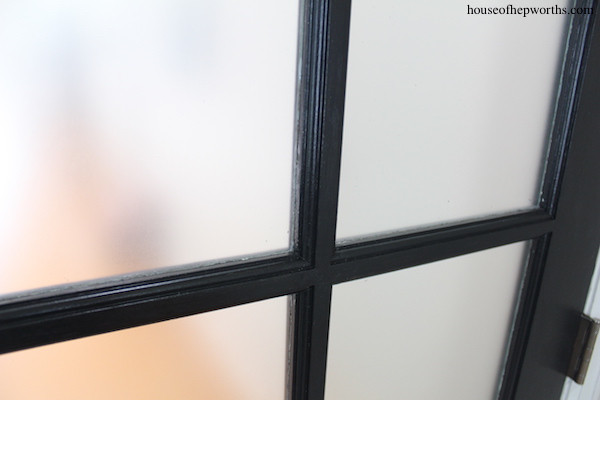 Once you frost your windows, you literally cannot tell which side you put the frost on unless you feel it with you hand. The frosted side feels like the contact paper, while the unfrosted side feels like glass.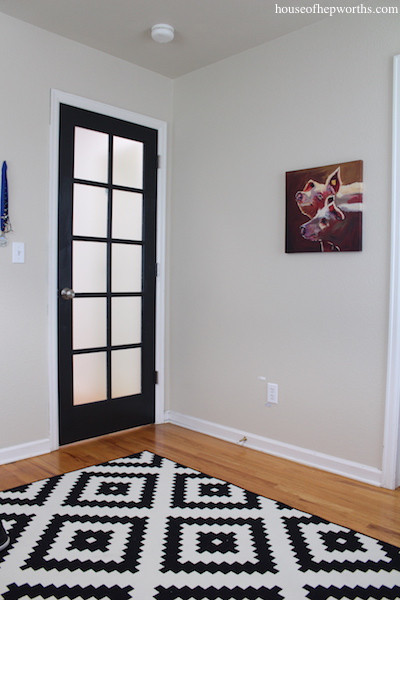 Amazing, right?! That is literally how easy it is to frost glass with contact paper.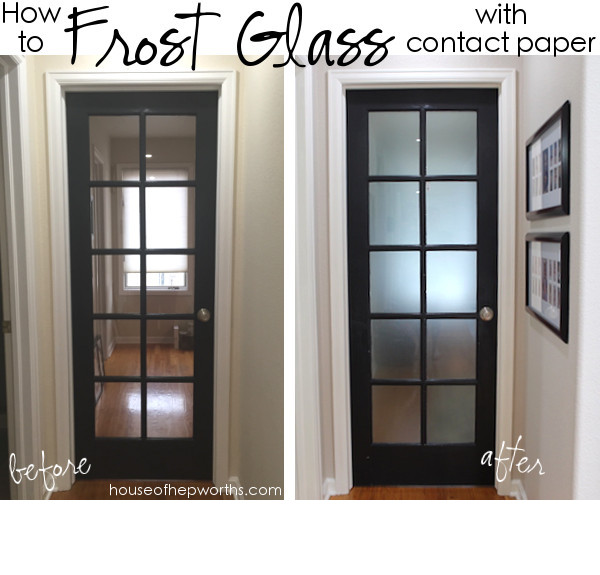 Here's a shopping list of everything you will need to frost glass with contact paper (except stuff like a ruler, scissors, and windex. I'm assuming you already own those.)
Here are a few more posts you might enjoy:


Instagram || Facebook || Pinterest || Youtube
Shop our favorite tools & products
Thanks for reading! Have a wonderful week!
*This post contains affiliate links