Holla! Hey guys, I'm back today with another master bathroom renovation update. We are still in the demolition phase of this bathroom. I've got some tips that you might find useful if you ever have to tackle your own renovation. The bulk of today's post is sharing some tips on easily removing huge amounts of tile quickly, and also capping off plumbing so you can demo everything without having to leave your main water supply shut off for weeks and weeks.
After I took the glass door and frame off the shower, I was left with this: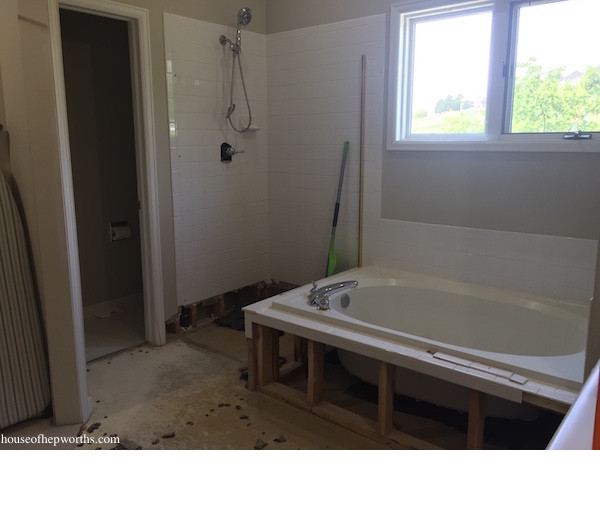 Lots and lots of tile. Smashing that much tile with a sledgehammer seemed like a lot of unnecessary work (and even more cleanup!). The easiest way to remove tons of tile at once is to keep it attached to the sheetrock and just pull all of it down at once.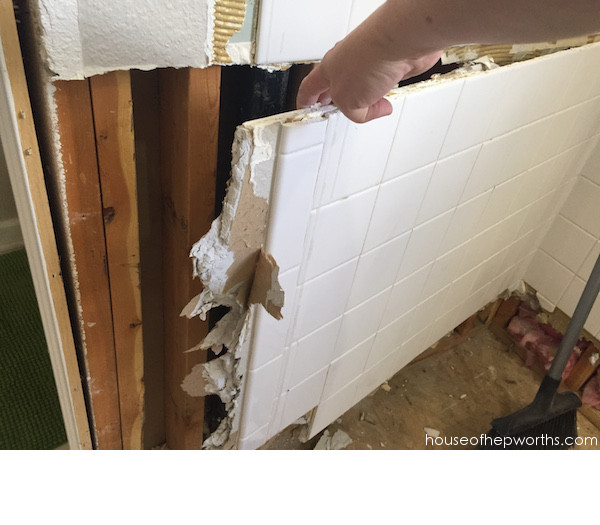 To accomplish this, I simply took a pry bar, wedged it between the sheetrock and the 2×4 supports, and rocked it back and forth until it became loose enough to pull from the wall.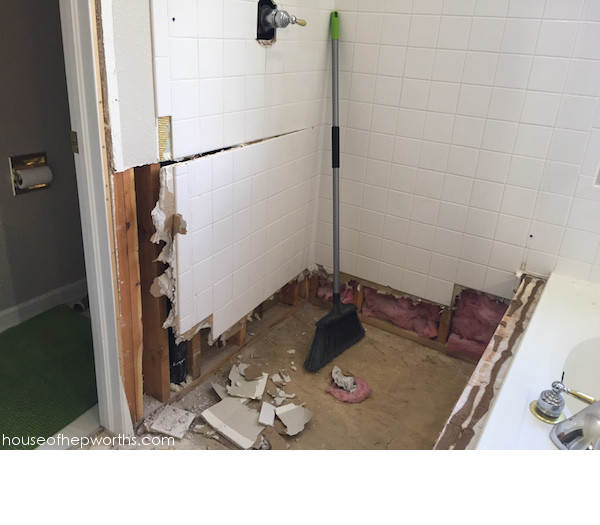 This saved me HOURS if not DAYS of breaking each tile off the wall. If you are going to be adding new sheetrock to your walls anyway, why bother breaking each tile off one at a time? It just seems like an unnecessary step.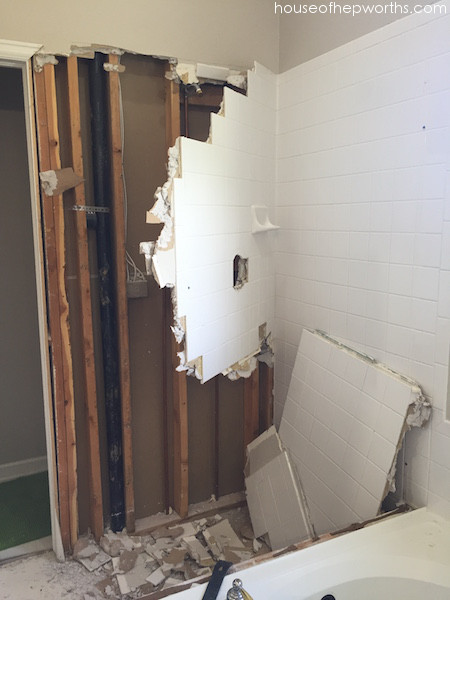 The large pieces are heavy though so I did try to have them break apart in smaller chunks. Once free from the wall, they would hang there for a second and then come crashing down.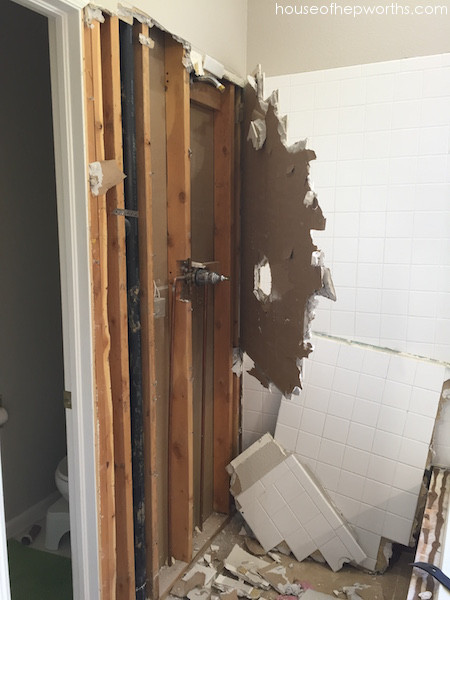 I started on the wall with the shower plumbing because I wanted to get behind the wall and cap off the plumbing. Once capped I can keep my main water supply on without flooding my bathroom. This step was vital in the demo of the bathroom. I capped off the bathtub and shower plumbing. Here's the bathtub: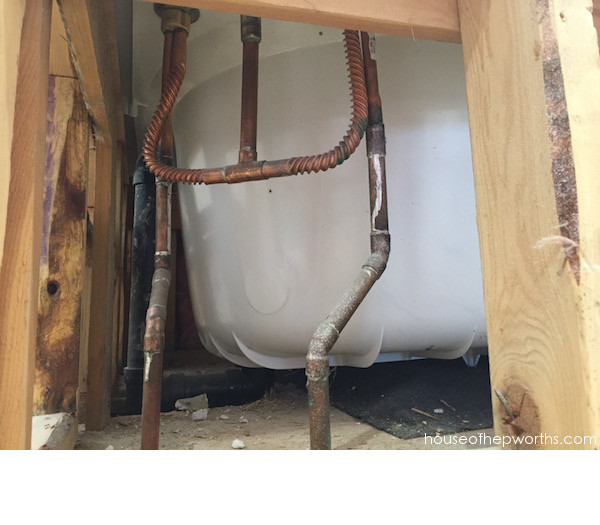 I'm no plumber, but I can definitely cut and cap a pipe. To cap my pipes I turned to my favorite plumbing brand that I've ever found: Sharkbite (not sponsored, I just love this product!). Sharkbite are plumbing parts that slip over your pipes, grab hold, and never let go. No soldering or welding needed. There are tons of different fittings to choose from. To cap my pipes I needed end stops: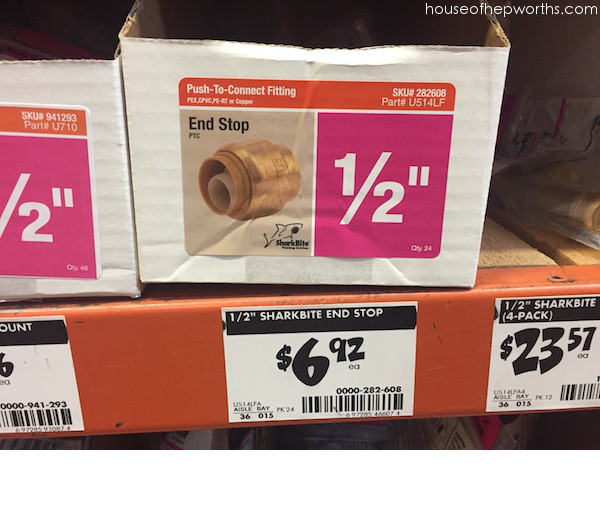 Before I cap the plumbing I will need to cut it, so I also picked up another one of these (I love these things!).
Here are my parts, ready to go.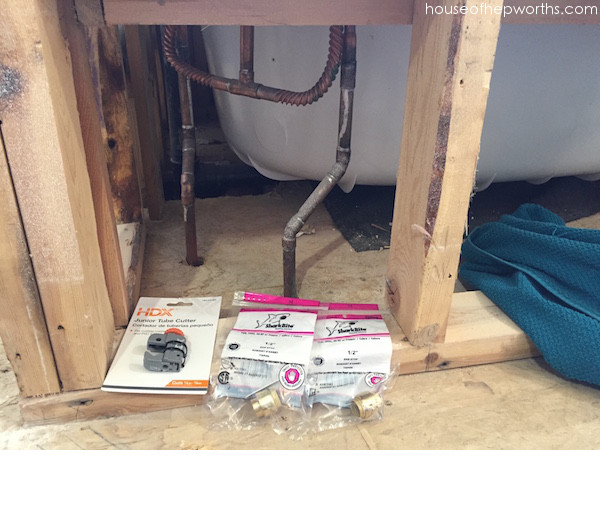 Before cutting any pipes, make sure you turn your main water supply off! I used the small tube cutter to cut the pipe.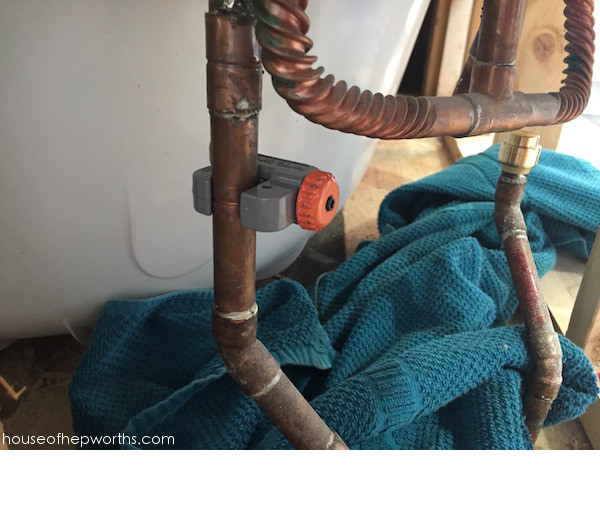 After a few twists around the pipe you can see it snap in half.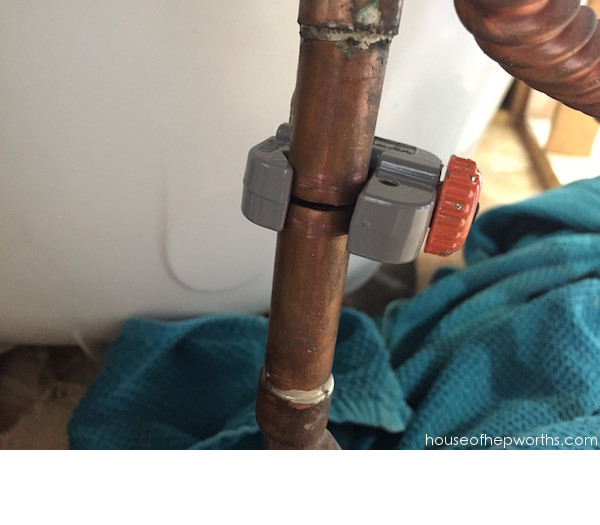 I had a towel in place to catch any leftover water in the pipes. I dried off the pipe and then took the end cap and snapped it onto my pipe.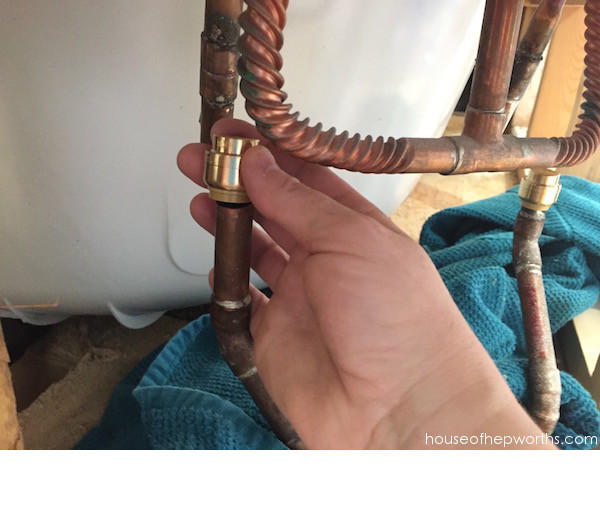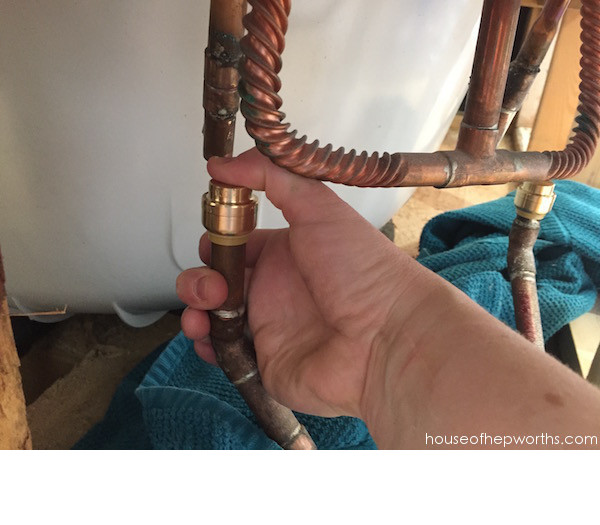 Then I did the same thing for the other pipe.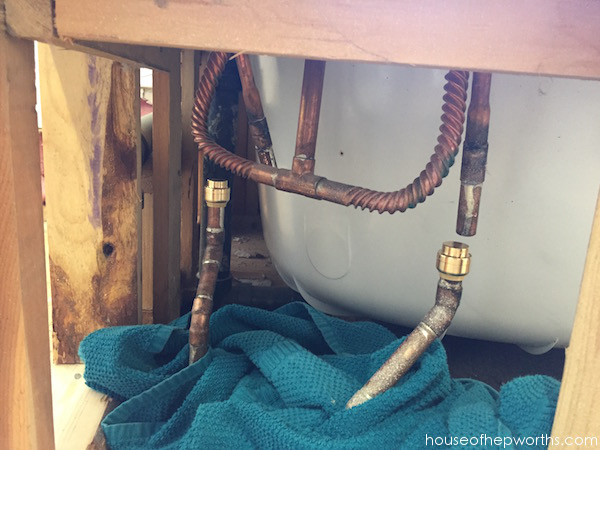 Next, I headed over to my shower to cap those pipes as well. Here are my exposed pipes: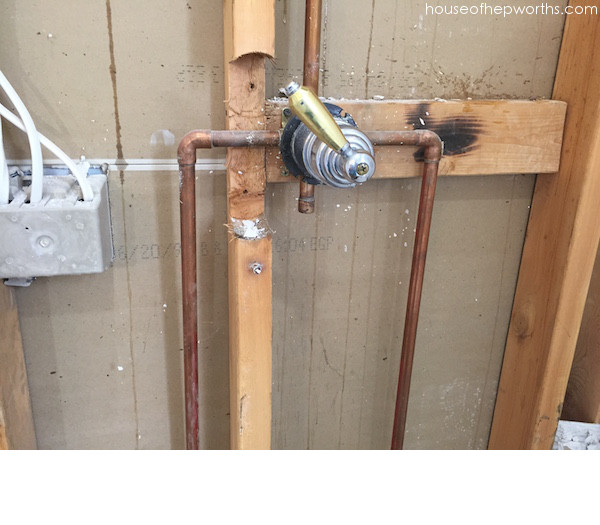 I did the exact same thing as the tub. I wrapped a towel around my pipe and slowly and carefully cut the pipe. I knew there would be some residual water in the pipe, and as you can see from this picture, there is electricity like 8″ from the pipe. I did not want to get that wet!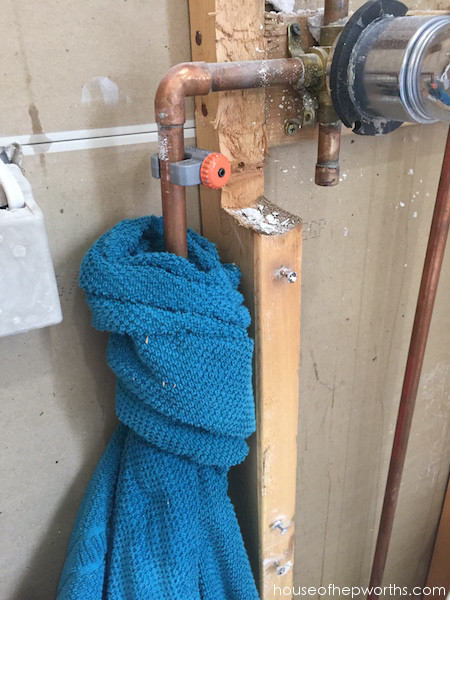 Fortunately we didn't have any water spraying on any electricity, so all is good. I capped my pipes the same way I did the tub: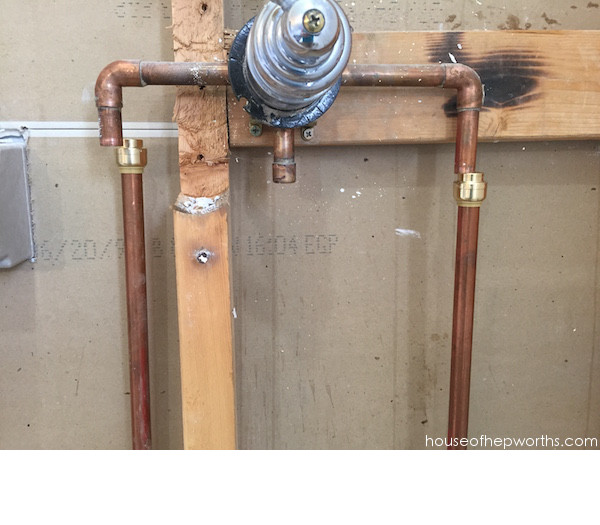 Then I just took a screwdriver and unscrewed the leftover shower pipe. I'm not really sure what to do with this, so it's just sitting in my garage. Isn't copper worth something? I don't want to just throw it in the trash if it can be salvaged.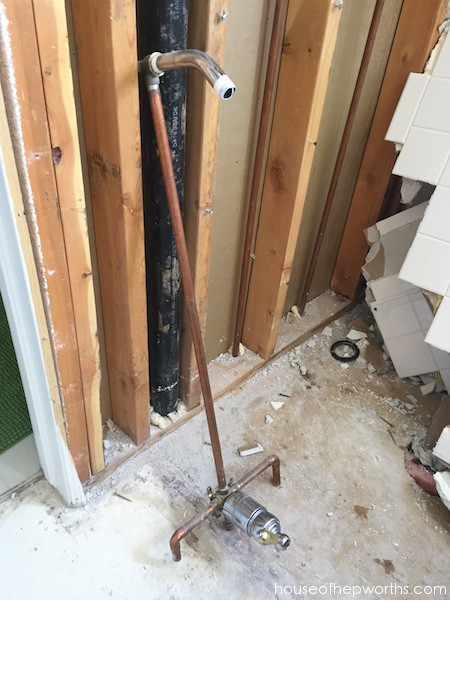 Here is my shower wall, tile free and capped. I'll have a plumber come do all the plumbing once the bathroom is totally gutted and I'll let him deal with the pipes from here on out.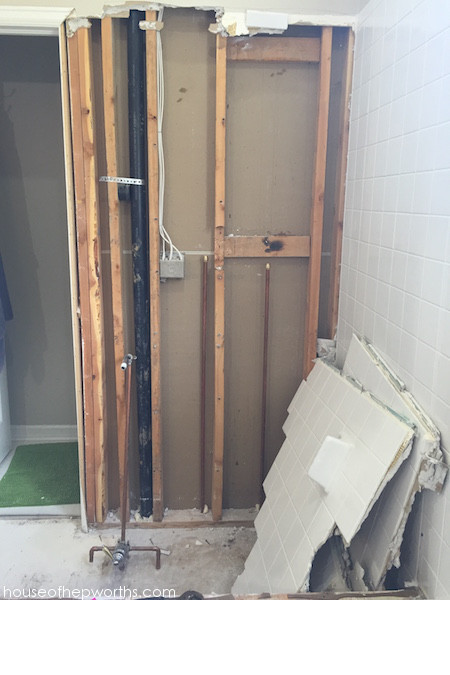 Now begins the joy of removing the rest of the tile.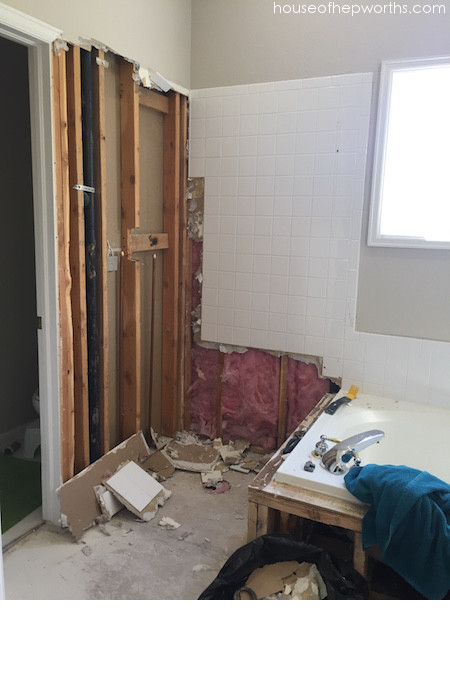 After some sweat and brute force, I managed to get the rest of the tile wall down.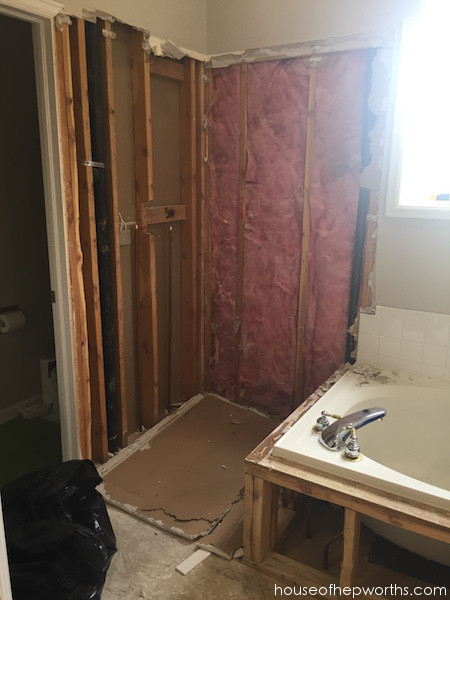 Obviously I'm quite proud of myself. I even took a selfie!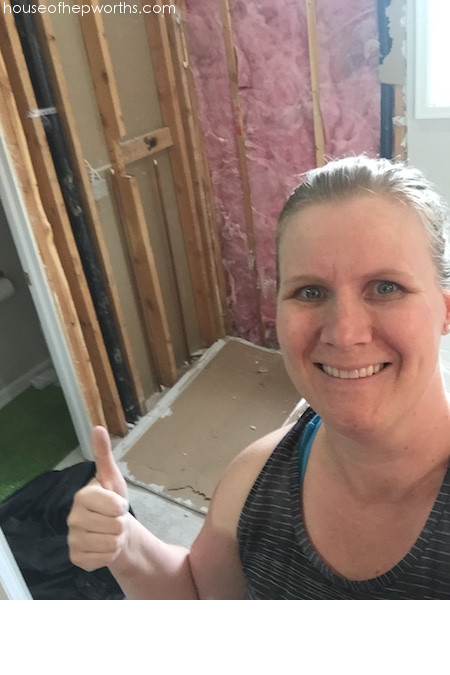 I've been collecting the tile/sheetrock sheets in a pile: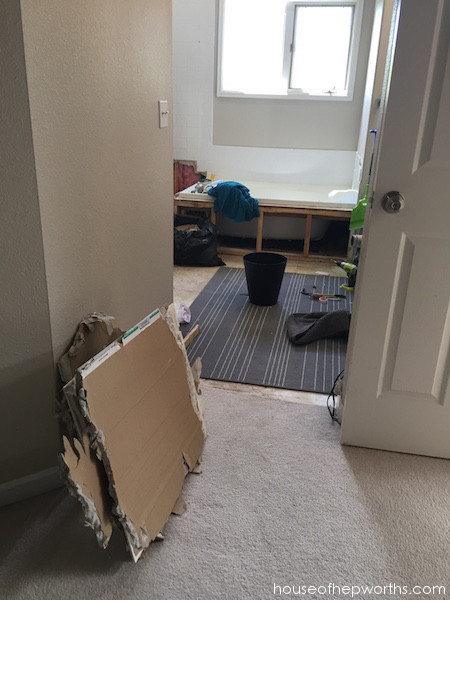 Once I finish taking down the tile around the tub I'll carry it all out to the trash. Luckily we have two huge garbage cans, so I can fill one with demo debris and the other with all our usual weekly garbage. Last week I threw away a ton of carpet, padding, and wood. As long as it fits in the can, they will take it.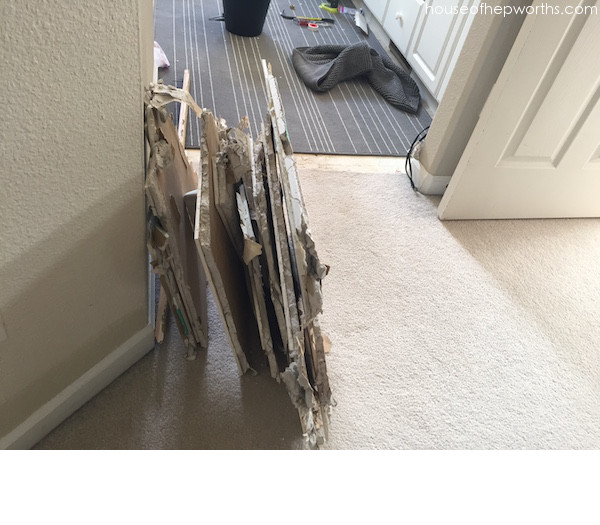 So that's where I'm at now. Slow and steady. I don't have much more to demo before we can start to rebuild everything. I have a call into a contractor, so as soon as he's available to come over we should start seeing some real progress here. Very exciting!
Thanks for reading! Have a wonderful week!

*this post may contain affiliate links