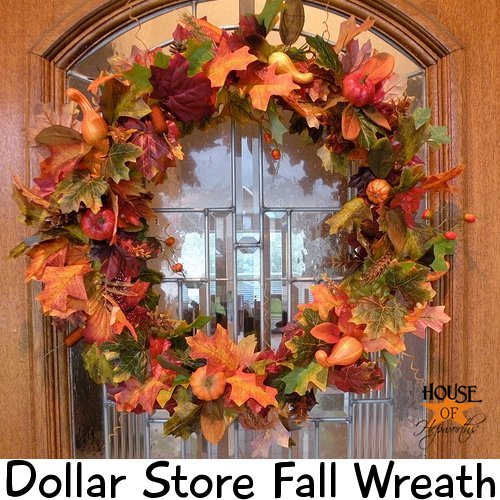 With all the Fall Decor all over blogland, I've gotten the itch to create something for myself.
I made a wreath using nothing but stuff I found at the Dollar Tree! Yippie!
For starters, I loaded up on "gear" I'll need for the wreath.
I see all the fake leaves and flowers at dollar stores, but have never actually bought any of it because it looked so, well, cheap.
But the other day I found all sorts of greenery goodies for Fall!
This got my mind a-churning, and next thing I know I'm buying everything I need to make a wreath for my front door.
Here's a breakdown of what I bought in case you want to make your own wreath:
* 18 inch wreath
* 1 garland
* 4 pics (pic = bundle of greenery "stuff") with leaves
* 3 pics each of pumpkin, squash, and cat tail.
Everything was $1 each, except the little pics with the pumpkin, squash, and cat tail were 2 for $1.
Okay, now how to make the wreath:
Take all your pics with leaves and pluck each leaf stem off.
Now you should have a pile of just leaves. Throw the extra plastic leftover stuff away.

(I'm so anal organized that I obviously had to keep each color of leaf in separate piles.)
Next, take your leaves and start hot gluing them all over the wreath.
Make sure you evenly space out all the variety of colors.
Here's what it looked like after I used all of one color. Now I'm going to add the rest of the colors.
After I added all the leaves it looked like this.
It still wasn't full enough. I didn't want to see any of the wreath through the leaves, so I cut all the leaves off the garland and glued them in the empty spots.
Once all the leaves are glued on, just take all your squash, pine cones, and little berries and everything left over and start gluing them around the wreath.
Now you've got a cheap fall wreath!

(Yes, I am fully aware that my porch looks really really pathetic. Rome wasn't built in a day, you know!)
The great thing about this wreath is that it was only $10.
I can hang it on my front door and if it gets wind-blown, or rained on, or heaven forbid, stolen, well, it was only from the dollar store.
Fall craft #1 down, a dozen more to go!
I unpacked my fall/halloween box and discovered that about 95% of my decor is for Halloween. My actual Fall Decor collection is so pathetic that I don't even think I can call it a "collection".
I better get busy on some crafts. STAT.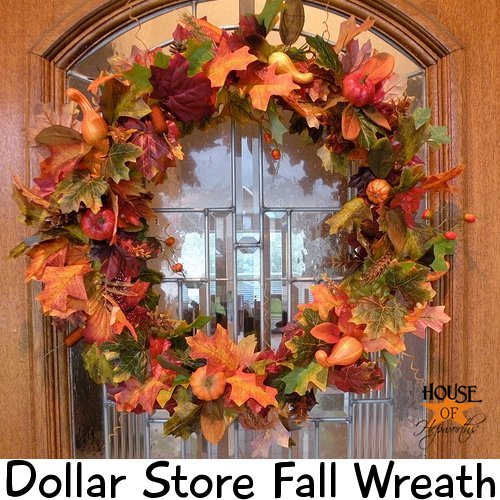 Even though it's from the Dollar Tree, I still think it turned out nicely.
Have you made a Fall Wreath or any Fall Decor? Show us! Post your link in the comments section.