If you want to bring pinecones into your home, you need to bake the bugs out of them first! A month and a half ago (when I broke my rib snow boarding!) I found a bunch of awesome pine cones. Of course I had to bring a few home with me for some cute fall & winter decor! Do you realize if you bring pine cones from the outdoors inside to decorate with, your house may become infested with bugs? Eek! There's a simple trick to de-bug your pine cones and make sure your home isn't overrun with them.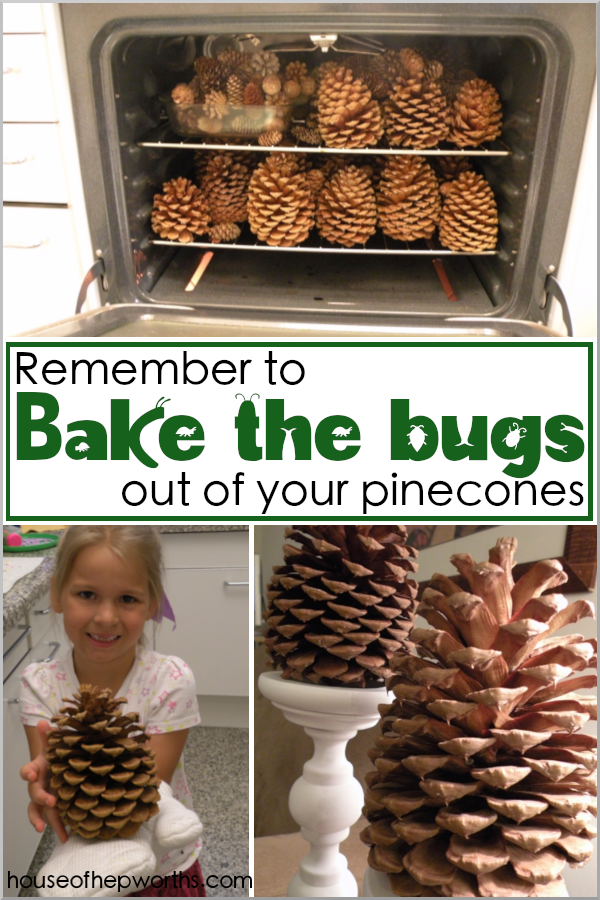 I'll just alternate between the two for the duration of this post. I could Google it, but that would take an extra 3 seconds.
Whateves. So anyway, I found these huge honkin' pine cones up at Mammoth Mountain. Some might think it's no big deal, but I'm from Texas. We have very small pinecones. I'm not use to pine cones so freaking huge. I mean, just look at them: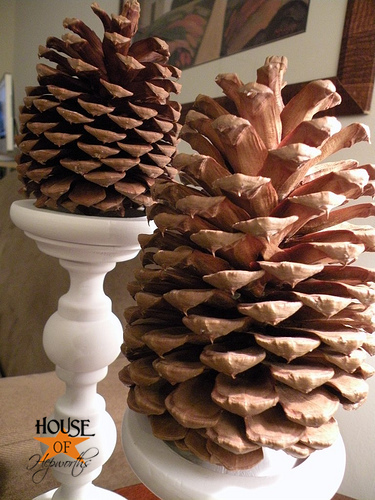 Hey, it doesn't take much to excite me, alright?! Give me some free pinecones and I'll be giddy 'til summer.
So I'm minding my own business bragging about my pine cones (pinecones?) and Foxfunds comes along and posts this comment to me:
"Don't forget to bake them to kill the critters that you brought home in them….trust me. I know from first hand experience when my craft room was overtaken by creatures that hatched from mini pinecones that I make birds out of. Eewwwww!!!"
WHAT?!?! Are you serious? For real?! Don't be messing with me Foxfunds because I do not joke about these kinds of things!
Yes, I know that us Texan's like to Texas-size everything, including cockroaches and scorpions. And ants. Big fat red fire ants. But still, I can kinda deal with bugs OUTSIDE. I cannot deal with bugs in.my.house. And especially in my pinecones!
So I googled "baking pinecones" and found a tutorial on how to do it. Basically pre-heat your oven to 200 degrees and then put your pine cones in for 45 minutes.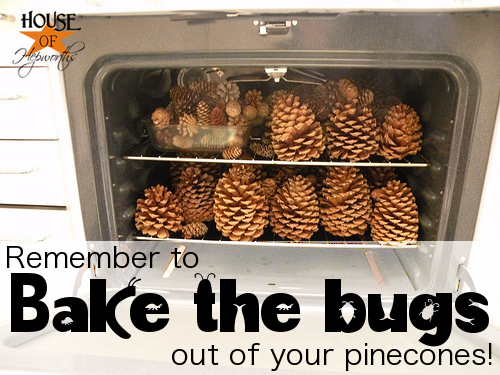 You were suppose to do only a rational amount of pinecones per bake session, but the thought of bugs sitting there breeding and hatching for one second longer gave me the heebie-geebies so badly that I just crammed all 200 pine cones in the oven at once.
Oh, and also 45 minutes? Pfft! I needed to really kill every living organism so I decided that an hour and a half sounded better.
Here's what's left after I burnt at least a 3rd of them. I guess I should have stuck with 45 minutes.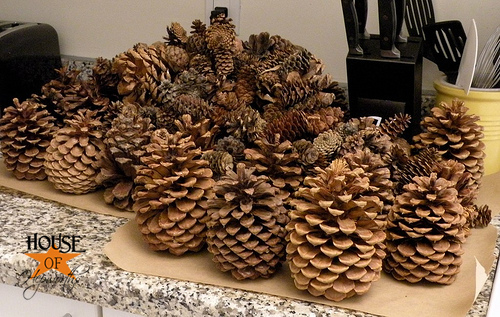 I even enrolled K to help me.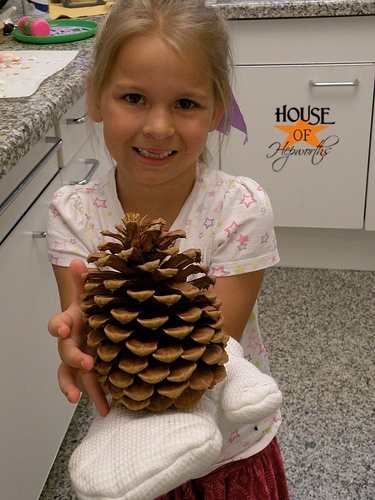 Is it just me or does this picture kinda remind you of those dog pictures where the dog's head is huge and the body is really small?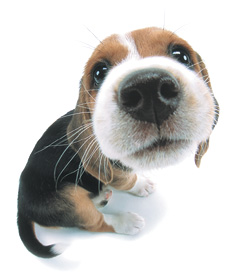 Um… ya. Anyway…
I don't need my freshly baked pinecones until this fall, so I boxed them up. I'm sure they'll be overrun by moths or something…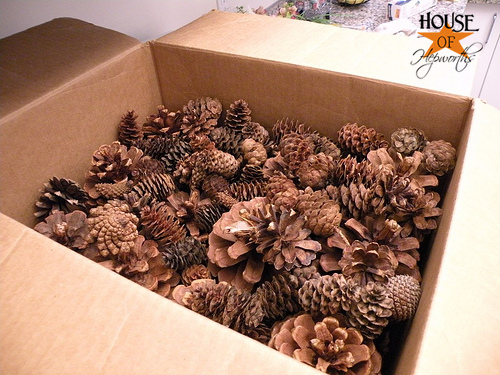 The moral of the story… IF you find any really awesome pine cones, or anything from NATURE you probably should bake the bugs out.
I like the ring of that… "Bake the bugs out.." Kinda catchy…
So I've got the coolest most exciting Christmas… in May! news eveh!
Okay, maybe not ever, but I'm totally excited none the less.
I was strolling along through the parking garage of my complex and found the most awesome best thing sitting by the trash.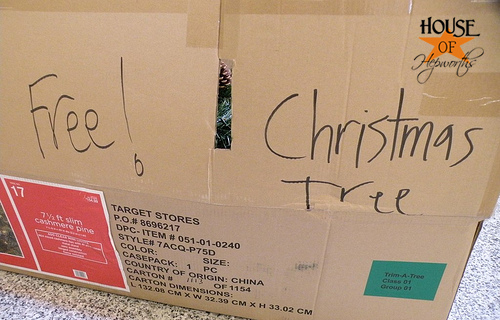 There was even a note on it especially for me! Aw shucks, you shouldn't have.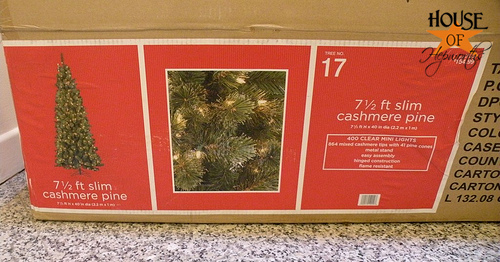 Yes, my friends, you read that right. Sitting there for FREE! was a 7 1/2 ft slim cashmere pine pre-lit Christmas tree! It's hard to see it, but in the top corner the tag says it's from Target and it was $154.99.
Some crazy stuck up Beverly Hills person threw away a hundred-fidy-four dollar tree.
I grabbed the box right then and there and drug that sucker up to my apartment… where it sat… in my entry way for at least a month. Untouched.
My poor husband gets so annoyed when I bring trash home. I mean, it probably is crappy and broken and doesn't even work, right?!!
Finally after a month I decided I was tired of tripping on it. I dragged it to my living room and set it up once and for all – just to make sure I wasn't storing a complete piece of trash.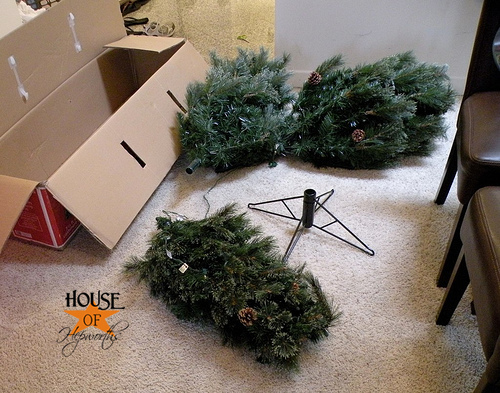 It works! And it's not trash! Ya, I should have fluffed it up better for the picture (er, the bottom of it at least) but IT WORKS!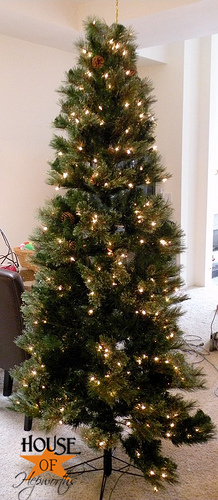 This thing looks brand-spakin' new! Someone probably bought it, used it for two weeks, and then just dumped it off at the garbage! Ga, I love Beverly Hills! All these rich folks just throwing away hundred-fifty-five dollar trees.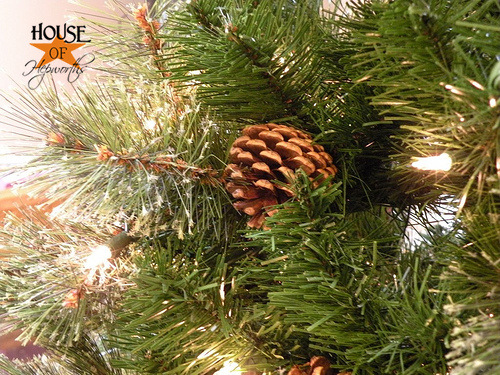 It even has pinecones on it. Love. And it's soft and kinda cashmere-ish.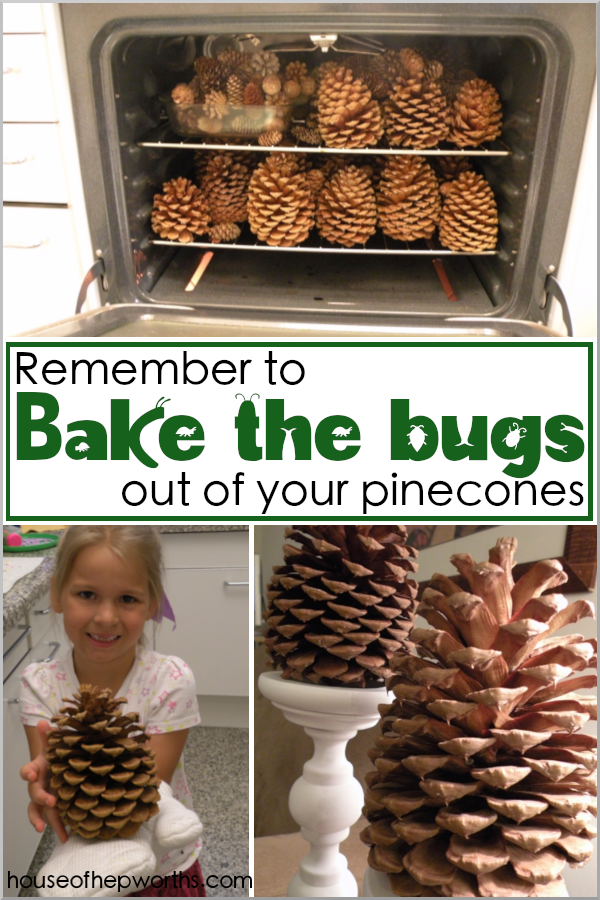 Maybe there are a few good reasons to live here after all. (But I still am looking forward to the END OF JUNE when I move back home).
Pardon my complete rambling on and on. I get in a gabbing mood whenever I read Dooce too much. She is so funny!


Instagram || Facebook || Pinterest || Youtube
Thanks for reading! Have a wonderful week!