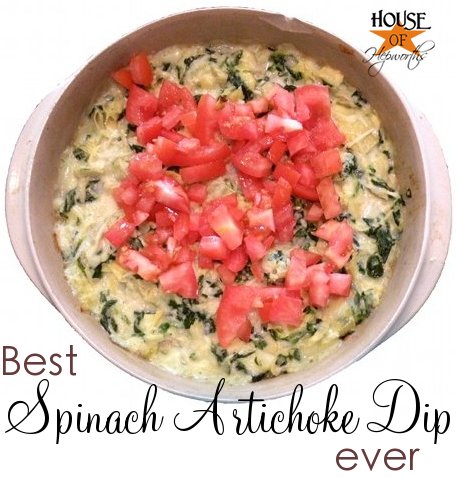 Every.Single.Time. I've ever made this recipe, everyone oohs and ahs over it. It's a crowd pleaser for sure. I get requests to bring this dip when I'm invited to parties. I usually have to double or triple the recipe because it gets eaten so quickly.
Now, before I take ALL the credit for this yummy (and SO EASY TO MAKE!) recipe, I have to just mention that it's a Pampered Chef recipe. I use to sell Pampered Chef (hence the reason most of my recipes have PC stuff in them) and got the recipe from them. I've changed it up just a bit, but for the most part it's a PC recipe.
This recipe will take you about 5-10 minutes to mix up and then another 20 minutes to bake. Super quick and easy.
Here's what you'll need for this recipe:
1 can (6 oz) artichoke hearts, drained and chopped
1 package (9-11oz) frozen creamed spinach, thawed
1/4 C mayonnaise
1/4 C sour cream
1 garlic clove, pressed
1/2 C grated Parmesan cheese
tomato (I use Roma), diced
tortilla chips
You pretty much just mix everything together in a bowl (minus the tomato and tortilla chips) and then put it in a baker (about 8×8).
I use this baker from Pampered Chef.
I like to add additional Parmesan cheese sprinkled on top before I bake it.
Now pop that sucker in the pre-heated oven and bake at 375 degrees for 20-25 minutes, or until it looks bubbly.
Top with finely chopped tomato and serve with tortilla chips or bagel crisps.
So easy! And I swear, print this recipe up and make it for your next party. Everyone will love you!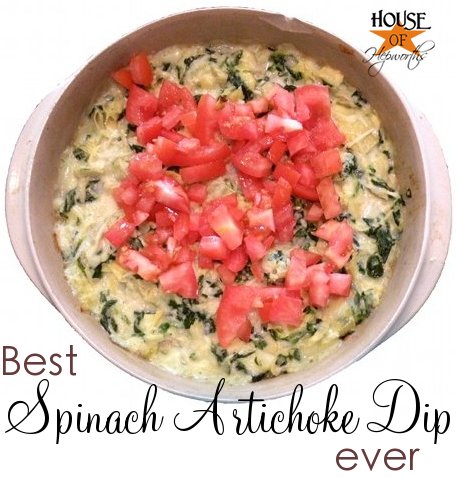 Easy to copy and print version:
Spinach Artichoke Dip
1 can (6 oz) artichoke hearts, drained and chopped
1 package (9-11oz) frozen creamed spinach, thawed
1/4 C mayonnaise
1/4 C sour cream
1 garlic clove, pressed
1/2 C grated Parmesan cheese
tomato (I use Roma), diced
tortilla chips
Mix together chopped artichoke hearts, creamed spinach, mayo, sour cream, garlic, and Parmesan. Put in small baker (about 8×8 or use small round stoneware baker from pampered chef) and bake at 375 degrees for 20-25 minutes. Top with finely chopped tomato. Serve with tortilla chips or bagel crisps. *From www.houseofhepworths.com*