You guys. Today's tutorial is so easy and so cute! Any tween or teen would love this cute thrifted DIY makeup stand in their bedroom!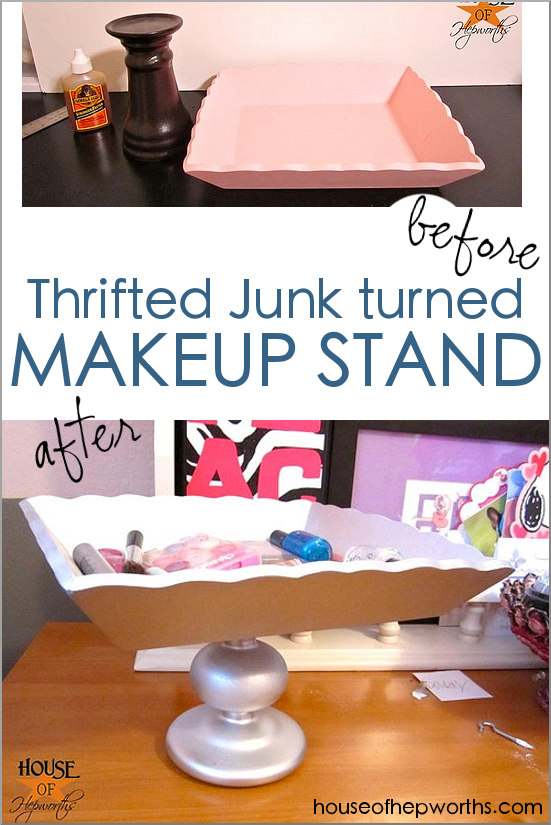 I was at my parent's house a few weeks ago and saw this cute little wooden bowl sitting in my 10 year old sister's room.
It's from CVS and came with some type of gift pack. As I was looking at it I thought it would be just darling on a pedestal.
I found a candle stand from the dollar store and glued it to the bottom of the wooden bowl with some Gorilla Glue.
The next day I was at Target and found this even cuter candle stand on Clearance. I knew it would be so much cuter on this bowl than the dollar store one.
So I pried the first candle stand off with a putty knife.
Yup, shocker. Not all projects I do are a "smashing" success on the first try. I just roll with the punches.
Surprisingly it popped off with not too much damage.
After that I scraped all the extra glue off the wooden bowl with the putty knife. No harm, no foul.
Now I get to reattach the 2nd candle stand! A little additional Gorilla Glue and I'm rearing and ready to go.
While it was drying I stacked a few books on top to act as a clamp.
When using books as a clamp, The Traveling Pants books work the best. 😉 Plus they are fun to read!
And now for a really crappy quality "kind of after" picture.
And here's another equally crappy photo, but mainly because of all the crap in the background. Man, I'm a messy crafter. Look at that disaster on my desk.
I'm thinking light pink and gold together are pretty butt-ugly. What do you think?
I was going to spray paint this little ensemble hot pink since it's for my sister's in-the-works bedroom, but she already has a ton of pink going on, so I opted for silver instead.
On a fun side-note, you can kinda see in the background that we are painting her room gray and light pink. We're about to add a chair rail around the room too. It's going to be so stinkin' cute when it's done!
And you also can't be a 4th grade girl and not have play makeup, so of course the new stand instantly became the holding tank for her Bonnie Bell. ** PLAY MAKEUP! She is NOT allowed to wear real makeup. My mom would kill her if she tried to wear *real* makeup! **
And one more action shot:
I'm loving the silver. When this room is done, the silver is going to look off the hook next to all the pink and black and gray.
I'll continue to give you updates as her room comes together.
How come everything is cuter when you glue a candle stand to the bottom of it?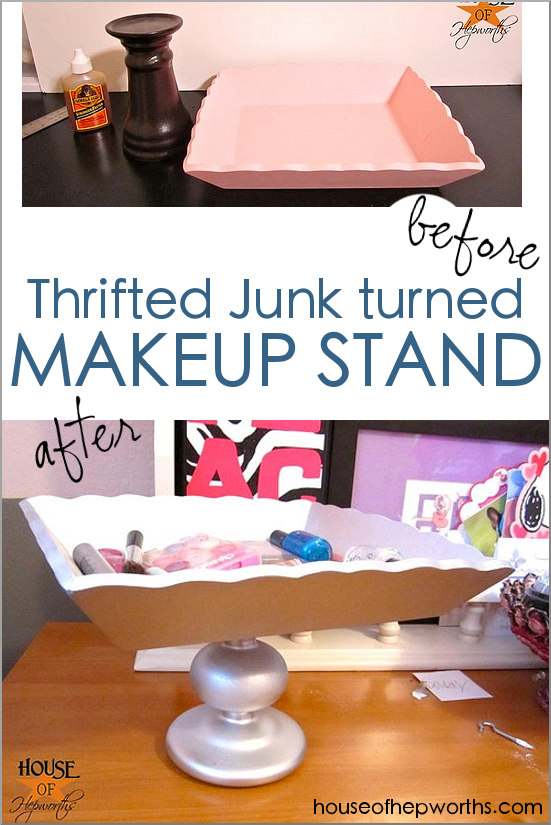 Instagram || Facebook || Pinterest || Youtube
Thanks for reading! Have a wonderful week!