Exactly one week ago I left you on the edge of your seat with a game room update.
We just bought a new couch for the game room, and in a fit of insanity I thought I'd just casually paint the room while I was at it. I've just never been able to embrace those poop colored walls.
Not sure what I was thinking with that one. Of course, most of my projects around the house begin with basically zero forethought into time or cost. Oops. Must. Work. On. That.
Well, I'm happy to say that after a full WEEK, the room is painted. It was as painful as it sounds.
But, my gosh, if it doesn't look a whole heck of a lot better up there! I actually want to venture upstairs now!
Let's just talk for a bit about how we got from here…
…to here…
(ignore all furniture but the couch. 😉 This is a progress report, not the diploma.)
Hey, if I had to endure a week of torture from this room, you can just suck it up and read about it for less than 2 minutes.
Painting the room pretty much sucked majorly because in addition to the room, we also painted the entire hallway, the landing area, and the stairwell. Oh ya. When I do a project, I do it BIG. Go big or go home. Ya know.
I pretty much think painting is one of the worst pastimes I can think of, so we tried to make it just a little fun to save my sanity.
Ben even got his rock on. =W=
I'm thinking that this spread is a huge reason we were in such a goofy mood…
Ya, those drinks are from a 4 hour session. We are addicted. And proud of it.
Ok, so the dopes that painted this horribly poopy color on the walls were not the most talented at cutting out around the edges. There's globs of poopy paint on the baseboards and windowsills.
But the worst of all!… the poopy paint was on the ceiling edge around the whole room. When I started cutting out the gray, little bits of poopy paint showed on the ceiling. Aaaaaaaaaaaarrrrrrrrrrrrrrgggggggggggggghhhhhhhhhhhhhh.
Nothing, NOTHING, is ever easy for me. Geesh. So I had to bust out the ceiling paint and cut out around the entire edge of the ceiling before I could go back a 2nd time and cut out with the gray.
It was loads.of.fun. Lemme tell ya. Loads.
But you know what? When I do a project, I'm going to do it right the first time so I don't have to go back and fix it later. And the results from this extra DAY of work? Totally worth every curse word.
Here's my backside hard at work. Just check out those perfect ceiling lines. I am a mean cutter. Without tape! It's a talent; the ability to cut out a room without busting out the frog tape. Hell-ya.
Our kids just roll with the punches. I'm not sure Travis even noticed we were painting the room or that everything was torn apart.
We decided to go with Martha Stewart's Bedford Gray. Mainly because we already had a gallon and a half leftover from the family room. We ran out though and had to buy two more gallons.
I'm glad we decided to stick with the same color as the family room because now the paint is cohesive throughout the house.
Gah. I am in lurve with this paint color. And the picture! Hello. Isn't is fab?!
So, are you just dying to see the killer before and after photos?
Brace yourself. They are just that awesomespice. Just ignore all the piles of toys and crap. It's a work in progress.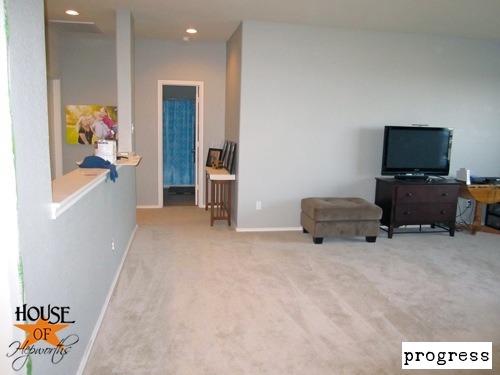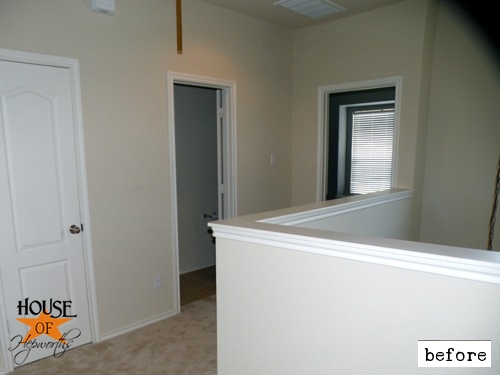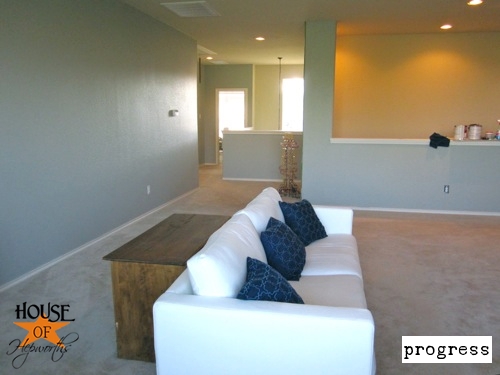 Wowzas! Hua?! It always amazes me what a little paint can do for a room.
I'd love a full blown overhaul in here, but we aren't quite ready to drop the dough needed to purchase loads of new furniture, so it's pretty much going to sit like this for awhile now. However, there are a few cheap fixes that I'm going to do asap.
* frame out the windows with moulding.
* paint all trim and moulding with a new coat of white.
* finish painting the stairwell and the foyer with the yellow paint (these walls go into the game room)
* paint sofa table in upstairs foyer area
* hang 3 pictures above sofa table
* paint all frames in the stairwell gallery wall
* hang large Rodney White artwork
Those are my finishing touches goals for the game room for now. As time and money permits we plan on getting a new entertainment center, some built-ins, and a Mrs Pac-Man arcade (not kidding. We really are.)
Now I'm going to crawl in my bed in fetal position for a week and try and recover from the week long paint-a-thon. How come painting by yourself has to be SO MUCH cheaper?! Why can't painters be free? DIYing sure saves loads of money, but wow, it's a lot of work. 🙂
Any painting plans in your near future? Do you hate painting as much as I do?
Have a fabulous week! And don't forget to come back laaaate tonight for my weekly link party. 🙂