I seriously scored the best deal at Goodwill last week.
I really want to show you!!
But that would involve showing you my Master Bedroom. Trust me, there's a reason I've been too mortified to show you this room.
Oh hell, let's just get it over with, shall we?
Here's my horribly embarrassing, hideous, and completely undecorated Master Bedroom.
See? I told you I had a good reason for avoiding sharing this room at all costs with you.
There are so many things wrong with this room that it's easier to point out what's right. Which is pretty much the… um… er… is there anything? Oh, the mirror! I love my mirror. Everything else is hideous.
But, now the room is looking just a teensy tiny bit better, thanks to finding this duvet set at Goodwill last week.
Before you start barfing all over the place at the thought of me buying used linens at Goodwill, let me explain.
They are not used. They are actually brand new. With Tags! They were donated by Target in their "salvage" pile. But honestly, NOTHING is wrong with this bedding set. Except maybe Target discontinued it or something.
The bedding is still looking a bit flat and frumpy though. Here's why:
I would love nothing more than a thick, fluffy, hotel quality down-filled comforter to shove into my new awesome duvet, but I don't have an extra hundred bucks laying around at the moment. So I improvised. I just shoved my crappy comforter into the duvet for now.
As for the huge king-sized pillows to go into the shams?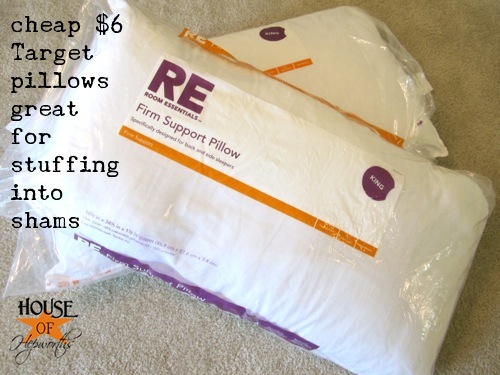 Target has these huge pillows for only $8! Except they were on sale last week so I picked them up for $6 a pop. They work great considering I'm only using them as decoration.
I was a little worried about this orange fabric though:
But surprisingly the orange doesn't show through at all. Double bonus.
Here's the bedding in all her ten dollar glory.
I still cannot believe I found brand-new-with-tags bedding at GW for ten dollars. Best GW purchase of the year.
Oh, I totally forgot to mention. I've been wanting WHITE bedding for my bedroom for some time now. I've decided when I finally give this room some TLC I want all white bedding so I can mix and match throw pillows on it. I absolutely love the look of white crisp hotel bedding.
As for those stools at the foot of the bed… I've got big plans for those bad-boyz. They are going to be the bomb when I'm done with them.
This picture above is killing me. I am so cheap. Let's see, I got the bedding at GW for $10. I got the wicker side table at a garage sale for $6!!! (It's currently at Target for $60, so I totally scored on that one). And I got the two stools at GW in Los Angeles for only $6 each. The purple polka-dot pillow is from the Target clearance section months ago. I did buy the bed brand-new, but it's so old I'm embarrassed to even admit to you when we bought it. Let's just say it's been through two pregnancies and has more than worn out it's welcome at our house. It's days are numbered.
Okay, so I might as well give you a quick tour of this train-wreck of a room while I'm at it…
When you are standing at the doorway looking in, this is what you see (yes, I flip-flopped the bed from the first "before" picture at the top of this post):
Not too bad, right? I can't wait to do an awesome wall treatment on that big wall with the windows. It's going to be fab.
If you turn around, this is the entrance to the bedroom on the left. On the far right is the entrance to the closet and the bathroom.
Kinsey has taken it upon herself to make a "Gallery Wall" for me. How thoughtful of her! I don't have the heart to take it down. It's been there for months (and she keeps adding to it).
She is very proud of her artwork.
Here's a better view of the entrance to the closet (on the left) and the bathroom (on the right). I LOVE this little alcove in the bedroom.
The mirror is from IKEA, but I found it on Craig's List for $50, and the stool is from Target on clearance a few weeks ago marked from $70 down to $17. I'm going to paint it eventually. I'm not diggin' the flowers.
And in closing, a nice blast-from-the-past. Do you remember when I gave you my Master Bathroom tour last March? I showed you the awesome placement of the toilet in reference to the entrance to our bedroom.
Ya, not the best floor plan design. You can see the commode when you poke your head into the bedroom. Whether you are sitting on the John or not, it's still gross to see the potty the second you glance into the bedroom.
So, um… ya. On that note…
The moral?
I got a new duvet set. I love it. It was dirt cheap. The End.
Is it just me or do you find the best deals while thrifting too? And, is your entire house purchased from the Target clearance, Craig's List, Goodwill, or thrift stores?
PS my kids start school today. Summer went by far too quickly for me. I'm going to miss them annoying the heck out of me all day! Have your kids started school yet?