Yesterday I was so excited to show you my new West Elm Chandelier. Well, unfortunately this chandelier installation was not all unicorns and roses.
I'm here to tell you what really went on behind the scenes. And maybe offer some tips so that you can try to avoid these hiccups for yourself.
Drama part 1:
This part is called "constructive feedback" for West Elm…
The instructions that came with the chandelier were horrible. The only thing worse than the instructions it came with would have been including no instructions at all. I recommend that West Elm put a little more effort into explaining how to install this fixture.
I am very good at figuring things out. It's one of my talents. I can look at something and figure out how to take it apart, put it back together, fix it, or simply how it works, in literally a minute or less. Even with this skill, I had a hard time installing the fixture. I think most people would be beyond frustrated and the chandelier would be thrown through the window before the day is over.
My biggest frustration was that it came with several extension poles, but absolutely no indication as to how many to use based on ceiling height. All it said was to use them as needed. The wiring has to be totally installed and the fixture 90% installed before you get a good visual of the height of it, so if you guessed wrong it would require removing the fixture from the ceiling, pulling the wiring through the poles, adding more poles, and rewiring the fixture. Big PITA IMO. It wouldn't be that hard for them to give a general guideline in the instructions. For example, if you ceiling is 9′ tall, you will probably want 2 long extension poles and 1 short one. I had already removed the old chandelier before I realized I didn't have a clue how high to hang the new one. Fortunately I'm a blogger and actually took photos of the old fixture next to a tape measure. This photo was the only reason I could even guess how many extension poles to use. Most people don't generally take photos of tape measures before removing old fixtures.
Of course, knowing how many inches from ceiling to bottom of fixture only helped so much as West Elm didn't include how many inches tall the actual shade was once installed. I had to eyeball it and guess how thick the shade was going to be. Thankfully after some math I was able to guess that I'd need 2 long poles and 1 short one (in addition to the one long pole that came attached to the chandelier).
These are both issues that people just don't think about until they are ready to hang the new fixture, so adding this basic info to the instruction sheet would help immensely.
And one more thing that really wasn't that big a deal; the instructions had the wiring labeled "hot", "neutral", and "ground" instead of "negative", "positive", and "ground". I was fairly certain what that meant, but I did a quick google search just to verify – you know, so I don't burn my house down.
Maybe this feedback will help someone else out. The rest of the issues were basic stuff that I didn't anticipate having to deal with, but I think most projects have set-backs… at least all mine do!
Drama part 2:
I took the old fixture down and was greeted with the Barney Massacre.
Just a small reminder that my entire room use to look like this! I'm talking walls and ceiling. It was a sight for sure!
So I had to bust out the ceiling paint and paint over that mess. That wasn't something I was planning on dealing with and set me back several hours (waiting for the paint to dry). Once the paint was dry it was finally time to hang my fixture!!! Yay!
Oh wait… there are now holes the fixture isn't covering up. UGH!
This fixture is going to kill me. KILL ME I'm tellin' ya. So I bust out the spackling.
And wait for it to dry. Tick tock. Then I have to paint the spackling. Tick tock. And finally, I can move forward with the installation.
(This is where I realize I have no clue how high to hang the fixture; see Drama part 1 for those details.)
And ta-da! The fixture is hung.
I then spend the next HOUR unwrapping each of those little plastic baggies that are holding all the capiz shells. I'm glad they packaged the fixture so well, but my arms were really done by the time I had that last wrapper unwrapped.
I was going to count how many wrappers there were, but I was so over this install by that point. Let me just say that there were a lot. A LOT. (Hey West Elm, that would be another great fact to include in the instructions! How many wrappers and shells are on the fixture!).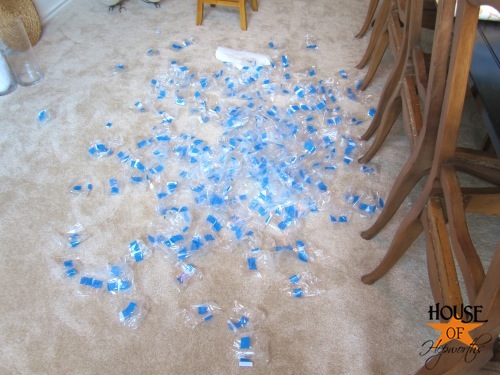 Believe it or not, after three full days, I finally had the chandelier installed and looking fly.
Things are not always as they appear on blogs. You get to see lovely before and after pictures, but many times, more times than not actually, there are lots of hiccups and obstacles in my way for most projects I do. This chandelier was one of the most dramatic installs to date though. I'm happy it's over and I'm left with a pretty fixture. 🙂
* West Elm has no idea I'm writing about them. This post is my own opinion and is not sponsored in any way, shape, or form. I just thought I'd tell you about my experience.