As I've mentioned previously, the laundry room is getting a makeover!
I've already taken down an annoying coat shelf and moved it to the closet under the stairs.
Before I can begin the great laundry room makeover of twenty-twelve though, I have to fix an extremely irritating problem.
Okay, so here's the deal. Whenever it rains cats and dogs (Texas is notorious for flash flooding) the vent on our roof that vents our dryer leaks. Water gets inside the roof vent, then flows through the vent pipe directly into the laundry room.
Here we are on the roof sitting next to the leaky dryer vent.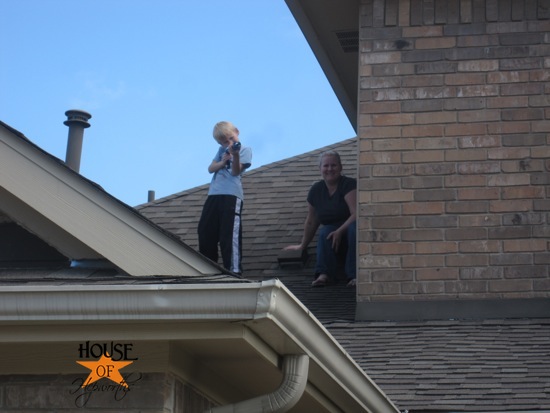 After every heavy rain storm, I have to pull the dryer out, unhook the dryer vent hose, wipe up the huge puddle of water, and then wait for everything to dry out.
Not my idea of a good time. Srsly a huge pain in the patootie if you know what I mean.
After a year and a half of this nonsense, I'd finally had enough. Now, I'm no roofer and I have no clue how to even attack this problem, but darn it, I'm gonna try.
I headed to our local hardware store in search of some type of caulk that I can use on shingles and a roof. They had just what I needed:
DAP Watertight Roof Sealant.
This stuff is the most disgusting stuff I've ever used. It's basically tar in a caulking container. And it was so gross I'm getting the heebie geebies just thinking about it again. But at $3.97, it was way cheaper than hiring a roofer.
We climbed on the roof and assessed the vent situation. To our horror we discovered the vent was packed to the gills with wet dryer lint.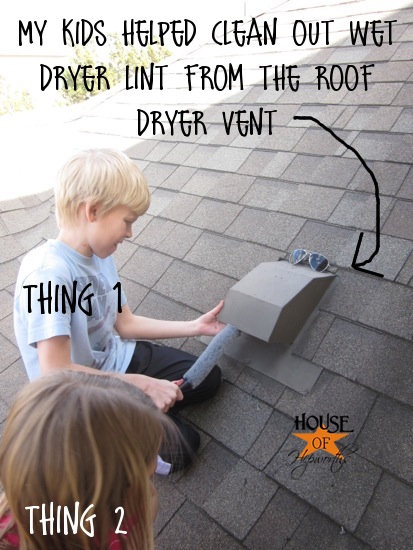 So we began digging it out.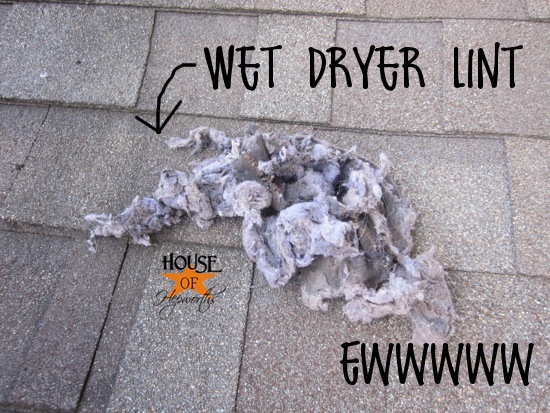 Now I'm no rocket scientist, but let me put this in perspective. The laundry room is on the first floor of the house:
The vent runs from the laundry room up 9 feet of wall, makes a 90 degree turn and runs horizontal above the laundry room ceiling another 6 feet into the attic, then makes a 45 degree turn vertically towards the roof where it vents out.
So, we have gobs of dryer lint approximately 20 feet from the dryer. This can only mean one thing: the entire dryer vent pipe (all 20 feet of it) is probably packed with dryer lint. Wonderful.
I'll get back to this point in a minute. But for now lets deal with this leak.
Before I began caulking I peeled up some shingles to reveal the flashing on the vent (flashing is the metal edging used on a roof or the metal edge around the dryer vent).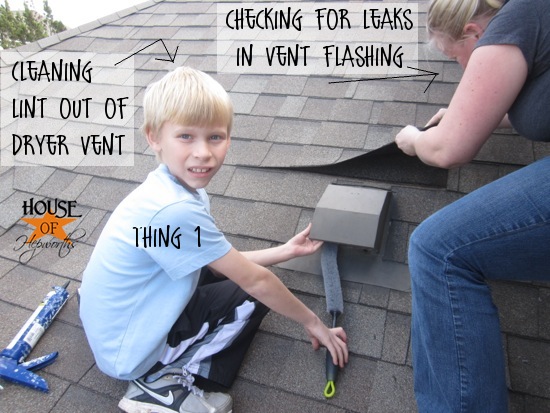 From there I took the disgusting DAP roofing tar and started caulking around the vent. I never could find an actual hole or leak, so we pretty much just caulked the entire vent and the flashing around the vent.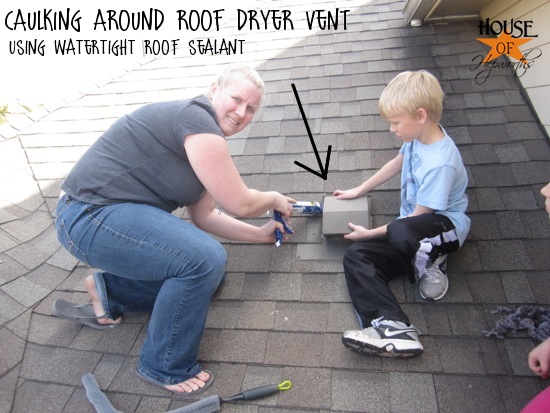 You can tell I'm super excited to be dealing with this irritating problem.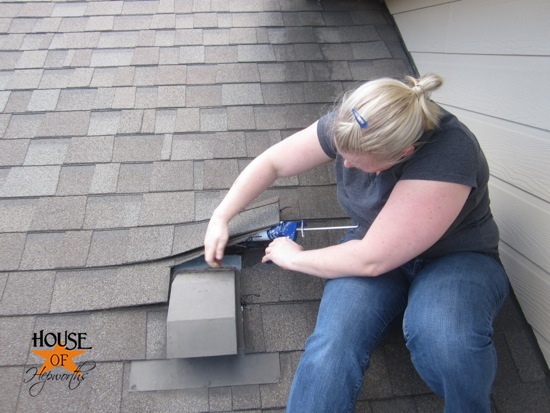 The kids loved helping out.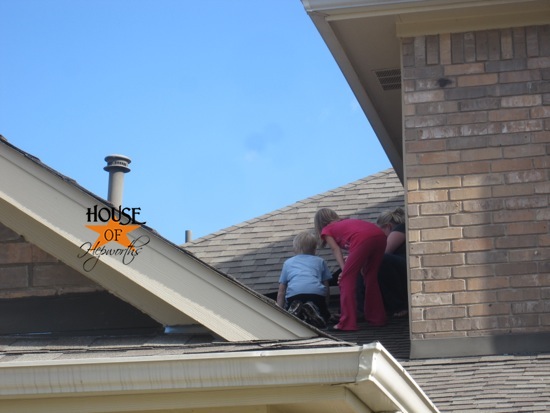 And playing air guitar.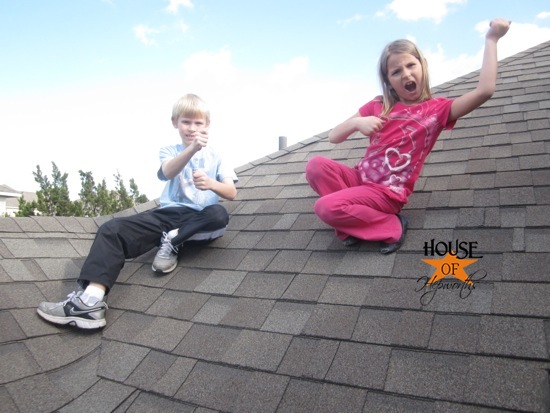 My son T loves helping me DIY stuff, so I taught him how to use a caulking gun.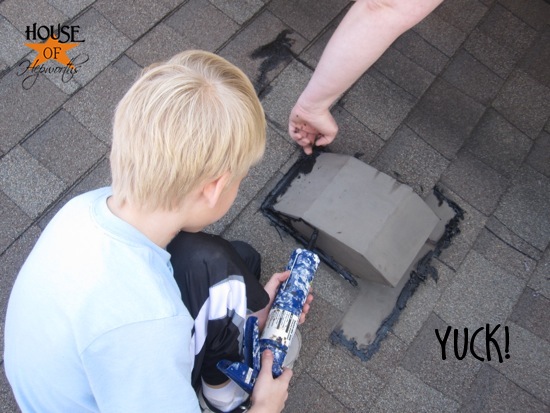 When I say this roof caulk is gross, I mean it is absolutely the most disgusting stuff I've ever used. I had to smear it around with my finger, and it took a week to finally wash off!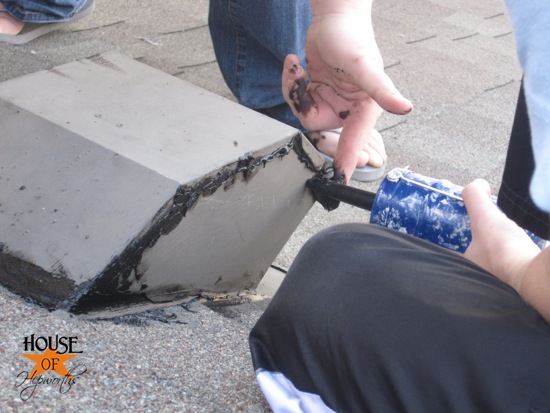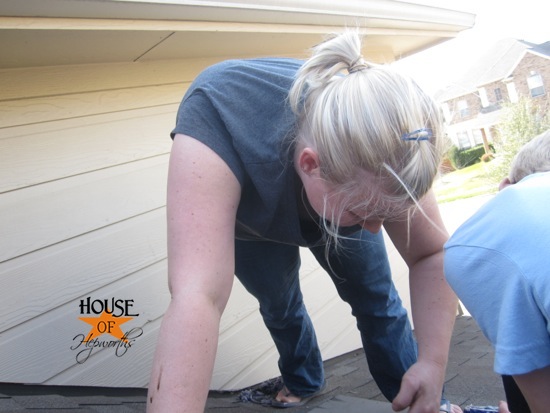 I figured I had a whole tube of this gross stuff so we just caulked until we ran out of caulk.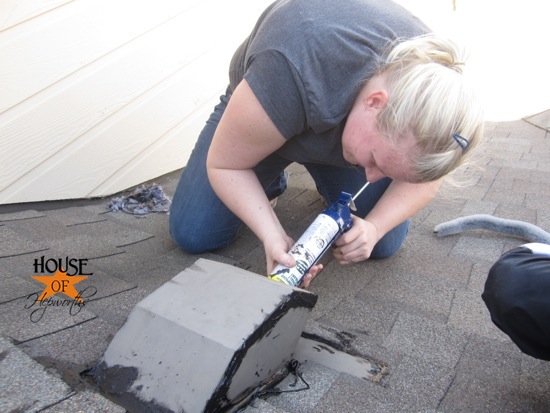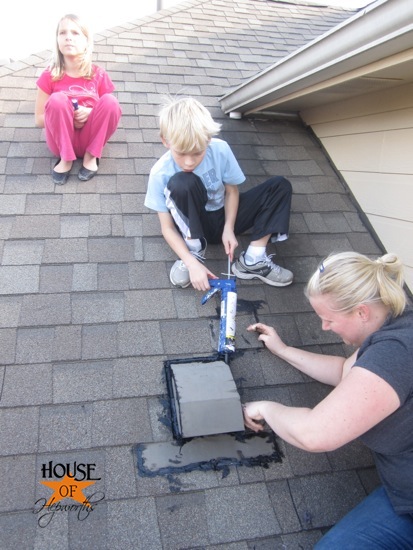 And here's our oh-so-pretty "after" photo.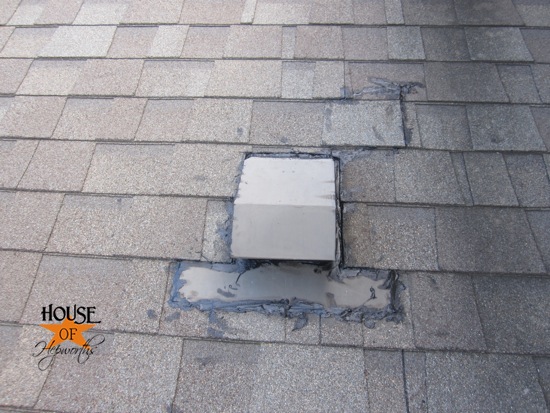 This is pretty much the ugliest caulking job I have ever done. That roof tar crap was so disgusting I had a hard time even smearing it around. It's on the roof though, so I really don't care if it's "ugly" looking.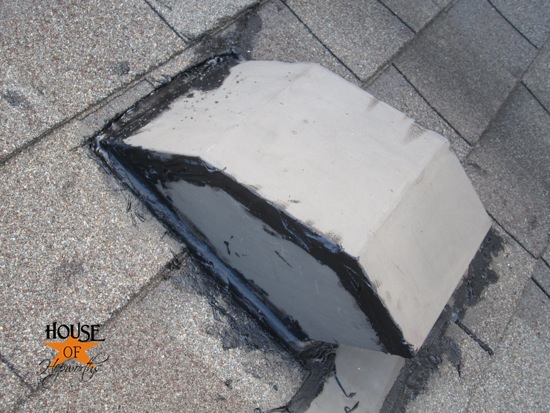 Now that the caulking is done and drying, it was time to move on to Phase 2 of this dryer vent debacle.
Cleaning out the dryer lint.
Remember how I found all that lint in the vent on the roof? Well, if there's that much lint at the exit point, then there's probably even more inside all 20 feet of dryer pipe inside the walls.
I started by cleaning out the dryer lint in the laundry room. I found this 8 foot long dryer lint cleaner for twenty bucks at our local hardware store: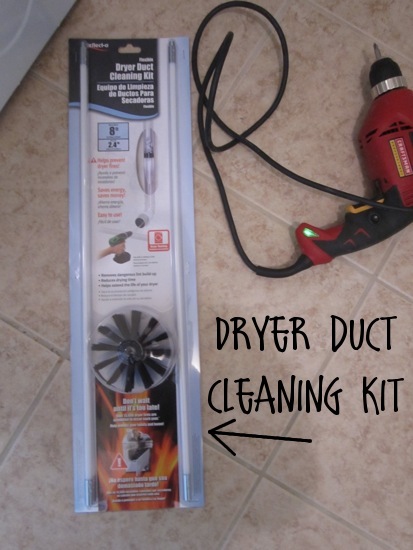 It was like magic. Worth every penny. Except it claimed you could attach it to your drill, but didn't give an attachment bit or any directions for attaching, so I ended up not using the drill.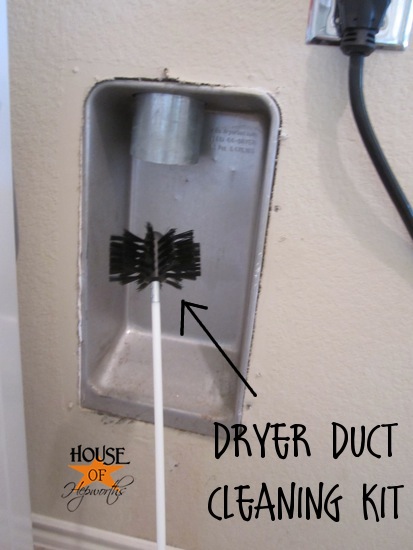 To use this dryer duct cleaning kit, attach all the sections together then shove the brush up into the vent. Very easy.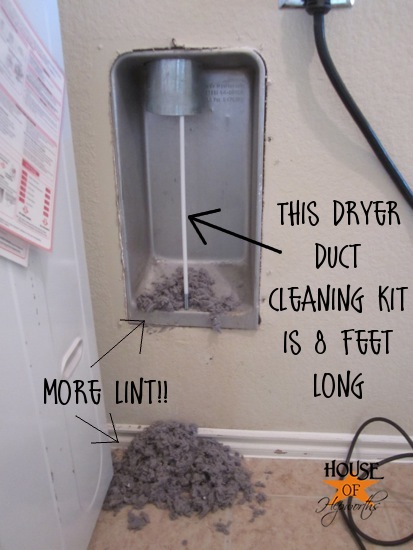 Gobs and gobs of lint came out. I've only lived here a year and a half, but the house was 6 years old when we bought it. I'm going to go out on a limb and say that I think the previous owners never once cleaned their vent and probably never had a filter inside their dryer.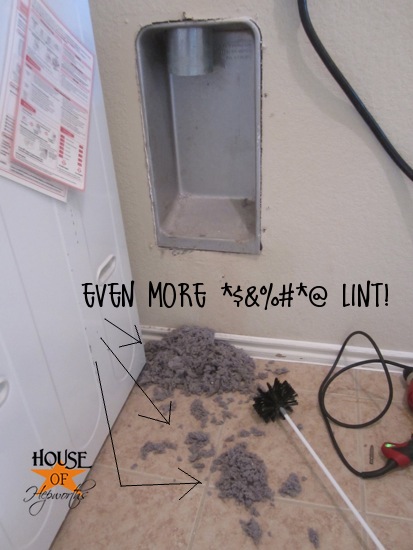 This is only half the lint that came out! I remembered to take a picture after I threw half of it away.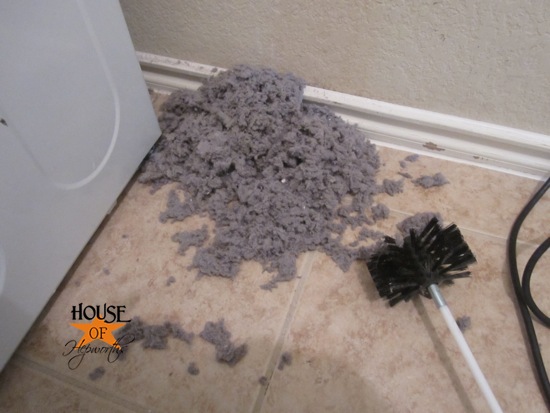 I still needed to clean out the section in the attic though. My dryer vent cleaning kit only went 8 feet and my pipe was about 20 feet, so I had to tackle it from the other end as well.
The dryer pipe comes out of the wall into the attic then attaches to the roof dryer vent. At this point I've already unattached the pipe from the roof vent.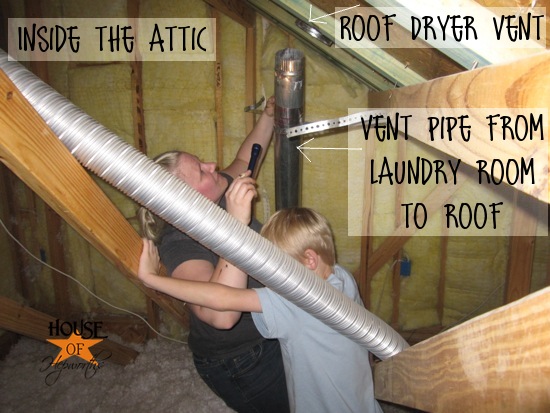 And then I unattached the vent pipe from where it comes out of the wall.
Massive amounts of lint poured out of the pipe once I unattached it.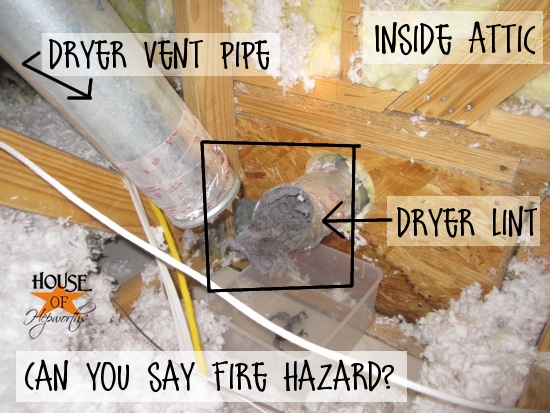 I had Ben take the attic vent pipe and clean it out. Even more lint.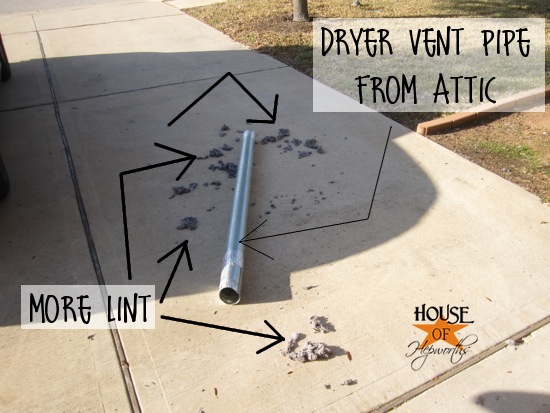 By this point I was seriously hyperventilating. We had a kitchen sized garbage bag more than half full of dryer lint. Do you even realize how much of a fire hazard this is???
I can't believe I had been using a completely clogged dryer vent for a year and a half. I believe if it hadn't been for the leak on the roof causing water to flow inside the dryer pipe and keep the dryer lint WET, a fire probably would have broken out inside those pipes.
Scary stuff.
Once the pipes were all cleaned out and the roof caulk was dry, Ben took the water hose onto the roof and simulated a fierce rain storm directly onto the dryer vent.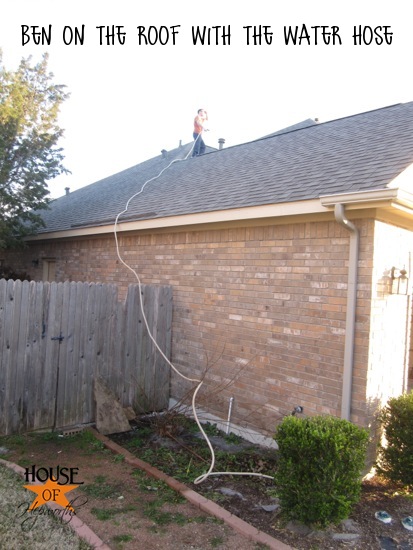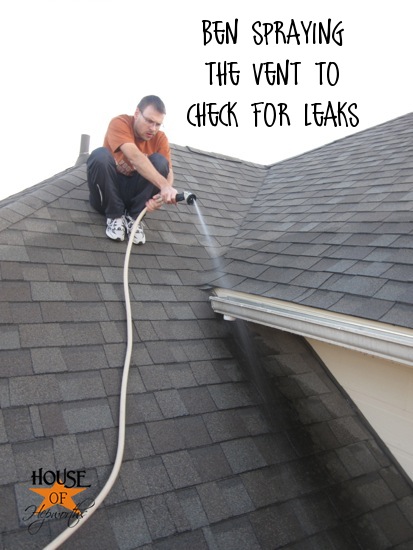 I stood in the attic with a bucket ready to catch any water that might leak in.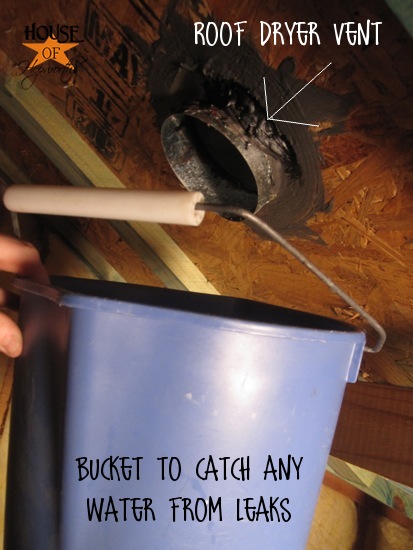 After a good 20 minutes of spraying the heck out of that dryer vent on the roof, we could not get it to leak!
Woo to the hooo!
Finally, after a year and a half of leaking in the laundry room, I think we have fixed the issue. Eventually we will have a new roof put on, at which time we will replace all these old worn out vents on the roof, but until then, this will have to work.
Once we were sure the vent wasn't going to leak anymore it was time to reattach the pipe in the attic. I bought some foil tape to reattach it.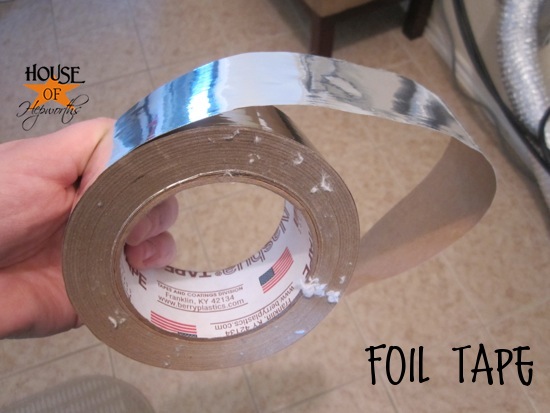 This foil tape is so cool! It's literally a strip of foil with sticky on one side. I am already trying to think of fun crafty projects I can do with this stuff!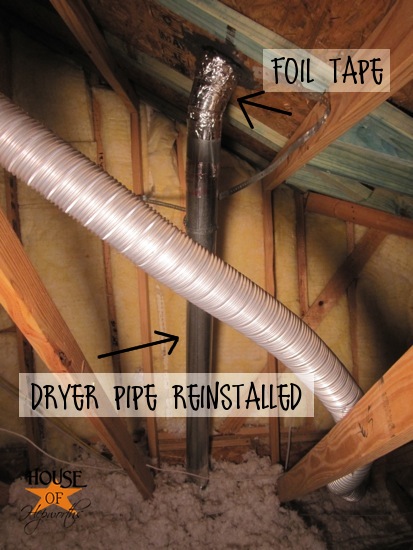 So now it's time to give this space a makeover! It was looking like this before the flooding and before I moved the shelf to the closet:
But not anymore! The washer and dryer are actually getting moved by the window and I'm going to build a locker-type bench with hooks for coats and backpacks where the washer and dryer use to be.
This room's current layout is absolutely horrible. My goal is to make is a billion times more efficient. And of course I am excited to make it a whole lot prettier too.
* I am not a roofer. I may or may not have fixed this problem the correct way. Please use caution when tackling your own home repairs. I'm not liable or responsible for any damages that may incur when you attempt to resolve a similar issue.*
Read an update to this post here!