Well hey hey hey my friends! I hope you had a smashing weekend!
I'm back today to show you the bedding progress I've made on my darling daughter K's room.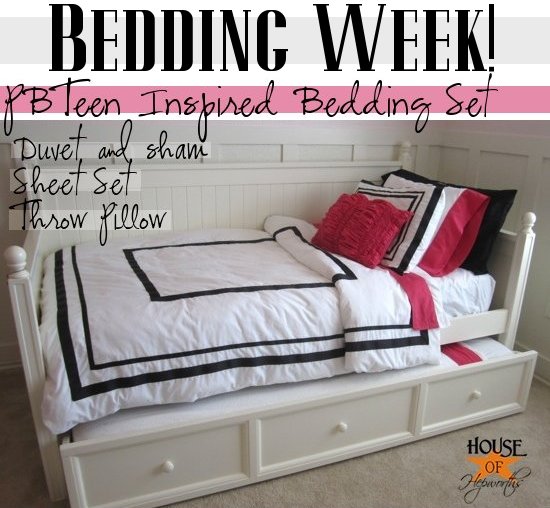 I'm getting so excited about her entire room makeover because I'm finally to the point that I can see the finish line. If you are new here you can see all the posts about her room here.
Last week I showed you the new bed we got for K: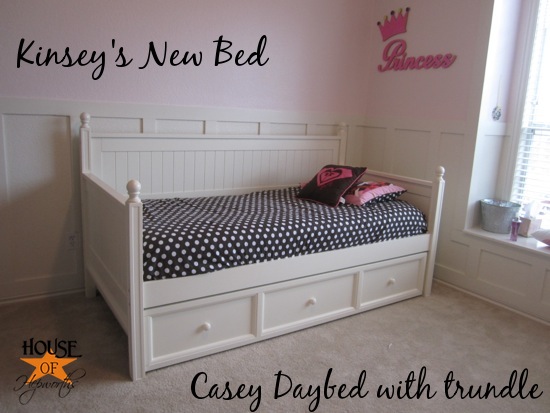 I LOVE this bed! Seriously. I'm smitten.
Now it's time to get some pretty bedding to go along with the pretty new bed.
I searched for bedding for a few months. I wanted to find the perfect bedding that she could use for several years to come.
I found this bedding at PotteryBarn Teen that I fell head-over-heels for: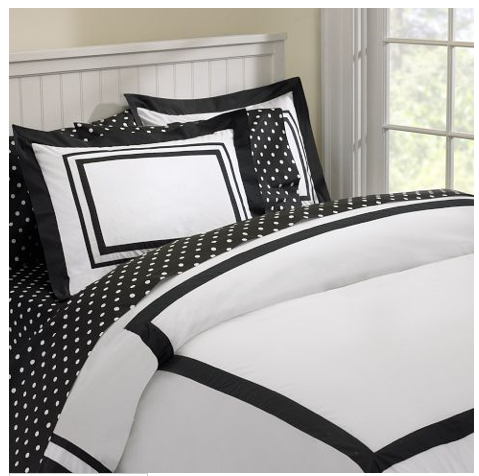 I also found the cutest sheet set at PotteryBarn Teen to go along with the black and white duvet. I love how the sheets are crisp and white with a stripe of color at the top.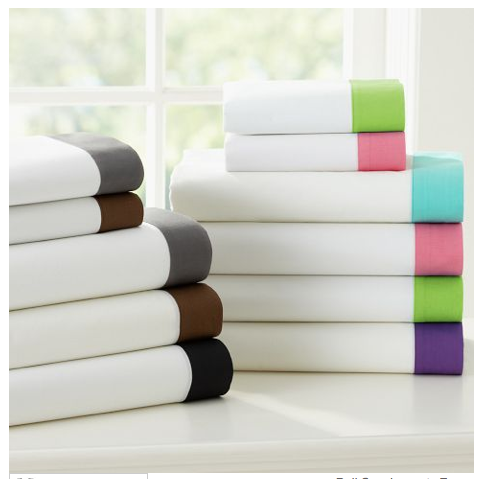 PBTeen has a "Design Your Own Bed" feature on their site that I love. You can customize your bed and "see" what it looks like before you purchase anything. This is what I came up with for K: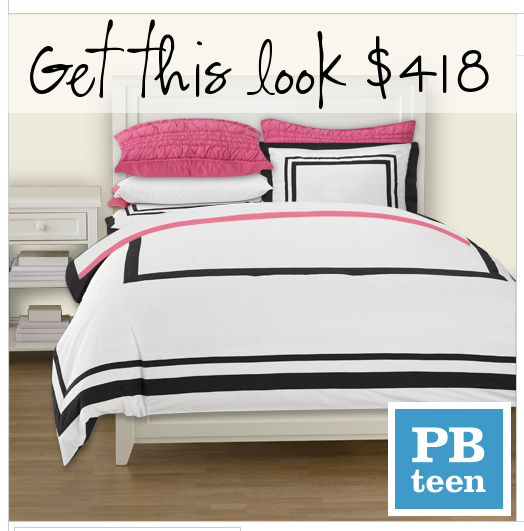 The only problem with this bedding is the price. $418? Ouch. Actually, more like quadruple "ouch" with a cherry on top.
But I really wanted this bedding for K. It's all I could think about.
After lots of brainstorming and lots more sewing, I was able to recreate this PotteryBarn Teen look for only $63!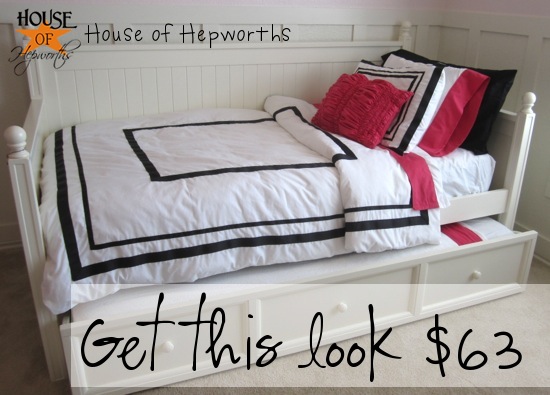 Pretty great, right? I'm quite pleased with how the bedding came together, and for such a savings! All in all, I was able to shave off $355 bucks. That's three-hundred-and-fifty-five dollars.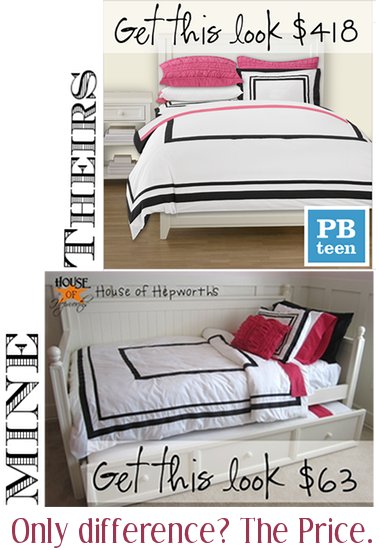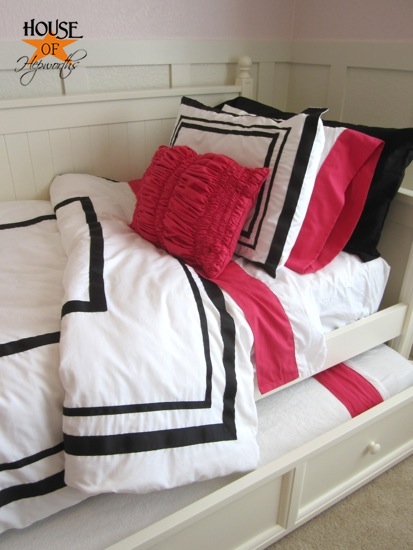 I'm just as happy with this bedding as if I bought straight from PBTeen. In fact, I'm more happy because I don't choke at the price every time I look at her new bedding.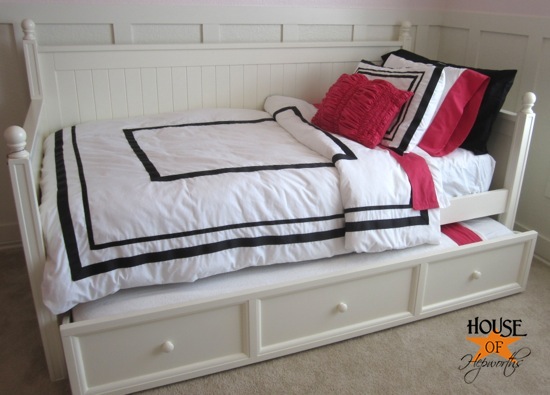 This week I've dubbed "Bedding Week".
Throughout the week I will share tutorials for each piece of bedding that I made so that you can make new bedding too!
I will also be sharing tips on where to get the best deals and how to piecemeal this bedding together to achieve the best price without skimping on quality. I could have made this set for even cheaper, but I didn't want to skimp too much and buy low quality items.
For example, I purchased a down-filled twin-sized duvet insert from Target for $29.99. It sure beat the $129.99 price tag that PBTeen is charging, but I could have used an even cheaper duvet insert from ikea or Walmart. I wanted K to have a down one though, so I dropped the 30 dollars.
One more item that I wanted from PotteryBarn Teen is this Ruched Sham: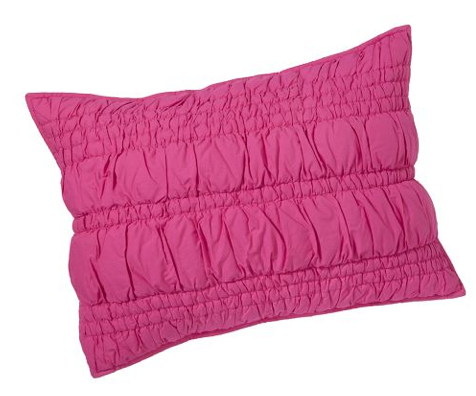 I wanted a throw-pillow sized one though, so even though it's not an exact knock-off, I was inspired by PBTeen to create the small throw pillow on her bed.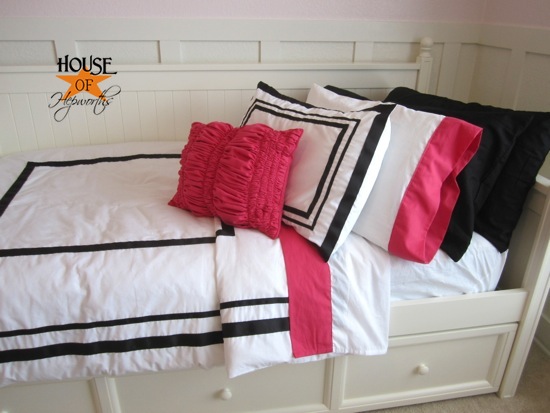 Here are a few of the items from PBTeen and their cost break-down:





Items not pictured: King pillowcases; black ($32) & PBTeen duvet ($129)
Here's the bedding I made for K and a cost break-down: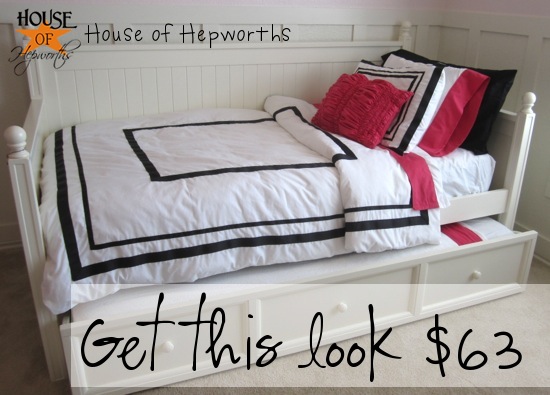 Duvet & Sham combo: $8
Down-filled duvet insert: $30
Sheet Set: $15
Pink throw pillow: FREE
King Pillowcases, black (x2): $10
Stay tuned this week for tutorials for all the bedding as well as shopping and price tips to score yourself the best deals without scrimping on quality.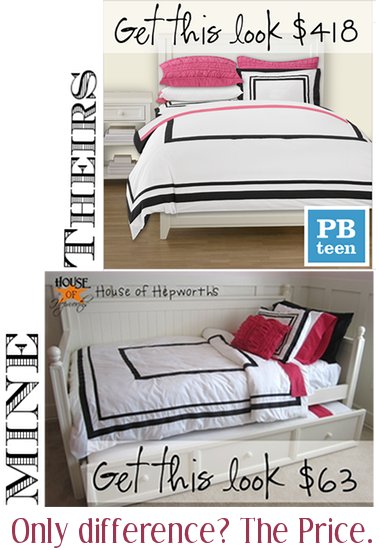 Don't forget, this week I'll be sharing all the knock-off tutorials so you can make your own bedding too! See ya soon!
Check out all the other posts in this Bedding Week Series here: