Guys, you are in for a real treat today! The HA-larious Anna from My Life and Kids is here with a HA-larious post.
Anna first made an appearance as a guest poster here over the summer while my family was on our almost-month-long road trip.
She shared the cutest ever craft – A Scrapbook Paper Map!
Anna posted again for me last November where she shared how to make super-cute holiday curtains out of discounted bedding.
But the real reason I like Anna (besides her awesome craftiness)? Because she's freaking hilarious. Every single post she writes makes me almost pee my pants. (I said almost. Settle down!)
She wrote a post on her blog about how she came to my house to "visit" me. She even photoshopped a bunch of my house pictures.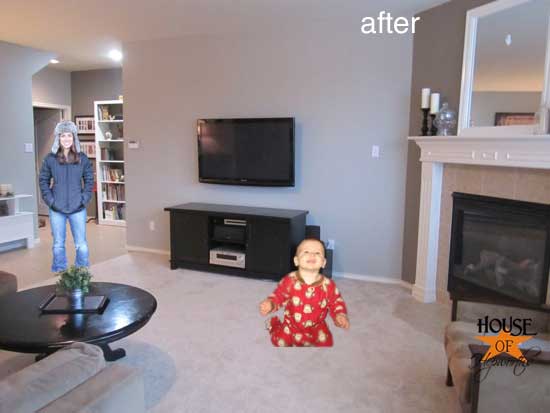 Funniest thing I've ever read.
And then, she just couldn't help herself. She "house sat" Young House Love's house and hung my "Start Being Awesome" artwork up in their bedroom.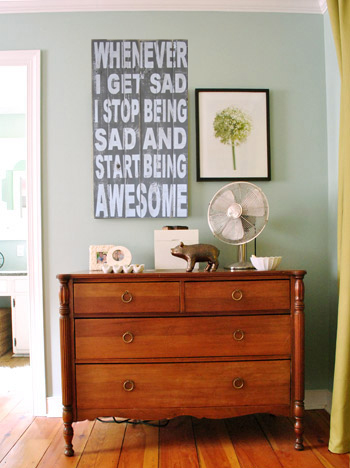 (Which I think looks fabulous above their dresser if I do say so myself!)
So basically, this gal makes me chuckle. And if you can make me chuckle, we are pretty much best friends for life.
Without further adieu, here's Anna from My Life and Kids:
What Not To Do When DIYing With Your Spouse
If you're anything like me, an afternoon of DIY projects with your husband can drive you nuts. Our biggest fights seem to happen somewhere between the 18th trip to Lowe's and the search for wall studs.
Luckily I've learned a few lessons the hard way, and I'm here today to share them with you.
Don't DIY Naked
I know – it could seem like a good idea or a fun way to spice things up.
But think again.
It's not romantic or fun or sexy.
It's sweaty and dirty and there are some places you just don't want exposed to paint and sawdust (or power tools for that matter).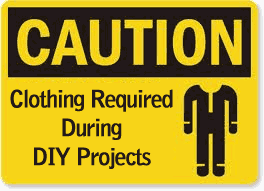 You're Not on HGTV, Stop Pretending You Are
If your husband is anything like mine, he doesn't really appreciate being interviewed or photographed while he's doing a home improvement project (that you begged for).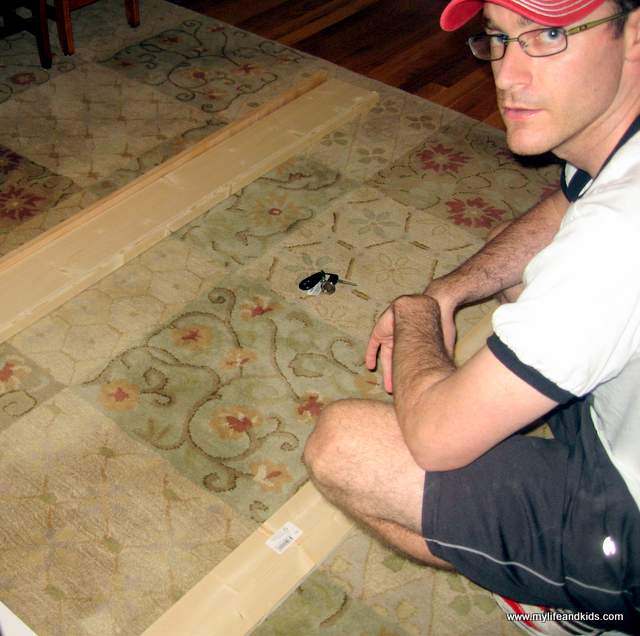 Put down the fake microphone.
Stop asking questions like, "So, can you share with our viewers how they can do this at home?"
And try to be sneaky while taking pictures for your blog.
And finally, reason number 3 of What Not To Do When DIYing With Your Spouse:
Men Don't Like it When You Decoupage Their Tool Belt
Mod Podge, glitter, pictures – and even some well-placed bling – probably don't belong on his tool belt.
He might wear it for awhile to keep you smiling, but the fun ends as soon as the neighbors see it…
My name is Anna, and I blog at My Life and Kids. Allison and I are BFF's – well, she commented on my blog, and I visited her house.
When I'm not crashing houses, I'm giving you tips on how to fake clean your house, sharing five ways to be a great friend – and teaching you how to do my favorite party trick (which is also my favorite bedroom tip!).
And every Wednesday I co-host Finding the Funny – a linky party where you can share your funny posts.
My Life and Kids | Facebook | Pinterest
If you like to laugh on a daily basis, I suggest you pop on over and subscribe to her blog. You'll be glad you did!