It's time to Hang Out with another one of my bloggy friends!!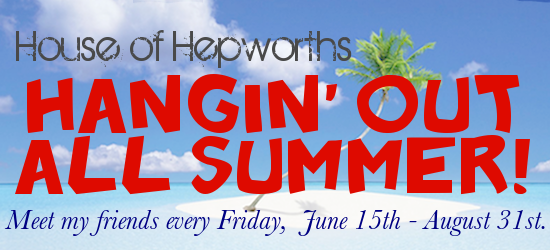 Today Anna from Take The Side Street is here hanging out with us.
Anna has such a fun blog. First off, she is stinkin' hilarious. And you know me, I love hilarious! Also, don't let her modesty about her decorating fool you, she is good. The projects she tackles usually require a few power tools, but her end result is pretty and feminine. If you want a quick glimpse of her awesomeness, check out her House Tour to see some crazy before and after photos.
*****
I am so excited to be over here at HoH with Allison and all of you.
I am all about summer fun and right now I am officially pretending we are all at some get together, and that we've got big sunglasses on and even bigger cocktails (or mocktails if that's how you roll) in our hands and my behind looks totally cute in my shorts and your shoes are fabulous.
Instant friendship magic, y'all.
(P.S. You can tell this is a fantasy because my butt never looks cute in shorts. Side note: someone should invent Spanx-shorts. I'll get right on that.)
Anyway, now that we're practically best friends allow me to introduce myself.
I'm Anna, and I like to knock holes in walls and then frantically try to pick up the pieces in a way that looks on-purpose over at my blog,
Take the Side Street.
Nah, just kidding… sort of. I do enjoy knocking holes in things. I'm all about decor, DIY, design, doughnuts and dumb stuff. And occasionally chickens (2012 is the year of backyard blogger chicken farmers, y'all), but that doesn't start with a 'D' so it's not nearly as fun to include in my list.
I really enjoy decorating rooms even though I have no formal training and don't actually know what I'm doing — pfft, details shmetails.
I literally just finished this surprise bedroom makeover for my mom while she was on vacation this month:
I also recently finished a 16-hour painting marathon in my dining room to take it from this salmon colored mess…
…to this brighter space that allowed me to better see the Life cereal crumbs all over the floor, courtesy of my darling boys:
And earlier this year I actually decorated my boys' bedroom for the first time in their short lives (yeah, that's me — queen of the undecorated nurseries.)
I also like to build things — I'm a fan of saving money by not spending $1,200 on a bed so I can get pretty things like shoes and awesome bedding. And also so I can invest in awesome ideas like Spanx-shorts.
I built the blue bunk bed in my boys' room and I also designed and built a sofa table when I didn't want to drive 7 hours round trip to the closest IKEA. Laziness motivated DIY pretty much sums me up in all my self-awareness 🙂
Oh, and every great once in a while I do something crafty, like the faux metal arrow in my boys' room:
I like a respectable faux, what can I say! It all goes back to having all that extra money for Spanx-shorts and designer jeans.
I'd be tickled if you'd hop on over and say hello — I'm just so flattered that Allison invited me here today and I'd love to make some new friends!
P.S. It's true, I really do have chickens. It's my husband's fault.
*****
See what I mean about being hilarious? I wasn't kidding. I do not kid about things as serious as someone's hilarity.
I hope you enjoyed hanging out with my friend Anna. Check back next Friday to meet another friend!
Check out all my Hangin' Out All Summer posts!