It's time to Hang Out with another one of my bloggy friends!!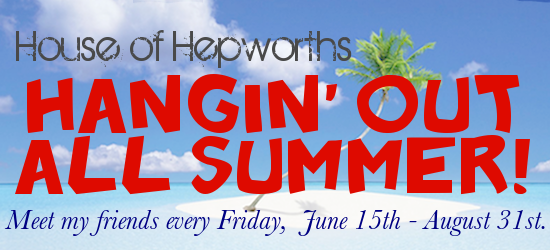 Today Aimee from It's Overflowing is here hanging out with us.
Aimee is so talented. She blogs about updating her home with lots of decorating and DIY tips and tutorials. She also sprinkles in posts about photography, cooking, and other fun topics.
*****
Thanks Allison for inviting me to kick off the weekend here at HoH!
My weatherman's forecasting a high of 100 here in Fort Worth, TX. Translation: We'll hit 107! They always undershoot the high for fear that reality would cause us all to pass out in shock! Do they do that where you live, too?!
I'm Aimee Lane and I blog at It's Overflowing, simply inspired ideas shared daily! I wanted to share with you one of the first projects I shared on my blog. On our way to church, wearing our 'Sunday Best', I was doing my monthly ritual of scouting the bulk trash that had been placed on the curb the night before. I saw a piece of furniture worth stopping to check out…
An obvious keeper…don't you think!
Church…errands…laundry…a few weeks passed before I remembered to get this beauty out of the trunk. When I brought it in, it was a chippy wood nightmare. I tried adding wax and tried spraying it with polyurethane, but my new hardwood floors continued to be layered in old flaky paint….until I got a little vision…don't you love it when that happens!
I cut slats into the legs and my hubby made a shelf from plywood — the little table needed more storage and stability! Some wheels, a towel bar, primer and paint….
Looking a little more like a kitchen cart, right!!?
And here it is…the perfect pop of color in my kitchen remodel!
16. Curbside Trash Turns Kitchen Cart
Want to see what I found recently….definite potential…are you feeling it?!
I'd love to have you come by It's Overflowing for a visit! Here's the link to see what I did with this darling piece of reclaimed wood…feel free to explore my blog's header icons for decor, diy projects, crafts, recipes, green ideas, photo tutorials, household tips, and more!
Allison, you're the best…thanks again for letting me chill with you and your bloggy friends today! Stay cool in this Texas heat! XO, Aimee
*****
Isn't Aimee so awesome? And I love that she's a fellow Texan like me! No wonder we are friends. Take a minute to stop by and say hi. I hope you've enjoyed getting to know another one of my bloggy friends.