My family just had the most crazy 24 hours. It started with my son complaining of a stomach ache (hour 1) and ended with us being discharged from the hospital (hour 24) after an appendectomy.
I pretty much instagramed the entire drama as it unfolded, so for those that are into instagram (my new favorite social media toy), you've probably already heard this story.
While we were out running errands Monday night around 7:30pm my son started complaining that his stomach hurt and he didn't feel good. He said he was nauseous. I told him to just sit tight and that we'd be home soon. By around 8pm he was complaining that his side was hurting. We were almost done running our errands, we just had one more place to stop. At this point it was about 8:30pm. Travis was obviously not feeling very well so Ben just ran into the store while I sat in the car with Travis. During the next 30 minutes he went from just a mild aching in his stomach and lower right side hip area to a full-on screaming and crying attack. He was literally beside himself screaming and crying in the car while I sat next to him trying to comfort him. Normally I don't run to the ER for every small ailment, but Travis was in so much excruciating pain in his appendix area that I felt like we should have it checked out. Fortunately the ER was about a mile away so we just headed over there at about 9pm.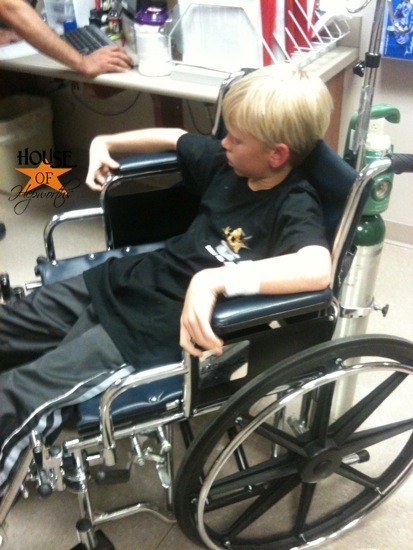 He was checked in and put into a room right away. They put in an IV and immediately withdrew blood. He was still crying and whaling and obviously in a lot of pain.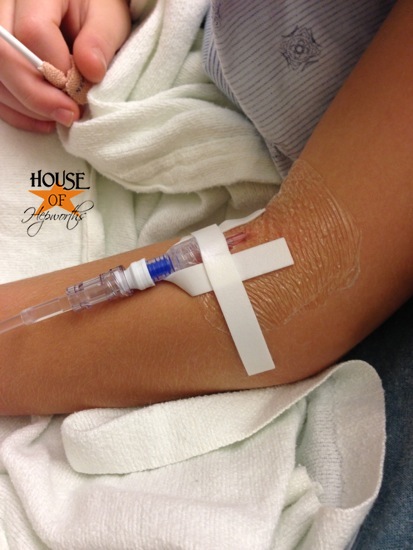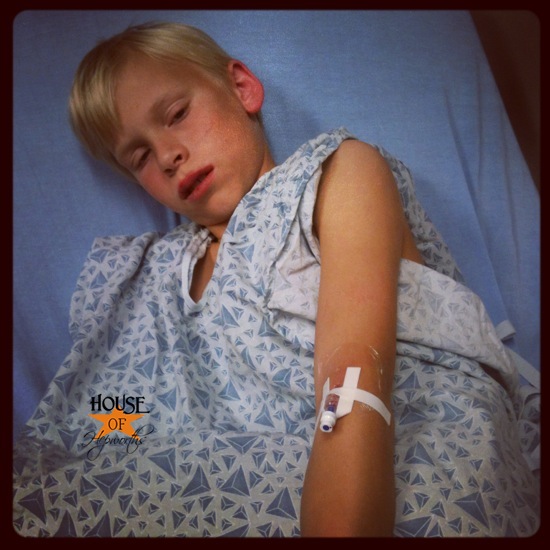 After maybe 45 minutes or so they took him in for a C/T scan. On the way to the C/T scan room Travis threw up several times. From that point on he acted totally normal and said he wasn't in pain anymore.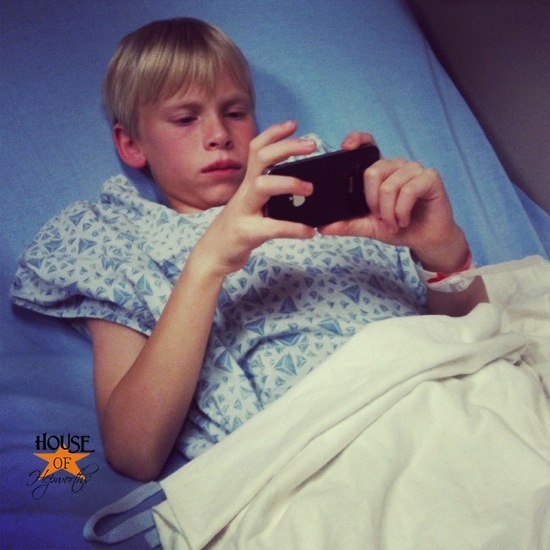 The nurse said she was 99.9% sure he didn't have appendicitis so Ben and I were a little irritated that he had just had a C/T scan for what looked like a belly ache. We sat in the room for another 20 minutes frustrated that we were in the ER paying for all of this (ER, C/T scan, etc) for a bout of gas. I was annoyed with myself that I was one of "those moms" who freak out and race to the hospital for stomach gas.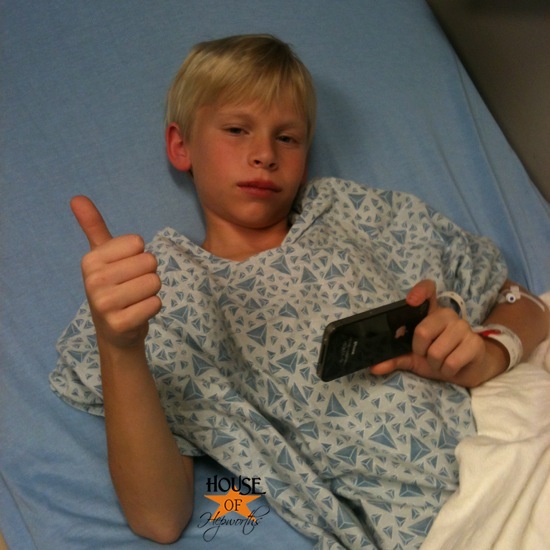 I think it goes without saying to mention here that we have absolutely no problem paying money for our children for any medical issue that arises. I would go bankrupt making sure my children have the medical attention they need. But when you are facing a $2000 bill for a stomach ache it can be aggravating. And yes, we were slightly aggravated, but trying to not let our son know how frustrated we were.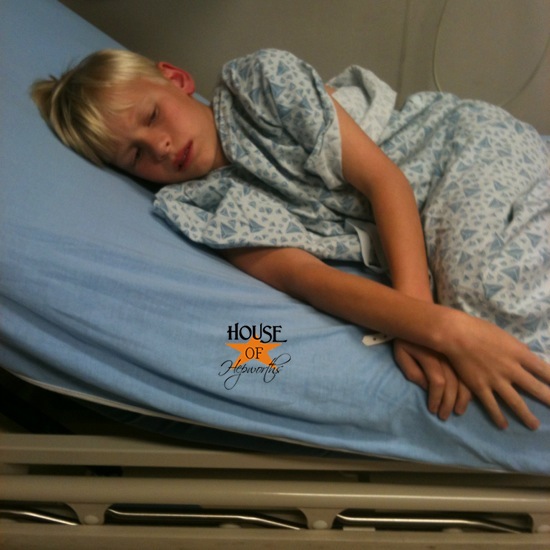 We had wasted several hours by this point and probably around $2000 that we are going to have to pay 100% of because of our high-deductible HSA plan (Ben is independent so we have private health care). I just wanted to go home and put this disaster of a night behind us.
At this point it was probably around 10pm. I kinda lost track of time. After lots of time sitting there frustrated at our total waste of an evening and huge bill we were going to be receiving, the nurse poked her head back into the room and quickly said, "Don't ever go to Vegas with me. It looks like Travis DOES have appendicitis."
Turns out the very expensive C/T scan was worth the money after all. And take note, from first symptom (stomach ache) until he was diagnosed was only 2 and a half hours. If your child has excruciating pain exactly where the appendix is located, take him in!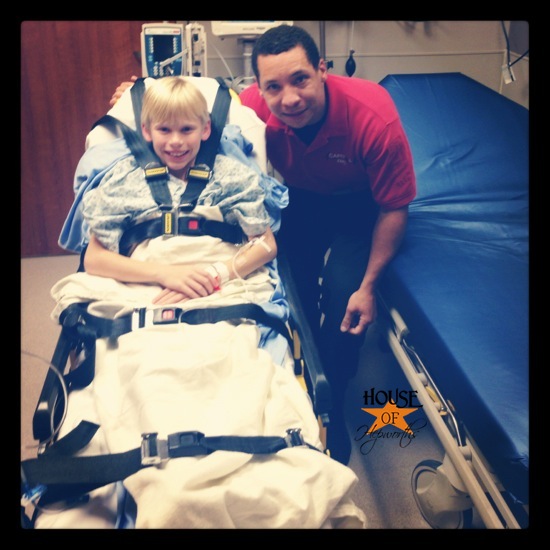 The doctor transferred Travis to the Children's Hospital downtown via ambulance (without the sirens, lights, and speeding. Booo). Ben rode with Travis in the ambulance while I went home, packed a bag for my overly tired daughter, and dropped her off at my inlaws at midnight on my way to the hospital.
Travis could not have been more excited about this ambulance ride. Most kids would be scared about being sick, and nervous about the ambulance ride and all the restraints used to hold the patient down, but not Travis. He loved every minute of all the attention he was receiving. He was so excited to ride in the ambulance. He called me during the ride and told me how much fun he was having and how great the ride was. He is thrilled that he can now check "ride in an ambulance" off his bucket list.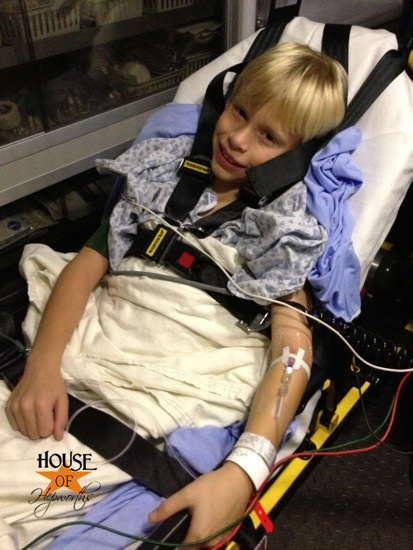 We sat in a private room in the ER waiting to hear when the surgery would be. They told us they couldn't admit us because they had no rooms available and we would have to just hang out in the ER. At least we were in an actual room and not in the hallway.
Finally, at 3am we were told that the surgery was scheduled for 8am and he would go into pre-op at 7am. Because we lived so far from the hospital (about a 30 min drive) it didn't make sense for either Ben or me to go home to sleep so we both stayed in the ER room with Travis. I finally curled up in fetal position at the foot of Travis's bed and got 4 hours of really terrible sleep – no pillow, one thin blanket, in fetal position, with nurses and beeping interrupting us every 15 minutes.
At 4am they took pity on Ben who was sleeping sitting up in a plastic chair with his head against the wall and brought in another bed for him.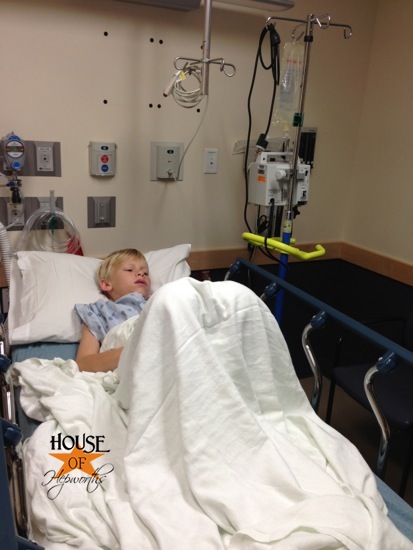 At 7am they woke us up and took Travis to a private pre-operative room where we answered the same exact questions about his condition (last time he ate, last time he peed, what time the symptoms started, what hospital we started out at, etc) to a variety of nurses, doctors, and staff a minimum of 10 times.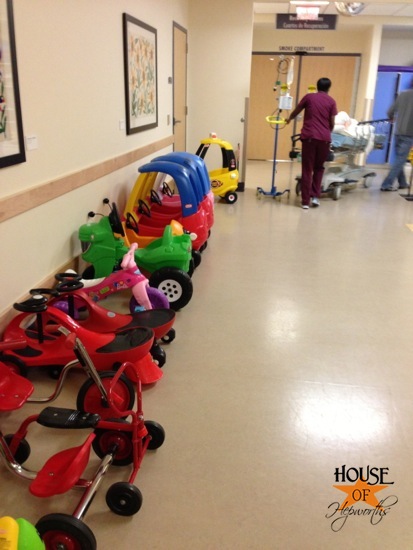 At the Dell Children's Hospital they have employees whose entire job is to talk to the children about what condition they have and what to expect in surgery and recovery. They are called a Children's Specialist something-or-other. She was super nice and talked to Travis on his level but also treated him with respect and didn't talk down to him. It was very sweet to see them interacting.
Towards the end of the conversation she told Travis that she had an iPad with pictures of the OR on it and that she can show him pictures so he knows exactly what to expect before he goes in there. He immediately answered, "No no no. I want to be surprised!"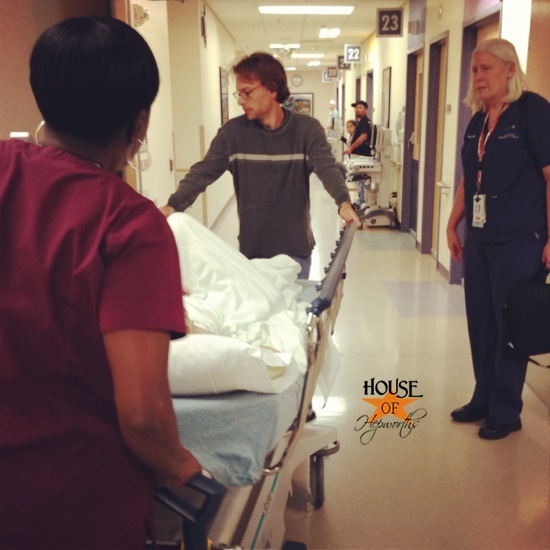 Never once during the entire drama that started the night before at 7pm did Travis ever, even for a second, act scared or nervous. Yes, he was in pain, but to him, a hospital stay, an ambulance ride, getting to use a wheel chair, and having surgery were all just the best things to ever happen to him. He has a very positive outlook and saw everything unfolding as an adventure instead of with fear. He is a tough little cookie.
Partly because of his excited attitude, and partly because we were at a Children's hospital and an appendectomy is such a routine procedure, I never got freaked out and cried. I always thought I'd be a mess if my kid was having surgery, but I held it together and managed to remain calm and collected about the entire experience. (Pat on the back. Of course, if it were something much worse I know I'd be a hysterical mess.)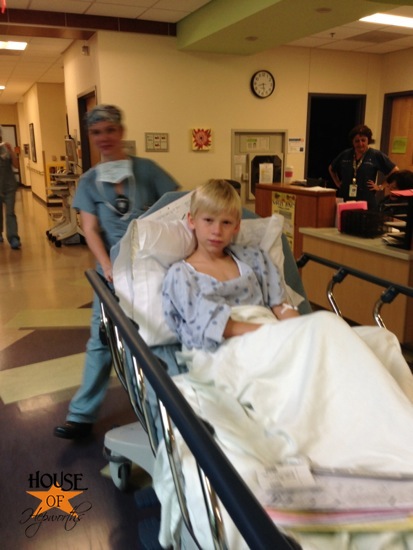 Finally it was time! They wheeled him out of the Pre-op room and down the hall where we said goodbye and watched a team of nurses and doctors dressed in powder blue scrubs and hats wheel our baby away into the surgery room.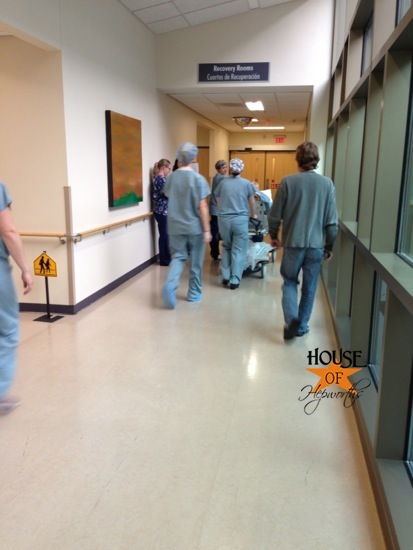 We busied ourselves by browsing social media on our phones (facebook, instagram, google reader, etc) and eating a hot breakfast that Ben picked up from the cafeteria.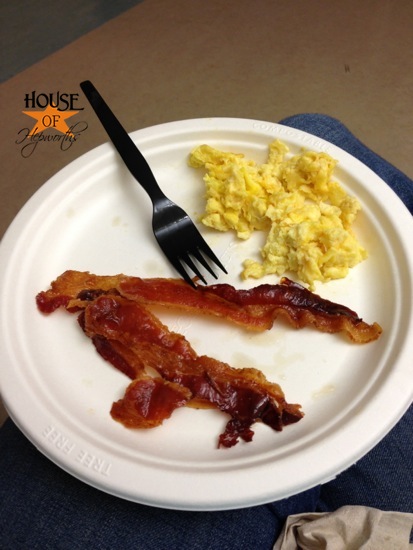 Before we were even settled and comfortable, ready for the long haul, the suregon came in and told us she was done! The surgery went great and Travis was already in the recovery room. We could go see him in about 20 minutes. I can't believe it was so quick.
We walked into the recovery area lined with beds and curtains and lots of adorable little kids coming out of anesthesia to find Travis still asleep. He woke up on three separate occasions asking if they were done with the surgery then fell back asleep again. He was so dazed and confused from the anesthesia and morphine that I was just waiting for him to start saying
"I feel funny. Is this real life? Why is this happening to me?"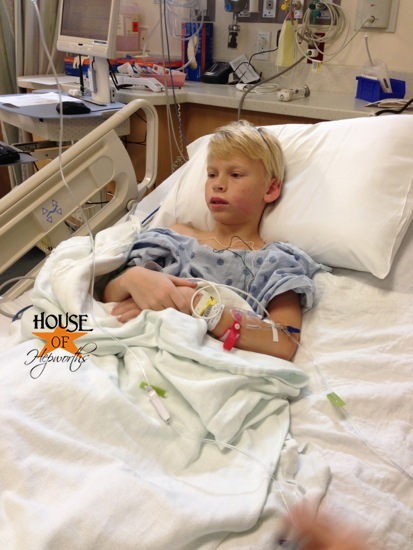 By about 10:30am he was in a private room just chillin' and resting. We were told all day he would be there at least one full night, so all day we prepared ourselves to stay.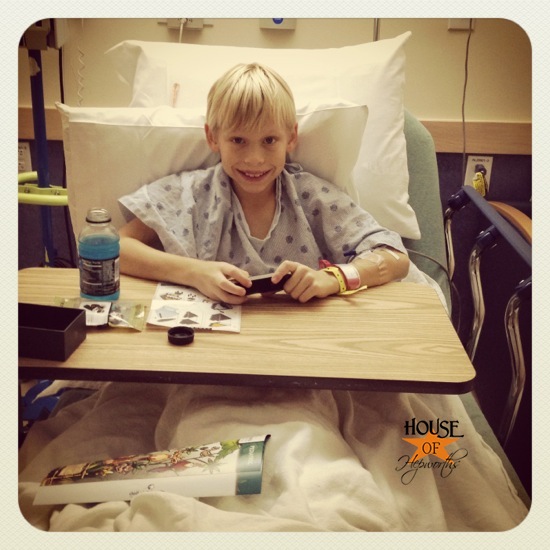 Travis had a slew of visitors who brought balloons and toys. He kept saying how much he loved being in the hospital and how much he loved all the attention. Eye roll.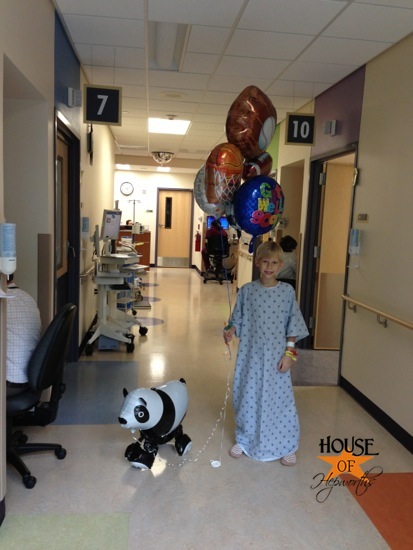 He was up trying to walk around and get himself moving by noon and spent the afternoon recovering, hanging out in bed, walking around, paying with a wheelchair (another bucket list item he can now check off the list), visiting the gift shop, and pretty much just enjoying how much attention he was receiving.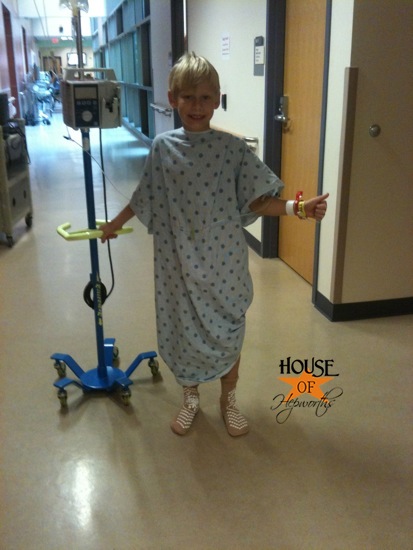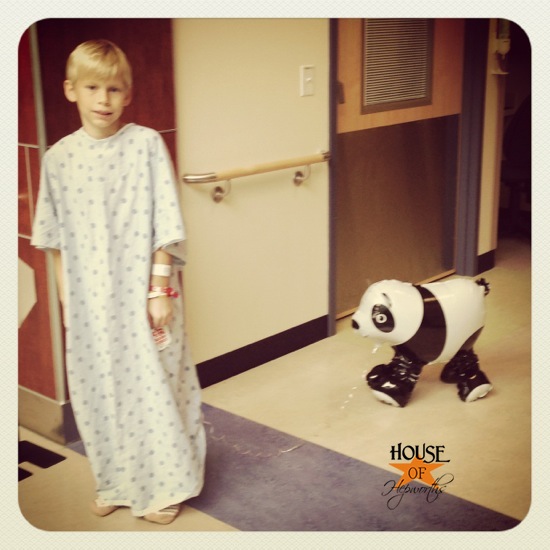 By 5pm all our visitors were gone, Ben took our daughter to dinner in the hospital cafeteria and Travis and I had just laid down for some much needed sleep. No more than 10 minutes later the doctor came in, checked his incisions, talked with Travis for a few minutes, and said to me, "How do you feel about going home tonight?"
My reply, "I would LOVE to go home tonight. Yes! If he's well enough, let's go home."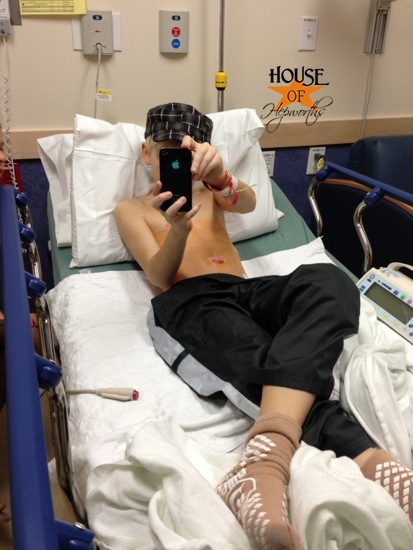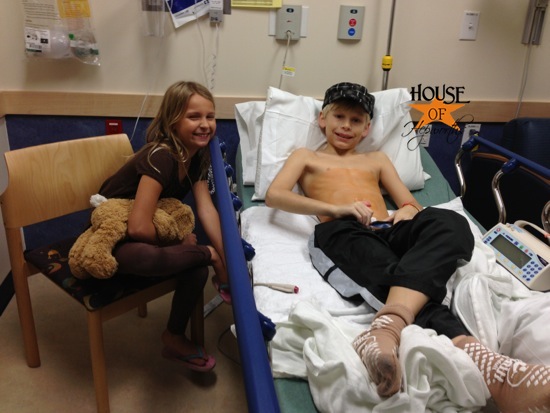 By 6 we were on the road, stopped at a McDonalds drive thru for ice cream, and were home by 6:40pm or so and Travis was in my bed fast asleep by 7:30pm – exactly 24 hours from when he told he was feeling sick to his stomach. He slept a full 12 hours and woke up sore, but very chipper this morning. Like I said, he is one tough cookie.
The last 24 hours has been a total daze. It came on so fast, I didn't have time to think or prepare for it, and now it's over. It seems like it was a dream. Like it never happened. Everything went perfectly, from the surgery to the swift recovery. He's now taking it easy at home playing games on the iPad, watching tv, reading, and playing with a coffee table full of legos.
There's nothing like spending a day at a Children's hospital to remind you just how blessed and fortunate you are. There were so many sick kids. I don't mean appendectomy sick, but really really sick. Like, might-not-make-it sick. Toddlers on IV's and bald little adorable heads. Teenagers on respirators fighting for their lives. On our way to our car we saw family and friends gathered for a Memorial Service for a beautiful 16 year old girl who just lost her battle with Cystic fibrosis. I cry for them and their families and am just so grateful to have two perfectly healthy children.
I think I needed to be here, especially at the beginning of this holiday season, to help remind me that this Holiday Season isn't about getting stuff, it's about family and being grateful for yours. It's about giving gifts to show your love for that person, not just so you can get stuff. It's about celebrating the blessings in your life, like healthy children and family who would drop everything to bring balloons to your 10 year old after surgery.
We are blessed and grateful. Travis's appendicitis couldn't have had a better ending. Tummy ache to retuning home from surgery at the hospital in 24 hours? The best outcome I can possibly think of.
We all have lots to be thankful for this season.