After I sprayed all the baseboards we had some carpet guys install our new carpet we had previously ordered. It was a long day but the results were worth it.
Pretty much all the carpet in the house looked like this: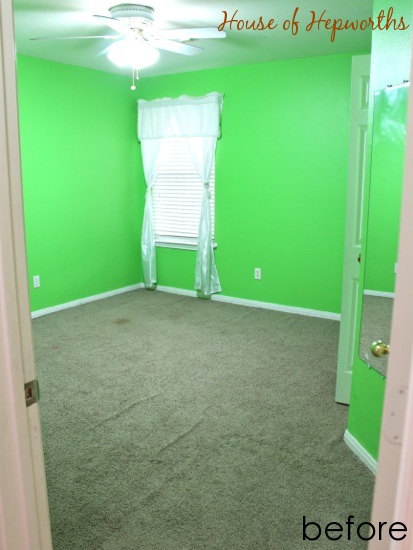 Old, stretched out, worn out, and threadbare. I can move into a house that needs lots of love and then DIY it to my liking while living there, but moving in on the old carpet was a deal-breaker for me. First off, I don't want to move into a house with gross carpet. Secondly, it would have been ten times harder to replace the carpet once our stuff was moved in.
The carpet company we went with told us to just peel back the edges of the carpet and fold it in on itself when we painted and that they would take care of removing the carpet for us for an additional $30. Um, sold. You don't have to tell me twice!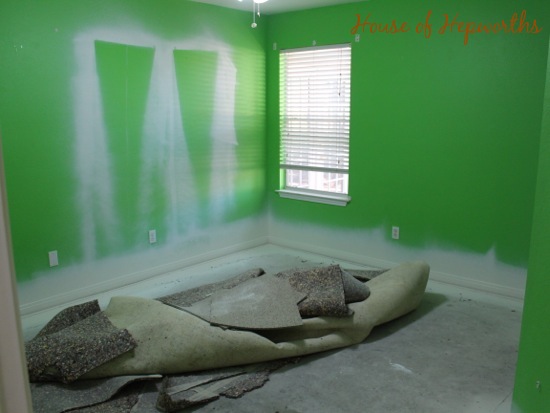 I'll talk more about who we went with and why at the end of the post.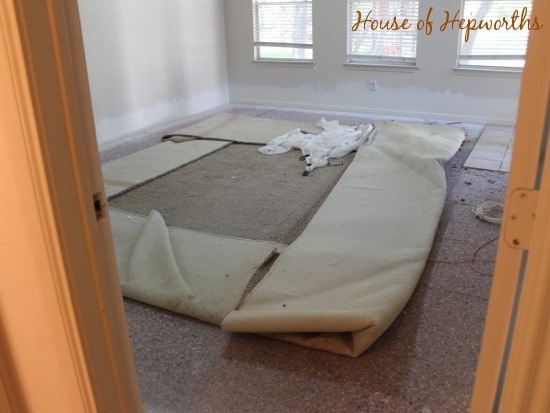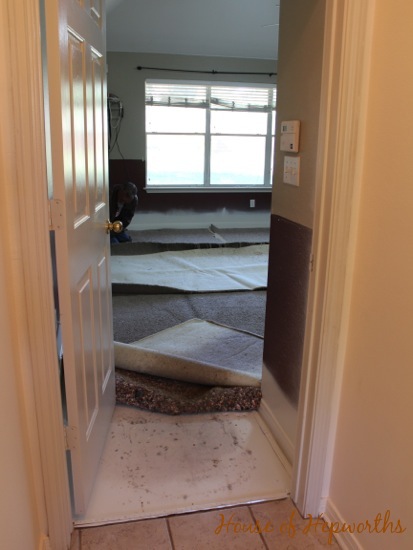 The installation day finally came and the guys were here bright and early tearing out the old carpet. I didn't take pictures of them doing it because I don't know them and felt weird posting pictures of them online without their consent.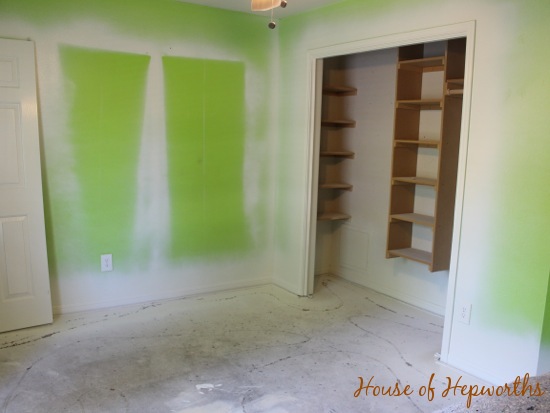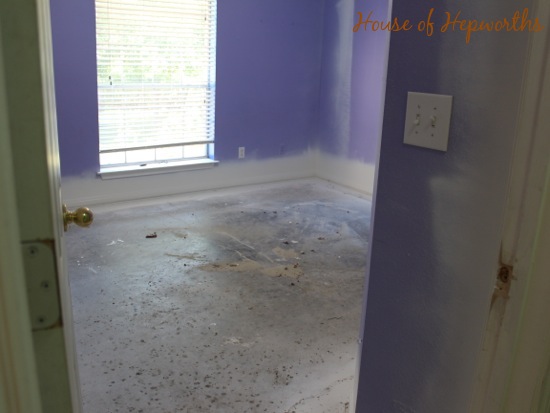 Out with the old…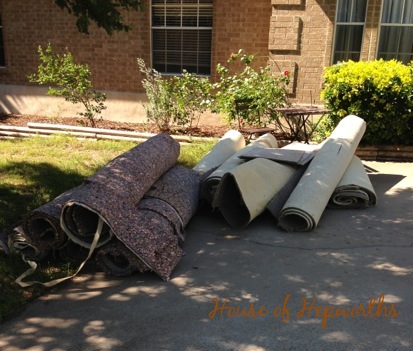 And in with the new!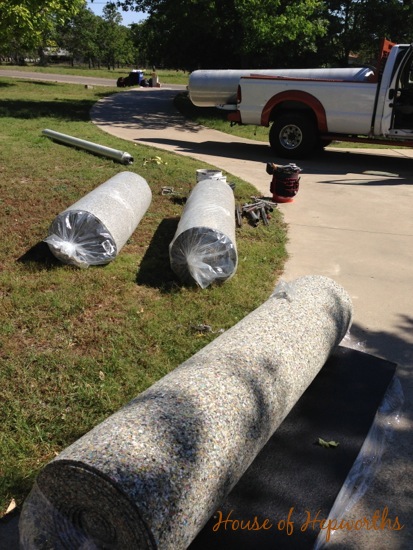 I like to DIY when it makes sense, but installing my own carpet? No thanks.
The rooms are already looking so much better with just the pad.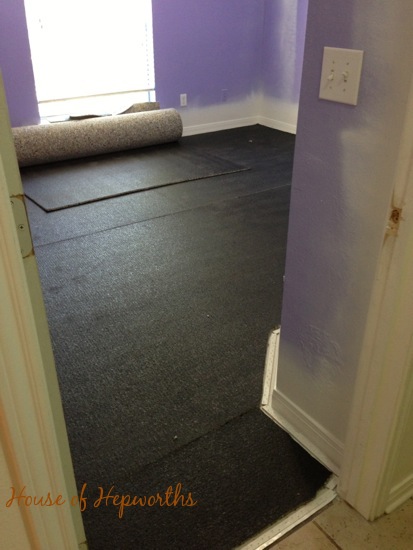 Everything went pretty flawlessly until they got to the game room. Poor installers. At some point in this house's history someone laid carpet tiles, then removed them, then carpeted. Well, the glue from the carpet tiles really loved the pad and created a bond comparable to liquid nails. The guys had to literally scrape the glue and pad off the floor using brute force. They were exhausted by the end of it (and yes, I did throw in a tip at the end. They earned it!).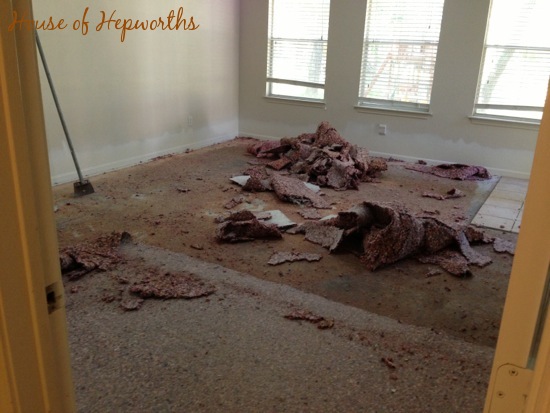 In addition to the carpet, we had vinyl flooring laid in my husband's office (the spare 4th bedroom). He works exclusively from home, so having a comfortable work space for him was at the top of our priority list. He has hated using the plastic carpet mat made for office chairs on carpet and has wanted "anything but carpet" for the last 3 years.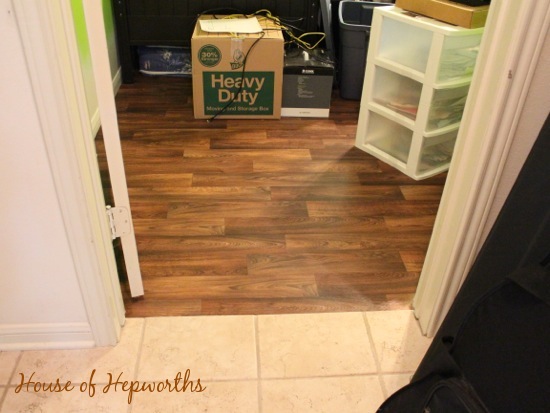 We went with vinyl for a few reasons. Mainly, we wanted something cheap that would last a few years until we redid all the other floors in the house. We'd love to take out all the tile in the living spaces and hallway and replace with hardwood. When that happens we will take it into Ben's office as well. So basically we wanted a floor covering for the office that was cheap, temporary, and didn't look horrible. The cheapest laminate we found was double the price of the vinyl, so vinyl it is! And honestly, I really like it and even entertained the idea of doing my whole house in it, but taking out all the tile and replacing it with vinyl for two years so I could then take out the vinyl to replace it with hardwood seemed like a dumb idea, so I scrapped that idea quicker than I thought of it.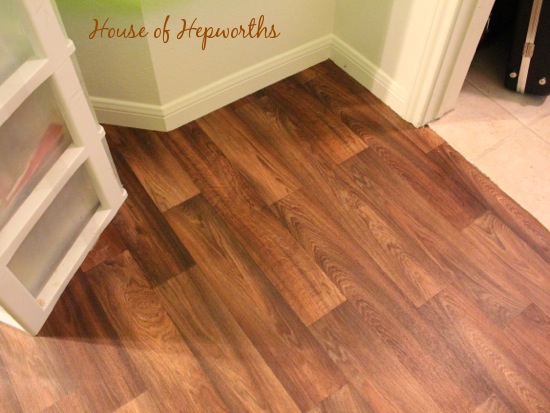 And now for some carpet pics! Yay!
Even with the terrible paint job going on, the carpet makes the room look so much cleaner and fresher.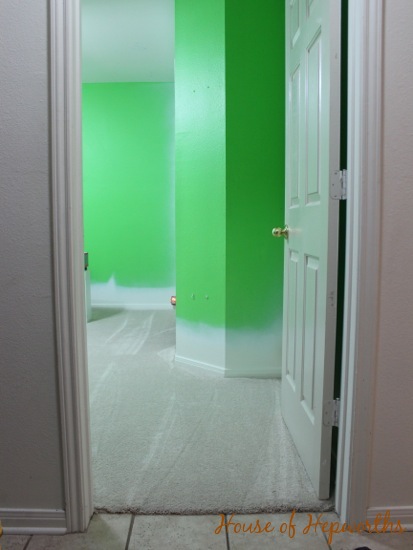 In a perfect world I would have had months to paint the walls and prep the house before moving in, but I don't live in a perfect world. I live in a world where I had 5 days to do as much DIYing as possible before the moving truck showed up (which we also DIY'd ourselves. yikes!). Unfortunately, we only had time to paint the baseboards and have the carpet installed. But seriously, painting the walls is next on my list.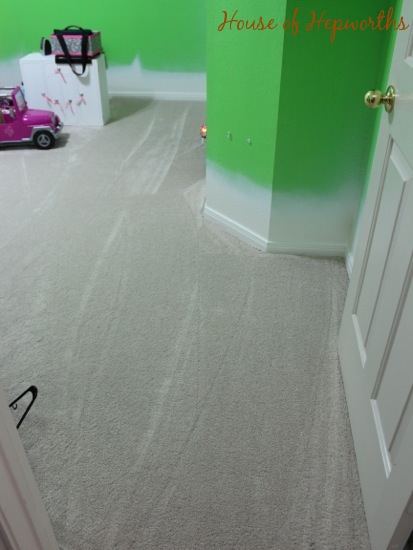 Here's a sneak peek of our game room looking into the hall. I didn't vacuum beforehand and there are no pretty carpet lines. Gasp!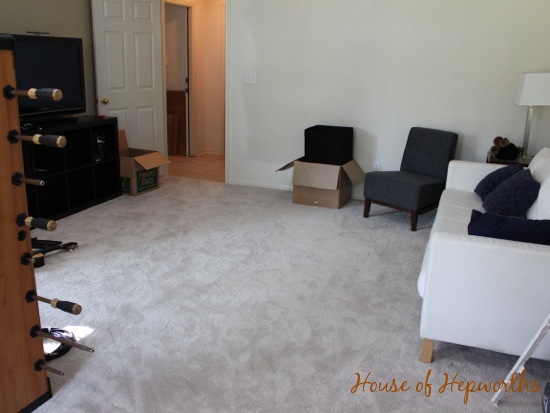 Remember that door before-and-after I showed you in my painting the baseboards post?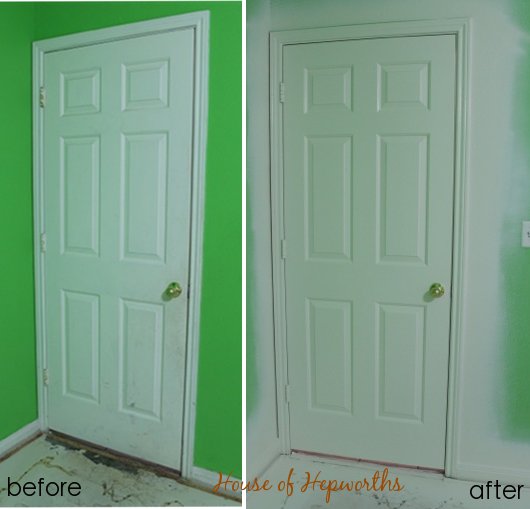 Well, here's another picture of the same door with the carpet installed. Pretty carpet. I want to pet it.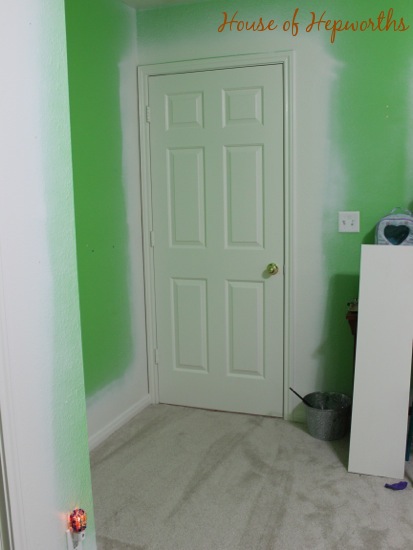 And one more, vacuumed all pretty just for you guys. <3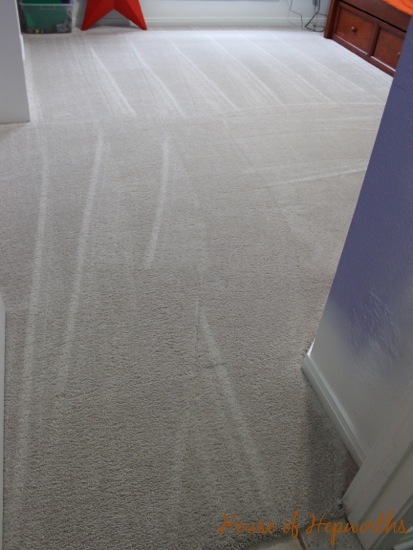 So, deets about the carpet… We went with America's Carpet Outlet. If you live in Austin I totally recommend them. (They have no idea I'm a blogger or that I'm blogging about them. They also did not give us any discounts or perks. This is not a sponsored post. We paid full price for our carpet and installation, thankyouverymuch.)
We looked into the big orange and big blue big box hardware stores as well as some other carpet companies in the area. America's carpet outlet (ACO) had the best prices so we went with them. They also are a local family owned company, and I like to support the little guy when possible. ACO is a no-frills warehouse with rolls of carpet piled high to the ceiling. If you want a pretty show room with carefully hung sample squares, rows of tile samples, installed hardwoods on the floor, fancy music playing, and free cookies, you will pay a crap-load more for your carpet.
ACO has awesome prices on carpet and pads, and they subcontract the installation out to installing pros who you pay separately once the job is completed. When we ordered the carpet we paid for the carpet and pad. We didn't pay for the install until the job was completed and we were satisfied.
The big orange and big blue hardware stores seem to have great prices on carpet and even offer a whole-house install for only $99, but what they don't tell you is that you must purchase your pad from them which is upcharged just enough that when I factored paying a premium for their pad across more than 1200 sq ft of carpet space the total price was more expensive than ACO. Of course, you are getting their warranty and peace of mind by using a large reputable company, so I can see why people would be inclined to go with them. I, on the other hand, am super cheap so after researching ACO on the BBB and determining that even though the presentation of their warehouse and storefront leaves much to be desired I reasoned that I could get name-brand carpet at a fraction of the cost by sucking it up and purchasing from a showroom that wasn't as pretty.
Oh, and compared to other carpet and flooring stores (other than our local hardware store), the prices were at least two THOUSAND dollars more for the carpet and install. I went into the store, choked on the price, and promptly left.
So, in conclusion, we chose ACO because 1) it's locally owned and operated, 2) it got a perfect rating (A+) on the Better Business Bureau, 3) they offered the same name-brand carpets as anywhere else, 4) they've been in business more than 17 years, and 5) it was the cheapest option we found.
I've never bought new carpet before so this was a new learning experience for me. I have nothing to compare my experience to but I feel like the entire process was pleasant and I feel like we got a good deal (aka, I don't have buyer's remorse).