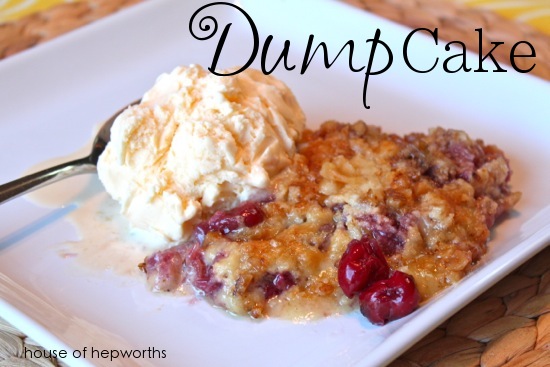 Have you ever had Dump Cake? It's more like a cobbler than a cake, and is so rich and delicious. It is one of my favorite sweet desserts and is tasty served both warm and cold. Another reason this dessert is such a popular choice at our house is because it is so quick and easy to make. I can keep all the ingredients readily available to whip together for last-minute guests. There is no measuring, no mixing, and no separate bowl to clean up.
To make Dump Cake you only need 5 ingredients: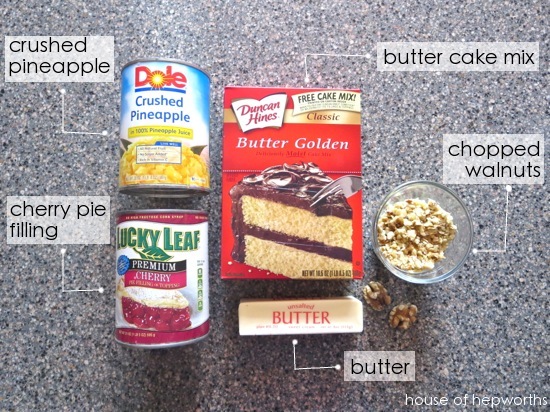 Crushed Pineapple, Cherry Pie Filling, Butter Cake mix, a stick of butter, and some chopped walnuts (those are optional).
Start by "dumping" your can of crushed pineapple into your 9×12 baker.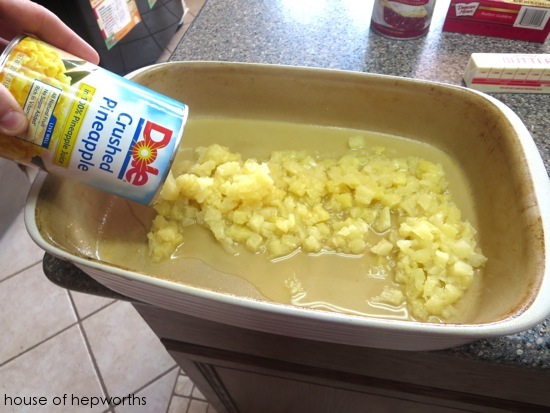 Next, dump your can of cherry pie filling into your baker (use a scraper to get all the filling out of the can).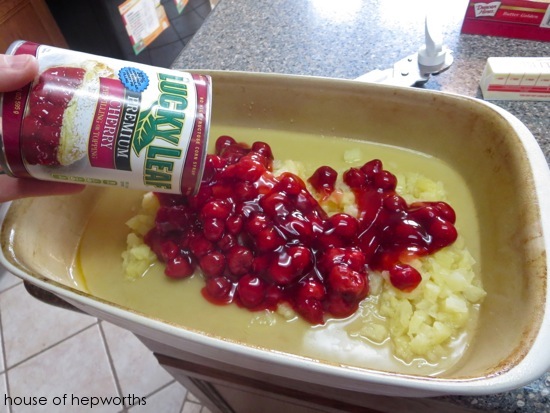 Using your scraper, swirl the two fruits together and evenly spread along the bottom of your baker.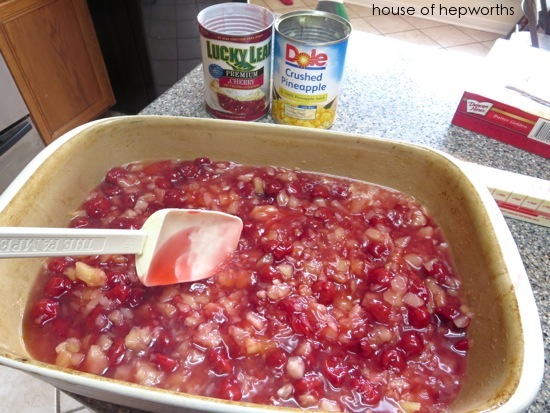 Now sprinkle your cake mix over the top of the fruit mixture. Make sure it is evenly coated, and don't mix it together.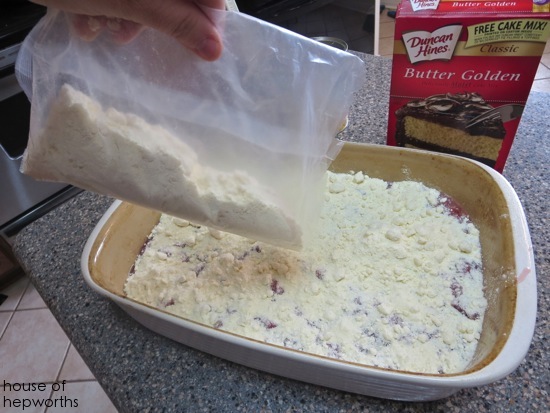 Once your cake mix is evenly spread over your fruit, slice your butter into little pads…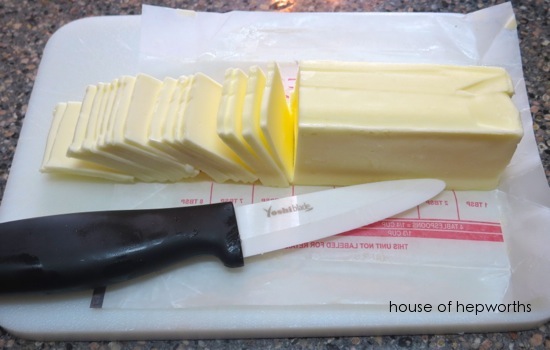 …and place them all over the top of the cake mix.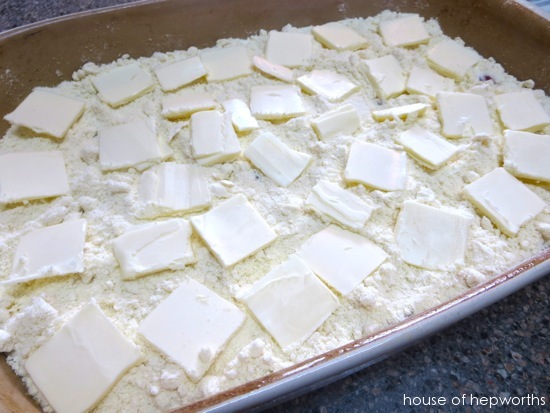 Now, as an optional 5th step, sprinkle the chopped walnuts over the top.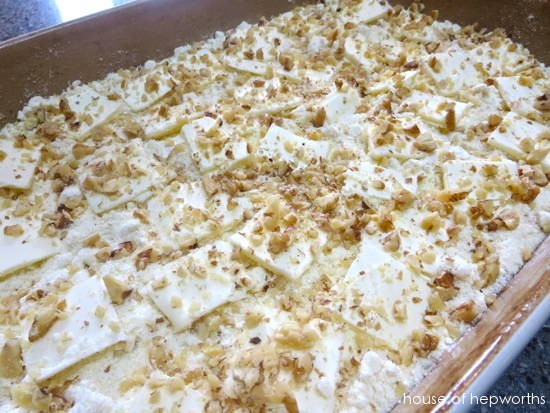 Stick it in your pre-heated 350 degree oven and bake for about 45 minutes until it is golden brown and bubbly.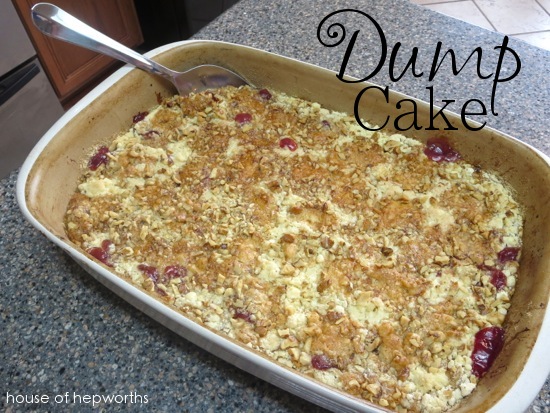 If you are too impatient to wait for it to cool (we are!), spoon some into a bowl and top with a big scoop of vanilla ice cream.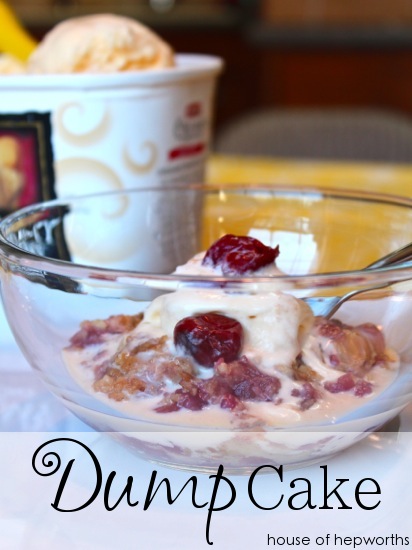 Enjoying it cooled off, or for breakfast the next day are also viable options. (Don't tell me you've never had leftover dessert for breakfast the next day.)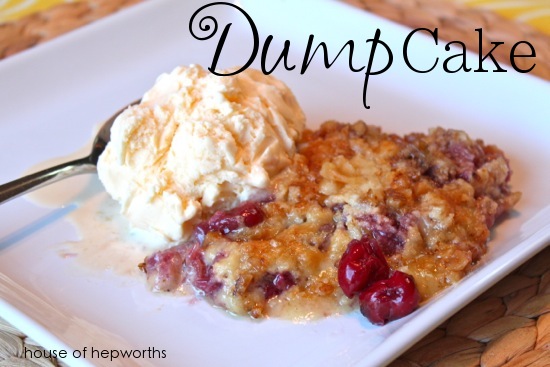 I received this recipe about 13 years ago from a co-worker at the credit union I was a teller at (did you know I was a bank teller before I had kids? I was.). Her recipe called for a dutch oven, and I was like, "what on earth is a dutch oven? I'll just bake it at 350 degrees in my regular oven because that seems like a good cake-baking temperature." Baking it in the oven is a piece of cake. 😉
Here's the exact recipe for your copy-and-paste convenience:
Dump Cake
www.houseofhepworths.com
1 Can Crushed Pineapple
1 Can Cherry Pie Filling
1 box Butter Cake mix
1 stick butter
1/2 C chopped walnuts (optional)
In a 9×12 baker, dump can of Crushed Pineapple, then dump can of Cherry Pie Filling on top. Mix together in baker. Sprinkle Butter Cake mix on top of fruit mixture coating evenly. Do not mix together. Slice butter into small squares and place all over the top of the cake mix. Sprinkle nuts over the butter slices. Bake at 350 degrees for about 45 minutes, or until the top is brown and the juices are bubbling. Serve warm with a scoop of ice cream! www.houseofhepworths.com.
Enjoy!