When I talk about my blog in relation to my life, I always say something is in my "blog life" versus my "real life". I don't do this intentionally, it's just that it isn't very often that these two worlds cross paths. Last Saturday I had the rare opportunity to have these two worlds come together and it was weird. Fun, and awesome, and weird.
As I mentioned Friday, I was asked (along with Beth from Free Stylin') to help celebrate the Grand Opening of the Kirkland's store in the Austin area. It was so fun to get to be a part of an event! They had a preview party the night before and several of my local blog friends came. We also got to each bring a guest to the preview party friday night, so I brought my (very pregnant) sister (I bet you can't guess which girl is my sister in the photo below! lol We look like twins).
Front Row: Kat (from Kirkland's), Annie (Jamie's friend), Jamie, Lindsay, Beth, Me, Jenn, and Lindsey (my sister)
Back Row: Danielle (from Kirkland's), Ruth (Lindi's friend), Ellie (Lindsay's friend), Lindi, Gina, Reeta (Beth's sister)
Kirkland's asked Beth and I if we would each bring a favorite holiday treat to the event on Saturday so on Friday we set up a tablescape with room for our treats. I think it turned out really nice! Good thing Beth is a pro at tablescapes.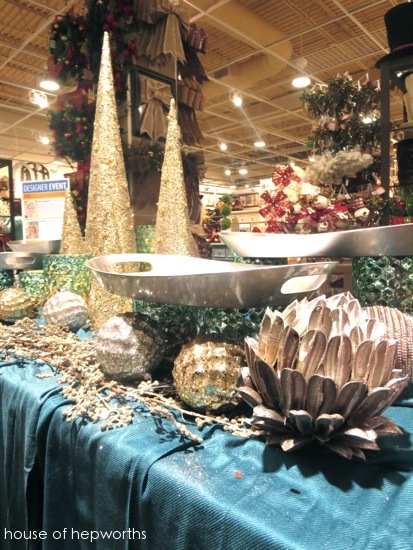 Here we are on Saturday during the event. Beth made 3 Ingredient Cookies and I made some Chocolate Bar Toffee that I will share with you guys later this week.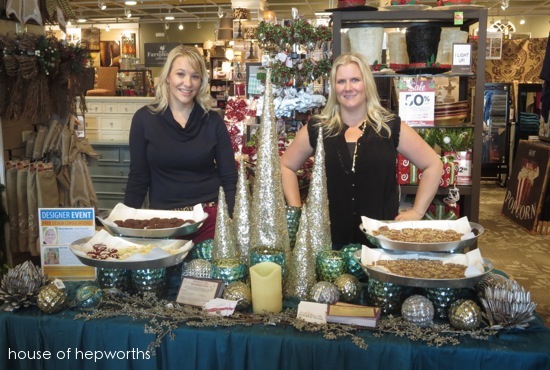 Kirkland's went all-out for Beth and I. They made some tags for us to "tag" our favorite things around the store.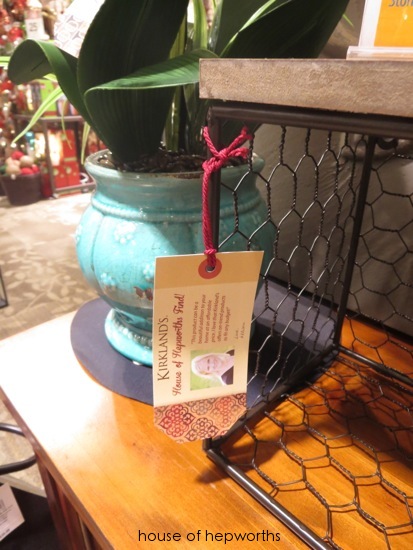 Here we are posing in front of all our favorite things. I chose the chicken wire shelf, the mirror behind me, and a big lantern next to Beth. (I ended up buying that mirror for my daughter's room!)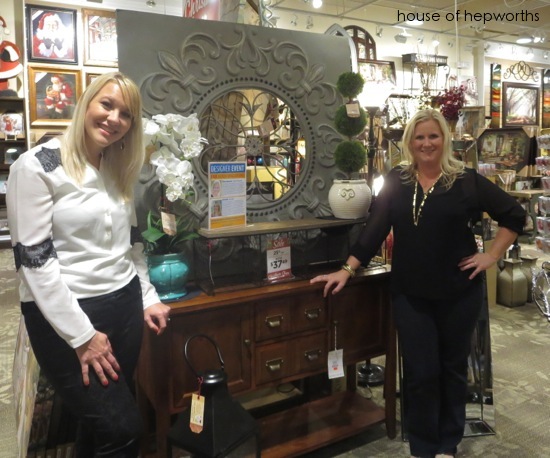 Kirkland's also printed out these flyers and placed them around the store. I laughed out loud when I read "Free Design Consultations!" because I certainly am not a professional designer. I do enjoy blogging about decorating my own house, but to see someone else consider me an expert had me in a fit of giggles (and totally flattered). I do honestly prefer just tinkering in my own home as a hobby though.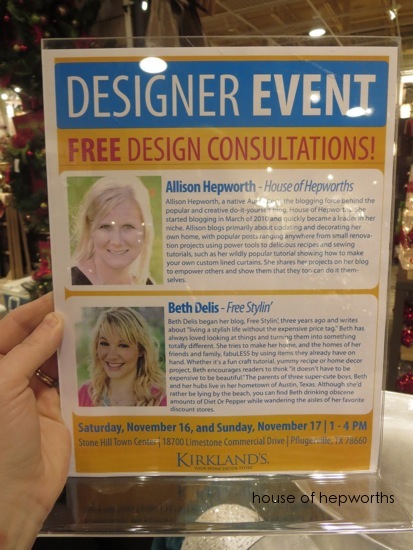 It was a really fun weekend and it was very exciting for this boring stay-at-home mom to be treated like a star for a couple days. I generally shy away from the spotlight, but I'll admit it was nice to be validated by such a big brand who I like so much. I have put a lot of time and hard work into this blog, so it was very exciting to be recognized for it. (I do feel extremely awkward even writing this post though because I get embarrassed by publicity and generally don't toot my own horn.)
When they asked me to be a part of the Kirkland's big Grand Opening event, I told them I absolutely would love to be a part of it, but under two conditions; 1) I wanted Beth to co-host with me, and 2) I wanted a gift card to give away to one of my readers. They happily obliged to both requests, so now is the fun part for you!
To enter the giveaway, simply follow the directions below which are very easy (leave a comment. Done.). I hate jumping through hoops for giveaways as I'm sure you do too, so I try to keep 'em light and easy. You're welcome. xoxo
PRIZE: One $100 gift card redeemable at any Kirkland's store, online or in person. One winner.
TO ENTER: Leave a comment on this post.
GIVEAWAY CLOSES: Monday, November 25th at 10pm CST
NUMBER OF WINNERS: ONE
PLEASE NOTE: The gift card is redeemable at Kirkland's stores AND online.
USUAL STUFF:One entry per e-mail address permitted. The winners will be selected using random.org and announced on Tuesday at the top of this post. Make sure you provide me with a legit email address, or I will select a new winner.
And as a side note, now that we are entering Black Friday shopping territory, I've scheduled another awesome giveaway for you guys tomorrow (a Silhouette!). So come back tomorrow to enter that one as well.