(I was one of the bloggers selected by True Value to work on the DIY Squad. I have been compensated for my time commitment to the program as well as writing about my experience. I have also been compensated for the materials needed for my DIY project. However, my opinions are entirely my own and I have not been paid to publish positive comments.)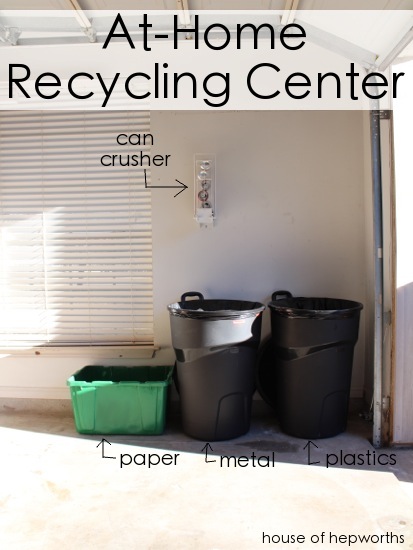 Our old house had curbside recycling. They would pick it up in a separate garbage can along with the garbage. It was so easy and I never thought much about it. We didn't even have to sort it! Recycling for so many years got me into the habit, and now I cringe if I toss something recyclable into the garbage.
Fast forward to our new house. This new house does not have curbside recycling. At first I didn't really know what to do with my recyclable material, so I just threw it away, which drove me nuts. I hate throwing away a perfectly good piece of plastic, metal, or cardboard when it can be recycled instead. Our earth has finite resources so recycling is a very easy way you can help make the earth a better place for future generations.
One day my daughter came home from school and started working on a craft. She asked me for a large box and some markers. I happily gave her the supplies she wanted and about an hour later she surprised us with our very own recycling container.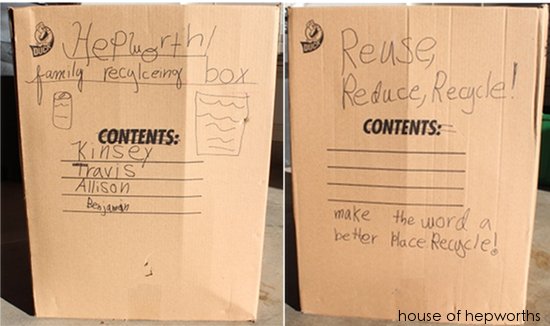 Apparently she had learned about recycling at school, and the child is very impressionable, so naturally she came home and immediately did what she could to help us be better at saving the planet. We started to fill the box, and once it was almost full I figured I'd better figure out where to drop off the items for recycling. A quick google search showed me several recycling facilities in the area. After a few phone calls I found out that each center is unique. Some take glass, some don't. Some take plastics #1 – #7, some only take up to #3 or so. Some charge you to drop off your collected items, some actually PAY YOU for your recyclable material. Obviously we will be driving to the one that pays us. 🙂
However, all the centers I called want all the items sorted before you bring them in. Our old neighborhood just let you toss all of it together into a bin, so this sorting business is new for us. Yes, it is slightly more inconvenient to collect, sort, and drop off the material, but it makes us feel better about all the trash we consume and throw away, and the kids are very motivated because I told them they can split the money earned from dropping off the materials each month.
To help us streamline the production I headed to True Value to pick up a few supplies.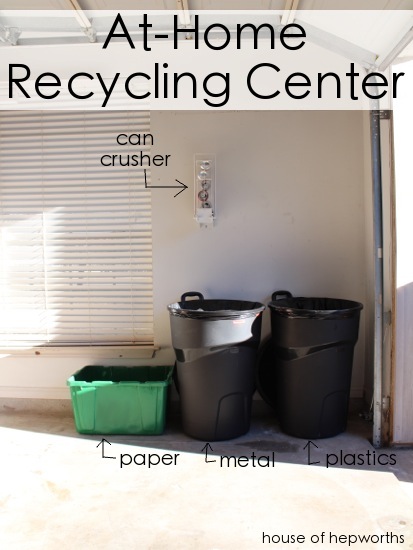 I already had the green container (the previous owners left it), but I needed a few more containers so we could sort the materials as we collected them. I purchased two garbage cans (these exact ones aren't on the True Value website, but here are a variety of other options) and I also picked up a very cool Feed & Eject Can Crusher for all the soda cans. If you crush them you can fit a ton more in your bag before it's full.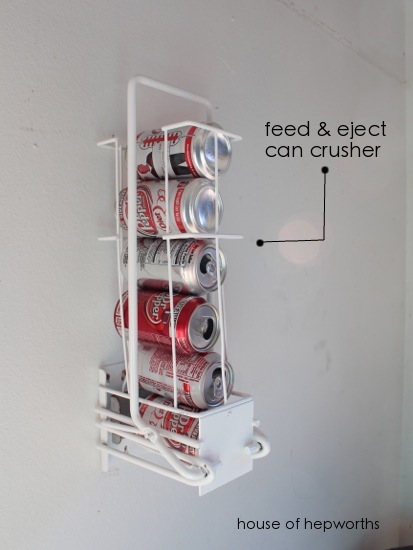 As you can see, we are partial to Diet Dr Pepper over here. In Texas they start you young on the Dr Pepper. 😉
I bought 2 garbage cans from True Value: One of plastics and one for metal.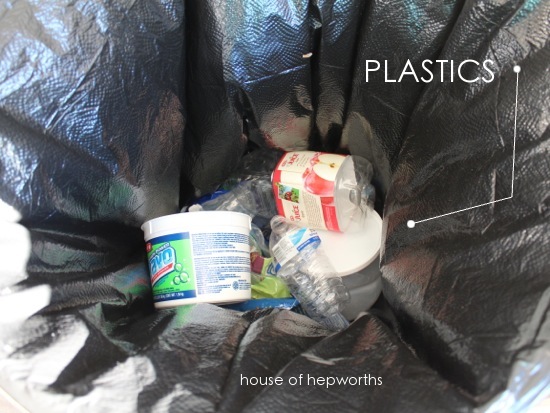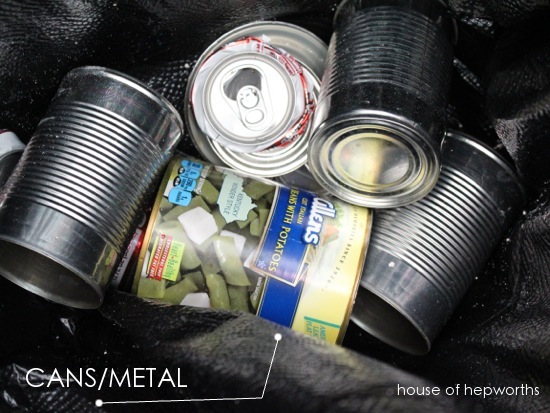 The green container I am using for paper, magazines, and cardboard. As the bin fills up I will tie each stack of paper into a little bundle. Collecting the paper for recycling also helps me feel less guilty about my magazine addiction (I get Us Weekly and BHG each month plus an obscene amount of catalogs).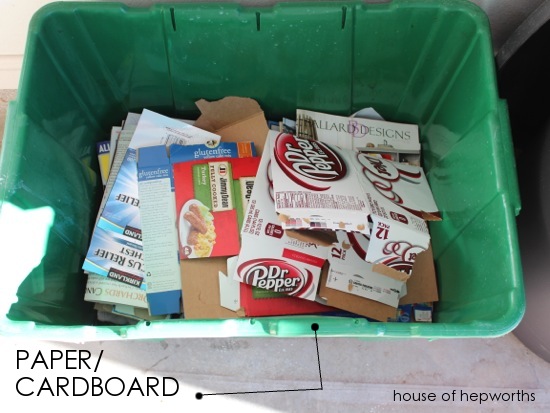 Once each container is full I just start a new bag and save the full ones for when I make the trip to the recycling center to drop everything off.
I don't have one for glass yet because our local center won't take glass. The closest place that takes glass is about 45 minutes from my house. I'm already feeling quite guilty about tossing the glass, so I'm sure I'll add a 3rd garbage can to the mix soon enough.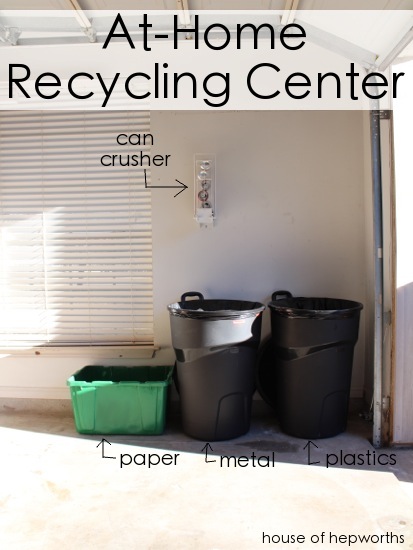 Does your city or neighborhood have recycling? If so, I am jealous! Do you recycle? What tips and tricks do you have that make it easier for you? I would love to have a few more ideas for streamlining my system and making it even better!