In addition to renovating completely gutting and starting over in our kitchen, we are also replacing all the flooring in the common areas of the house (kitchen, entryway, family room, dining room, hallway). The majority of the house has tile so it had to be removed first.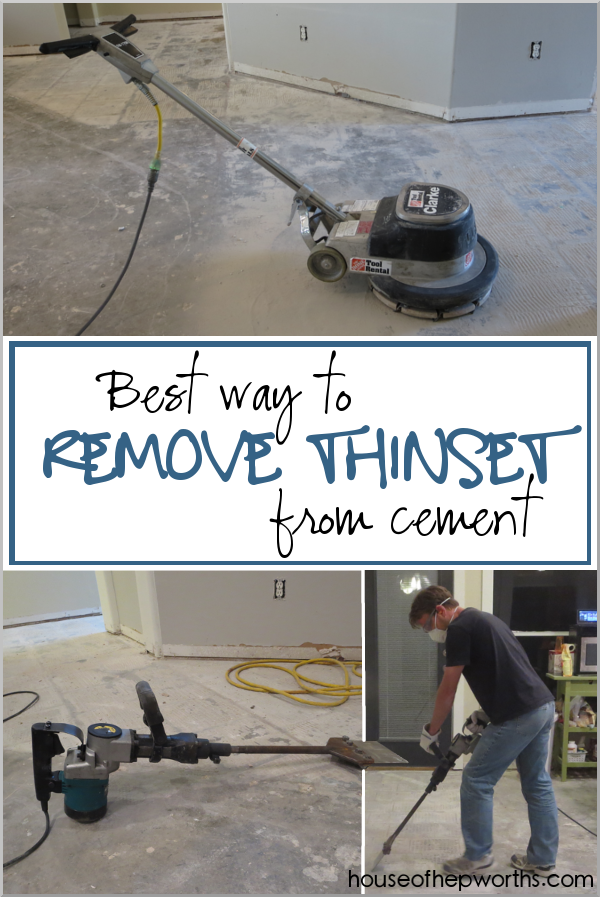 Ben and our son, Travis, spent several days with sledgehammers breaking up all the tile.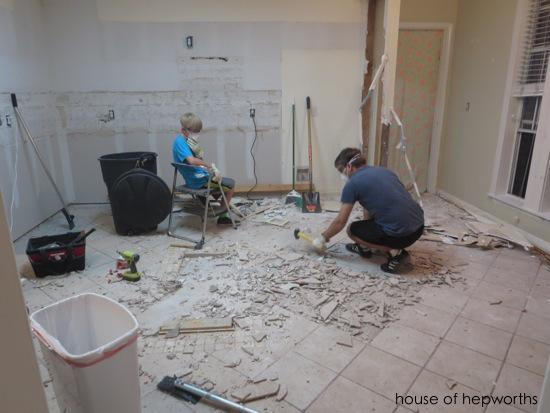 We were then left with thinset under the tile, adhered to the cement foundation. Thinset is an adhesive mortar made of cement, fine sand, and a water-retaining agent. It is usually used to attach tile to cement.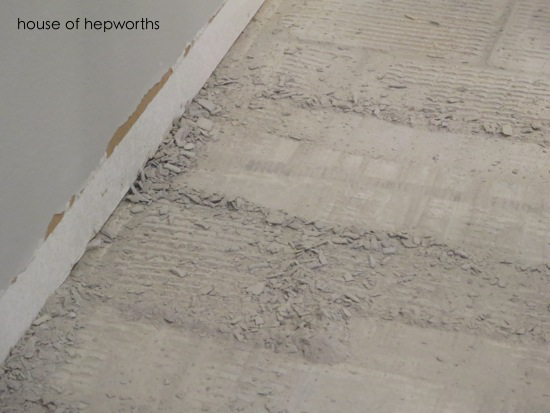 I did tons of research online and read a bunch of forums and everything I read said to rent a chipping hammer with a scraper attachment, so thats exactly what we did.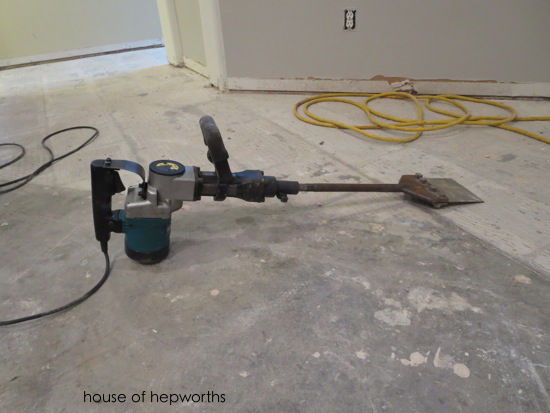 After clearing out all the tile it was time to start chipping the thinset off the floor. We even found a few youtube videos of the chipping hammer in action and it seemed like a slam-dunk. We were naively excited about this project and thought we'd chip it all up and be done in time for dinner.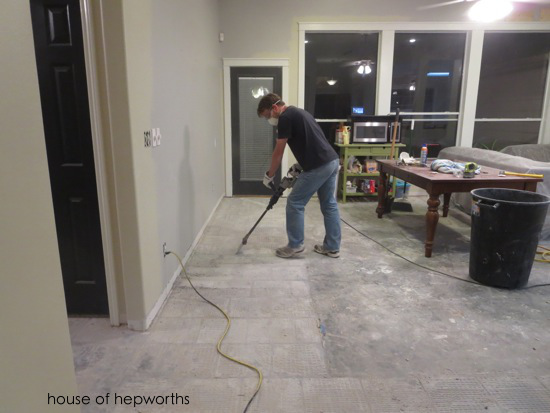 Um… ya, NO. Ben and I both spent a couple hours with this chipping hammer and pretty much got nowhere. We did a small patch, probably around 6 sq ft worth of flooring. I'm sure the chipping hammer is great for other applications, but for removing thinset it was a big fat FAIL.
We called our builder, John, who is overseeing this entire kitchen renovation production and he said he'd send a guy over. Long story short, a crew came over to remove the thinset and brought with them a… chipping hammer. And, like us, they got nowhere fast. So they came back a few days later with this bad boy: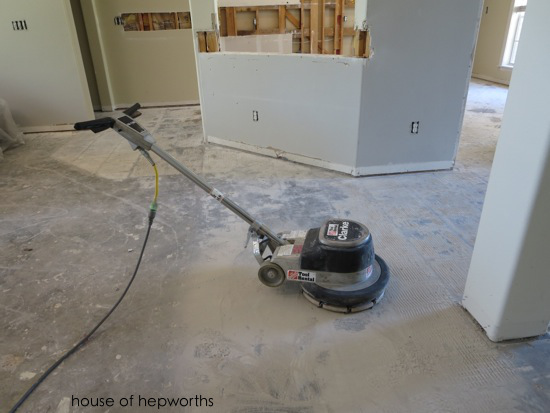 This is a buffer tool called a Floor Maintainer. They attached a special disk to the bottom called a Diamabrush.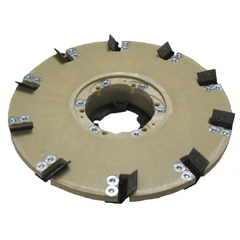 This buffer not only removed the thinset, it pulverized it. I don't understand why during all my research NOTHING I read suggested renting this tool. It made removing thinset a breeze. If we had known how EASY it was to remove the thinset using this Floor Maintainer we would have probably just done it ourselves and saved the $500 we had to pay to have the work done for us.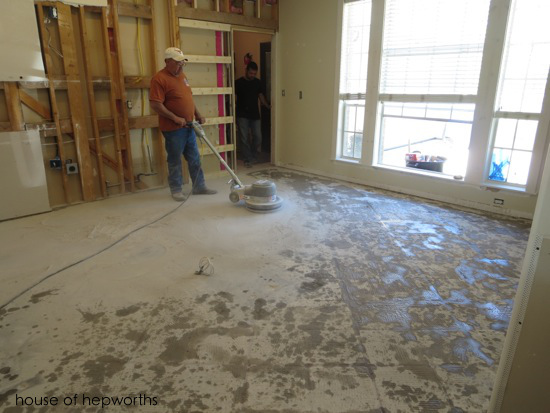 The only negative to using the Maintainer is that it created a huge amount of sand-like dust on the floor. Of course, it wasn't any worse than the little bits of thinset flying all over the place when we tried the Chipping Hammer. And believe it or not, the drywall removal and repair caused way more dust in the house than all the other work combined.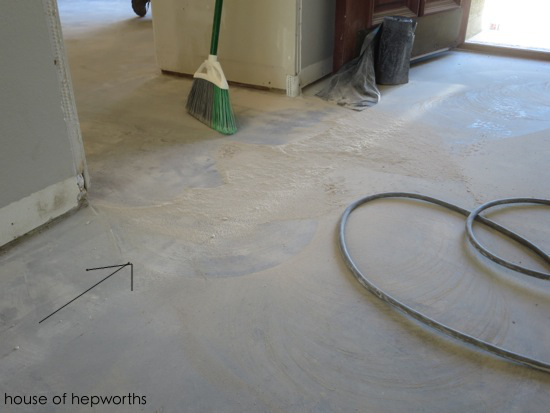 For a moment there I felt like I was in a Trading Spaces episode and Hilde had decided to turn my kitchen into a beach oasis by pouring sand all over the floor.
Now my floor is clean and smooth and ready for hardwood!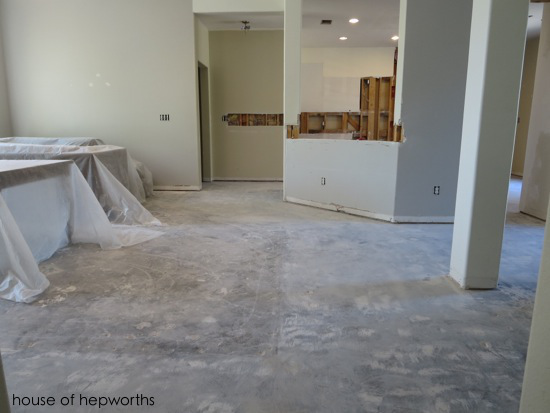 We aren't actually putting down the new flooring until the kitchen is mostly complete, so it will be another several weeks before we see a pretty new floor in here. The flooring company wants to put it in last to avoid other work crews coming in and out possibly damaging it.
So, the moral of the story? Ignore the internet at large and rent a Floor Maintainer with a Diamabrush instead of their recommended Chipping Hammer. You are welcome.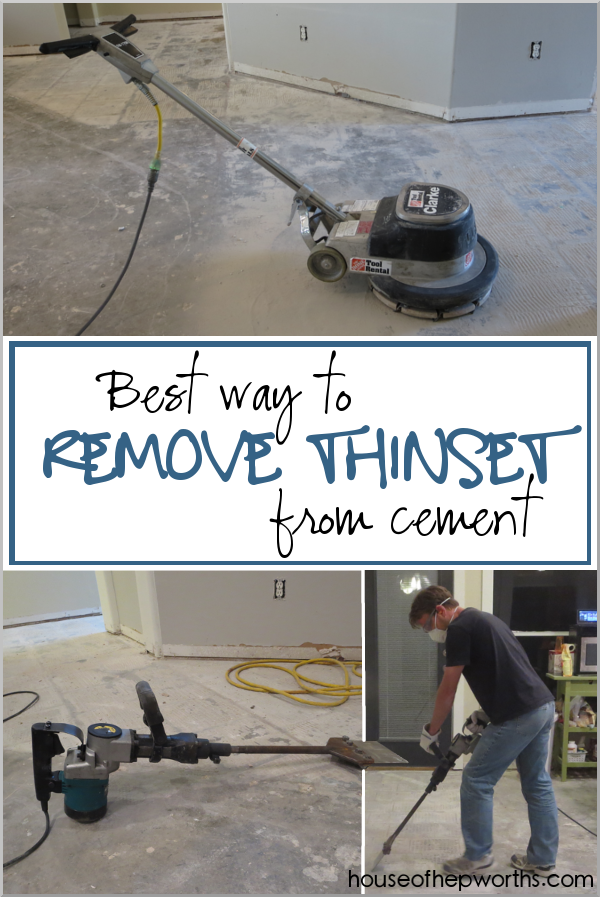 Instagram || Facebook || Pinterest || Youtube
Thanks for reading! Have a wonderful week!