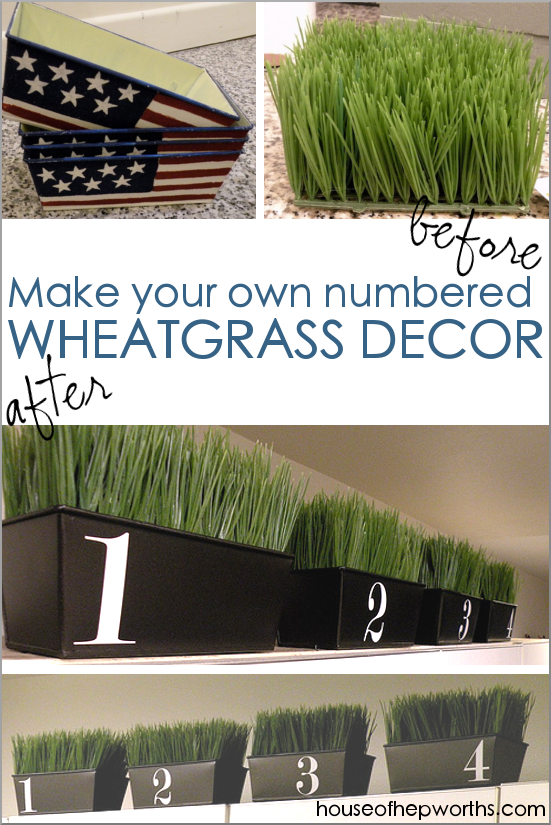 Anyone remember these hideous things from last month?

(I've got nothing against America, just these awful containers.)
They had this gritty texture on them similar to sand paper. After about 2 seconds of scraping I figured out if I soaked them the gunk came off quicker.

(Ewww – look how gross they made the water…)
After I got all the yuck off them I washed them and let them dry.
Now the fun begins!!
Spray paint! Two coats of Flat black followed by a coat of Oil Rubbed Bronze.
Yes, that is a vinyl sticker (you guys are just too sharp, aren't you?!)!
If you guessed that the vinyl is going on the newly painted tins, you are correct! 🙂
First I figured out where I wanted them to go.
And then I just applied the vinyl.
I'm getting excited just looking at them and they aren't even finished yet!! Just wait for it… these are so cool when I'm done!!
I love how I spaced out the numbers on the tins. The 1 is on the far left, the 4 is on the far right, and the 2 and 3 are off center.
Now the floral foam:
Each tin needed a block of foam. I cut each piece of foam stuff to size with a bread knife.
And now for the big exciting part that I've been tweeting about for weeks…
FAKE WHEAT GRASS!!
If you follow me on Twitter or Facebook then you KNOW I've been thrilled about my fake wheat grass. I talk about this grass all.the.time.
Fake Wheat Grass is NOT cheap
(well, that's all relative though, isn't it?!).
I scoured the internet and found it for $8.95 a square (I needed 3). I found it HERE. (After shipping my bill was $33.49. NOT cheap.)
I figure it's an investment because I love the end result so much that I plan to keep these around for YEARS.
Next I cut each square of wheat grass to fit. I didn't even use adhesive. They are just sitting there.
LURVE IT!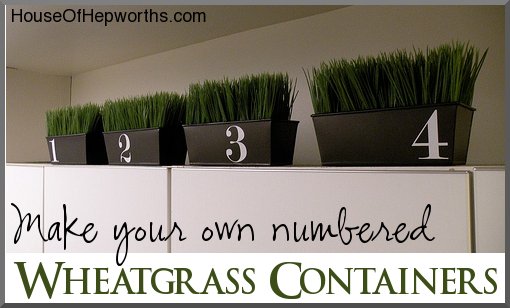 I know exactly where I want them to go – on top of my kitchen cabinets!
(I hate having to clean my kitchen for photos! :D)
(Why does my apartment have to have such horrible lighting?!?!)
Okay, I'm dying. I outdid myself. Even I didn't think these would turn out THIS. AWESOME.
From Country America:
To rockin' awesome wheat grass containers!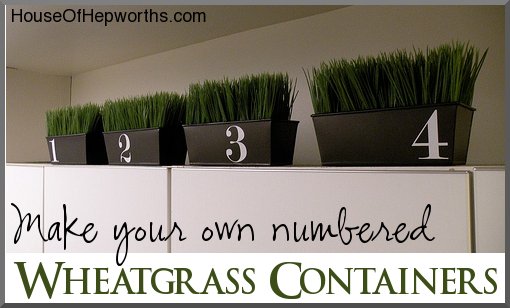 Would you even believe those containers could look so good if you didn't actually see it for yourself?!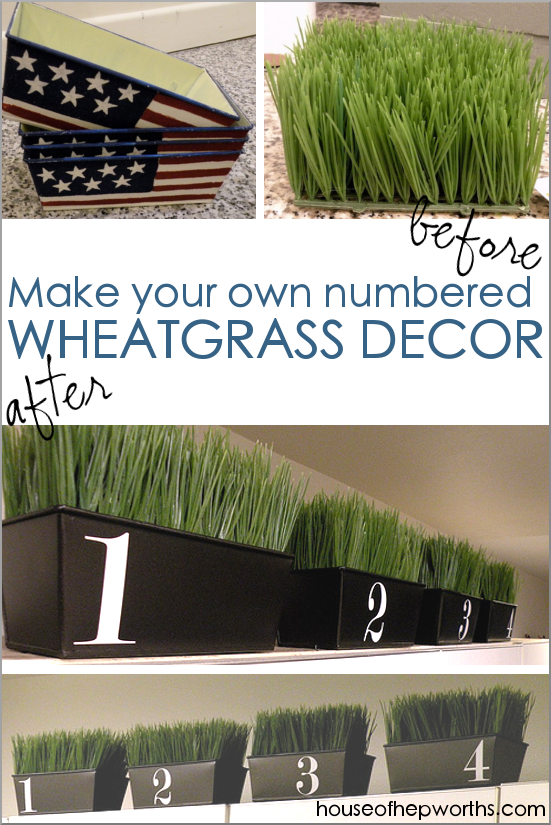 Me neither.
Welcome to my new favorite project!!!!
(Sorry soap pump and cloche, you just got bumped).


Instagram || Facebook || Pinterest || Youtube
Thanks for reading! Have a wonderful week!