Check out this fabulous Cheese Dome Cloche! This amazing home decor centerpiece is made from a thrifted cheese dome and a candle stick!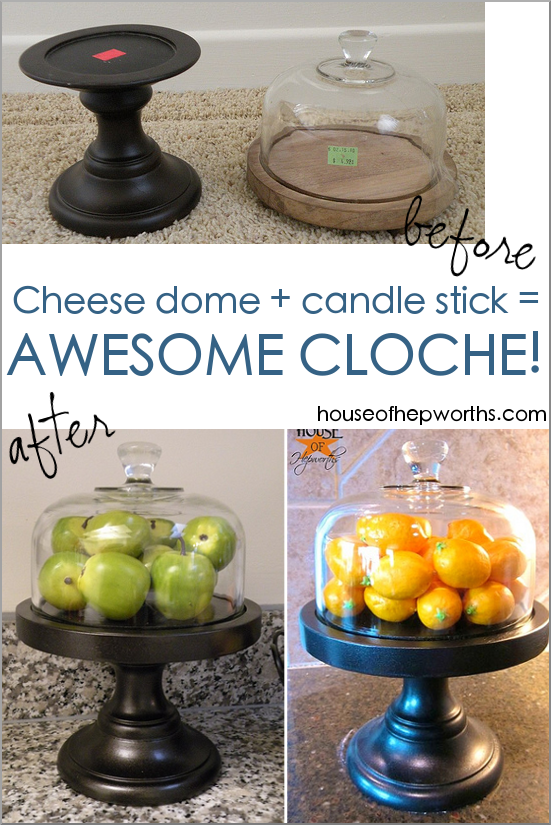 Total.Score. I finished my cheese-dome-turned-cloche. Isn't she purdy?
I am so in love with how this turned out. So in love.
I bought the cheese dome and candlestick at goodwill.
I removed the top of the candle stick (I've used it for another project that I'll post soon!) and also removed the feet of the cheese dome and puttied up the holes with wood filler.
Then I used Gorilla Glue to attach the base of the candle stick to the bottom of the cheese dome base. I used painters tape to hold it all together while it dried.

I glued this project together with Gorilla Glue.
Once it was all dry I spray painted it with ORB paint. It didn't look very good though and didn't seem to cover very well. There were lighter patches all over.
So I spray painted it again with gloss black paint. That seemed to coat better and look more even. Once the black was dry I then used the ORB again on top of the black as more of a top layer. I LOVE the metallic shimmer from the ORB.
Ahhh, much better…
Remember those apples I found at goodwill?
I took them and cleaned them all off with a Clorox wipe…
…and then I added them to my new cloche.
I knew I'd love it, but I didn't think I would love it THIS. MUCH.
Seriously. Not to brag, but can you even believe how amazing this is??
It wasn't even difficult or hard to make. All in all I spent $4 on the cheese dome, $2 on the candle stick, and a few bucks on spray paint that I've used for several projects.
The thing is, anyone can do this. For serious. Anyone can do it. If you can spray paint evenly and glue things together then you can do this. All you need to do is find some cool stuff at goodwill and use a little bit of imagination. Go out and make one of your own!! You can do it! And if you need any help at all, please don't hesitate to email me.
Did I mention that I LOVE my new cloche?


Instagram || Facebook || Pinterest || Youtube
Thanks for reading! Have a wonderful week!
~*~*~*~*~*~*~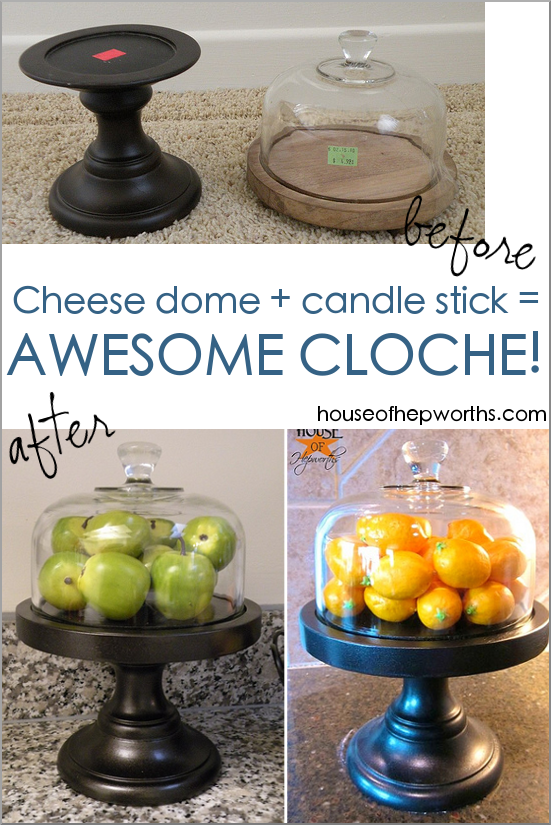 UPDATE: 04/04/2010
My idea came from Blue Family Scene.