Don't forget to sign up for this weeks giveaway. It ends today. (Thursday)
It's that time of the week again!!
I can't wait to see all the fun projects you have been working on!
Here are my favs from last week…

Savvy Southern Style wanted Ballard Design shades, but they were too pricey so she made her own! Love the red!

Googie Momma not only decorated her hallway, but made it an organizational space for her children.

A Little Lovely made an ampersand pillow. I NEED this pillow.

The Pleasures of my Life got her pantry organized and CA-UTE! Lime green, baskets, and labeled glass jars? I could live in this pantry.
I must be in a patriotic mood today because these next two are Flags. Great ideas for the 4th of July!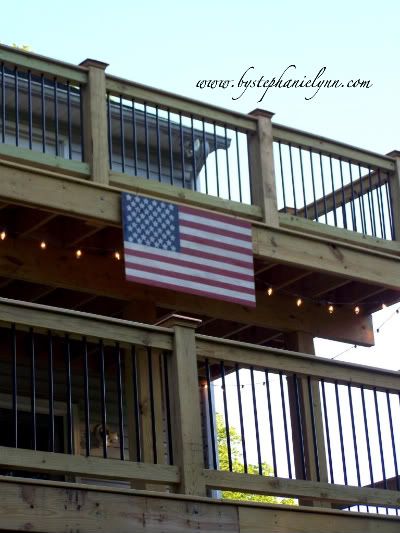 Under the Table and Dreaming hand-painted an American Flag and hung it from her balcony.
All Thingz Related made this cute Americana-style American Flag. This is not usually my style, but for some reason I'm just totally loving this!
If you've been featured today, grab a button if you'd like.
Next Thursday I'll post my favorites from this weeks party, so make 'em good!
~*~*~*~*~*~*~*~
Post about anything you've done this week.
* Put a link to my site somewhere on your blog so others can come party with us! For those that link to me, THANK YOU!
* Link directly to your post, not your blog. If you want to link to your BLOG, click HERE and link away! This par-tay is for specific links only. Sorry. (Not really).
* If you post spam junk I will be forced to delete it. Don't waste my time!
Ready. Set. Post!
~*~*~*~*~*~*~*~
*If for any reason your link wont post, please put your link(s) in my comment section!*