So… I got a new shelf.
So cute, right?! I know!!
I got it at a certain over-priced thrift store that I'm refusing to name anymore because I think they are way too overpriced considering all their stuff is DONATED to begin with. So I'm not giving them any more props on my site until they stop charging premium prices for crap people didn't want anymore and gave to them…
So I got this shelf for $14.99 at previously un-named thrift store.
However, it originally came from The Great Indoors for $39.99, so I suppose I got a decent deal.
I'm sure I would have paid like $5 if I'd found it at a garage sale, but whatever. I like it and I needed a FLAT SURFACE in this place. (See rant about my red stand.)
Okay, so obviously I'm me so I've done something crafty to this shelf (if the white behind the price tag didn't give it away already).
Here's the shelf the day I bought it:
It's already pretty cute just the way it is. I love the scroll design on the back! I've got a few issues with this shelf though.
A) all my decor that I'm going to set on top of the shelf will cover up the beautiful scroll work
B) I don't want pegs because then I'm going to feel the need to find something to hang from them and also the thought of my kids hanging stuff on the pegs thus knocking the shelf off the wall causing all my breakable decor to fall to it's death isn't a thought I'd like to follow through with.
A modification is in order! Yay! You know what's more fun than shopping at thrift stores? Taking my junk, modifying it with spray paint and other random supplies, and making my junk awesome!
First thing I did was pull all the pegs out.
Don't panic! I KNOW what I'm doing. Maybe. I hope. This project has the potential to go south very quickly.
Next I took some wood filler and filled all the holes left from where the pegs use to live.
After the wood filler dried I sanded it really well and made it nice and smooth.
So the next thing I want to do is hang my shelf upside down on the wall. Yes, I really did just say upside down. What use is that great scroll work if I can't show it off? I need it at the bottom of the shelf, not the top.
To do this the first thing I have to do is remove the brackets on the back and put them on the opposite side of the back of the shelf. I took a mini screwdriver and removed the little brackets, saving the tiny screws and brackets because I'm going to re-use them.
I then flipped the shelf over and decided where I want the new brackets to go. I used a ruler to make sure they were perfectly straight on either side. I'd hate to put them at different heights and have my shelf hang wonky. Yup, wonky. Don't hate! I'm a Texan. I'm allowed to say words like wonky.
Remember this picture I just showed you?
See how the wood is carved out? When you hang your shelf on the wall the screw sits in this open space behind the bracket. If you don't carve out this space these brackets wont work. And if you use other brackets your shelf wont sit flush to the wall. So I've got to figure out a way to carve out a space where my brackets are going.
I'm sure there are tools designed for this, but I don't have any so I had to improvise. I decided to use the largest drill bit I've got on hand and just drill several holes next to each other until I've got a hollowed out space the right size.
Fun tip! Figure out how deep you need your drill to go (you don't want your drill going all the way through the shelf and showing from the front. That would be tragic!) and put a piece of painters tape around the drill bit. That way when you drill, you can stop drilling when the tape reaches the wood. Now you won't drill too deep!
Once my holes were drilled and I attached the brackets, I took the shelf outside and spray painted it FLAT BLACK and then a top coat of OIL RUBBED BRONZE (ORB).
Now I'm ready to hang it!
I committed a serious builders faux pas – I used long plain nails to hang my shelf. Normally you should use anchors and screws but I'm moving soon and I didn't feel like semi-permanently attaching the shelf to the wall. Laziness. Pure laziness. And also I really don't want a large hole in the wall when I rip the bracket out when I move because then I'd have to putty it up.
She's rearing and ready to go!
This is my favorite part! Now everyone can always see it and it won't be covered up by my stuff.
Here's how I decorated it the day I took the pictures, but since then I've already changed it up a bit. Don't worry, I'll show you more pictures of it updated in due time.
Do you recognize the little white vase with the orchid in it? Or maybe my IKEA plant? What about the decor balls? I'll show you those jute jars in a future post. The large glass vase I bought at the Thrift Store that I'm not talking about.
Do you recognize the plant container hanging on the other wall?
This is the entry way to my apartment. Next to the yellow vase on the right is our front door. On the left is a 1/2 bath. When I say the entire apartment is granite – The entire apartment is granite. Granite is great and pretty, but seriously? There is a limit. Counters, floors, fire place surround, back splash… Do you realize now why every.single.post. I make has granite in it? This apartment is granite overkill!
Aside from where I hung my H Plate, this hallway is the 2nd worst lit spot in the entire place. Even the sky lights don't help. Hopefully you can appreciate the shelf in spite of this lighting!
One more time, just for fun!
Before:

After:

Here's an updated post with how I'm using it now!
Thanks for taking the time to read my blog! I seriously love all of you!! Your support means so much to me. I'm grateful there are so many amazing people out there who actually like my junk.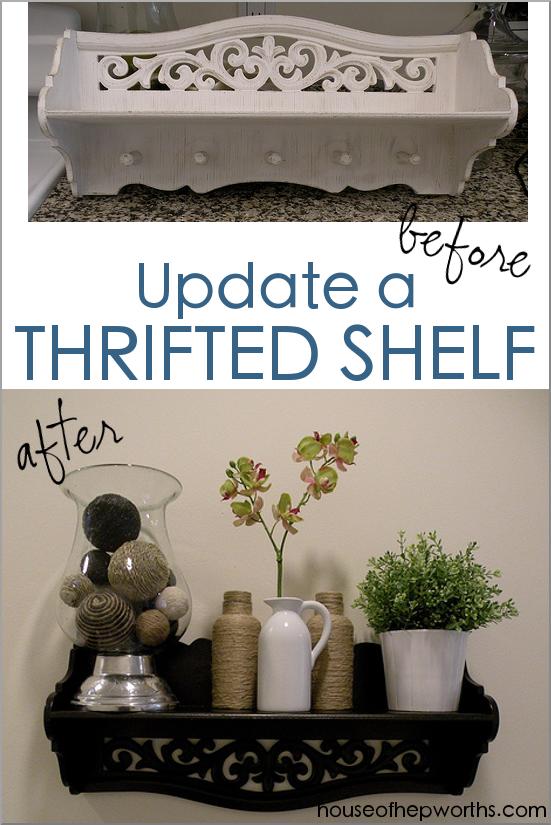 Instagram || Facebook || Pinterest || Youtube
Thanks for reading! Have a wonderful week!