Eleven years ago my hubbs and I were given a cooler for a wedding gift. It is definitely in the "top 5 best wedding gifts" category. It has gone camping, on road trips, to football tailgating parties, kids' soccer games, and the lake. It has even traveled with us around the entire USA while we made road trips from Texas to new homes in New Jersey and California.
Unfortunately our cooler is now old and faded. A shell of what it once was. It is so sun damaged and scuffed up, but it is such a great cooler that I couldn't bare to part with it and buy a new one. No use throwing away a perfectly useful item.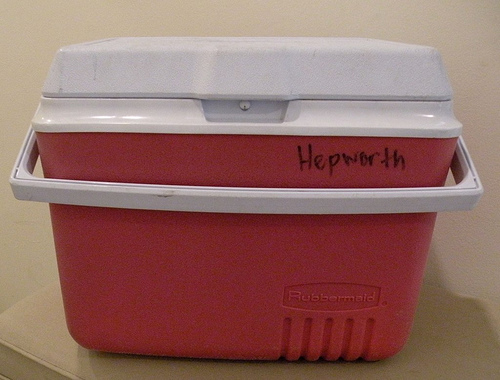 Poor thing has seen better days.
So what is a crafty girl to do? I can't be seen with such an awful looking cooler. I do have a reputation to uphold here. 😉
After almost a week of drama with this cute little thing, here she is now. Brand new and better than ever.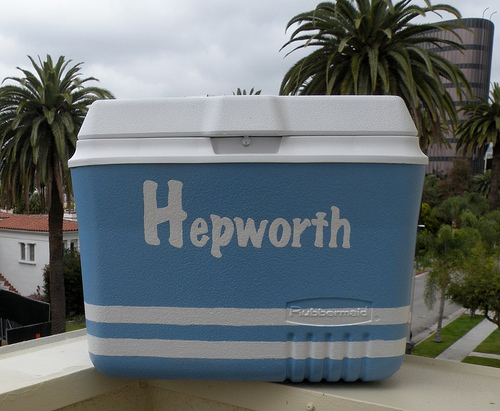 Adorable.
Here's how she came to be…
I started with this. Pretty faded and gross.
Definitely in need of a good makeover. I can't be seen on the soccer field with this atrocity.
First thing I did was taped the entire inside of the cooler with paper and tape. I didn't want any paint getting on the inside. Then I took spray paint primer for plastic and primed the entire cooler really well.
Once the primer was dry I took white spray paint for plastic and gave the top several coats. I wanted the top really bright white.
When that was dry I covered and taped the top really tightly. It's now time to paint the body of the cooler.
And this is where my trouble begins…
I had visions of a tangerine and white cooler. You know I love orange. And I could just see this beautiful orange cooler at all the soccer games. In my mind, it was beautiful.
I could totally picture it full of bags of oranges like the ones Michael Scott stole from the baseball game.
In reality, it looked like something you'd see at a construction site.

Not exactly what I'd had in mind…
Back to the drawing board.
This go-round I decided on Rust-oleum's Spa Blue spray paint.

I can live with this.
Stencil time! I was originally going to make a stencil and just spray paint over it.
I used Freezer Paper and cut out a stencil. However, after some thought I realized that with all the texture on the cooler the paint would most likely bleed under the stencil and get ruined.
I still used the stencil, but instead of attaching it and painting, I just attached it and traced my image with a pencil.
And now for the really fun tedious part. Hand painting.
Yup, I'm a lefty. My big claim-to-fame.
After one coat, it looked pretty pathetic.
But after FOUR very tedious time consuming testing-every-last-drop-of-patience-I-have coats, it is done.
And I love it.
But it's missing *something*.
As if hand-painting four coats of "Hepworth" wasn't torture enough, I decided it needed some racer stripes.
I taped off my stripes, painted one coat, and peeled the tape off. It bled pretty bad, so I had to hand-paint the remaining three coats and do some touching up.
About five seconds after I started the stripes I made the decision that they would look great on the front only. 😀 They were a major PITA to paint!
I think the only thing missing now are the tube socks.
Fall soccer season, Bring It!