* The updated framed artwork can be found here *
Do you remember when I showed you all that crap I got at Goodwill? It was all from Target and was brand-new, but for some crazy reason was being sold at Goodwill.
One of the awesome scores were rolls of vinyl for only $.99 a roll!
I used one of the phone vinyls to make my Custom Phone Wall Pop Art for my sister for her birthday.
Another vinyl pack I got that day was a pack of 4 chairs.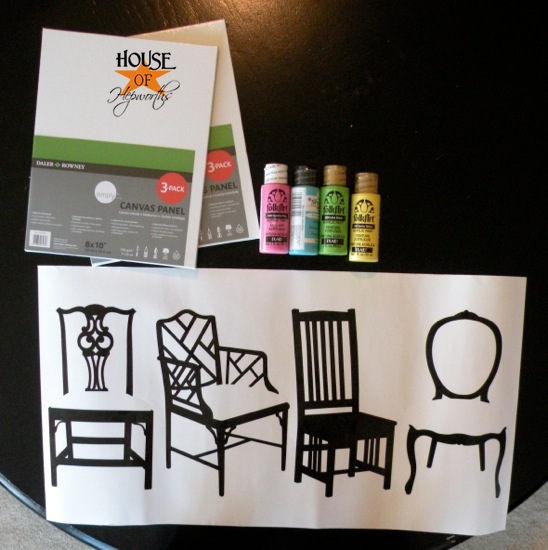 I am really trying to enjoy color more around here at Casa de Hepworths, so I decided it would be a lot of fun to make a set of Andy Warhol inspired pop art prints.
I needed 4 canvases, but canvases are expensive (like $8 each!) so I compromised and bought some flat canvases from Wal-Mart in a 3-pack for about $4 a pack. Since I needed 4 I had to buy 2 packs but I'm sure I'll find a use for the extra two.
I also bought 4 tubes of acrylic paint at about $.79 each.
The colors I bought are: Folk Art brand – 2553 Lime Green, 509 Sunny Yellow, 2233 Parisian Pink, and Shiny 2710 Calypso Sky.
I just squirted a blob of paint onto the canvas…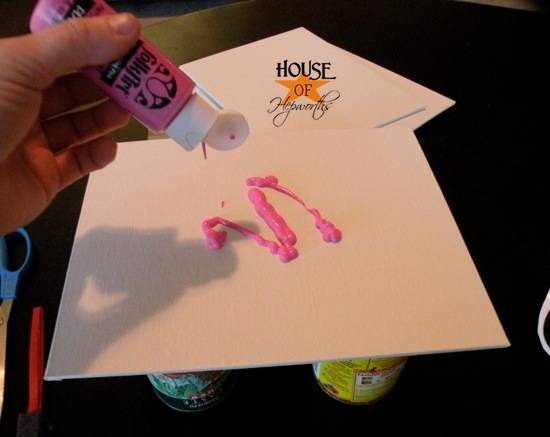 …and then painted it smooth.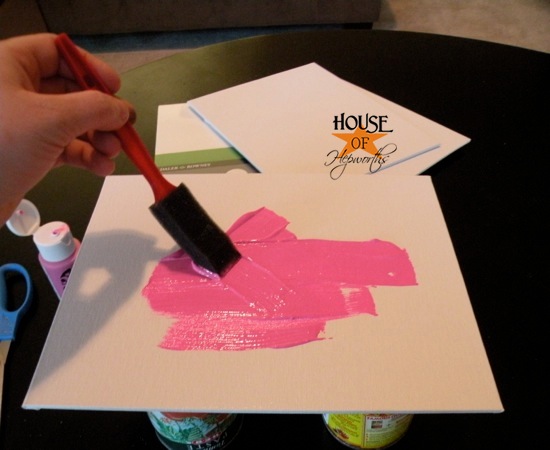 I did two coats on each canvas.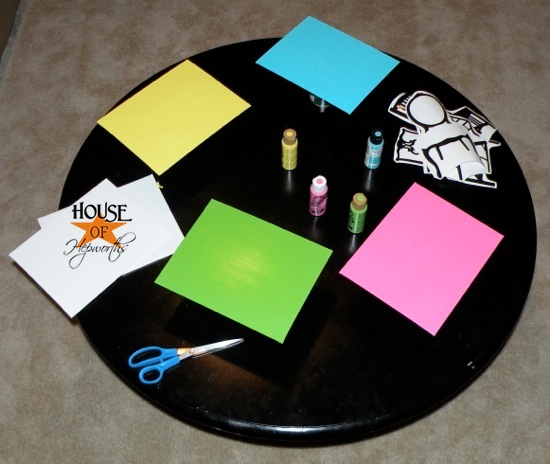 I rested them each on top of a can of soup so the edges didn't stick to the table as well as get paint all over the table.
Next I figured out which chair I wanted on each canvas: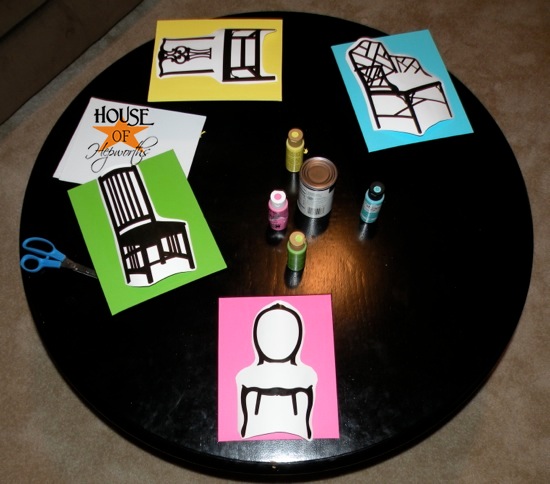 Then I peeled them off the paper and stuck 'em on.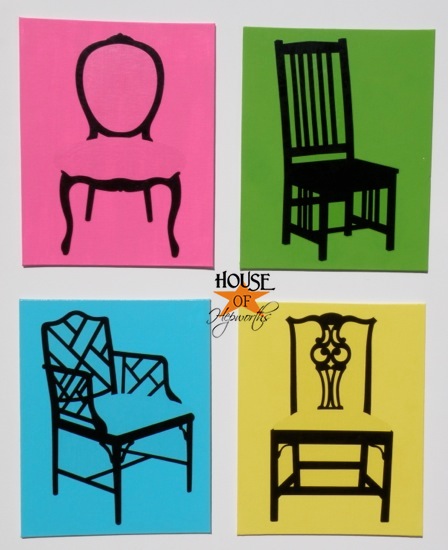 One (of the many) reasons I love these prints is because the vinyl has a beautiful embossed design on it that you can only see from the right angle.
I wanted to show you the design so I took a close-up with the flash.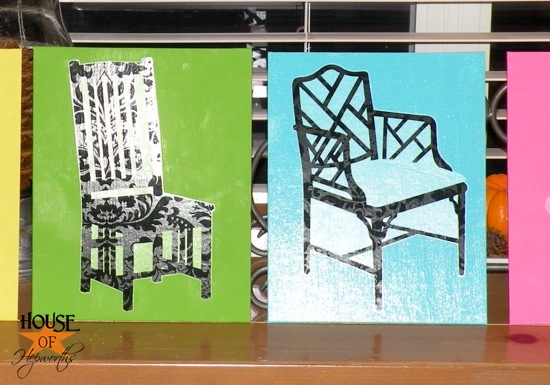 When these were finished I literally sat and stared at them all.night.long. with a grin from ear to ear. They just make me feel so HAPPY.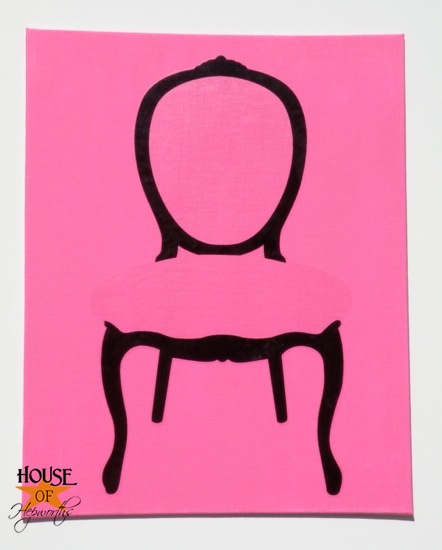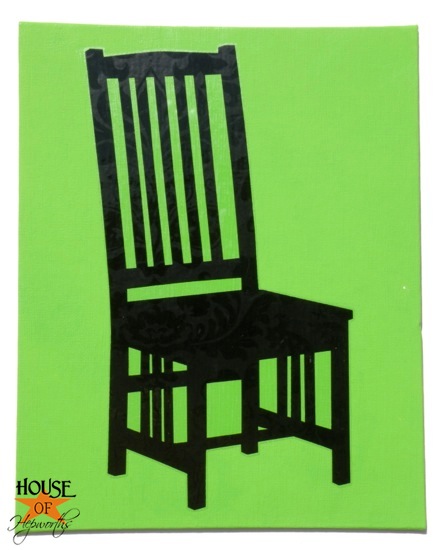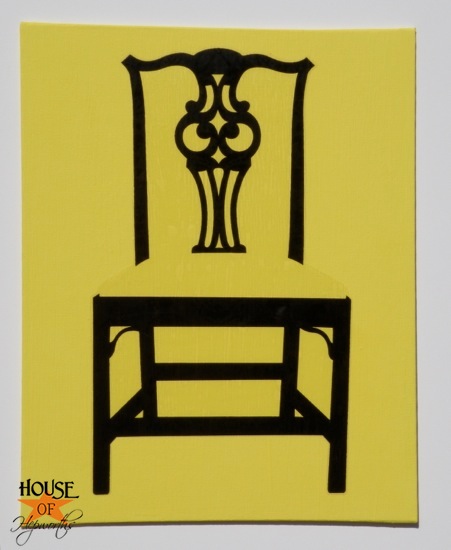 My long-term plan is to put them in my dining room, maybe on a shelf on a hutch. BUT, considering I don't even have a hutch or any dining room furniture for that matter (the room is bare at the moment) it may be awhile before these cute pop art pics find a permanent home.
I just love them though! Vinyl is so much fun!!
I love anything Andy Warhol inspired.