Hi HOH readers, I am excited to be here today to introduce myself
while Allison is on vacation!
I'm Elizabeth, from
The Mustard Ceiling
. The Mustard Ceiling is my blog dedicated to my obsession of interior design, and do-it yourself projects and other daily musings.
I guess you could say I was destined to be a designer. As the daughter of a Realtor and a conic renovator, I grew up surrounded with sawdust and paint brushes. This fueled my love of interior design and at 13 I had found my calling. From a young age, many hours were spent scouring design magazines for inspiration. In 2005, I graduated with a degree in interior design and have been loving it ever since.
I started The Mustard Ceiling, in January, 2011, as a way to connect with other design and DIY enthusiasts.
My husband and I moved to New Mexico in 2008, and have been renovating our 1950's brick rancher ever since.
Here are a few of projects the projects we've tackled:
Our Dining Room
Now
Before
My husband built the wainscoting, which made all of the difference in this room.
Earlier this spring, I felt like our dining room needed more color.
I incorporated coral into our dining room by:
1. sewing burlap drapes with a coral border
2. DIY coral ikat fabric
This really made the room pop.
One of my favorite projects is my stenciled ikat fabric.
I decided to make my own after I found out the fabric that I loved was on back order until July.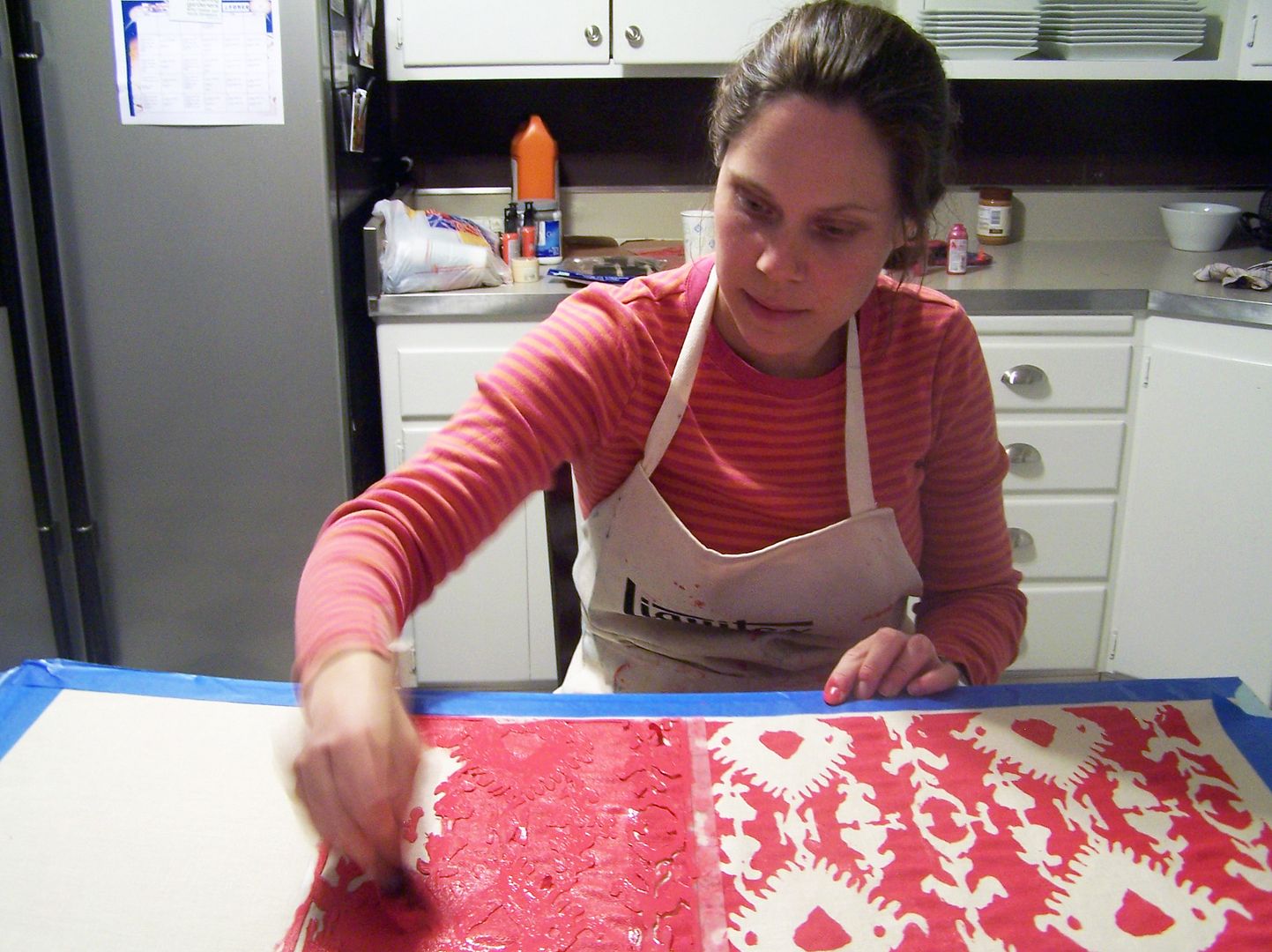 Stenciling the ikat fabric
The final product
I love our master bedroom, it is one of my favorite rooms in our home.
When we moved into our home I knew that I wanted a dark, chocolate master bedroom. The rich, dark walls, paired with my husband's handsome bedroom furniture made a great starting point for our design.
To complete our master bedroom design I wanted a chocolate geometric rug . I searched and searched, scoured the internet for hours to find the perfect rug, for the life of me I could not find the right rug. Finally, after many frustrating hours on the internet, I decided to make my own.
Click here to see how I did it.
Master Bedroom Before
To see more Before and After's of our renovation, click here.
Thank you Allison for having me today to share some of my favorite projects.
I hope to see you over at The Mustard Ceiling!