There's been a hitch in Ben's crazy post (as mentioned here). Isn't that always the case? You announce something beforehand and it blows up in your face?
Hopefully I'll have that post out within a day or two. But for now, I'll show you the boy's new bedding.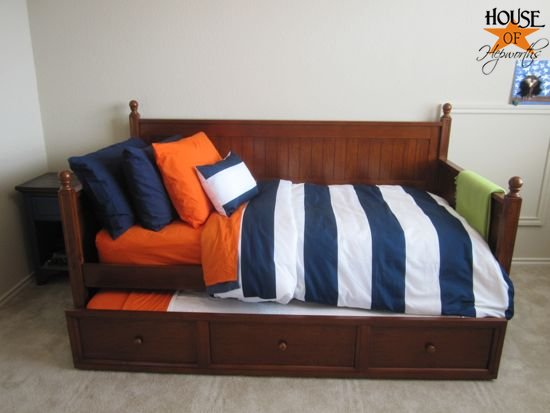 I've been working on his room a little here and there (between K's room and the laundry room).
Honestly, I'd love to just start a room and then actually finish it before starting on another project, but I just can't help myself. It's like I need 10 different things going on at once. That way I'll never get bored with just one project.
Let's start with the orange sheets.
I wanted the ones from PBTeen: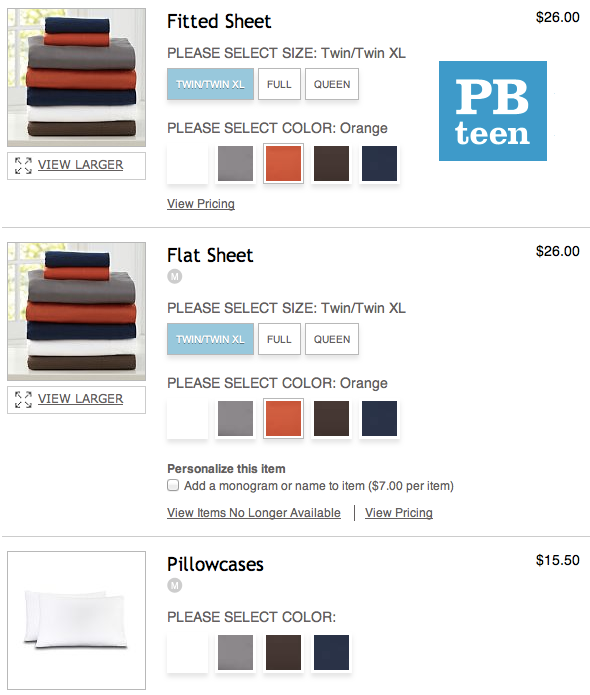 But as you can see, besides being totally out of stock on orange pillowcases, the set was $67.50. And I needed/wanted 3 sets. Ya, never going to happen.
Even if I won the lottery I'd still have a hard time spending $67.50 on one set of sheets for a 10 year old.
I'm wired way too cheap I guess. And I guess you probably are as well if you keep coming back to HoH for more.
So like I mentioned in my last bedding post, I found orange sheets at Wal-Mart of all places, for $15 a set! Much better. I can breathe again.
The sheets are holding up great and I've been impressed with them.
Now for my favorite part, the Duvet!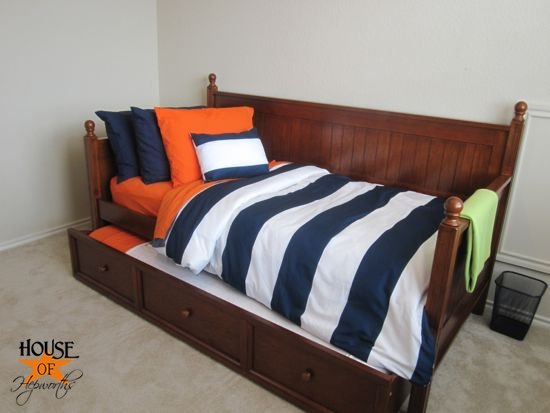 I wanted this one from Serena & Lily: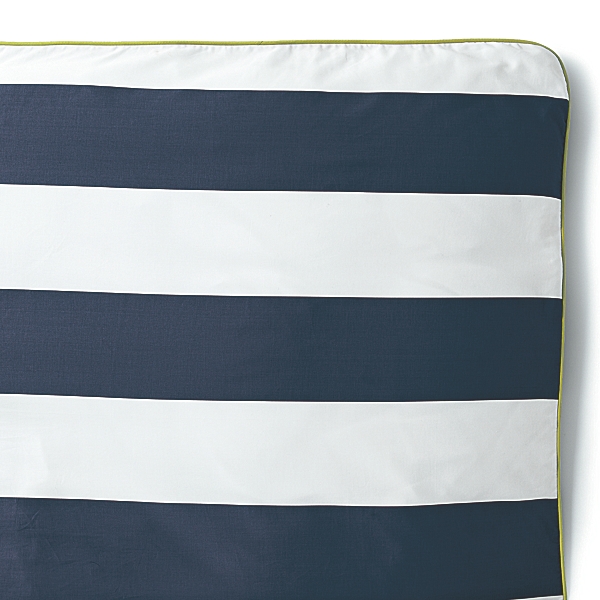 But at $150 for the duvet only (no sham even! As if!), I'd have to find a cheaper alternative.
Cue West Elm. I found this almost identical duvet & sham over at West Elm for $80. Not as bad as $150, but still steep.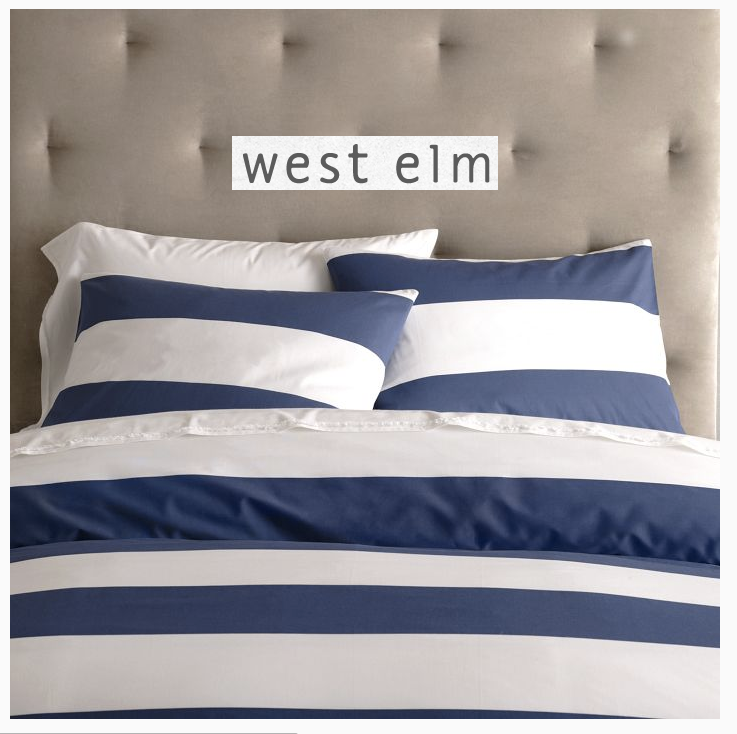 I actually ended up ordering this bedding from West Elm, but fortunately while it was in route I stumbled upon this bedding at Target: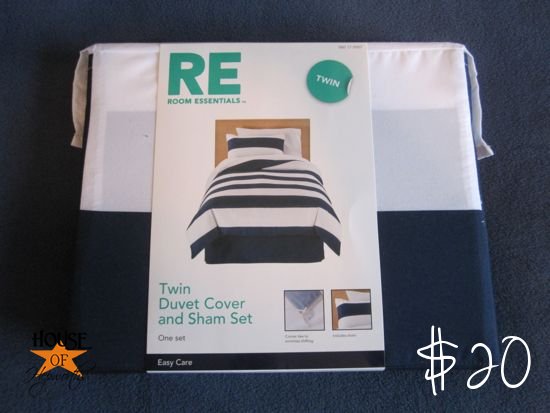 Would you believe me if I told you I found this duvet for only $20? And seriously. It came with a sham too.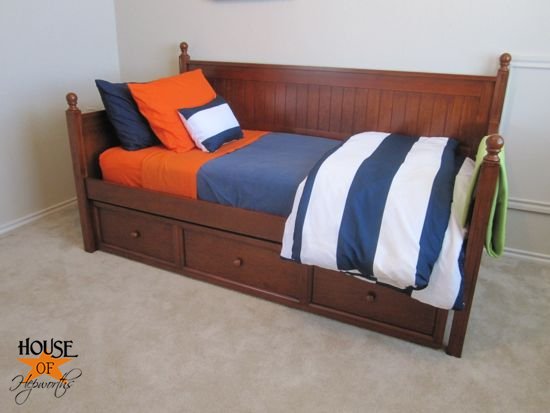 So of course I bought the Target one and sent the West Elm one back lickity-split.
I was able to go from $150 down to $20, so I think a savings of $130 is pretty darn good if you ask me. 😉
As you can see, he doesn't have a striped sham. He has a striped throw pillow.
That's because I took the sham and turned it into a throw pillow instead. I bought a travel-sized pillow insert from Target for $4, and then just altered the sham to fit around the smaller pillow.
I took the sham and insided-it-out: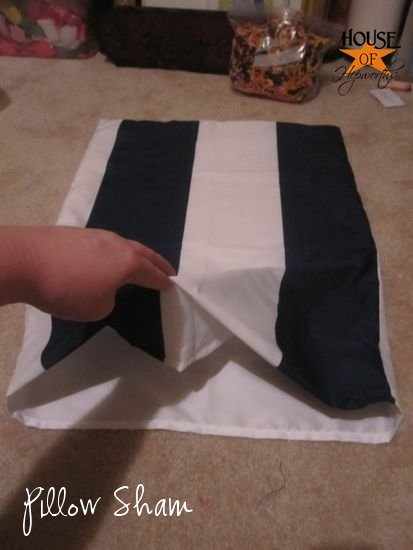 I did a pretty hack job getting the sham altered, but it works. Making sure the stripes were centered, I sewed the edges of the sham to create the right height for the pillow. Then I eye-balled where the outer edge needed to be cut, added on an additional inch or so, and trimmed off the excess fabric.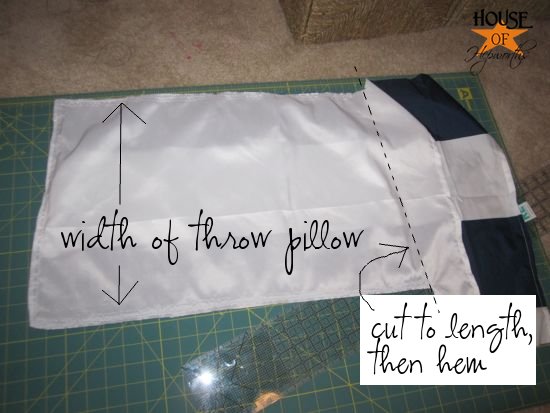 This fabric is some type of polyester blend and is kind of slippery. I was worried about the edges fraying & ripping apart so I did a bunch of crazy stitches along the edge to hold it together. A serger would have been best, but I don't have one so I make do.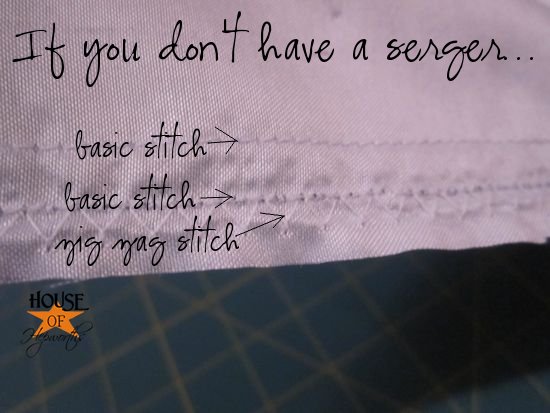 Once everything was sewn and my final edge was cut, I reversed the fabric so it was outside-out, stuffed it with the throw pillow, and used lots of pins to hold the seam in place while I hand stitched the edge up.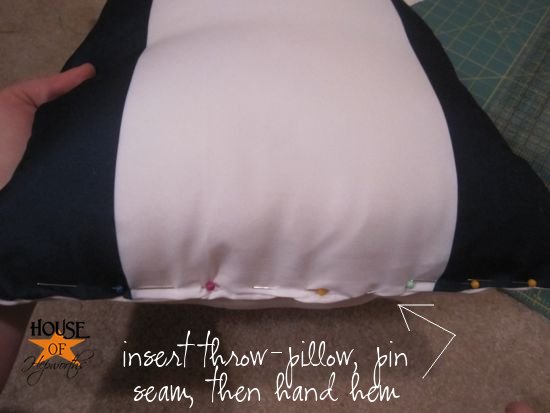 It's so cute now. Why are things cuter when they are smaller?
Here's how I usually make his bed so he can have it like a couch during the day.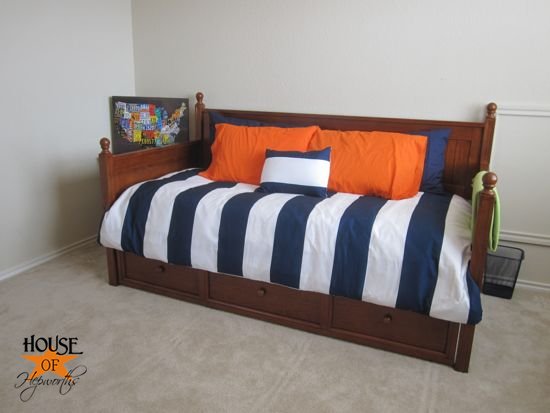 I love it being made like this…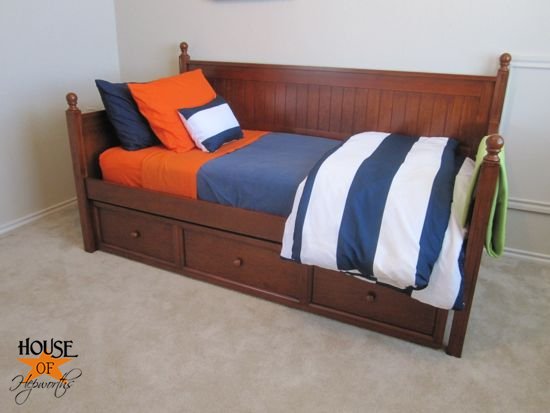 …but when his friends and he are in his room I get grossed out thinking a bunch of stinky boys are sitting on his sheets. Where he sleeps! Gross. So I keep the duvet pulled all the way up. It's a mental thing. I'm weird.
Here's a picture of where I bought everything.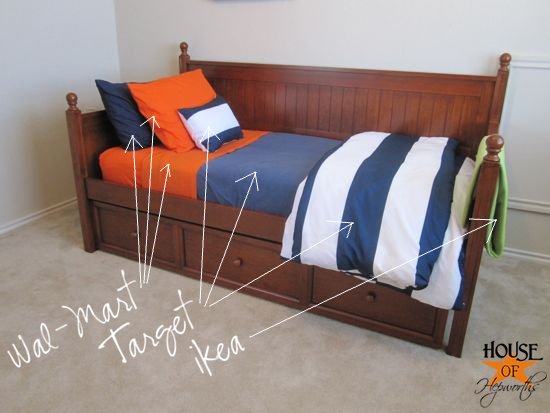 I love the way his room is slowly starting to come together.
I've got it all planned out in my mind. Maybe I should put together a mood board to give you an idea of where I'm going with the room. Or you can just look at my pinterest board for his room here. Of course, there are tons of pictures and ideas, and not everything will be included.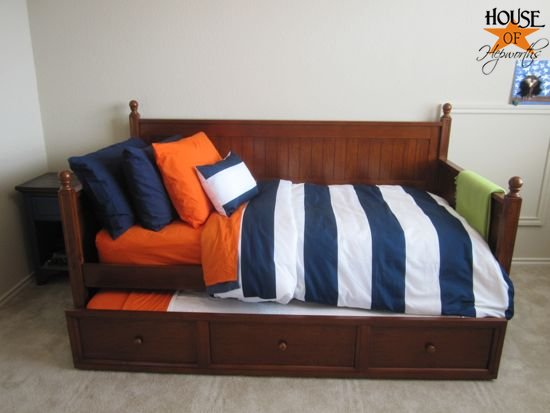 So anyway, I am a cat lover and I love to run. I'm sorry, I'm thinking about cats again. And again. And again, and again, and again.
Um… ya. Darn it Songify. Why did you ever have to make that catchy song? {Best youtube video and song ever, B.T.Dubbs.}