Hiah my friends! I have been doing a little bit of tweaking in my son's room this past week and am very excited to show you! His poor room has been virtually neglected the past almost-3-years that we've lived here. Thank goodness he is a typical boy who could care less what his room looks like. As long as he has his legos and DS, he is a happy camper.
Okay, so his room started like this: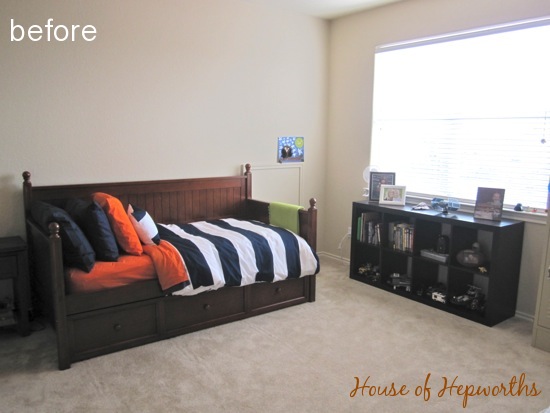 First off, I ditched the shelf below his window almost immediately. It's now on the other side of the room. And just for a refresher, here's the post I wrote about all his bedding.
I'll just go ahead and start with the "after" and then share the deets. I hung some curtains in his room and I still can't believe what a huge difference it made.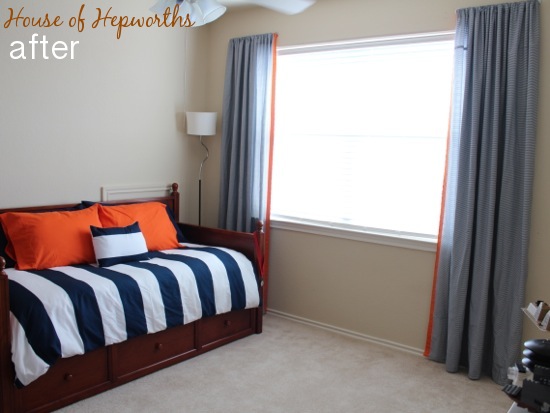 I'll let you do a quick double-take now. Yes, I am just as shocked with the before and after.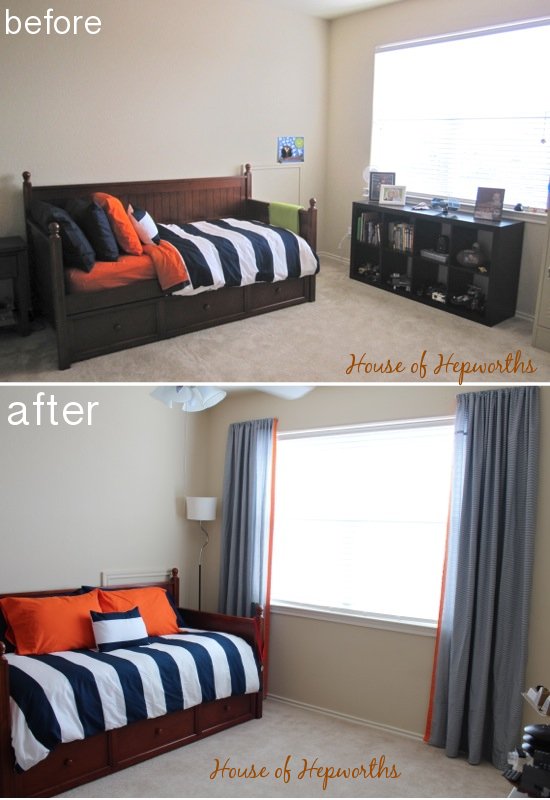 I didn't even paint his walls or anything. Just curtains. And the room looks like 10 thousand percent better. Wow.
I love with a capital L these curtains. They are actually navy/white pinstripe twin bedsheets that I found at Target in the clearance section a few weeks ago. All I did was add a 1″ wide orange grosgrain piece of ribbon down the inner edge of either panel.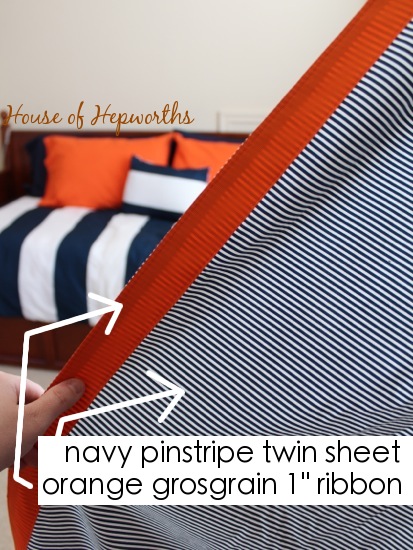 The stripe compliments the stripe on the bedding, but because it's such a narrow pinstripe it doesn't compete with the bedding. To turn the flat sheet into a curtain I sewed the orange ribbon down the side and stuck a curtain rod through the top of the sheet (I had to seam rip some stitching to open it up on either side).
Then I just hung the rod so that the curtain would barely touch the floor – no hemming or anything. So easy!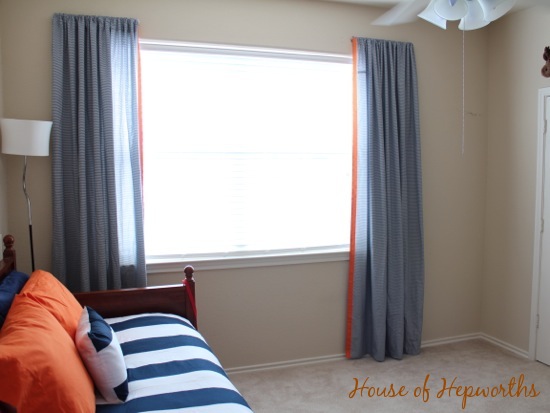 Now for the really fun part! I totally did an ikea hack to hang the curtan. I was going to make another one of my custom $2 curtain rods but as luck would have it I came across two ikea "bygel" kitchen rails in my stash. I had them in my office before Ben and I did one of our many office flip-flops.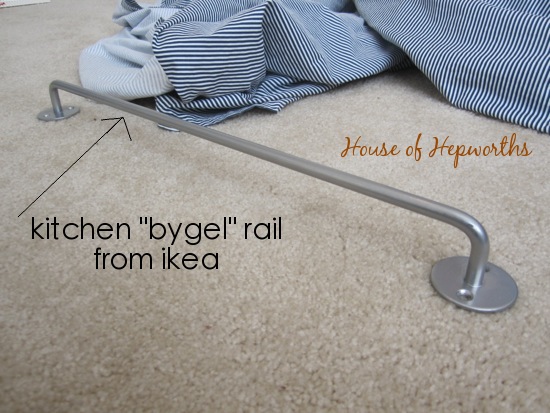 The wheels started turning and I thought to myself, "Self, these look like they could be awesome cheap curtain rods!" I tested them out and sure enough, they were long enough and the fabric fit on them.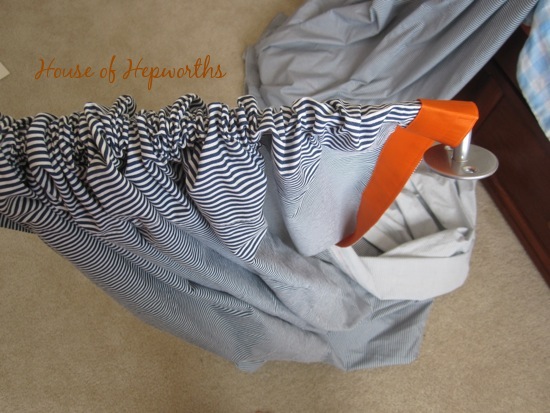 All I had to do was screw them into the wall with the curtain already attached, and voila! instant curtain rods.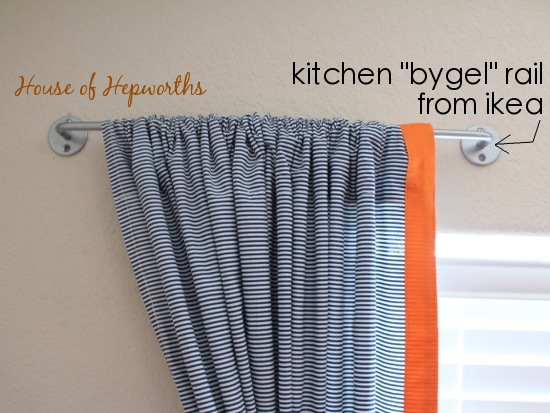 I am just giddy at how well they worked. And if you can even believe it, they are only $2.99 at ikea and come in two different lengths (these are the shorter 21″ length).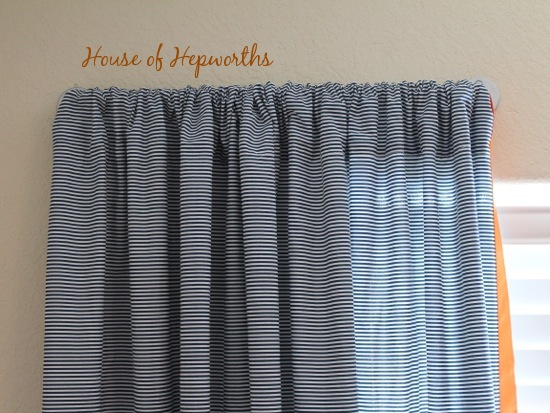 I guess you'd say this post is a double hack. I hacked some twin bedsheets into curtains, and I hacked two kitchen storage rails into curtain rods. I'm sexy thrifty and I know it.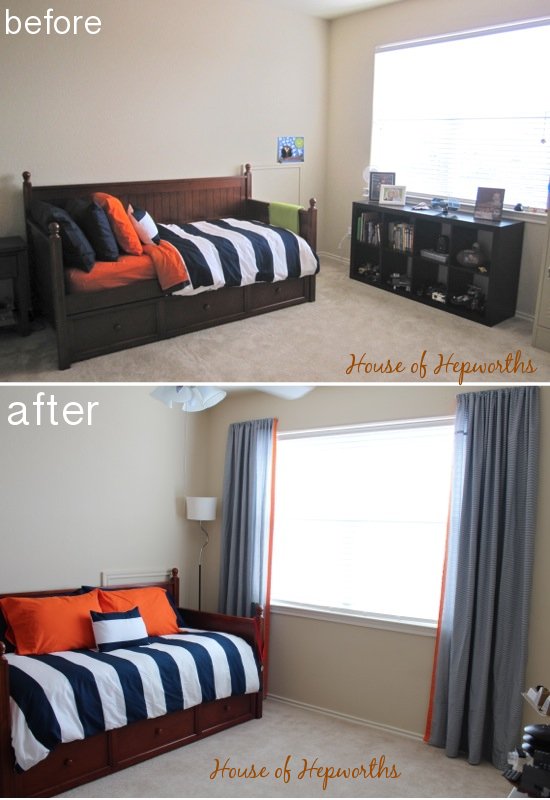 And for your pinning pleasure:

I have been working like crazy on this house lately and I can't wait to get down to business and show you everything I've done! If you've done any crazy ikea hacks lately or have made some curtains, share your post with us in the comments section!