The laundry room is making progress finally! Here's the "before":
And from the opposite angle:
The goal is to move the washer and dryer down by the window and create a locker-type unit where the washer & dryer currently sit. The door in the middle of the room leads to the garage, so when you come in it makes more sense with the flow of traffic to have the washer & dryer out of the way on the right and a mud room type area on the left.
That way when the kids come in from school, as they are passing through into the family room they can dump hang their backpacks up and have a place to take off their shoes instead of piling everything on top of my washer.
I want a long bench as well so when they are getting their shoes on they have somewhere to sit.
I scooted the washer and dryer down the wall a few weeks ago just to try it out while I waited for the stacking kit. After a few weeks of no bench or shelving or any type of organization at all it was looking a little rough.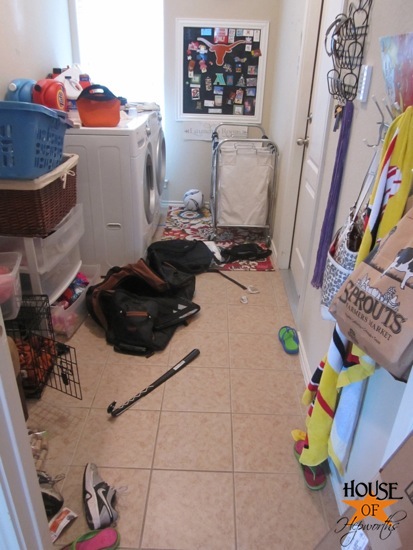 Yikes, right?!
Once the stacking kit finally arrived I shoved everything into the hall so we could begin the mounting process which was relatively easy.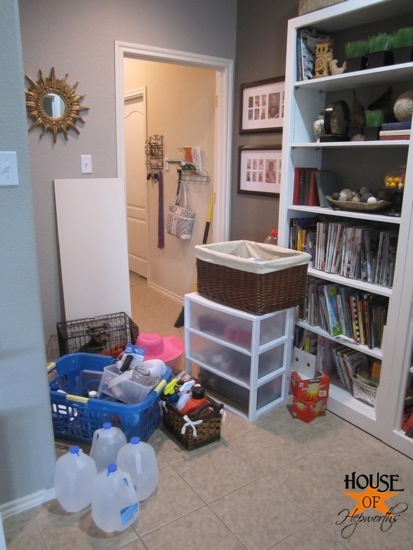 This crap ended up sitting in the hall for a few days making it um, interesting, when we needed to go in and out of that room. Oh, and yes, poor Chase is in his crate. He was super naughty and we caught him on top of our table licking a plate clean. He thinks he's a cat. So he was in "time out" (which isn't even a punsihment considering he LOVES his crate, but we try).
So anyway, we cleared the room out so we'd have space to stack the dryer on top of the washer.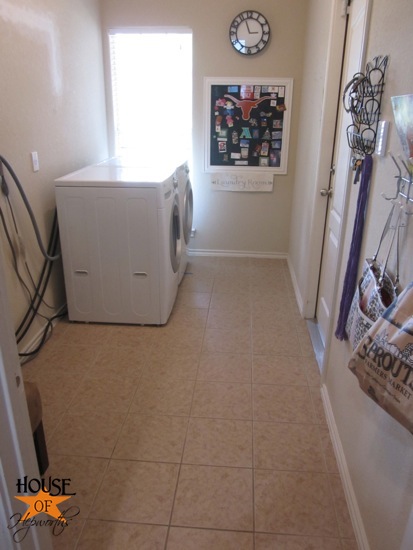 Here's the stacking kid we bought. I found it on Amazon. Just search for your brand of washer and dryer and then "washer stacking kit". They are surprisingly more expensive than you'd think. After shipping I paid more than $40 for it. Ouch.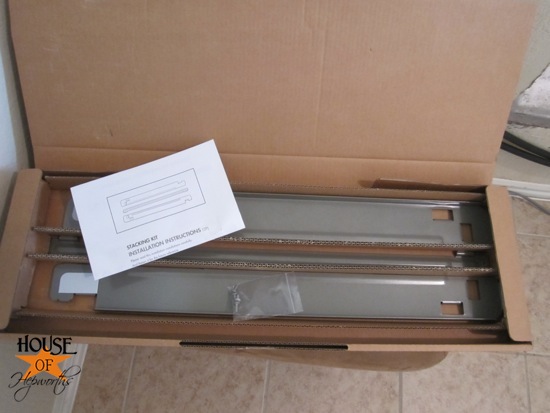 My LG brand washer and dryer are white but I got the chrome kit because it was all Amazon had when I placed my order. The chrome doesn't look bad with the white though and I'm happy with it.
We attached the kit to the washer and Ben double checked that the washer was square to the wall. It's hard (and not safe!) to move and adjust the location once the washer and dryer are stacked.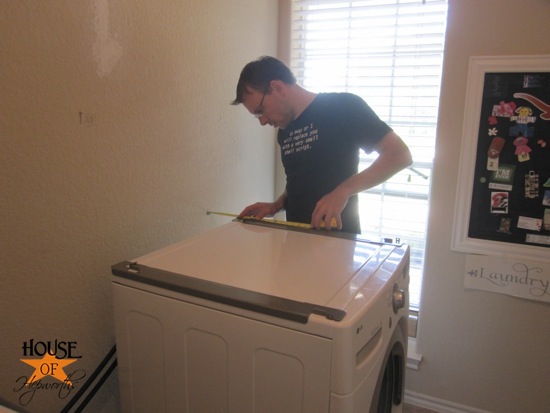 I don't have any pictures of us actually stacking the unit because well, the dryer was heavy and it took all our hands just to get it on top of the washer.
Ben's showing off his dryer stacking abilities as well as his newly formed guns.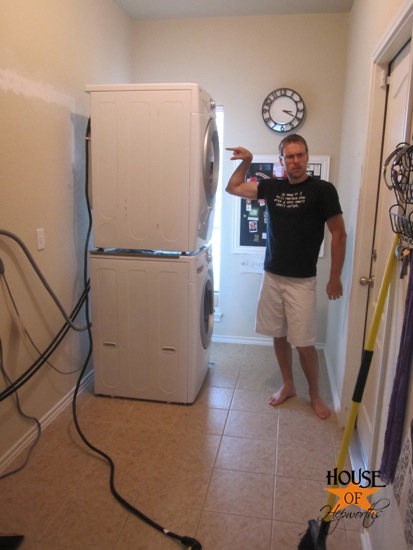 So hallelujah! the washer and dryer are one unit now! This has single-handedly made the room so much bigger!
Yes, it is now blocking the window, but I decided after living for two years with the washer & dryer right smack in the middle of my walkway, blocking the window was a small price I was wiling to pay for a better laundry/mud room layout.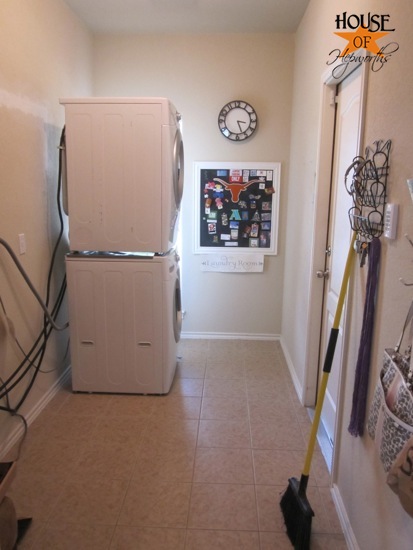 There is a little wiggle room with the window though. I left enough space to the right of the washer & dryer for my laundry cart to nestle right in. It's on wheels so when I do laundry I pull it out and it's right next to me as I load the washer.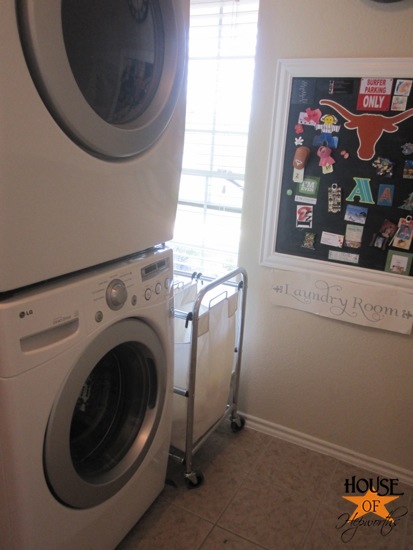 There are still plenty of things I need to do to this room. I've only just stuck my big toe in at this point. For starters, this needs to be dealt with: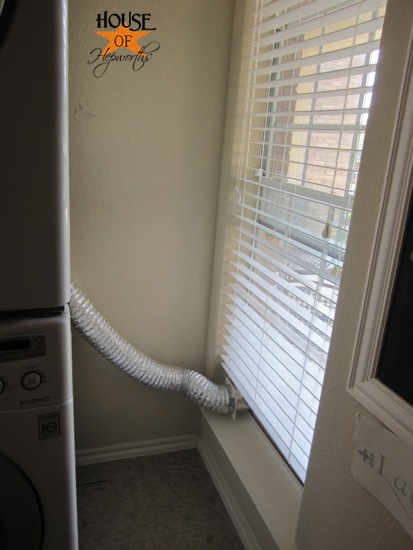 Before I was certain I was going to stack the unit, I considered leaving it side-by-side, so when I installed the dryer vent through the window I cut the vent so it wasn't so bulky behind the dryer. Well, now it's too short, so I need to buy a new one. It works for now, but it's on my list.
Also, we've got a little bit of a cord issue going on: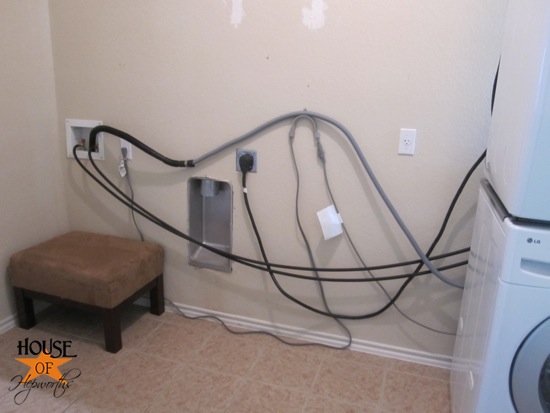 Trust me, this deserves an entire post all to itself. And I swear I will come back to this with a full update on what the hell is going on here. But in a nutshell, when I moved the waster and dryer none of my cables were long enough, so I had to buy all new ones.
I have reasons for not moving the plumbing itself (cost, for starters) that I will get into in my next laundry room post. Also, I already have a solution for corralling and taming these cables. When I'm done with the room you won't even know they are there. Promise.
Way Before:

Progress: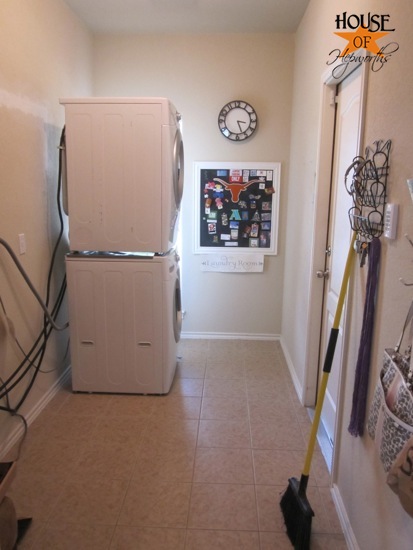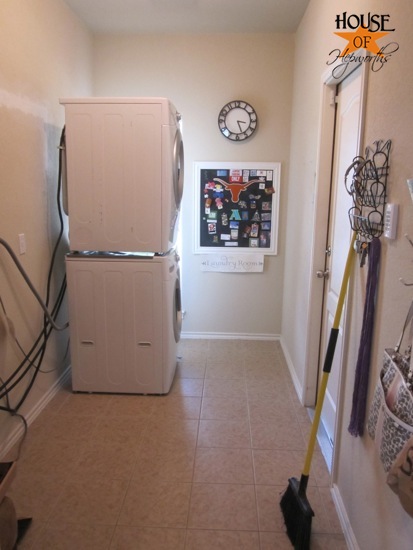 And that's where we're at right now. We are about to start on the mud room area, which I'm most excited about! I can't wait for this room to be finished!!