The response I received from the Orange Color-Backed Bowls was greater than I anticipated. I'm glad you liked it!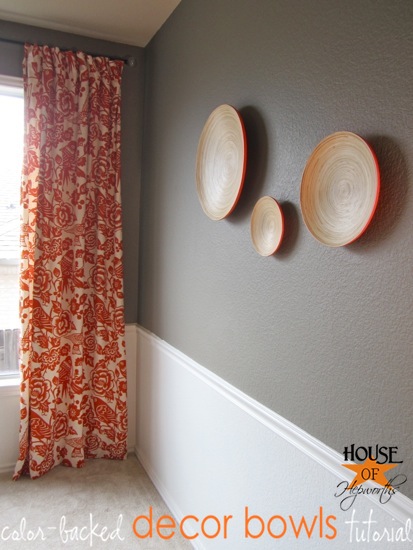 I received lots of feedback asking how I hung them on the wall. Great question!
I was going to use DiscHangers because they are freaking awesome and I love them, but I was worried about how they would adhere to a porous product like bamboo. I'm sure they would have been great, but I've only ever used the DiscHangers on porcelain and plastic. *
Because of the concern with bamboo I decided to use hot glue and a paperclip.
Yes, I said hot glue and a paperclip. I felt confident the hot glue would really stick well to the bamboo.
I got a large paper clip and bent the top just a little to angle away from the bowl. I set it onto the bowl and then just added a ridiculous amount of hot glue on top of it leaving the very tip of the paper clip exposed.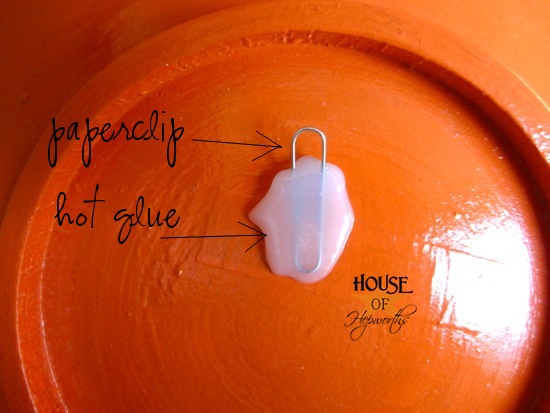 When the glue dried I hooked the paperclip to a nail on the wall. Easy peasy and FREE!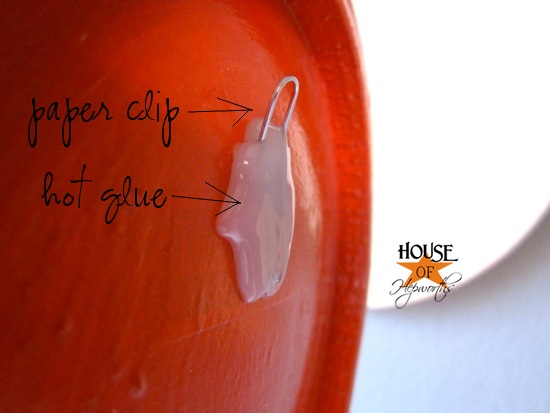 * I would NEVER use this hot glue and paper clip technique to hang expensive or fragile plates. My friend hung porcelain plates (aka heavier than bamboo!) on her wall with hot glue and paper clips and over time the plate fell off the wall and broke.
This technique works great for non-fragile items that are light weight. If I'm hanging something fragile or heavier I always use DiscHangers.
So there you have it! You can see how I painted the bowls here.