I hope you've enjoyed getting to know some of my blog friends this summer. Today I'm Hanging Out with even more friends who I know you will love. Please say hi to Jess and Monica from East Coast Creative!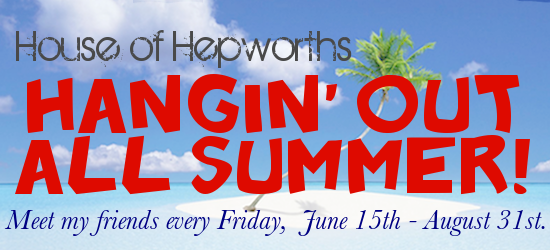 *****
Well, Happy Fourth of July-ish week! Isn't this week so weird because of the holiday being on a Wednesday? We're kind of just pretending it's a really, really long weekend and enjoying all the summer fun!
If we haven't met before, let me officially say, "Hey! It's super good to meet you!" I'm Monica, and I blog with my BFF Jess over at East Coast Creative. You might recognize our faces, but not our name, and maybe that's because we used to be The Real Housewives of Bucks County (and maybe that still doesn't help, but at least now we've officially met).
Jess and I blog about all things DIY, home decor, and toss plenty of real life in there too. Since last week marked the half-way mark of 2012 (can you believe it?), we thought we'd give you a peek into some of our favorite projects of 2012 so far, and then share a super-quickie tutorial.
2012 is 1/2 way over! Here's what we've been up to at EC2!
This just gives a teeny glimpse into the projects you can find on our blog. We did a crazy-cool room makeover, totally renovated a kitchen, added some style to the outside of our houses, and had lots of fun with super-cheap photo display options!
(You can click on each pic to see the full post)
And what would a guest post be without a tutorial? This one was so quick and easy!
Super-Simple Washi Tape Tray
Most likely you've seen washi tape on Pinterest, in home decor magazines, and even in the stationary aisle at Target! There's a full-blown washi tape frenzy going on in America.
So for those of you living under a rock, what is washi tape? It's basically super pretty masking tape that you can use for all kinds of crafts and home decor projects.
Washi tape isn't new to me, actually I spent some time in Japan in high school and fell in love with it WAY back then. Actually, I fell in love with all of their awesome paper products including washi tape. I hadn't bought any since my time in Japan, and I decided it was time to have a little washi fun!
I jumped on Etsy and found that Pretty Tape had a great selection and totally reasonable prices. I went with a two-toned grey stripe and a yellow and grey floral. Aren't they cute together?
Since I have a patio now (almost) I plan to be eating a lot of meals outside. I was at JoAnn Fabrics and found these white trays 70% off. I think they came down to around $4.00 each. While white is nice, I thought it was time to whip out the washi! Hi-Ya!
These couldn't be any easier to make, so I'll keep it short and sweet. Put the tape on the tray and leave a little excess, so that you can trim it later.
I fully overlapped, because I wanted to cut a nice, clean angle where the two tapes met.
Scissors work fine for washi tape, but I prefer using an X-acto. I'm way better with an x-acto than I am with scissors… maybe it's a lefty thing?
Did I mention that this was simple? Yup, that's all there is to it. I love the little bit of style it adds.
One cool thing about washi tape is that you can remove it really easily! Since I plan to use mine for serving I'm sealing it with a coat of Modpodge. It won't be dishwasher safe, but I will be able to wipe it down by hand.
There you have it. A quick face lift that will take you about 10 minutes!
Thanks for letting us blog crash today, and we hope you'll come visit us at East Coast Creative sometime!
Alison, thanks so much for having us! You know how much we love you and value all of your incredible blog and DIY knowledge! House of Hepworths Rocks!
*****
I'll admit, I haven't jumped on the washi tape bandwagon yet, but those trays are just so flippin' fab that I might give the craze a go! Monica and Jess really are the bees knees. Fo' sho'. I've been following them since way back in their "Formerly known as Real Housewives of Bucks County" days. Yup, we go waaay back. Besides being a dynamic duo, they have some serious street cred. They've been on The Nate Berkus show like 4 times. So don't just take my word for it. Even Nate thinks they rock. 🙂