I'm back with another awesome blog friend! I have enjoyed introducing you to my bloggy friends. I hope you are enjoying the series as well. Today I'm Hanging Out with Shannon from Madigan Made. Not only is she great at crafting and baking, she also gives really great blogging tips and advice.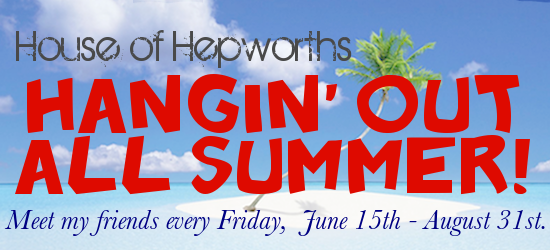 *****
Hi HoH readers!! I'm Shannon from the blog Madigan Made.
And I should tell you that I've been called the Clark Kent of craft blogging. Why? Well, by day I work as a pharmacist and by night I try to help my readers find easy and elegant solutions for their home. I love to blog about simple crafts, DIY décor and easy recipes. If you crave simple creativity (or chocolate!), then you might want to stop on by and say hi!
This time of year reminds me of the beach… and I love bring touches of the beach into my home. So, I thought I'd show you five different way I brought the beach 'inside'!
Our beachy guest bathroom is painted a soft blue-gray and decorated with lots of white and seashell accents. Some of the shells my mom collected years ago. Others are ones I bought or found. I love picking up sea shells whenever we go on vacation… free craft supplies, right?
I continued with the beach theme in our master bath, too. On one wall, I "framed" starfish on top of old movie projector cases that I found at a thrift store.
Aren't the cases a pretty shade of blue? They seemed like the perfect size to mount the white starfish.
On the other wall in our bath, this DIY beach wall art is not as literal a translation of the 'beach'. I made it by framing flat glass gems in the shape of a wave. It reminds me a little of the edges of surf on the shore, don't you think?
And that glass wall art inspired the tables I made for our master bedroom nightstands. I tiled the tabletops with blue glass gems and resin. The sparkly glass almost makes the tables look like they are covered in water.
Bringing the beach into my personal accessories was simple, too. To make DIY shell jewelry, all I needed was a sea shell from our last beach trip. You know, one with a little hole in the top? I painted the shell a gold color and attached it to a gold chain I already owned. Easy and pretty!
My hubby and I live in land-locked Pennsylvania, but we love to get away the beach for vacations. If I can't live by the sea, at least I can have a few touches of the sea shore in our home!
Thanks so much for letting share a few sandy ideas with your readers, Allison!
*******
Thanks Shannon for stopping by!