Once upon a time I tried to install some under-cabinet lighting in my kitchen.
It was a total FAIL.
I wrote a post about the huge lighting fail back in January. You should go read it. It was kinda funny.
Besides the fact that it looked really dumb, it put off this horrible high-pitched noise. It was so awful I thought the fillings were going to rattle right out of my teeth.
I would love some permanent under-cabinet lighting with a real-for-real switch on the wall and no visible cords showing, but I'm not ready to commit to that quite yet. (Spoiler alert: we might do a little mini kitchen reno in the future and that needs to happen before any permanent lights are installed.)
Well, let's see, what month are we in? Oh, July. So SEVEN MONTHS (!!!) later, I'm finally back with an update to my under-cabinet lighting sit-u-ation goin' on here.
Are you ready for it?
That's right, peeps. I've found a cheap semi-permanent under cabinet lighting solution. And when I say "semi-permanent" it probably pretty much means 100% permanent 'cause that's how I roll. I rig up some crappy temporary solution that looks totally trashy and then I leave it until I eventually move.
When you see how this things rigged up you'll probably equally cringe and laugh at the same time.
Okay, so for starters I happened upon these cool LED lights at ikea. They are over by the Billy bookcases in case you are wondering.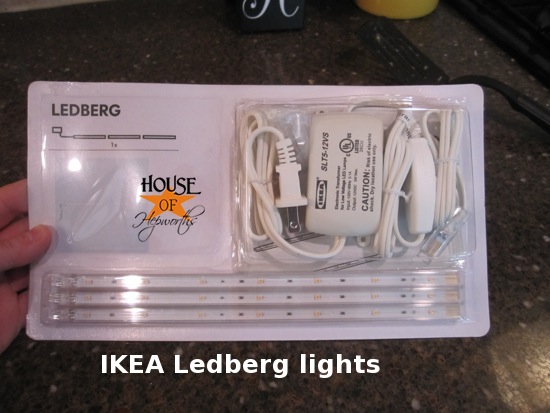 They are $14.99 at ikea but if you don't have an ikea you are welcome to order them from amazon for the incredibly low price of only $28.95 + $5.95 shipping. Now that's a steal-of-a-deal.
To install, all you do is hook the 3 plastic LED pieces together, attach the light strip under your cabinet and plug it in. There's even a nifty little toggle switch so you don't have to plug and unplug them.
To "hide" all the extra cording I used good ol' fashioned box tape. Very professional.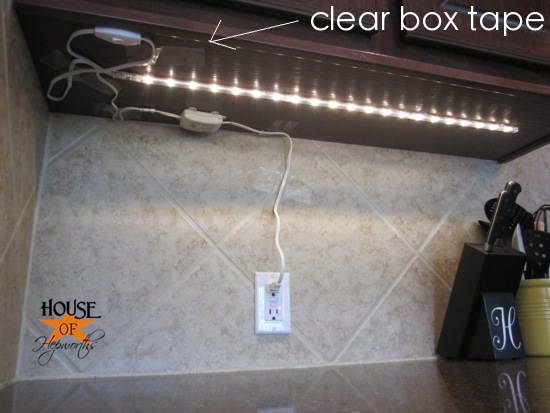 I told you it was classy. 😉
But you know what? Unless you are 2 feet tall you can't even see all the cords and box tape. All you see are cabinets that are beautifully lit underneath. Oh, and the plugs hanging down plugged in, which I guess look kinda dumb but do I care? I really don't.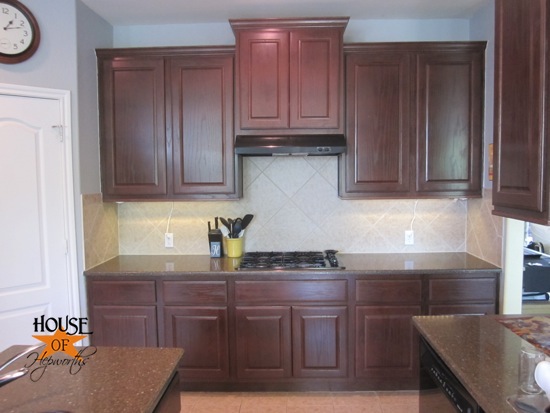 I'm so impressed by how much light these little LED lights put out. And the best part? They make NO noise.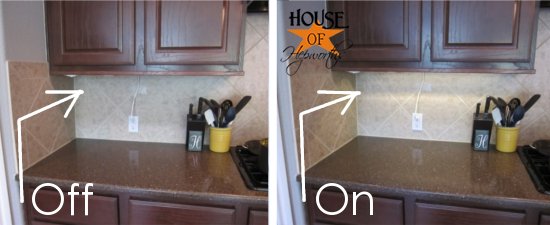 I also really like how they each came with their own light switch. I attached the switch on the side of each cabinet. Makes turning them off and on so easy.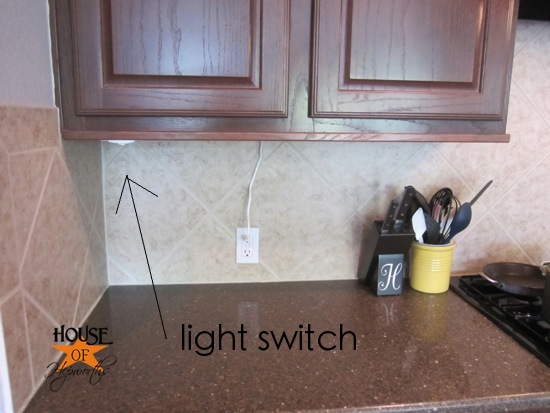 You can see the switch just enough, but again, the cords are hidden.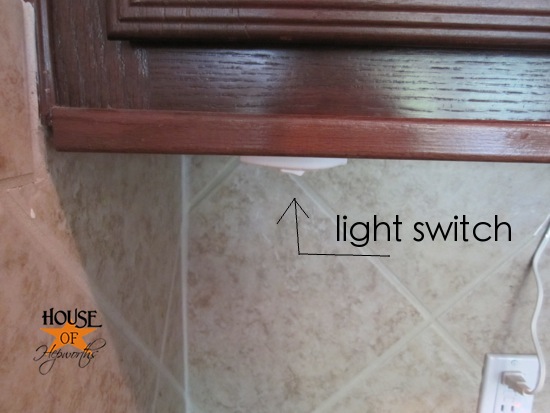 In the spirit of keeping it real, here's the hot mess that is the cords and box tape. Love it. I tried using a staple gun but I almost shorted out the cable with a staple, so I gave up on that and moved to box tape.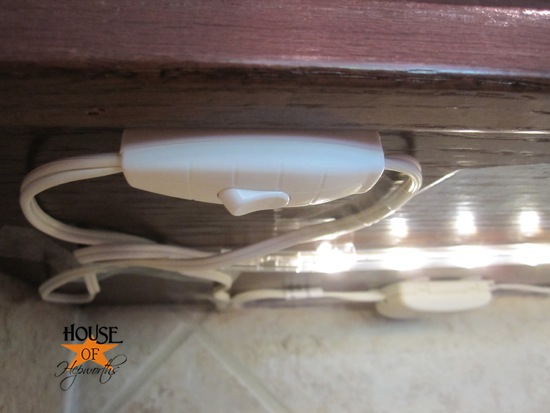 These little ikea lights put off just enough light to make me feel like I don't live in a cave anymore. Can you tell the difference?: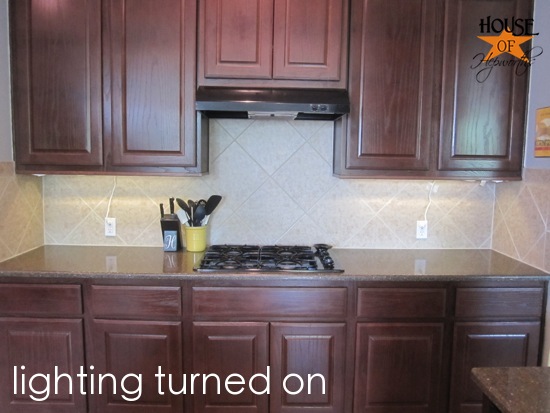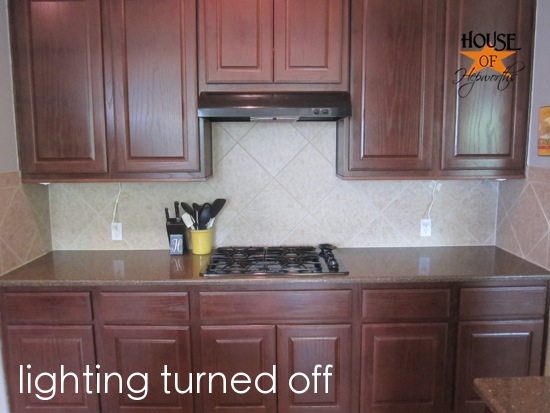 I should have taken night photos. Trust me, it's a LOT of light.
This little spot wedged between a fridge that is too big and an obnoxious huge microwave and stove box really is the cave of the kitchen. Having light here has made such a huge difference.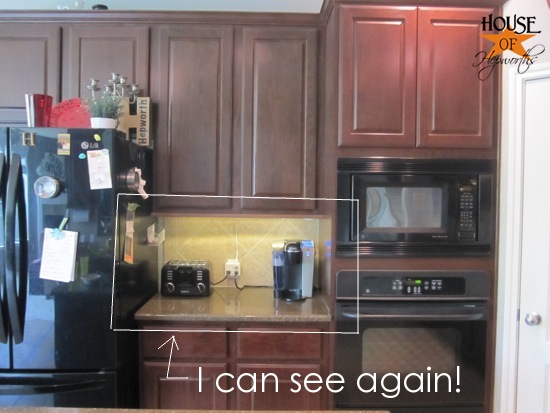 In total I bought and hung 3 packages of lights, so I spent about $45 plus tax. There's one by the fridge and then two over by the stove top (one on either side of the stove top).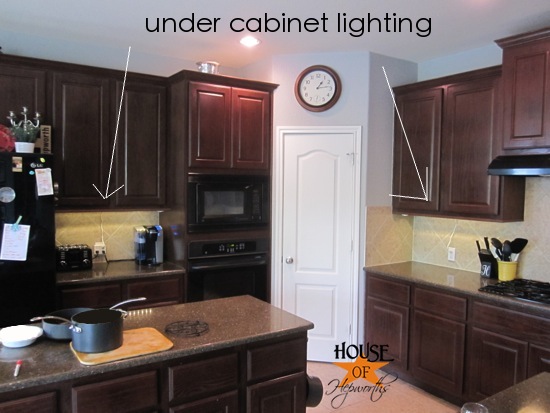 We generally leave them on about 99% of the time now because they put off ZERO heat at all, so even at night while I'm asleep I don't worry that they will burn the house down or anything.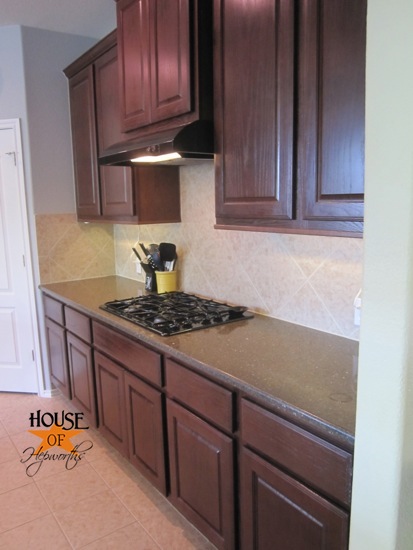 It's nice to have closure to this under-cabinet debacle and it's even nicer to finally have light so I can see and not feel like I live in a dark hole. Only took 2 years! ha!
Here's that pinterest-ready photo just rearin' and ready to go in case you are just itching to pin something.
And in case you are wondering, the following items were spotted in the kitchen and tutorials for each can be found by clicking below.