The flower bed is finally done. It only took us two years to finish. Here's the final bed, now we are just waiting for the plants to grow and mature.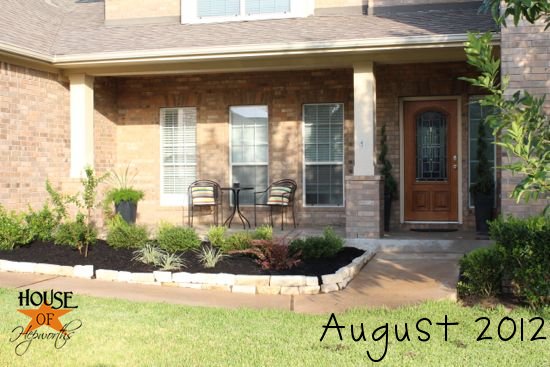 This yard has been a real labor of love
(or more like a real labor of pain-in-my-ass).
When we bought the house two years ago the flowerbed was a wreck. There were three plants and a whole lotta weeds. One plant was totally dead, one was on it's way, and one was just random and didn't match anything else.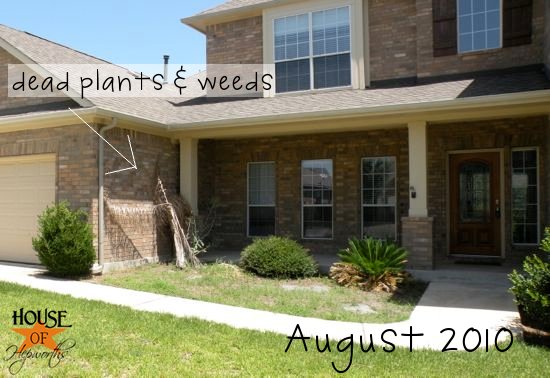 How hard can it really be to fix a flowerbed? Oh how naive we were! We started by digging up those three plants.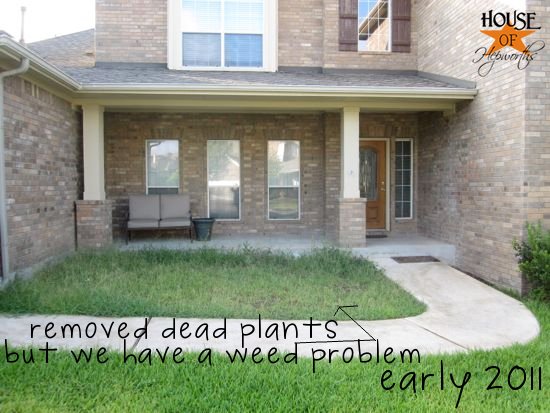 Then we went and priced out some plants. Yowzas! I am no gardener, so I had no clue how pricy putting in an entire bed of plants was going to be. So it sat as a weed patch for a reeeeeeeally long time.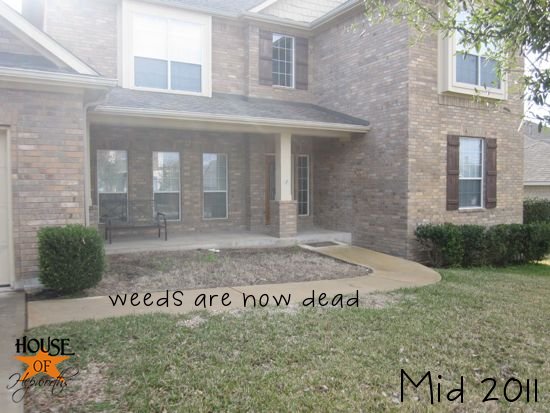 I would go out from time to time and put weed killer all over it. Otherwise Ben would complain because he was having to mow the flowerbed. Yup. For a solid year we mowed the flower bed.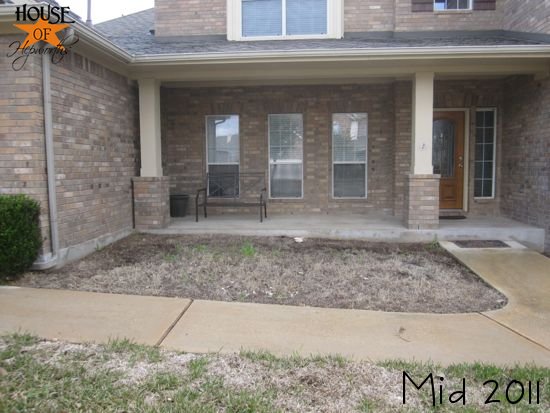 I'm sure our neighbors impatiently waited for us to get on that bed already. I was embarrassed to even pull into my driveway. I'd get out of the car and run inside before anyone passing by could see me.
Fortunately, we did take the time to try to keep the rest of the yard looking clean and cut, and I spent a lot of time trimming the bushes on the right so they are all level and square.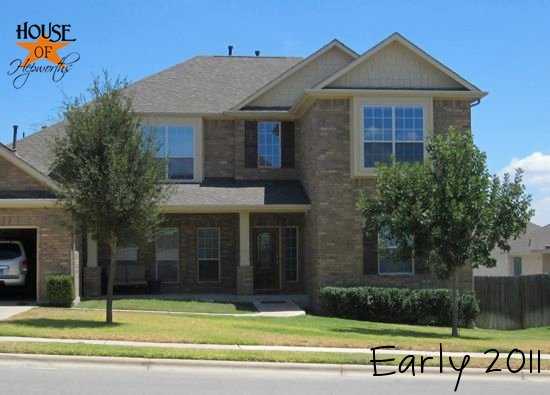 Finally at the beginning of this year we had the money to devote to the flowerbed. We met a gardner who made us a good (but not "too good to be true") offer to landscape the flowerbed for us, so we paid him part up front to purchase the plants and then agreed to pay the rest when the work was completed.
He planted plants we specifically asked not to have (any plants that bloom and attract bees were a big resounding NO for us), didn't even plant them (he put them on top of the ground then pushed dirt up around them), and then didn't use any weed-blocking material before putting the mulch down. So we fired him and wouldn't let him do any more work for us.
Here's what he did to our flowerbed. Notice there are huge unfinished areas with no mulch and there aren't many plants.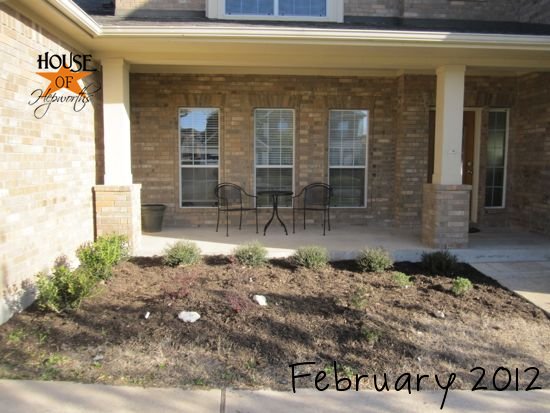 The crappy bed sat until last month when Ben and I dug the darn thing up once and for all. We ended up sinking a few hundred more dollars into the bed, but I'm pretty thrifty so I got a lot for free or really cheap.
After lots of really hard work we finally have a finished flowerbed!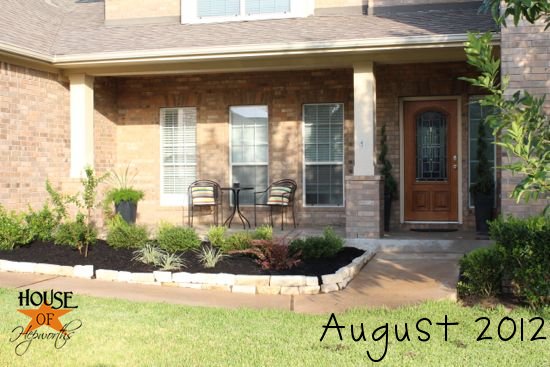 I am just so happy that the work is done. It was back-breaking labor and we spent 3 weekends working on it.
The majority of the cost was for the weed-blocking material under the mulch and the 16 bags of mulch. We lucked out on the stone around the bed and got it all for free! I went into a brand new neighborhood that was still being built and found a ton of scrap rock in a trash pile. The guys there said I could have whatever I wanted because they were throwing it all away! It was leftover limestone from building the houses and the pieces were too small to use on the house so they threw them out.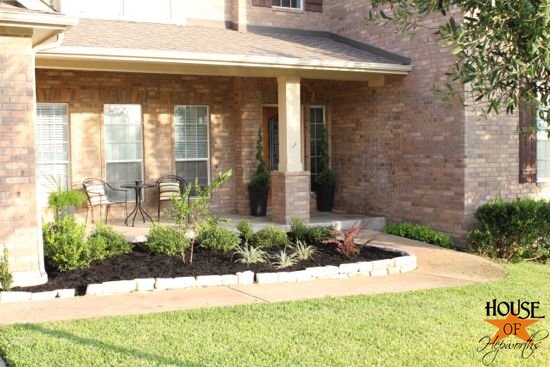 We had to put little gaps between some of the stones because of the sprinkler heads. Eventually we want to dig up the heads and move them forward. Then we want to have the stones professionally mortared so they look finished and not just stacked up. For now they work just fine though.
Here's the whole front of the house.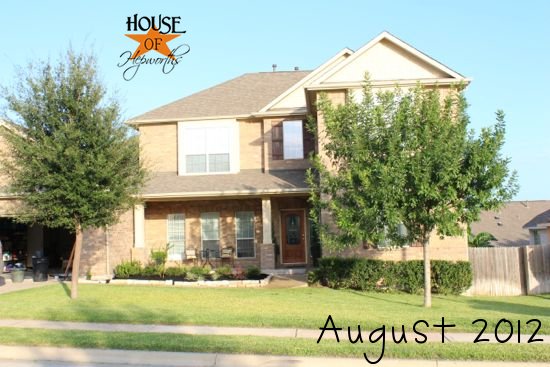 We added a patio set at the beginning of the summer. I found it at our local hardware store. As for the flowerbed, the back row of plants are boxwood hedge. The middle row are round hedge-looking plants that the gardner put in (we dug them all up and moved them forward to make room for the boxwood hedge). We also added a crepe myrtle that blooms with white flowers, and a few grass looking plants.
I am seriously plant illiterate so I apologize that I don't know the names of everything we used.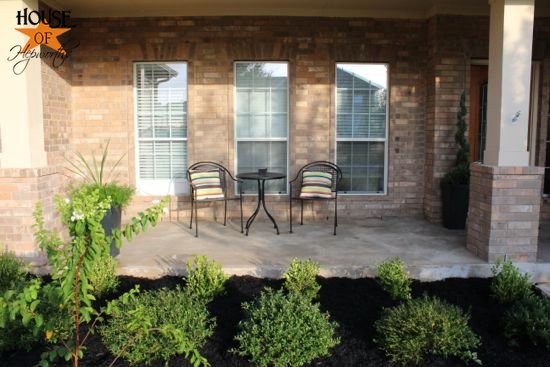 Here is my favorite part of the whole yard, even though it isn't part of the flowerbed: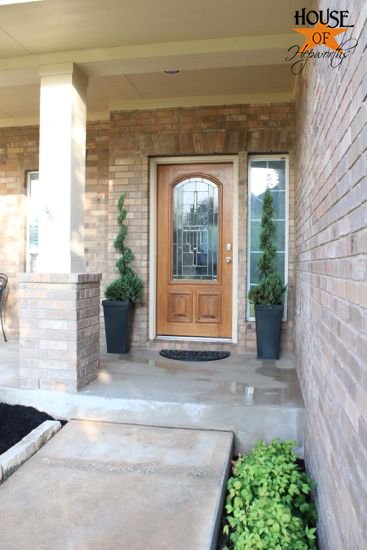 I love these trees! They were by far the most expensive plants we bought, but they were exactly what I had in mind and what I wanted. I don't know what they are called but we got them at Lowe's for $28 each.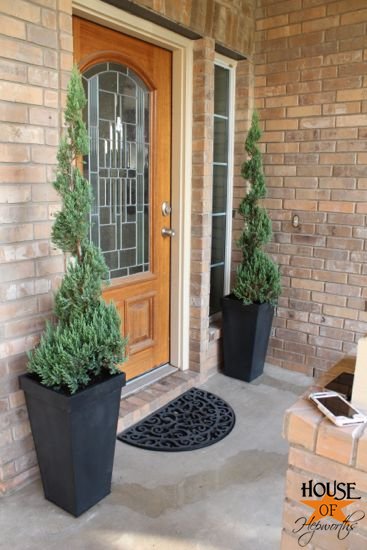 I bought the planters from Target a few weeks ago on clearance. I had my eye out for months for tall planters that weren't $100 each, so when these were marked down to only $15 a planter I scooped up three of them.
The plant in the bottom right of this next photo came already assembled as a combo plant. I just took the whole thing and replanted it in my new planter.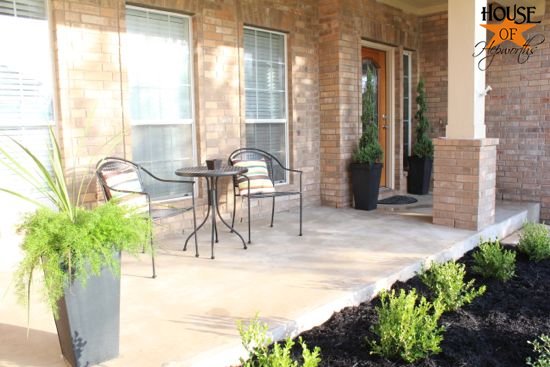 And here's one more shot of our porch. I'd love to get a nice big rug for out here and maybe some upholstered furniture but this neighborhood is crawling with cats (ferrell and owned) that think any upholstery on my porch is their personal litter box. Makes me so angry!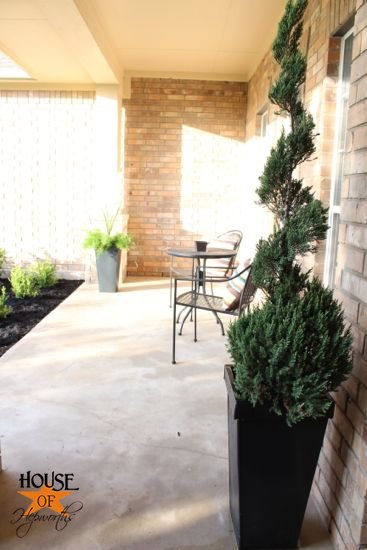 We've also been working on our grass – especially in the back yard – to get it green again after the horrible drought last summer killed it all. I'd say we've made pretty good progress!
Before: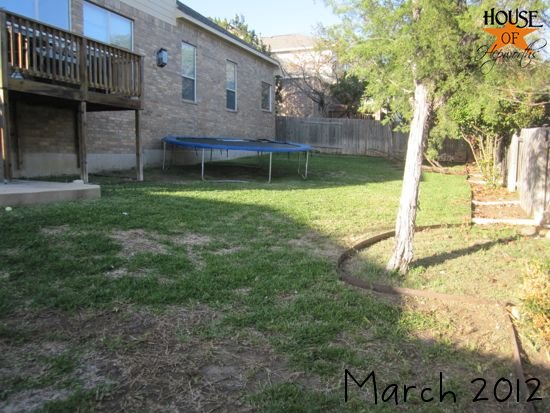 After: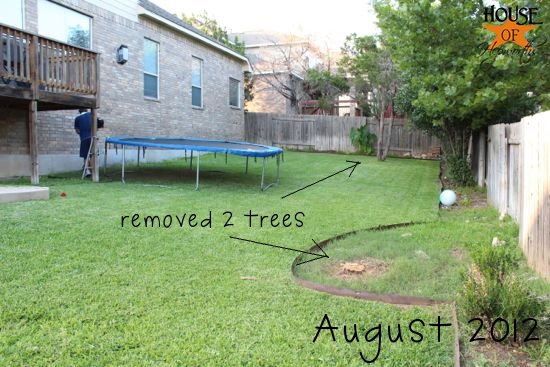 In addition to putting in the flower bed in the front yard, Ben also recently cut down two dead trees in back. Now we need to figure out what to do with the beds along the fence in the back.
I know it doesn't seem like that much but trust me, it was a lot of work and took up several weekends. And of course, we are super smart so we waited until the end of July to tackle this outdoor project. We didn't die of heat stroke and lived to tell the tale, so that's worth something, right?!
Here are a few of the before and afters side-by-side (because before and afters are the best kind of pictures!).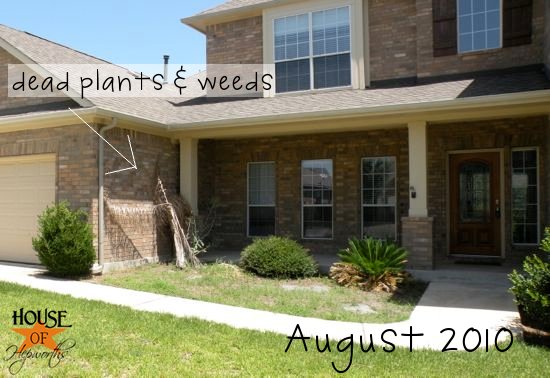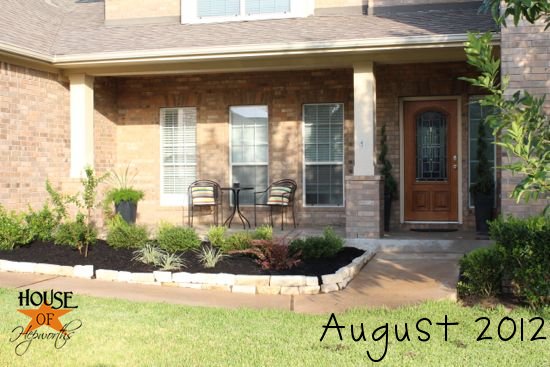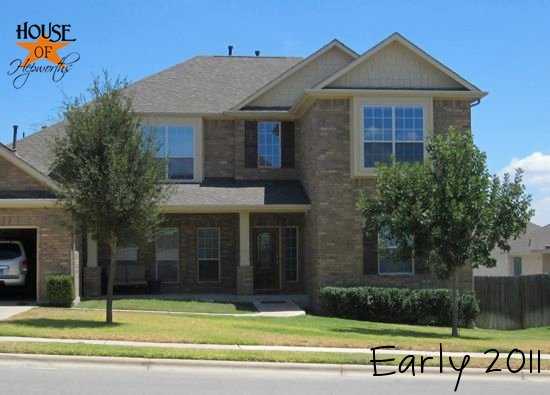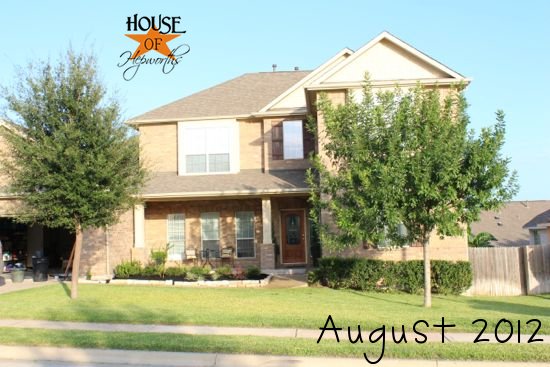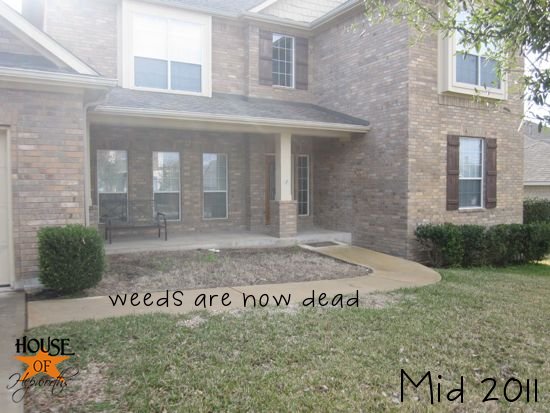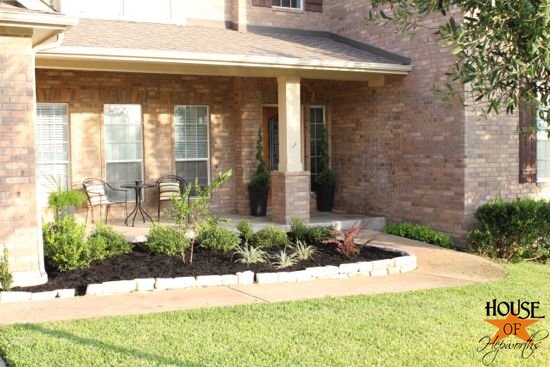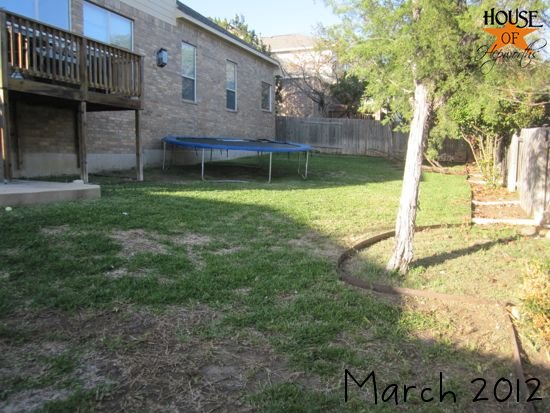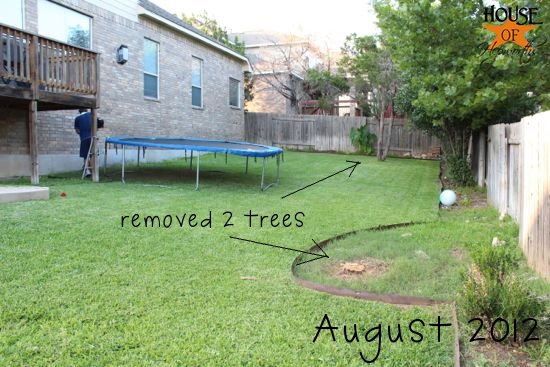 I am so glad it's all done. I would much rather work inside in the air conditioning! haha!