Each Friday all summer long I'm inviting blog friends over here to hang out with me and all of you! I hope you've enjoyed the series so far.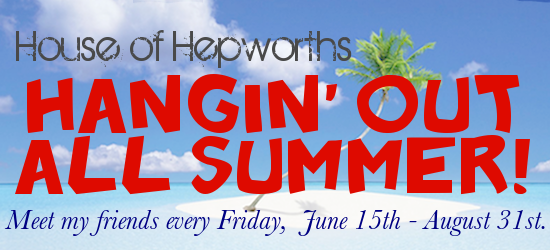 Today Brook from BeingBrook is hanging out with us. Brook is a freaking DIY and furniture building rock star. Her site is chock full of amazing furniture builds and fabulous decor projects.
*****
Hi House of Hepworths fans! I'm Brook from BeingBrook and I have a craft blog full of tutorials and tips on home decor, furniture building, painting, crafts and sewing.
I have a container addiction. Bins, buckets, baskets and trays. I'm always optimistic that having more containers will magically make me more organized! So today I'm sharing my love of trays with you and have a tutorial on how to make a tray out of nickels!
Supplies:
Tray (I bought mine in the Target dollar section)
Paint
EnviroTex Lite
Nickels
I gathered my supplies and spray painted my tray with some Krylon Metallic silver paint.
I took my nickels out of the rolls and lined them up in the tray. I didn't wash them because I liked how they were all slightly different colors but I did I pick out the really gross ones. Then I mixed up the EnviroTex lite. Read the directions carefully and I would recommend wearing gloves and opening a window. But it is pretty simple to work with.
Pour the EnviorTex Lite into your tray. I used the same plastic knife I mixed it with to smooth it into all the crevices of the tray. The cool thing is the EnviorTex self levels pretty well.
The package had a few suggestions on how to remove little bubbles and one of them was to use a propane torch. Since I don't have a propane torch I used my crafting heat gun and it worked great. Carefully cover your project. I used a plastic bin. This will keep dust from floating into the resin while it dries.
It takes about 3 days for the resin to completely cure and be ready for normal use. Once my tray dried I put it on my nightstand to help me contain my mess! I figure having a tray there will limit how many things I can set on the nightstand!
Love how neat and clean my side of the bed looks now!
Thanks so much for having me Allison!
Come visit me at BeingBrook and check out some of my projects!

DIY Craft Room
*****
Be sure to stop by and tell Brook Hi. And while you are at it, add her to your RSS reader because she's a must read!