Welcome to another week of Hookin' Up with HoH! I've posted a few pieces of furniture that I'm selling on my instagram account (user: houseofhepworths). If you live in or near Austin and want any of this stuff, shoot me an email.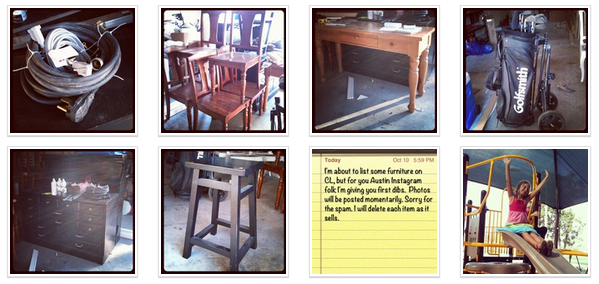 ** So, are you new here? I throw the Hookin' Up with HoH Party every week to give all of you a chance to find other awesome blogs to read. Below you will find several hundred mini links to other people's blog posts. Have fun browsing through the links in search of new ideas. Also, if you are a blogger, please feel free to add your own links to the list!
* Please refrain from posting links to shops and stores.
Please note: RECIPES/FOOD is a separate link. Please make sure you are linking in the appropriate section.
I'm always a big fan of striped hallways and Feathers & Sunshine does not disappoint.


Inspiration for Moms has some inspiring Halloween themed shelves.


Perfectly Imperfect Jenn created her own vanilla coffee scented candle. It looks pretty and probably smells divine.


I'm loving this neutral fall porch from Design, Dining + Diapers.


It's Always Autumn gives some awesome pointers for taking better portraits and snapshots of people. I'm definitely going to implement her tips into my everyday photography.


Polish the Stars created a spooky vase of paper roses complete with spiders and webs.


Thrifty & Chic turned an old sweater into a beautiful vase. What a great idea.


The House of Wood built her own amazing cabinet and gives a tutorial so you can make one too.


Check out this amazing 4-piece art that Girl in Air made.


Semi Homemade Mom made some super yummy looking Apple Streusel Bread.


I love this tip and tutorial from In My Own Style for making your own reversible headboard.


I am a huge sucker for Gingerbread, and this recipe from Joyful Homemaking looks very tasty.


To see the InLinkz party you will need to click through!
To view the remainder of this post please
If you've been featured you are AWESOME so grab a button and tell everyone!
Post about anything you've worked on recently!
* Link back to my blog pretty please! Buttons can be found HERE.
A few things to remember:
Link directly to your specific post.
I pin all the weekly features. Check out the pinterest board here.
By posting to this party you are giving House of Hepworths the right to feature one of your photos.
Please do not pin from House of Hepworths, click through to the actual tutorial and pin from there.
A few DON'TS:
* Don't link up your SHOP, STORE, OR ETSY to my party.
* Don't link up your GIVEAWAY to my party.

Ready. Set. Post!
RECIPES & FOOD